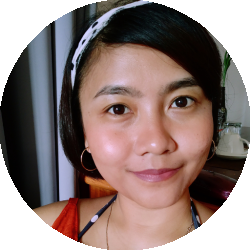 Latest posts by Marya Sutimi
(see all)
Making a hotel reservation online isn't difficult these days, especially if you're a member of the World of Hyatt. Guests can book their accommodation online through their official website while collecting points for their World of Hyatt membership. While it could benefit some loyal guests of Hyatt hotels, most people can't enjoy the variety of accommodations to collect points there since they can only earn points when they book a room at the property under the Hyatt portfolio. 
In this post, I'm going to give you some recommendations for the best alternative sites you can use to book accommodation. Whether you need one to book a room at another hotel chain or you want to book a Hyatt hotel but start collecting points with more hotel options, here are some of the best Hyatt alternative sites to book accommodation for your travel!
Bottom Line Up Front
While I understand why some people find value in collecting points on their hotel membership, it isn't really for me as I'm not one you can consider a loyal guest of any hotel chain. While I can highly recommend some Hyatt properties, I also enjoy staying at other chain properties like Marriott, Hilton, or IHG. 
As a traveler who loves to try new stuff, I prefer to collect points through third-party loyalty memberships like Hotels.com or Agoda. The rewards earned may not be as much as the respective loyalty membership can offer. However, it allows me to get a variety of experiences from staying at different hotel chains while still collecting points and using them for my next travel. 
Selection Criteria
I based my selection criteria for the best Hyatt alternative sites on the things that I prioritize in making an online reservation, as well as the practicality and the reward program they offer. These include: 
Ease of booking and good user interface

Wide range of accommodation options

The reward system

Available deals and coupons

Their affiliation with other platforms
Why Book Accommodation with Hyatt?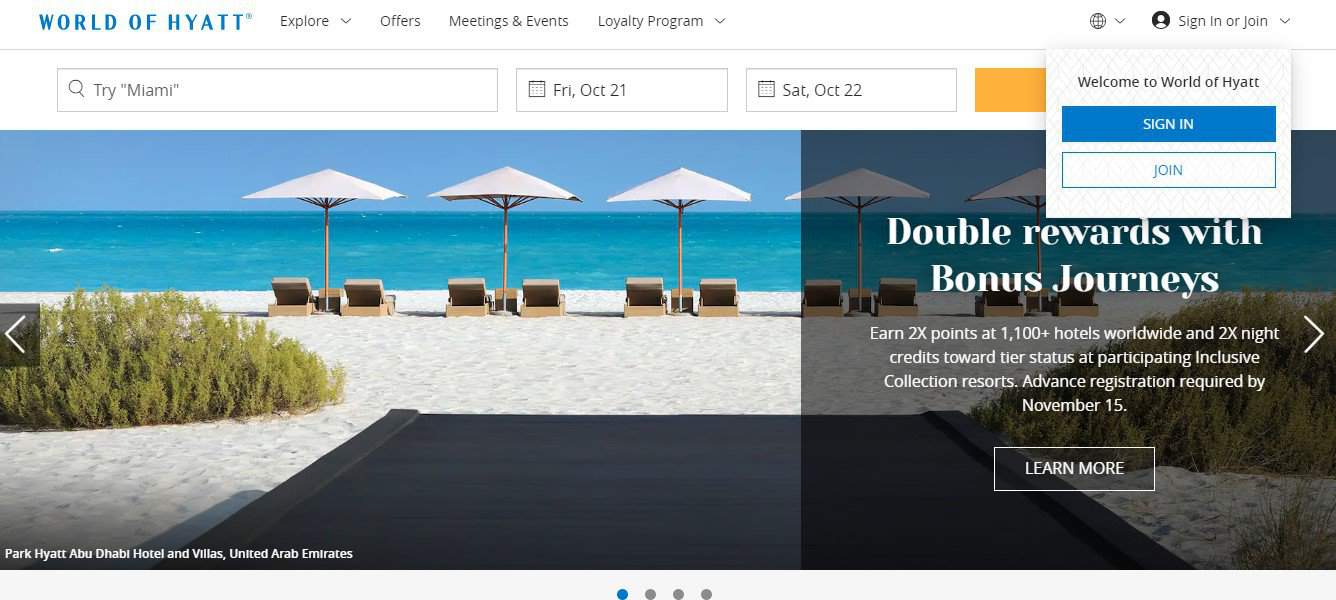 Booking your accommodation directly through the official Hyatt website can be beneficial, especially if you're a member of the World of Hyatt. It gives some perks for its loyalty members, including: 
The best rate guarantees (BRT)

 when you book on the official Hyatt website. On top of that, they also guarantee 20% off or 5,000 World of Hyatt bonus points if you can find a better rate for their properties elsewhere. 

You can 

start collecting World of Hyatt Points

 through your membership on the website. It's free to sign up for the World of Hyatt membership, and you can start earning 5 Hyatt points for every dollar spent at Hyatt. Depending on your membership tier, you can also get an additional bonus for every transaction made at their properties. 

Elite members are also eligible for extra privileges

, including room upgrade, early check-in, late check-out, complimentary breakfast, and 

free night awards

. These benefits will only be valid if you book through the official booking channel on the Hyatt website. 
As we can probably see, booking accommodation for your travel on the Hyatt website gives you advantages only if you book a hotel under Hyatt properties. The downside is if you plan to travel outside the big cities since most Hyatt hotels are located in either the capital city of the country or in the other major cities. 
And for that reason, booking accommodation through the Hyatt site may not be ideal, depending on your travel destination. So, what are the best Hyatt alternatives for this? 
The Best Hyatt Alternative Sites to Book Accommodation for Your Travel 
In this section, I'm going to outline some of the best Hyatt alternative sites to book hotels for your next trip. Whether it's another hotel chain or a third-party website, here are some of the best options to make your hotel reservation online!
Marriott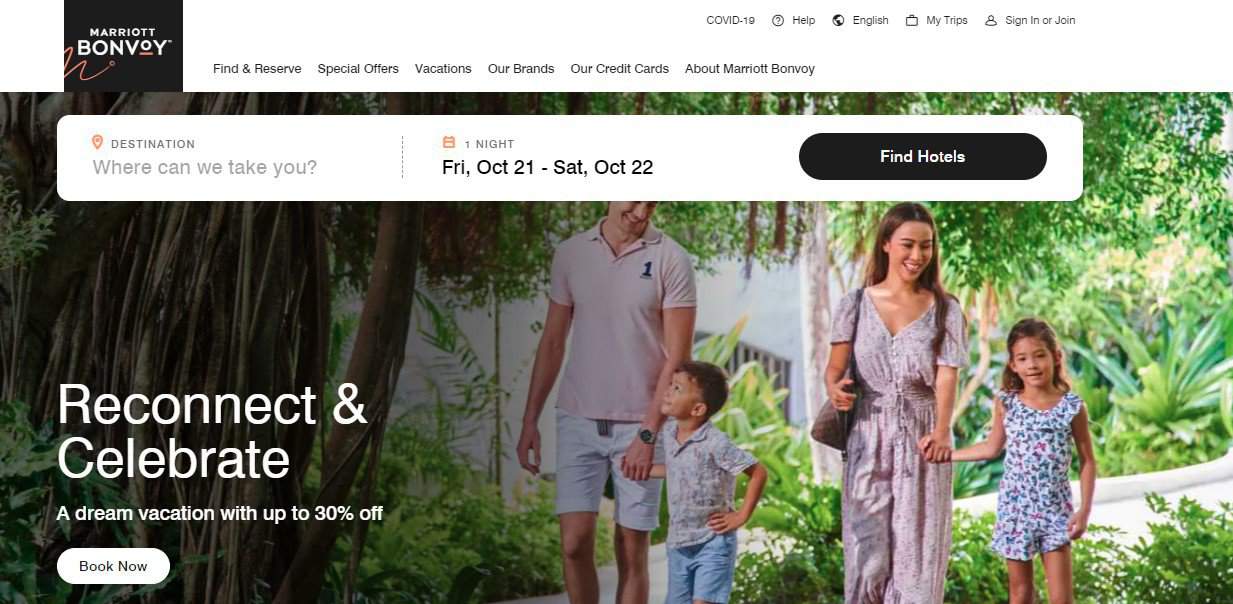 If you're an avid traveler, having multiple memberships with different hotel chains can benefit you. By doing so, you can still get the reward whenever you book at the respective brand. Apart from collecting points, the ability to transfer your points with their partner airlines is also another thing you can take advantage of as a member.  
Like Hyatt and the World of Hyatt membership, Marriott also has a loyalty program. Branded as Marriott Bonvoy, you can start earning points for every stay on their properties. Since signing up for membership is free through their website, I would highly recommend it, especially if you're planning to stay at Marriott hotels multiple times. 
Pros:
Marriott is the largest hotel chain with the most extensive portfolio worldwide. With 30 hotel brands, they have over 7,000 hotels in 131 countries and territories. 

You can also get more perks using a co-branded Marriott credit card, which enables you to earn at least a Silver status instantly. 

You can 

transfer your Marriott Bonvoy points to various miles

 of their airline partners, including United Airlines, Etihad, and Turkish Airlines. 

Marriott Bonvoy enables you to combine points between accounts, making it more convenient if you and your traveling partner have respective accounts. 

Marriott has various properties in its portfolio, from 

homes and villas

, mid-range hotel brands like Four Points by Sheraton or The Mayflower, to ultra-luxury hotels like St. Regis or Ritz-Carlton.  

You can get a 3.15% cashback from booking your accommodation through the Marriott website if you have an account on 

Top Cashback

. 
Cons: 
With six membership tiers, some could see it as an advantage for the top-tier elite members. However, it also comes with disadvantages since those levels are harder to reach, especially if compared to some other hotel loyalty programs. 

While the points are transferrable, you can only transfer up to 100,000 Marriott Bonvoy points per year. As a recipient, you can only receive a maximum of 500,000 points per year. 
Hilton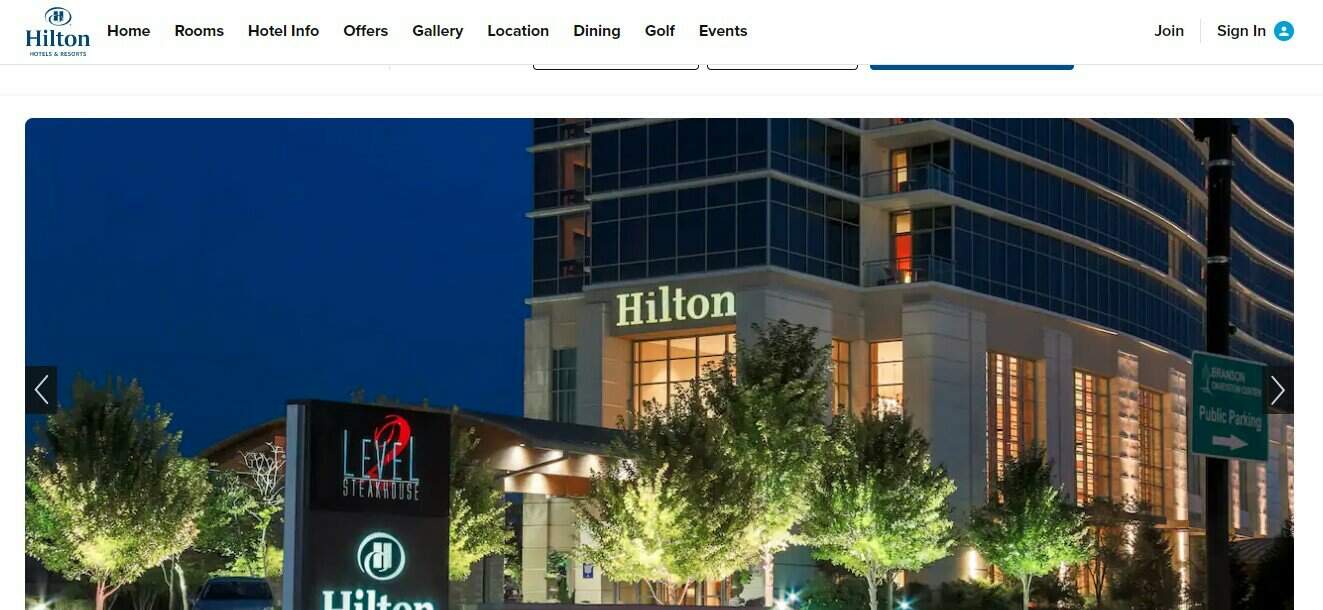 Suitable for luxury travelers, Hilton has 18 distinct hotel brands that cater to high-end guests. Signing up for a Hilton Honors membership will benefit you if you plan to make a reservation in one of the Hilton properties. 
By booking through their official website, Hilton allows you to start earning points and rewards from your first stay at their hotel. In addition, the Hilton app also has some additional features that will come in handy for the guests. From choosing your room, to online check-in and check-out via their app, it makes your stay more streamlined and practical!
Signing up for a Hilton Honors membership is free, so I suppose you will have nothing to lose in becoming a member and start collecting points for each stay!
Pros: 
Hilton offers the best rate guarantees (BRT) on their official website. They also provide a better discount than Hyatt if you can find a lower rate than the one on their website. If Hyatt guarantees a 20% discount, Hilton offers 25% off for this!

The built-in features on their app are top-notch!

Hilton also has an extensive portfolio with over 7,000 properties in 122 countries and territories.

You can also get a minimum of automatic Silver status on your Hilton Honors membership if you get a 

co-branded Hilton credit card

. 

You can earn and transfer points to miles as Hilton has an extensive list of airline partners. On the list, you can find low-cost airlines like AirAsia to some major airlines like 

Emirates, Qatar Airways

, Singapore Airlines, and 

British Airways

.

Hilton allows you to transfer and receive points across accounts. While you can share points up to six times a year, there is no maximum amount of points you can transfer annually. 

You can get up to 4.2% cashback if you use Top Cashback while booking accommodation via Hilton's official website. 
Cons: 
The point redemption is quite pricey compared to some other hotel loyalty programs. It's a downside since the ability to redeem points is supposed to be a perk of being a member in the first place. 

Hilton focuses more on high-end members, so it lacks smaller boutique hotels like Hyatt's Alila or Marriott's Moxy. 
IHG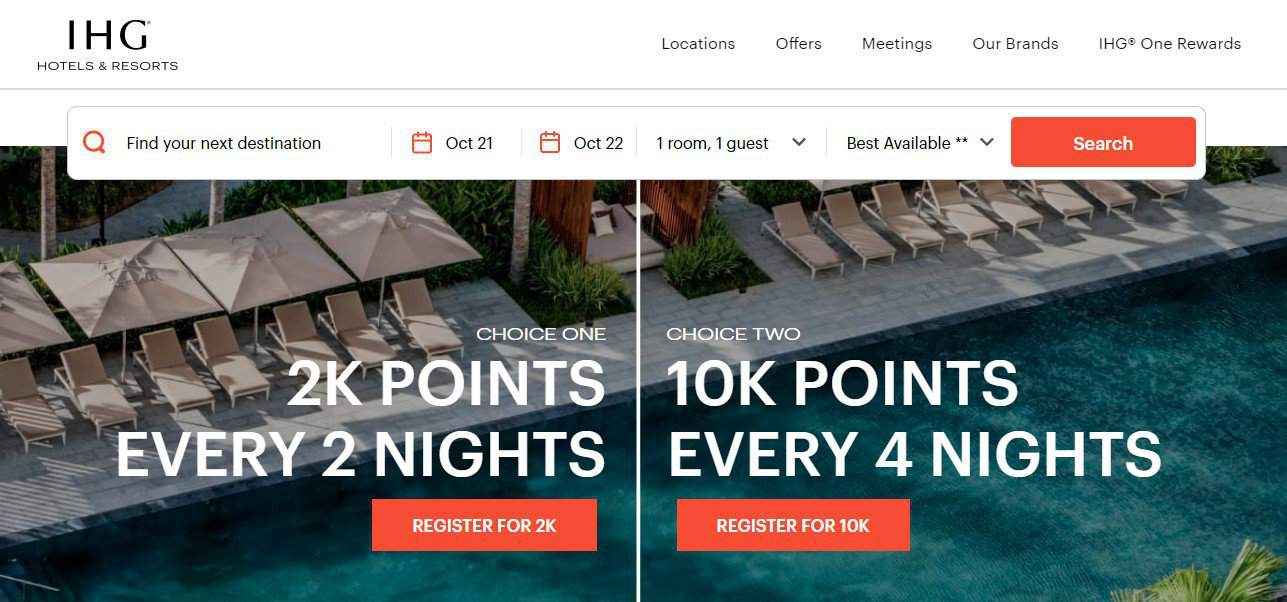 With 17 hotel brands, IHG is another alternative to the Hyatt site for booking accommodation on your next travel. They have an extensive portfolio, from mid-range hotels like Holiday Inn Express and Avid to ultra-luxury ones like Regent and InterContinental. 
You can sign up for their IHG One membership via their official websites and start collecting points right from the start. They guarantee a bonus for every 10-night stay in their hotels. On top of that, you can also pick the rewards, whether you want to collect bonus points, complimentary food or beverage, or even a room upgrade!
Pros: 
IHG also offers the best rate guarantees (BRT) for their IHG One members. If you can find a better price on another platform, IHG guarantees up to 40,000 points on your account. The said points are equivalent to around $280 USD. 

Compared to Hyatt, IHG has a more extensive portfolio with around 6,000 properties in more than 100 countries. 

You are eligible to get an automatic Silver status if you have a co-branded 

IHG credit card

. 

You can earn or transfer points to miles for some of 

IHG's airline partners

. The list includes some leading airlines like 

Virgin Atlantic

, Qantas, and 

American Airlines

. 

You can get up to 10% cashback with Top Cashback if you book your accommodation via IHG's official website. 
Cons: 
While IHG One Rewards points are transferrable to another member, you will have to pay the fee of $5 USD per 1,000 points transferred. 

The transfer ratio if you want to transfer your points to airline miles is quite significant, with an average of around 1:5. 
Hotels.com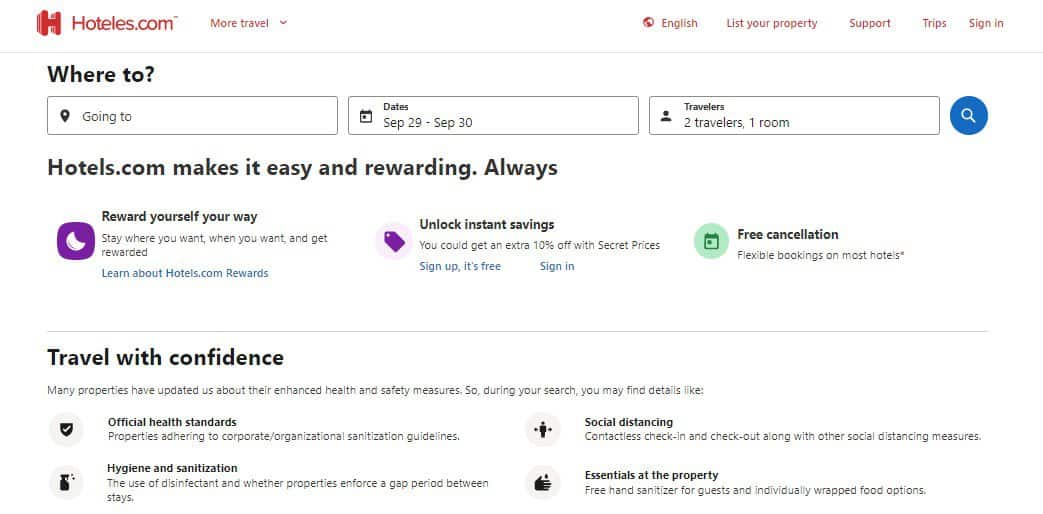 If you're a frequent traveler who doesn't stay exclusively at a certain hotel chain, you can still collect points if you look into some online travel agencies (OTA) that come with their loyalty programs. Hotels.com is one of them. 
As an agency, Hotels.com has a more extensive portfolio than if you book through some particular hotel chain's official websites. A part of the Expedia group, Hotels.com also offers a loyalty program called Hotels.com Rewards, which allows them to get rewards like a free night stay and a discount for their hotel stay. 
You can create an account on Hotels.com for free, allowing you to start earning a stamp for every stay you book with the platform. After the 10th booking, you will get a free night stay and earn the Silver status on Hotels.com Rewards. 
Pros: 
Hotels.com is a third-party online booking for hotels that has 85 websites in 34 languages. 

Hotels.com has an extensive listing of over 500,000 hotels in around 19,000 locations. It includes the low-budget B&Bs and ultra-luxury accommodations you can book for your next stay. 

You can get three reward nights on Hotels.com if you have a co-branded 

Hotels credit card issued by Wells Fargo

. 

You can take advantage of the free night stay at Hotels.com anytime and anywhere without any blockout dates. It doesn't matter if you want to choose a property from Hyatt, Hilton, Marriott or IHG, you can book it through the platform!

If you climb up your membership status to 

Gold Rewards on Hotels.com

, you can get additional perks like free airport transfer or room upgrades at their VIP hotels. 

You can get up to 6% cashback from Top Cashback for every booking made on Hotels.com. 
Cons: 
Hotels.com reward points will be expired in 12 months, which is shorter than the average expiration period on the majority of hotels' loyalty programs. The latter usually takes around 24 months until the points expire. 

The reward points are not transferrable to any miles, nor can you use them to book a flight, as Hotels.com doesn't provide a flight booking feature on their website. 
Agoda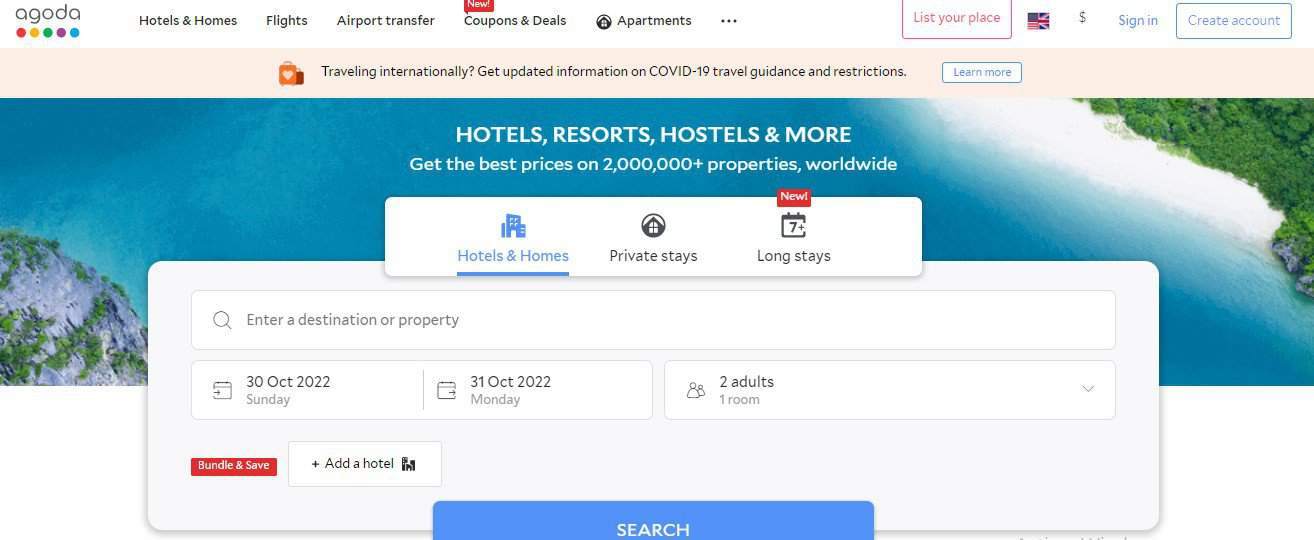 I may be biased when it comes to Agoda since I'm a Platinum member on the platform. However, Agoda is the best choice if you're a frugal traveler looking to save more money to book accommodation for your travel through points, discounts, and cash back. 
With over 2 million hotels in their listings, from guesthouses to 7-star hotels, it is an excellent platform to book accommodation for your next trip. Unlike Hotels.com, which only provides a hotel booking platform, you can also book a flight and various activities on Agoda. 
When you sign up for a free account on Agoda, you are eligible to start earning your Agoda points through their loyalty program: Agoda VIP. As an Agoda VIP member, you can access various money-saving features on the platform, including Agoda Cash and member-only promo codes. 
Pros: 
Agoda offers a wide selection of properties with more than 2,000,000 units around the world. 

With their extensive portfolio, you will still be eligible for perks as an Agoda VIP member whether you book a bunk bed at a hostel or a suite in a 5-star hotel. 

Their customer service hotline is open 24/7 and available in 17 languages.

Agoda accepts various payment methods, from credit cards, bank transfers to Paypal. 

Agoda offers various secret deals for Agoda VIP members, making it not only convenient to use for booking your accommodation, but also with the best deal available in the market!

You can also take advantage of the Agoda PointsMax feature, where you can start earning miles through your booking with Agoda. Their airline partners include Singapore Airlines, Etihad, and Air France. 

You can get up to 8% cashback if you make any transaction on Agoda via Top Cashback or 

ShopBack

. The latter is the platform you can use to earn cashback if you're based in Asia-Pacific. 
Cons: 
While it has a big market in the Asia Pacific, you may encounter some booking problems if you book accommodation elsewhere. The major issue is that not all Agoda partners turn on their messaging feature, making it more difficult to communicate directly with the hotel.

Taxes and service charges can increase the base price significantly. 
FAQs
Question: Is it better to book online or call the hotel?
Answer: While sometimes it is cheaper to call the hotel when you book accommodation, online booking is more practical nowadays and many platforms also offer the best deals at some selected properties. 
Question: Is it better to book directly at a hotel website or through a third-party site?
Answer: It depends on what type of traveler you are. If you're a frequent traveler who has a preference for some particular hotel chain, you'll probably get maximum rewards by booking directly at the hotel website with the possibility of earning points and upgrading your membership status. 
However, if you're a traveler who wants to earn rewards by booking various accommodations, a third-party site like Hotels.com or Agoda can be an excellent option. As a loyalty program member, you can start collecting points on their respective loyalty programs and get rewards from booking any properties in their listing. 
Question: What's the best time to book a hotel? 
Answer: The best time to book a hotel is around 15 days before your trip. Some platforms also offer free cancellation until a few days before the D-day. By booking accommodation a few days before your travel date, it will be more convenient for you since you can secure a hotel before your trip but with an option to cancel if necessary.
Conclusion
Booking accommodation directly through Hyatt's official website is beneficial if you hold a membership status on the World of Hyatt loyalty program. It's also the best way to book your accommodation if you stay at Hyatt properties frequently.
However, some other loyalty programs from different hotel chains offer better perks compared to Hyatt. Marriott has a more extensive hotel portfolio compared to Hyatt, so are Hilton and IHG.
Alternatively, a third-party website like Hotels.com or Agoda can be an excellent platform to earn rewards if you're the type of traveler who prefers to stay at different hotel chains. While the perks may not be as vast as being a loyalty member of a particular hotel chain, it enables you to book across hotel chains while also getting some coupons and discounts to use for your next stay!