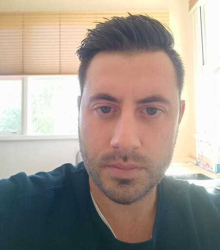 Latest posts by David Borgogni
(see all)
Avios is the official currency of the British Airways Executive Club, the long-standing loyalty program for the UK's leading airline. Still, just because British Airways (BA) is based in a foreign land doesn't mean that the best uses for Avios points are limited exclusively to European travel. Thanks to their extensive U.S. network and multiple partnerships with major domestic and international airlines, I've previously used my Avios account to save hundreds of dollars on flights to, from, and throughout North America.
In this guide, I'll show you the five best ways to maximize your airline points with British Airways, along with outlining how to earn those points in the first place and answering your most frequently asked questions about British Airways Avios.
Bottom Line Up Front
Recognized by multiple major airlines from around the world, British Airlines Avios points offer tremendous value no matter whether you're traveling across the United States or jetting further afield.
However, by far, the best way to use them is for short-haul flights, where you'll typically be able to hop from one city to the next for less than 10,000 points and under $6 in cash.
How Do British Airways Avios Points Work?
Although Avois is the reward currency for the British Airways Executive Club, you don't necessarily have to book a BA flight to earn or redeem your points.
As you'll see below, the company's partnerships with a Who's Who of major flight operators include the likes of
Aer Lingus
Alaska Airlines
American Airlines
Iberia
Qatar Airways.
And others.
As a result, I've been able to accrue points on a range of flights across the United States and beyond simply by being selective about who I choose to fly with.
Given the choice between multiple airlines that fly to my chosen destination, I'll always go with one of the above, knowing that every dollar I spend is ultimately contributing to lower-cost flights down the road.
All this is before I even mention the fact that Avios is also recognized by BA's partners in the OneWorld Alliance, the third biggest airline alliance in the world whose members also include:
Cathay Pacific
Finnair
Malaysia Airlines
Qantas
SriLankan Airlines.
And more besides.
How Are Avios Rewards Earned?
Previously, Avios points were awarded based on the distance flown, but as of October 18, 2023, that will no longer be the case.

Instead, you'll earn points based on your total spend, multiplied by your level of membership in the British Airways Executive Club.
This means that you're not just earning on the base fare and charges imposed by the flight carrier but also:
Pre-booked seats
Cabin upgrades
Additional bags.
Let's look at an example to see how this might work based on the following:
Fare and carrier charges – £150 GBP (approx. $192 USD)
Pre-booked seat – £14 GBP ($17.90 USD)
Total spend – £164 ($209.68 USD)
| | | |
| --- | --- | --- |
| Membership Level | Reward | Total Points Earned |
| Executive Club Blue | x 6 Avios per £ spent | 984 |
| Executive Club Bronze | x 7 Avios per £ spent | 1,148 |
| Executive Club Silver | x 8 Avios per £ spent | 1,312 |
| Executive Club Gold | x 9 Avios per £ spent | 1,476 |
Other Ways to Earn British Airways Avios Miles
Along with booking flights, you can also rack up points through the following methods:
Transfer Your Points
When I first signed up with Avios, I found that one of the easiest ways to get points was by transferring them over from other loyalty programs that I wasn't using as much.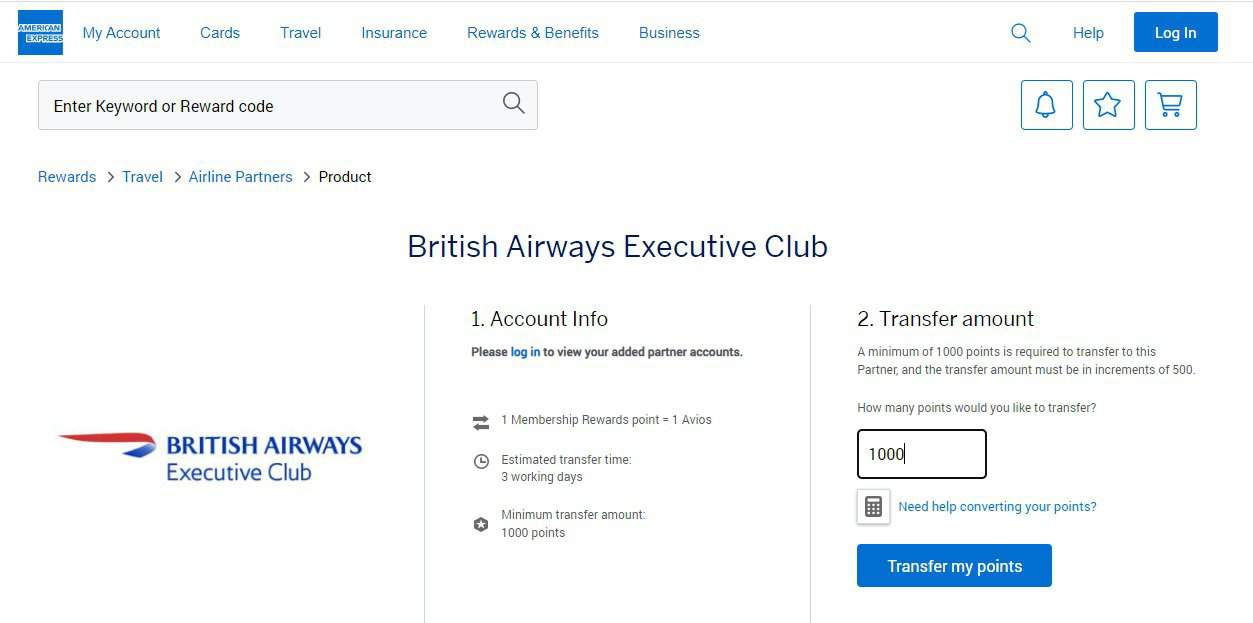 For example, with my American Express Membership Rewards account, I could take my points and convert them to Avios at a 1:1 ratio with an additional 30% bonus.
Even now, I continue to collect Membership Rewards points and transfer them over to Avios, 1,000 points at a time. Every 1,000 points from American Express results in 1,000 Avios, and as you'll see later in this guide, that can soon add up to some significant savings.
Credit Card Deals
I also earned 100,000 Avios just for signing up for the British Airways Visa Signature Card, If you do the same and spend over $5,000 within the first three months, you'll also get 75,000 extra points, making 175,000 in total.
Elsewhere, you could get a British Airways American Express Credit Card and recieve 5,000 Avios for spending £1,000 (GBP) within the first three months, plus 1 point for every £1 spent.
Hotel Bookings
Another way that I commonly rack up Avios rewards is by booking hotel stays with British Airways hotel partners.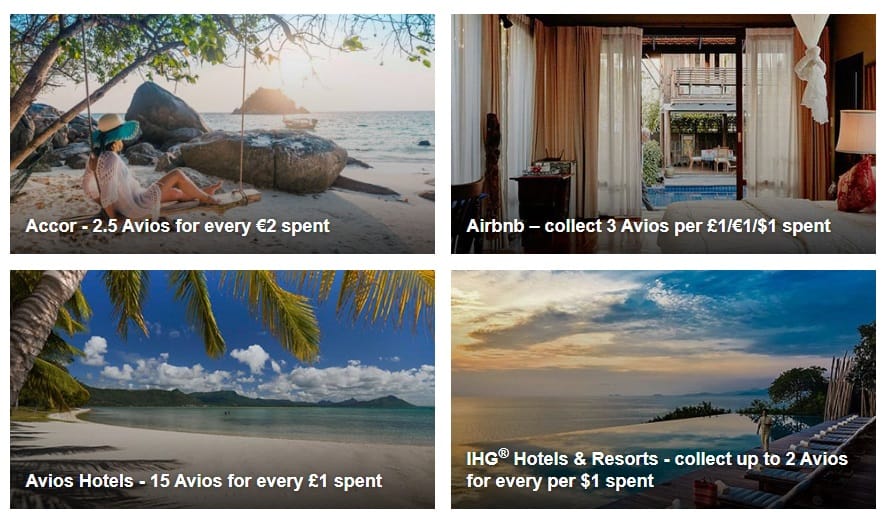 Current rates include:
| | |
| --- | --- |
| Hotel Chain | Avios Per $1 Spent |
| Accor | 2.5 |
| Airbnb | 3 |
| Avios Hotels | 15 |
| IHG Hotels & Resorts | Up to 2 |
| Marriot International | Up to 2. |
Much as with flights, you can also transfer points from other hotel loyalty programs to Avios.
For example, if you choose to convert Marriott Bonvoy points, you can take advantage of the following rates:
| | |
| --- | --- |
| Marriot Bonvy Points | Avios |
| 9,000 | 3,000 |
| 30,000 | 10,000 |
| 60,000 | 20,000 |
| 90,000 | 30,000 |
| 120,000 | 40,000 |
Usually collect your points with The Raddison?
You can exchange these as follows:
| | |
| --- | --- |
| 2,000 Radisson | 200 Avios |
| 50,000 Radisson | 5,000 Avios |
| 100,000 Radisson | 10,000 Avios |
Other transfer options include:
| | | |
| --- | --- | --- |
| Loyalty Program | Hotel Points | Avios Currency |
| IHG One Rewards points | 10,000 points | 2,000 Avios |
| World of Hyatt | 5,000 points | 2,000 Avios |
| Hilton Honors | 10,000 points | 1,000 |
Although transferring your hotel points may not seem like a great bargain, I've found it to be a useful strategy when I'm only a few points away from taking advantage of a good deal.
For example, I recently needed to book a short flight from New York to Chicago. I could have paid several hundred dollars to book the flight, but there was also an option to use 7,500 Avios and pay only around $40.
The problem was I'd already used most of my account balance to take advantage of one of the five deals I'll share with you below, and only had 6,000 points left.
Not a problem.
All I had to do was move my Marriot points over, and voila! Several hundred dollars in savings.
5 Best Uses for Avios Points in 2023
Short Haul Tickets
Undoubtedly the best way to redeem Avios rewards is to put them towards a short-haul trip, either on a British Airways flight or with a domestic American airline.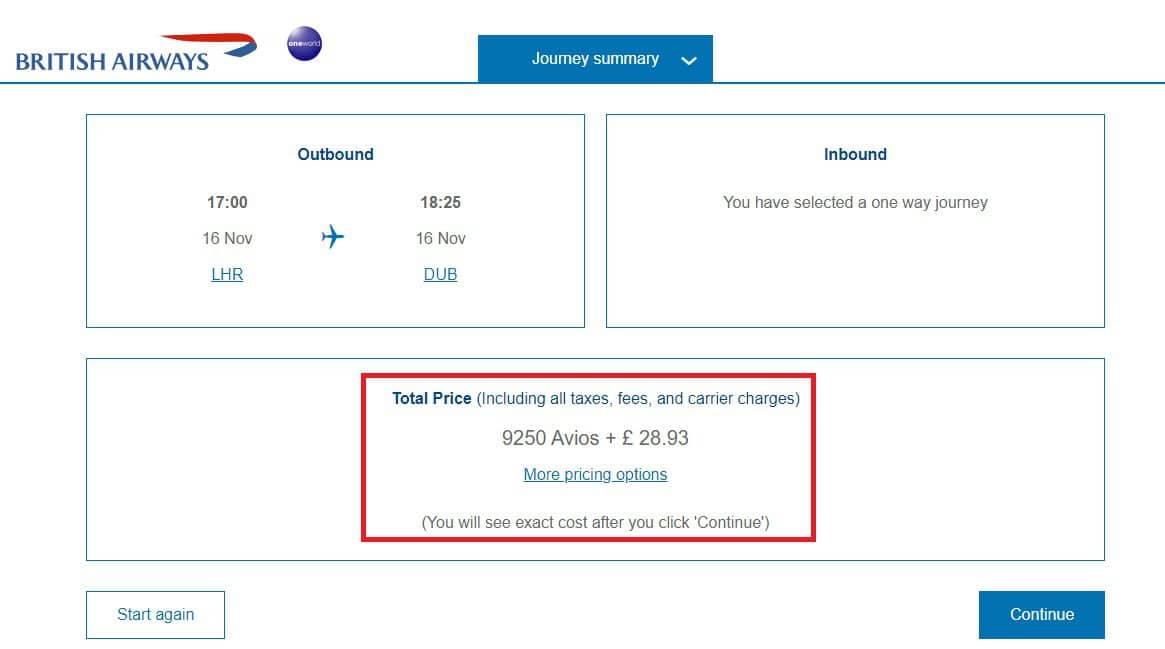 In this example, I booked a quick hop across the English Channel from London to Paris, eating up just Avios plus a small booking fee of £36.18 ($46.10).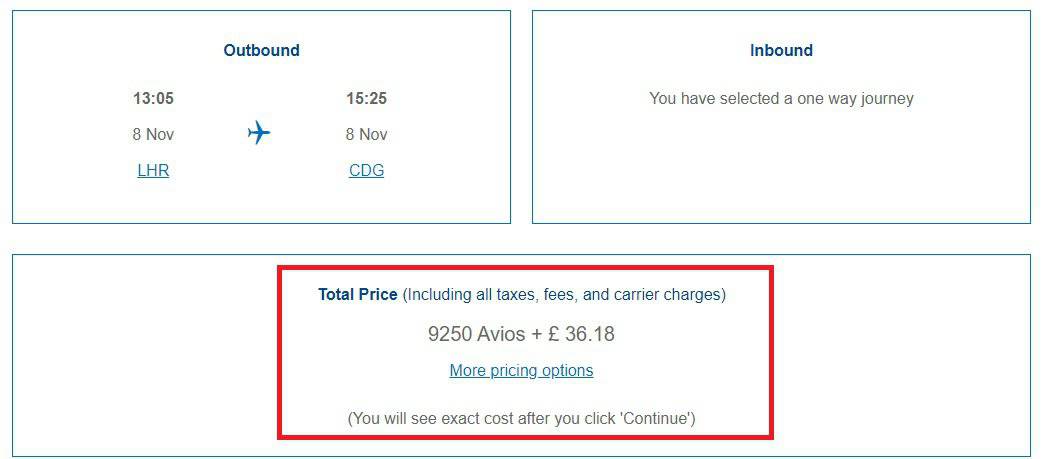 For a different trip the following week, I once again started in London, but this time jumped over to bonny old Dublin. The trip cost the same points but only £28.93 ($36.86) in fees.

The part I like the most is that British Airways gives me the freedom to choose from various point/pound combinations.
Sometimes, I know I want to save my points for another trip (something I wish I'd done for the aforementioned New York – Chicago flight), so I appreciate being able to mix and match my part-payments with various money/points combos.
So far, so good, but what about flights in North America?
There are good deals to be found there, too.

Heading back from a recent business trip to Charlotte, North Carolina, on an American Airlines flight to JFK in New York cost me less than $6 with just $7,500 Avios.
Shop around, and you'll find that these bargain-basement flight costs are par for the course, with most short-haul trips under 650 miles throughout the United States.
Elsewhere, I've also had a lot of success booking short-haul flights with BA partner airlines such as Japan Airlines, Alaska Airlines, and Cathy Pacific, all for around 6,000 Avios plus fees.
Upgrade Your Flight
After snagging your for next to nothing, you might want to consider using some of your remaining Avios point balance to travel in style by upgrading your seat.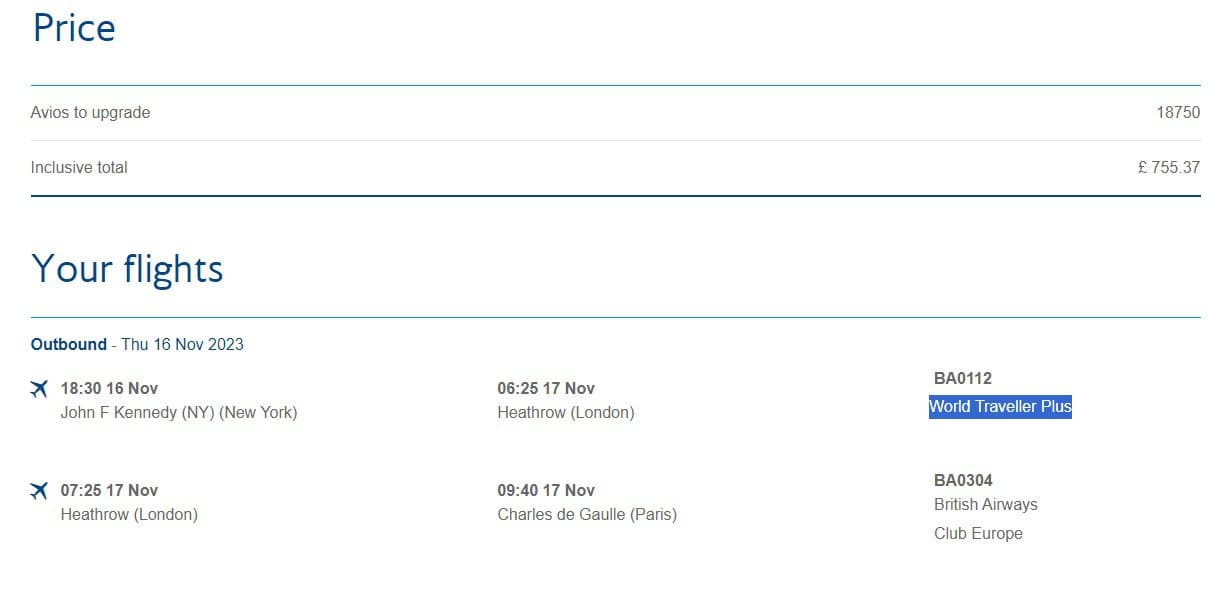 Here, I got a World Traveller Plus ticket for a trip from JFK to London for 18,750 Avios, gaining a number of cool perks including:
Extra baggage allowance of up to 23kg (roughly 50 lbs) per person,
Priority boarding
Fly in a quieter, less crowded cabin than the economy,
A wider seat with extra legroom
50% larger entertainment screen than the economy, plus quality noise-canceling headphones.
Elsewhere, ff you're planning to stay firmly on US soil, you could fly business class from New York to California for 38,750 Avios or really fly in style with a first-class ticket for less than 52,000 points.
Caribbean Getaways
Ready for the ultimate island getaway?
British Airways regularly runs round-trips throughout the Carribean islands and beyond. Although flight choices are limited, they are a steal with Avios.
One trip I looked at but ultimately didnot to book would take me from New York to St. Kitts in the Caribbean from 7,500 Avios, followed by St. Kitts over to Antigua for only  4,750 Avios plus £17.50 ($22.31).
It was only a scheduling conflict that stopped me taking advantage of what could have otherwise been a wonderful, budget-friendly adventure in the sun.
Take a Trip to Hawaii
If the Caribbean doesn't quite cut it for you, but you're in serious need of some sun, sand, and surf, there's always Hawaii.
BA doesn't offer flights to the Aloha state, but one of its partners, Alaska Airlines, certainly does.

Planning a family getaway, I looked at booking our upcoming Hawaii trip directly with Alaska, which would have set me back $149.50 per passenger for an early evening flight from Seattle.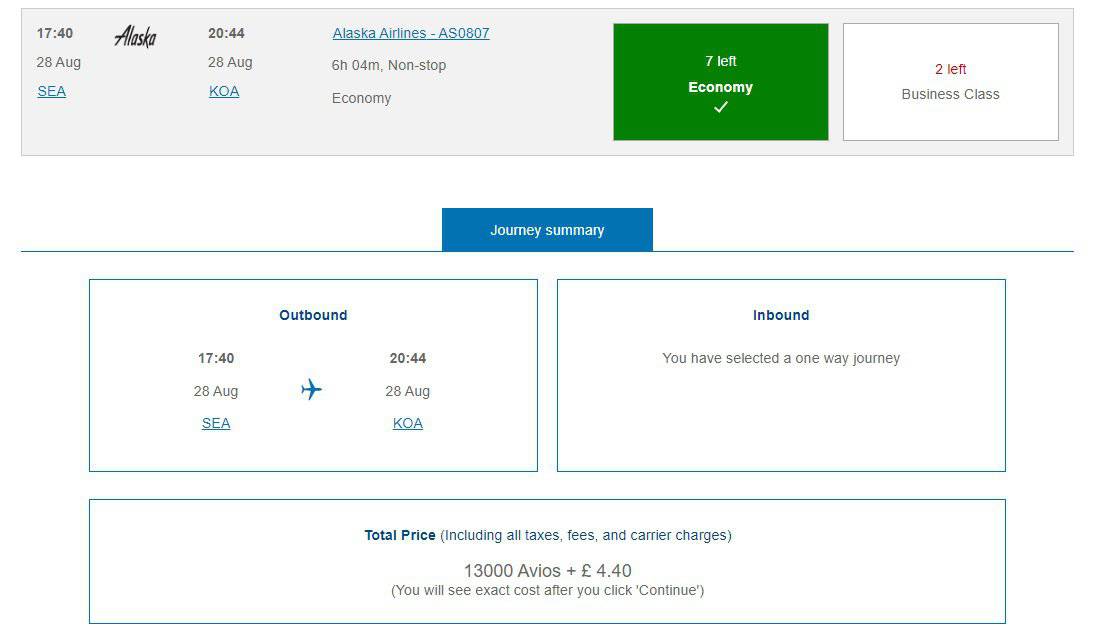 Using my Executive Club membership and Avois currency, I was able to land the exact same flight for just $5.61 (£4.40) plus 13,000 Avios.
There are even bigger savings to be made if you live on the West Coast.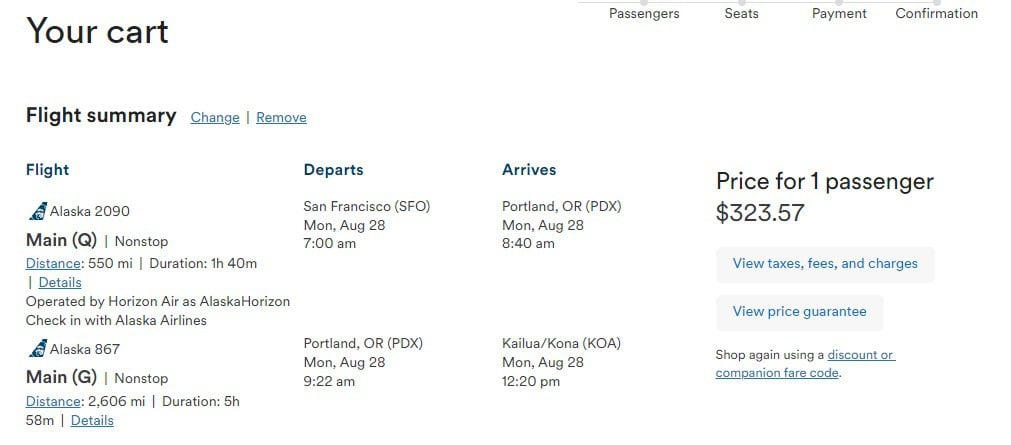 Here, you'll see that if I wanted to fly business class from San Francisco to Kona, the best deal I could find direct with the Alaska Airlines website is $327.57 per person with a layover in Portland, resulting in a total trip time of 8 hours, 20 minutes.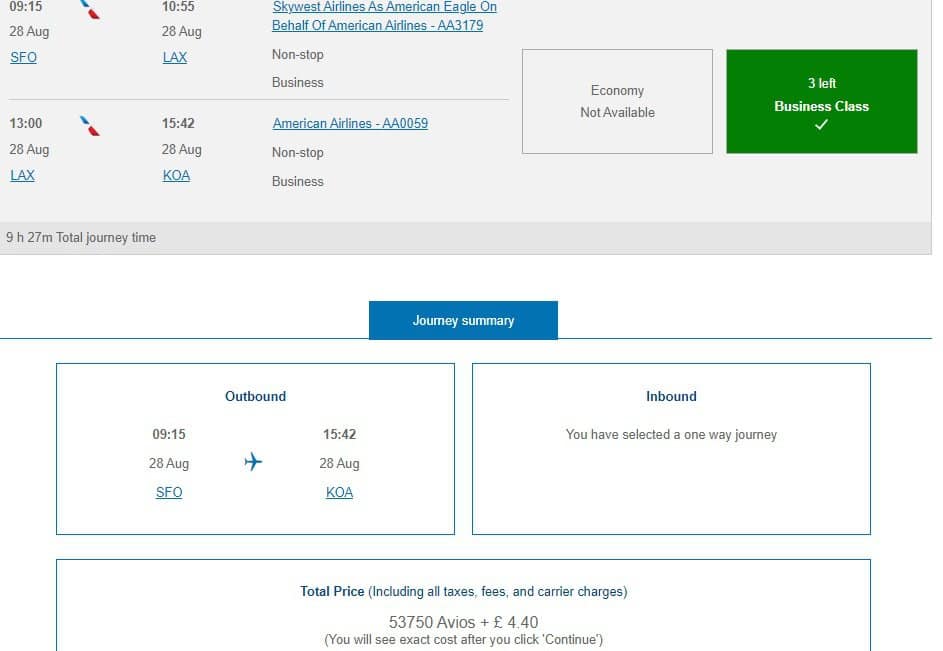 As a member of the British Airways Executive Club, however, I can get almost the same trip for 53750 Avios + $5.61, albeit with a longer layover in Los Angeles.
I don't know about you, but I'd be more than happy to spend an extra bit of time in LA if it saved me over $300 on a trip to Hawaii.
Book Experiences and Excursions
Of course, we might as well see a little of Hawaii while we're there, so so I started looking around for various excursions.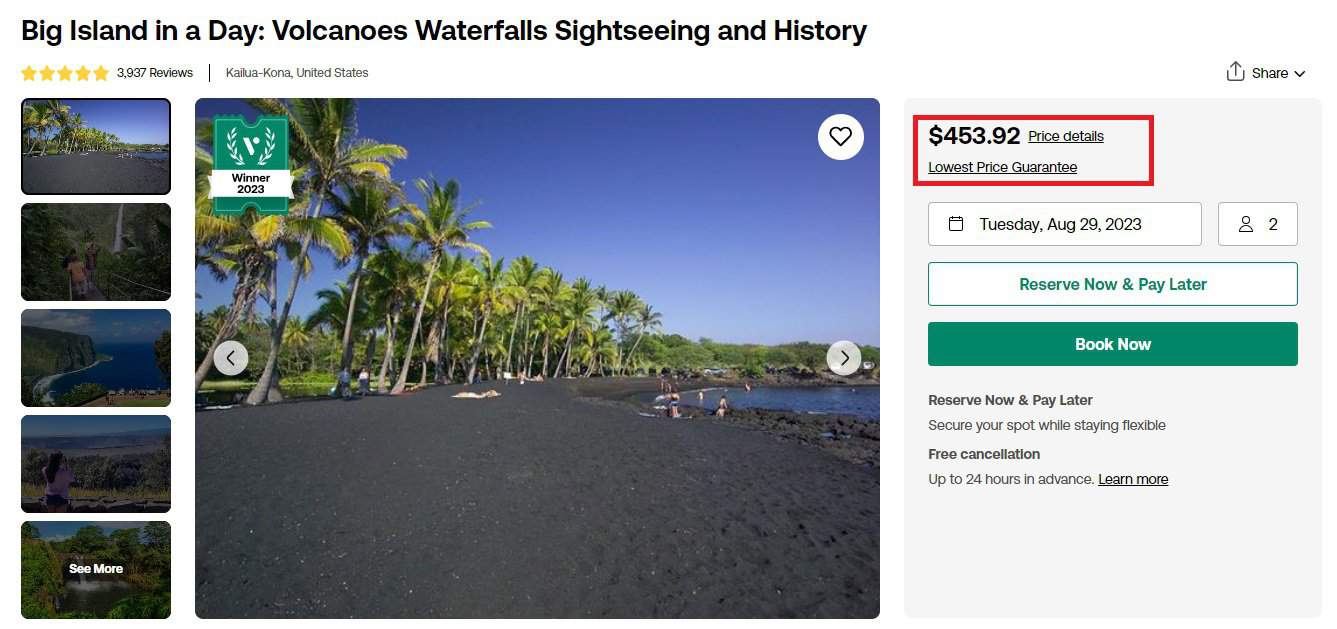 Taking my wife on a volcanoes and waterfalls sightseeing tour in history would set me back close to $500 for the two of us.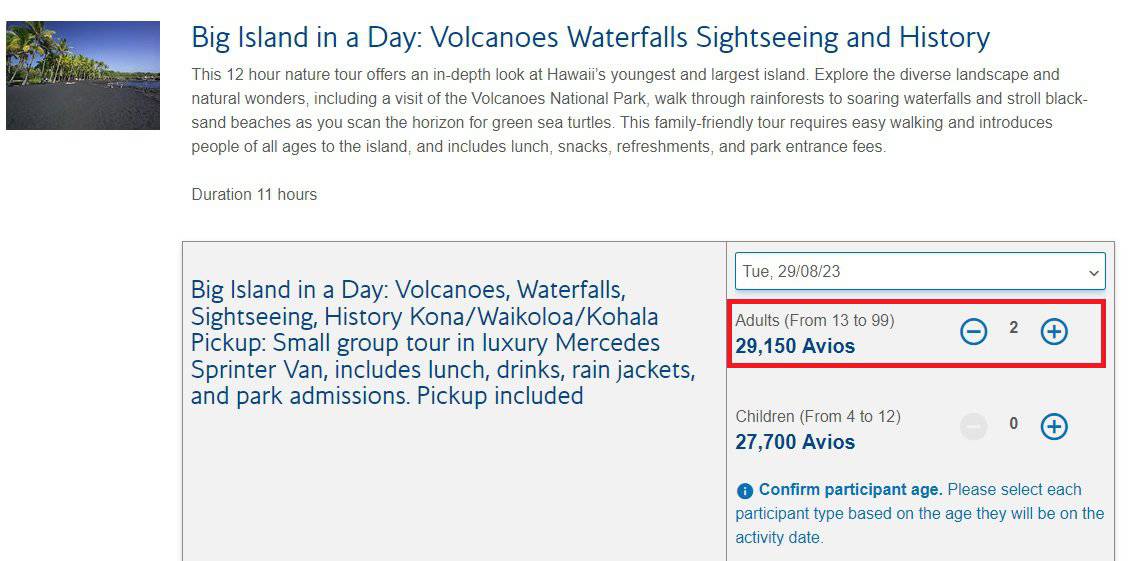 Alternatively, I could use less than 60,000 points (29,150 each) from my Avios balance, and we could both check out the whole tour for free.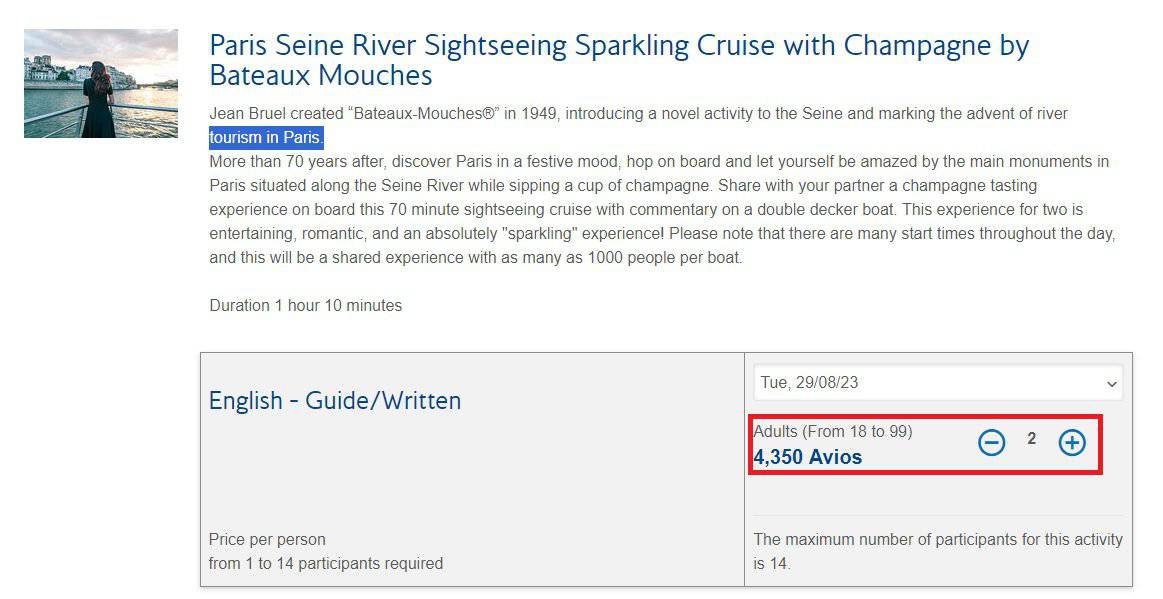 Or, we could decide to head for a romantic break in Paris, where for 4,350 each, we could sail along the Seine River sipping champagne for an hour instead of paying $64 for the price of two tickets.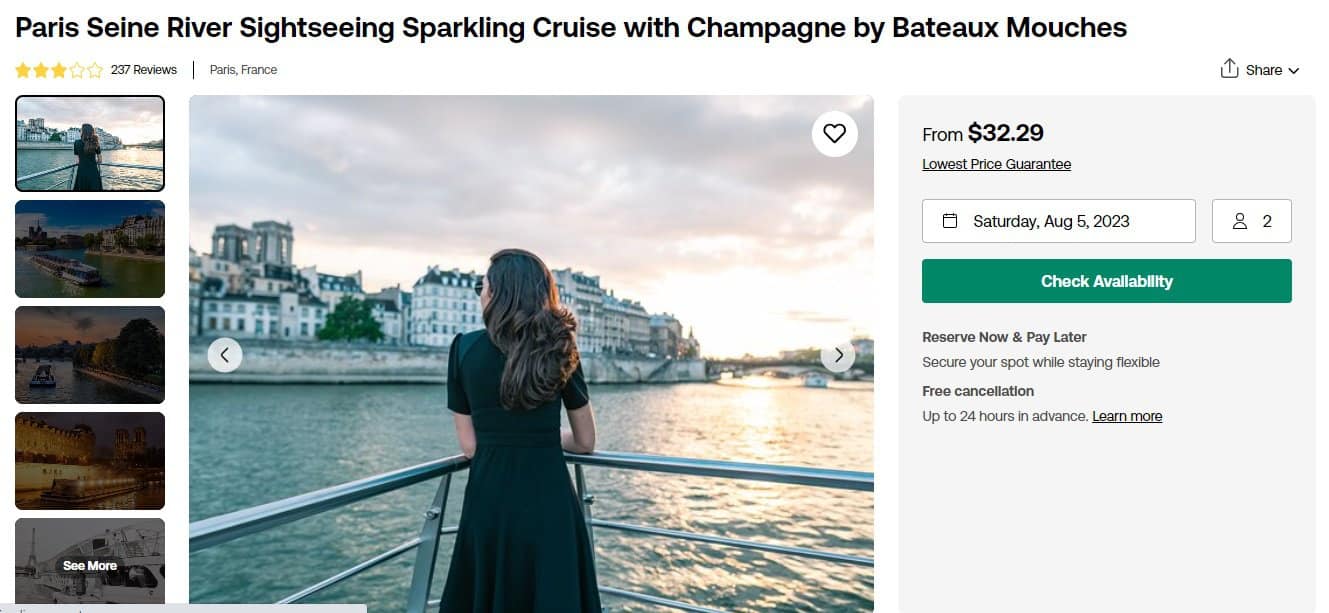 Beyond the two examples shown here, Avios can also be used to pay for Disney tickets, guided tours, hotel upgrades, car rentals, and much more, ultimately saving you a great deal off the total cost of a getaway.
Best Uses for Avios Points Guide: FAQs
Question: How much is 100, 000 Avios worth?
Answer: From May 1st, 100,000 Avios is worth $2,885, according to British Airways' Avios buying guide.
Question: Do Avios Miles expire?
Answer: Technically, your Avios rewards never expire, providing you earn, use, gift, or buy at least one point every 36 months.
That gives you three years to do something with your points, even if you only share them with another Executive Club member.
Question: Can you transfer British Airways miles to American Airlines?
Answer: Although you can't transfer British Airways Avios to American Airlines, you can use your BA points to book American Airlines flights.
Question: Can I cash in my Avios Miles?
Answer: Yes. Sites like MilesBuyer and SellMyMiles will buy unused Avios currency from you.
What are The Best Ways to Use Avios in 2023? Final Thoughts
Ultimately, there are a lot of ways to put your Avios account to good use, whether it's jetting off on a sun filled adventure, flying first class for less, or cutting the cost of trip add-ons such as hotels and experiences.
However, where BA's rewards program really comes into its own is with those short-haul flight deals.
Use your points to book a domestic flight in the US, and you're likely to spend no more than $5.51 in taxes and fees, with the remainder of your fee (basic fares, etc.) covered by only 7,500 flights.
Things may be a little more costly over in Europe, where short-haul trips between counties such as England, France, and the Netherlands may set you back around $50, but even then, you could always use additional points to pay off the remainder of your balance.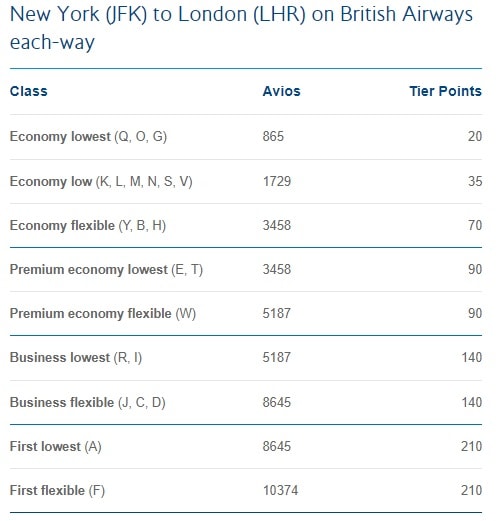 Given that even a single flight from New York to London could earn you anywhere from 865 to in excess of 10,000 points (depending on your ticket type), it's also clear that collecting those points in the first place is relatively easy, meaning frequent flyers won't need to clock up too many flights before they're enjoying all the advantages of Avios.