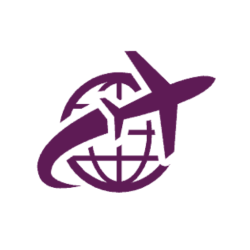 Latest posts by The Points Insider Team
(see all)
I recently took a trip to Hawaii, and I waited in line for my rental car for an hour to get to a desk and fill out a bunch of information. During this time, I watched several people jump to the front of the line when they saw their name flash on this screen above our heads, quickly grab their keys, and go on their merry way.
I later found out they were part of Hertz's loyalty program, which is free to sign up for. I could have simply booked my rental car on their website after signing up for the loyalty program and gotten my car in under fifteen minutes. That's when I started looking into all the rental car points programs and what they offer.
I'll be going over everything I've learned since that moment in Hawaii and how you can take advantage of whatever rental car program is best for you in this rental car points programs guide.
Top Rental Car Points Program Up Front
If you're looking for a quick suggestion on the best rental car points program, I suggest Hertz Gold Plus Rewards. You can build points fast and use them fairly quickly compared to other programs. They also have a bunch of unique perks, like a free additional driver, instant pick-up and drop-off, and neighborhood drop-off of your rental car.
How to Chose a Rental Car Program
When choosing which rental car points program is best for you, there are a few things that you should look for. Below I'll discuss a few factors you may want to consider during your search.
How Much the Points are Worth
Depending on what program you go with, different amounts of points will get you different things. For example, a free rental day may cost you 500 points on one program and 700 points on another.
Some rental car points programs also let you use your points for other things, like accessories. You should also consider how fast you can build points when looking at this, which I'll go over in the next section.
How Fast You Can Build Points
One of the most important things to consider is how many points you earn per dollar. Half a point per dollar spent can make a huge difference in how fast you can build points. You should also look at how fast you can jump tiers in the program because this usually leads to faster point-building as well.
Additional Perks
One of the best parts about joining a rental car points program is the perks that come with it. The biggest perk that most come with it is not having to wait in line to get your keys. You may also look for free upgrades, a free additional driver, and exclusive discounts sent regularly.
Who are Their Partners?
The number of programs the rental company partners with is not nearly as significant as who they partner with.
You want to pick a points program that partners with other travel programs that you frequently use, such as airlines, hotels, and even miscellaneous programs, like AARP and AAA. You can either get a discount on your rental or transfer points between programs to use them where you need them most.
Locations
Most of the rental car loyalty programs I will discuss today have a hefty number of locations, but you want to make sure the program you choose is everywhere you may want to rent a car. If you are a world traveler, make sure the rental company has locations worldwide. If you majority stay in the U.S., some rental companies have more locations within the states.
Some of the Best Rental Car Points Programs
There are so many rental car points programs to choose from nowadays, so it can be challenging to choose which one may be the right one for you. Below, I have chosen some of the top rental car programs to simplify your search.
Hertz Gold Plus Rewards
Hertz is usually the rental company I go with because they have reasonable prices and excellent customer service. Their points program was the first I looked at and is actually my overall favorite. You get one point per dollar spent on rentals, and the points per dollar earned go up with each tier.
On top of that, jumping tiers is quicker than any other rental program. You only need ten rentals to jump to the second tier and 15 for the last tier. This means that you can build points fast. Once you reach 550 points, you can get free weekend rental days, which is a much lower rate than most other programs.
You also get all of the extras that you would expect with a rental car program and more, including a free additional driver, instant pick up and drop off, and a free tier upgrade for one day, to name a few. They do have a shorter expiration date with inactivity than some programs but have plenty of partners to transfer your points to beforehand.
Pros
There are three tiers, two of which have free upgrades and are quicker to jump than other memberships.
You can have a free tier upgrade for one day after seven rentals.
Choose which car you want off the lot.
You won't need to pay extra for an additional driver.
You don't need to wait to get your keys. You just go to your assigned car and hop in.
Neighborhood drop-off in specific locations.
Tons of partners to transfer points between.
There are no blackout dates.
8,500 locations worldwide.
Cons
Points expire if you have 18 months of inactivity on your account.
Budget Fast Break
Budget's Fast Break program works slightly differently than other programs, offering many discounts instead of building points. Their plan saves you money overall rather than eventually giving you free rental days or accessories, meaning you get the benefits a.s.a.p. You have to sign up for e-mails to receive these offers, but that's a small price to pay for how much money you'll save.
The primary purpose of joining this program is to get instant pick-up and drop-off. You simply show up, grab your assigned vehicle and go. When you drop off the car, you pull up to the drop-off location, leave your keys inside and leave. You'll get a receipt e-mailed to you.
Although you won't get as significant perks as other programs, like free upgrades and rentals, you will save money in the long run. If all you're looking for is a way to get a cheap rental car, this is the program for you.
Pros
Gives you up to $1000 in discounts a year in the form of Budget Bucks.
You don't need to wait in line or fill out forms to pick up your car.
Drop off your car with the keys inside and leave.
No tiers. Everyone gets the same thing.
It has 4,905 locations worldwide.
Cons
It doesn't build points, meaning no upgrades or free rental days.
National Emerald Club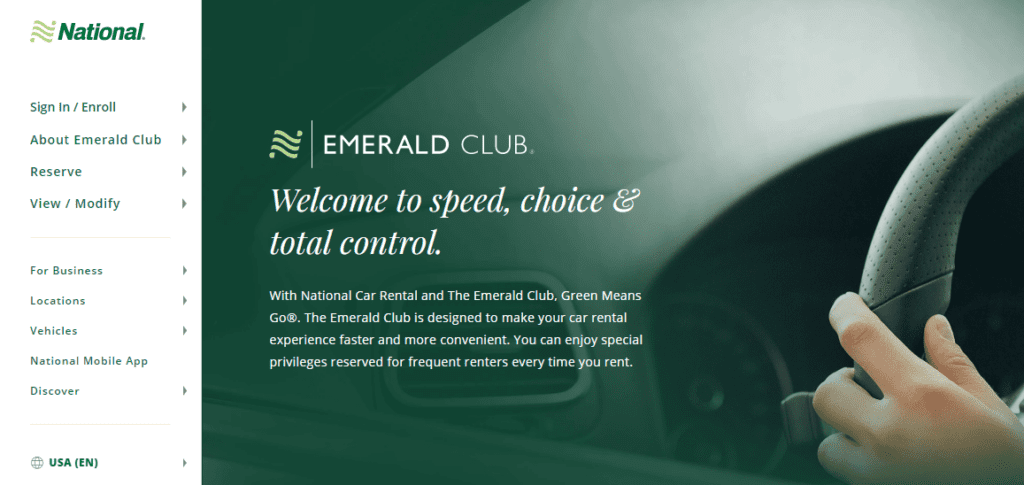 National Emerald Club works differently than other programs because they give you credits instead of points with every rental. You get one credit each time you rent a car, and seven credits equal a free rental day. The higher your tier, the less credit it takes to get a free rental car day.
This may seem like a better deal, but that depends on how long and often you rent cars. If you are the type to rent a car for a day or two multiple times a year, this would be beneficial. However, if you rent a car for a week once a year, it would take much longer to get a free car than if you were getting points per dollar.
You'll also want to check to see if this program partners with any other travel points programs you are a part of because they don't have as many options. Other than that, you get all the standard benefits, such as an additional driver at no charge, instant pick-up, and instant drop-off, and you get to choose which car you want out of the Emerald Aisle.
Pros
Get a free rental every five to seven car rentals, depending on your tier.
Free upgrades in two of the three tiers.
Choose whichever car you want off the Emerald Aisle and go.
Drop off and go, and they e-mail you a receipt.
You don't need to pay a fee for an extra driver.
They send discounts to members via e-mail.
Credits do not expire but must be used by the end of the following year.
Cons
Not a large number of partners.
Only 1,500 locations, which is minimal compared to other companies.
Enterprise Plus
If you're looking to upgrade tiers fast, this is the points program for you. This is the only car rental program that counts how many days you've rented a car to jump a tier status. That means if you usually rent one car for a week, they'll count all seven days into your tier status versus just counting how many times you've rented a car.
I recommend only choosing this program if you don't rent cars very often. You'll jump tiers faster, giving you more points per dollar spent, but the points value doesn't go as high as other programs. Your points also last much longer during inactivity, giving you three years to build or redeem points. The points required for a free rental day are relatively low at 600 points, and there are no blackout dates for when you can get your free rental day.
This membership gives you a dedicated line to pick up your keys and drop the car back off, making the check-in and drop-off slightly faster. However, there is no instant pick-up or drop-off, like other programs. You should also look to make sure that they have partners that you use because there are only three.
Pros
You can get upgraded tiers by how many cars you rent and the days they're rented, whichever is met first.
Get up to four upgrades per year, depending on your tier status.
A dedicated check-in counter for members.
Exclusive offers for members that subscribe to e-mails.
Over 9,500 locations worldwide.
No blackout dates.
Points last a lot longer before they expire (36 months) compared to other programs.
Cons
No express pick up or drop off
Only three partners
Avis Preferred
Avis is another fantastic option if you want the best value for your points. You can earn 1 to 1.5 points per dollar depending on your tier and 2 to 3 points per dollar on accessories, which is not common. They also count how much money you've spent on top of your number of rentals in jumping tiers, whichever you meet first, helping you jump tiers faster.
You get a free rental day with 700 points, which is higher than other programs, but you can also use points for upgrades and accessories. Other programs do not let you use points for these things. Accessories like serious XM, GPS, roadside assistance, and car seats are 250 points to add.
On top of that, they give you 100 bonus points when you rent a car within the first three months of signing up, and every rental guarantees 100 points, regardless of how much the rental costs.
However, you need to rent a car more than once a year for this program because they expire after one year of inactivity. You also can not save up your points for a big vacation because they expire every five years if they aren't redeemed.
Pros
You can use your points for more than a free rental day: upgrades and accessories.
No need to wait in line to pick up your car. Just go to your assigned car and leave.
You can choose which car you want through the app.
They offer 100 bonus points when you rent within the first three months.
Every rental guarantees at least 100 points.
Monthly e-mail offers for members.
Earn points on accessories as well.
Massive amount of airline and hotel partners.
No blackout dates
Cons
Points expire after a measly 12 months of inactivity and every five years if they are not redeemed.
Dollar Express Rewards
What I like most about Dollar is that they have unique add-ons that can make traveling so much easier. I particularly enjoy their PlatePass option, which lets you pay a one-time fee and go through the electronic toll collection lanes instead of having to stop at every toll station. They also have partnerships with Park'N'Fly lots and Veteran Advantage.
Besides that, this program is pretty basic, letting you earn one point per dollar with no tier upgrades. You also get to enjoy a free rental day quicker than other programs, starting at 500 points. There are a few perks of this program that you'll see in most others, like a free additional driver and instant pick-up and drop-off.
You'll wan to check that there is a Dollar rental agency in all of the places you want to visit though because they have the least amount of locations on this list.
Pros
No charge for an additional driver.
You can skip the line and go straight to your car.
You can choose your car when picking it up.
Drop off your keys when you return and get an e-receipt.
Get a free rental day quicker than with any other rental program
Unique partnerships, like PlatePass, Park'N'Fly, and Veterans Advantage
Cons
No tiers, meaning no free upgrades.
Points expire after two years if you don't rent within that period.
Minimal locations compared to other rental companies here.
How to Make the Most of Your Points Program
There are multiple ways to take advantage of your car rental points programs, so you don't lose out on possible points and can get the best experience possible. Here I'll go over just a few ways that you can make the most of every points program.
Get a Partnering Credit Card
A few credit cards partner with rental companies that automatically give you a higher status or significant discounts and deals. These credit cards include:
United Club Infinite Card-Avis President's Club and Hertz Presidents Circle status.
Chase Sapphire Reserve– Elite status and discounts at National, Avis, and Silvercar.
American Express Platinum Card– Get discounts with Hertz and Avis.
Capitol One Venture X– Hertz President's Circle
Use Free Upgrades
Free upgrades are usually included with every program if you are higher than the first tier. If you are unsure if you have a free upgrade available, you can easily ask at the counter when you pick up your rental car. I would ask every single time because you never know if they have some sort of promotion, regardless of tier status.
Use Matched Tier Status Programs
A lot of rental car programs will match tier statuses across multiple programs. For example, if you are in the Avis President's Club, you can also take advantage of Hertz President's Circle benefits without meeting their requirements. Some will even match statuses across different programs like National will match your status with American AAdvantage and Hilton Honors.
The only rental car points programs on this list that do not have a matched tier status program are Budget Fast Break and Dollar Express Rewards because they do not have tiers.
Use or Transfer Your Points Before They Expire
Some programs will say that their points do not expire, which may be true in a sense. But beware that they may expire if you don't keep your account active by building or redeeming points within a specific period. You'll only have to worry about this if you rent a car once a year or less in most programs.
One way to ensure you don't lose any points is by transferring them to one of their partners if you don't plan on renting a car within that period. If you still want to use them for a rental car in the future, you can most likely rent a car through that points portal or transfer them back to your rental car points program.
Other Programs You Can Use for Rental Cars
For years I never even bothered with joining a rental car loyalty program, but still used points to get a free rental car. The only reason I've even thought about it now is to get all the other perks that usually come with the programs. Other programs that you can use points from to get a free rental car are:
Credit Card Programs
Any credit card program that lets you use your points for travel will let you use your points for a rental car as well. This is how I got most of my free rental cards using Chase Ultimate Rewards. On top of that, if I book my rental car through the Chase Ultimate Rewards portal, I can get five times points instead of 1.5 points (the highest amount you can get with a rental car loyalty program).
Credit card programs that you can use your points to get a free rental car are:
Chase Ultimate Rewards
Capitol One Rewards
American Express Membership Rewards
Airline Programs
As long as your airline program lets you use your points for things other than flights, you can most likely use your airline points to rent a car. You will have to do this through your airline's points portal. Some popular airline programs that allow you to book a rental car with your points are:
United MileagePlus Rewards
Hotel Programs
Like Airlines, most hotel loyalty programs will let you use points for rental cars. You can log into your hotel's membership portal and find rental cars to purchase with points there. A few hotel programs that let you rent a car with points are:
Other Miscellaneous Programs
There are many other programs that you can use to get discounts on rental cars, such as AAA, AARP, and Veterans Advantage. The best way to find out what kinds of discounts you can get on your rental car is by going to your program's website and looking up their partners. You can also find which programs give you a discount on the rental car company's website.
FAQs
Question: How Can I Reduce the Cost of my Rental Car?
Answer: The best way to reduce the cost of your rental car is by joining their points program. You must do this before renting the car to receive any discounts. There are also certain partnerships that give you discounts, such as AAA, AARP, and multiple credit cards.You should also see if the company you rented your car from has a best-rate guarantee. If it does, and you find the same car on a different site cheaper, you can fill out a form to get that discount.
Question: Are car Rental Points Programs Worth it?
Answer: I think they are worth it in terms of the perks you get for joining, such as skipping the lines to pick up your car, getting a free additional driver, and free upgrades. In terms of building points and getting free or discounted rental cars, I think there are better programs like Chase Ultimate Rewards.
Question: Is it Better to Rent a Car at the Airport or Online?
Answer: It is always better to rent a car online before showing up. Not only can you get a cheaper price, but cars will run out often. If you are looking for a cheaper price to rent the car, I suggest looking for agencies off the airport. Airport rentals will always be more expensive regardless of how or when you book them.
Which Program is Right for You?

Choosing the right points program for you mostly depends on how often and for how long you usually rent cars. If you are someone like me who only rents a car once or twice a year for an extended amount of time, I will go with Avis or Hertz. For those of you who don't care what kind of car you get and just want to save money, Budget Break Fast is most likely the best option.

If you rent cars frequently, but for shorter amounts of time, National Car Rental has the best program to build tiers and credits fast to get a free rental car. No matter what program you go for, my key takeaway is the extra perks you get. I would choose whichever program has the best perks and extras for you.