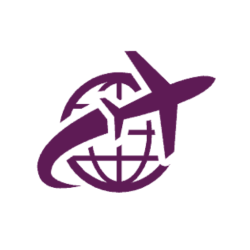 Latest posts by The Points Insider Team
(see all)
Longtime Virgin flyers are understandably a bit confused about the new two tier Virgin Atlantic rewards paths. Does Virgin really have two separate rewards programs now?
In this article I'll dive into the specifics of the new Virgin Red rewards club AND if you should keep, cancel, or double up with the legacy Virgin Atlantic rewards scheme.
Let's dive in…
Main Differences Between Virgin Red vs Virgin Flying Club
These are the main differences I see between the new Virgin Red and the legacy Virgin Atlantic rewards program:
Virgin Points Accumulation: Both Virgin Red and Virgin Atlantic Flying Club programs allow members to accumulate Virgin Points, which can be transferred 1 to 1 from major transferable points programs. However, transfer bonuses may sometimes exceed 1 to 1 in the new Virgin Red program.
Access to Rewards: The two programs can be accessed together with equal points through linking accounts. This allows members to enjoy benefits from both programs.
Reward Variability: Virgin Red may offer more varied rewards and bonuses. For example, some sweet-spot awards include flying ANA first class, Air New Zealand business class from New Zealand to North/South America, and Delta One business class from the US to Europe.
Fees: The fees associated with each program vary depending on flight origin and destination. These fees may differ between the Virgin Red and Virgin Atlantic Flying Club programs.
Tier Benefits: The Virgin Atlantic Flying Club program also offers additional benefits for Silver and Gold members. Silver members earn 30% more Virgin Points than the standard Red tier, while Gold members earn 60% Virgin Points over and above the Red tier.
What is Virgin Red?
Virgin Red is a loyalty rewards club that was launched by the Virgin Group in the UK in February 2021, before making its way to the U.S. in late 2021.
Contrary to initial speculation, Virgin Red isn't replacing Virgin Atlantic's frequent flyer program, Flying Club. Instead, both programs coexist, offering you the ability to link them together and pool your points. This makes it a bit confusing for the average Virgin traveler. 
The unique aspect of Virgin Red is that it provides opportunities to earn and spend Virgin Points beyond travel, incorporating various lifestyle experiences and retail partnerships into its rewards landscape.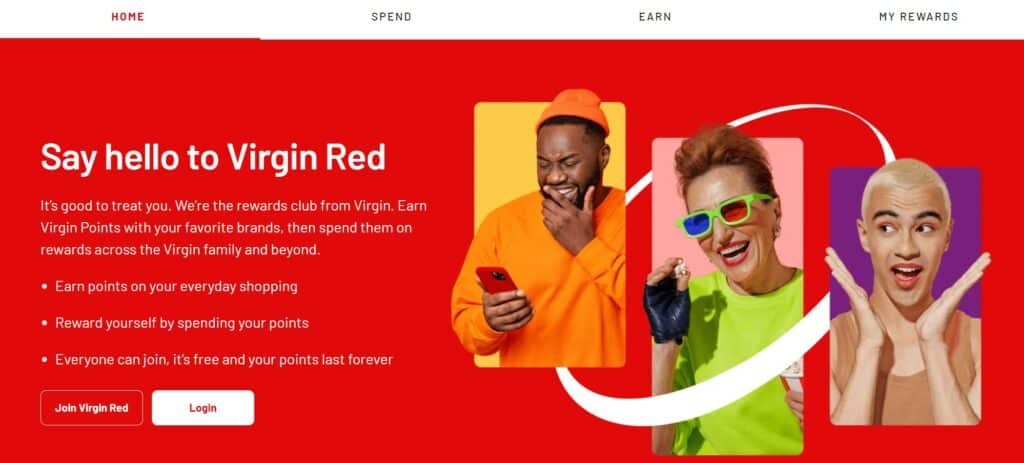 How to Earn Virgin Red Points
There is a multitude of ways to earn Virgin Red points. These include credit card rewards, transfer partners, hotel stays, flights, and purchases made through retail partners. The number of points you can earn varies depending on the specific offer or transaction.
The main differences between earning with the traditional Virgin program is the wider availability of retail partners
Earning Points Through Online Shopping
Virgin Red offers the opportunity to earn points by shopping through selected retail partners. This means that even your regular shopping spree could contribute to your next travel adventure.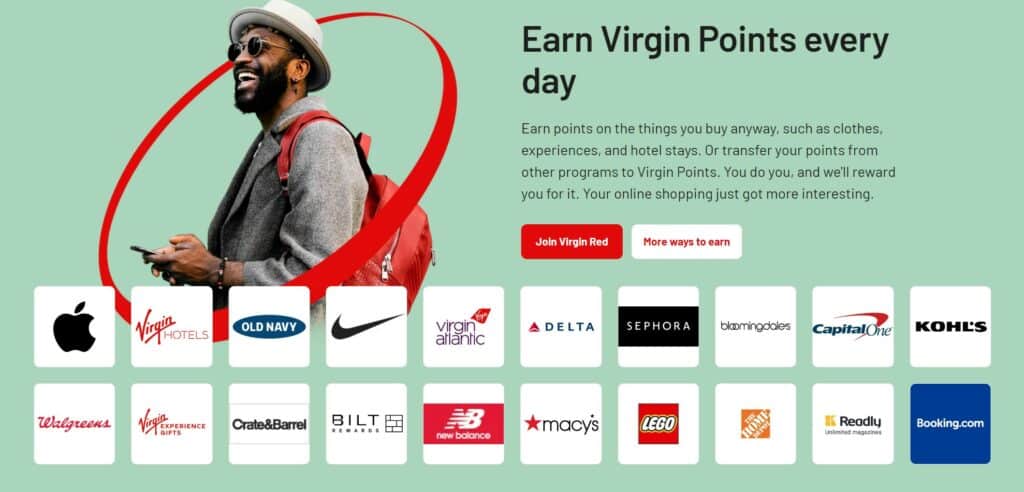 Earning Points Through Travel
If you're booking stays at Virgin Hotels or flying with Virgin Atlantic, you can earn Virgin Points. Additionally, points can be earned by booking travel through partners like Booking.com and Delta, among others. Virgin also offers unique travel experiences that can earn you a hefty sum of Virgin Points.
Earning Points Through Transfer Partners
Both Virgin Red and Flying Club are transfer partners for several popular rewards programs, including Chase Ultimate Rewards, American Express Membership Rewards, and Citi ThankYou Rewards. All these programs allow you to transfer points to your Flying Club account at a 1:1 ratio, providing a convenient way to accumulate Virgin Points.
Earning Points Through Credit Cards
The Virgin Atlantic World Elite Mastercard® is a co-branded airline credit card that allows you to earn Virgin Points on your purchases. The card offers 3X points per dollar on Virgin Atlantic purchases and 1.5 points per dollar on all other purchases.
However, considering the various bank transfer partners that Virgin Atlantic has, you might find more value in earning flexible points through cards like the Chase Sapphire Preferred® Card or the American Express® Gold Card and then transferring them to Virgin Atlantic when you're ready to book a flight.
Options for Redeeming Virgin Red Points
Virgin Red presents a plethora of options for redeeming your points. Point values can vary depending on the specific redemption. It's also worth noting that Virgin Points don't expire, so you can accumulate points for as long as you want if you have a larger redemption in mind.
Redeeming Points for Flights
You can redeem Virgin Points for award flights through Virgin Atlantic. Redemptions start at 18,000 for Economy Classic reward seats and increase based on the timing and destination of your travel. You'll only need to pay for any applicable taxes and fees.
Virgin Atlantic is a part of the SkyTeam Airline Alliance, so you can also redeem points for flights on SkyTeam partner airlines.
Redeeming Points for Hotel Stays and Other Rewards
Outside flights, there are plenty of other redemption options available through both Virgin rewards programs. These include Virgin Atlantic Holidays, Virgin hotel stays, stays at Virgin partner hotels, and even unique experiences and live events. With the Virgin Red program, your points can take you much further than just the airport.
Linking Your Virgin Red and Flying Club Accounts
One of the standout features of Virgin Red is its compatibility with Virgin Atlantic's Flying Club program. By navigating to the "Link accounts" section of your Virgin Red account and entering your Flying Club account number, you can link your accounts.
Once linked, you can view and redeem your Virgin Points through either platform, giving you more flexibility in managing and using your rewards.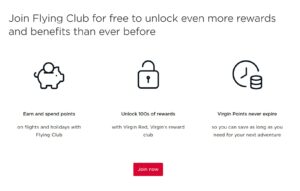 Capitalizing on Capital One's Partnership with Virgin Red
Capital One cardholders have something extra to cheer about. Virgin Red has been added as the 17th transfer partner for Capital One, potentially boosting the value of Capital One miles.
As Virgin Points can be used similarly to Virgin Atlantic Flying Club miles, you can leverage these points for excellent partner redemptions. Capital One has also announced temporary transfer bonuses to partners like Aeromexico Club Premier, Avianca LifeMiles, and Wyndham Rewards, providing even more ways to maximize your points.
Capital One's New Transfer Bonuses
Continuing the good news for Capital One cardholders, the company has introduced three transfer bonuses, which will be available for a limited time.
When transferring Capital One miles to Aeromexico Club Premier, Avianca LifeMiles, and Wyndham Rewards during this promotion, you'll earn a 20% bonus. This means that your points will be transferred at a 1:1.2 ratio instead of the standard 1:1 point ratio, giving your points a significant boost.
Earning Capital One Miles
There are several credit cards that allow you to earn Capital One miles. Some of the popular choices include the Capital One Venture X Rewards Credit Card, Capital One Venture Rewards Credit Card, and the Capital One Spark Miles for Business.
Each of these cards has varying benefits and annual fees, so it's essential to choose a card that aligns best with your spending habits and financial goals.
The Bottom Line on Virgin Red vs Virgin Flying Club
The introduction of Virgin Red as a transfer partner for Capital One is fantastic news for cardholders. It unlocks a plethora of excellent redemptions, including premium flights on ANA and Delta, along with various non-flight redemption options.
However, as with any rewards program, always do the math to ensure your desired redemption offers good value, especially when transferring Capital One miles.
In the realm of travel rewards, Virgin Red presents an enticing proposition. By allowing members to earn points across a variety of channels and redeem them for a wide array of rewards, the program broadens the horizon of possibilities.
Whether you're a frequent flyer with Virgin Atlantic or simply a savvy shopper, Virgin Red can help turn your everyday activities into unforgettable travel experiences.
So, sign up, link your Flying Club and Virgin Red accounts, and start earning your way towards your next travel adventure.
Further Information on the Virgin Points Programs
Here's some additional reference material on the Virgin points ecosystem: