Latest posts by Joe Elvin
(see all)
Some people say the worst part about traveling is the travel itself. Some people can't bear the process of getting to their destination and would rather just be there as soon as possible. It doesn't have to be that way, though, not if you travel first class. The first-class seating experience is designed to pamper you and make your trip a memorable experience, although it often comes at a significant price. 
During my five years traveling the world working as a remote writer, I've met tourists who are still raving about first-class experiences they enjoyed years ago. Others are simply willing to spend extra to avoid lines, long wait times, and uncomfortable small seats. 
This article will discuss whether first class seats are worth the extra expense.  
The Bottom Line
Only you can decide if first-class tickets are worth it in your particular circumstances. Among other things, you should consider how much money you have, who you're traveling with, how important comfort is on this particular journey, and how much you're trying to impress your travel companion. 
What Is A First Class Flight?

Have you ever stayed in a fancy all-inclusive hotel, resting and enjoying a comfortable room while being pampered by the staff? Then, perhaps for a brief moment, you get lost in the luxury and completely forget the stresses of the crazy world around you. For me, traveling in first class is a similar experience.
Each airline has its own style and seeks to captivate its travelers in different ways, from luxurious and comfortable seats to suite-type cabins that provide privacy and comfort and sophisticated menus with high-quality food.
In addition, the personalized attention makes you feel cared for from start to finish. From the moment you arrive at the airport and enter the first class lounge, you can appreciate the comfort and attention of the staff. Your wait to board the plane is more enjoyable with a refreshing drink and maybe some snacks. 
The cost of first class and the services offered will depend on the airlines, as well as the destination and duration of the trip. In some cases, you may find that the cost can be up to 10 times higher than a seat in economy class.  If you're someone who wants to enjoy all the unique luxuries of life, I'd recommend traveling in the first class at least once in your life. The experience will take you beyond the clouds. 
Airlines with Great First Class Options
Singapore Airlines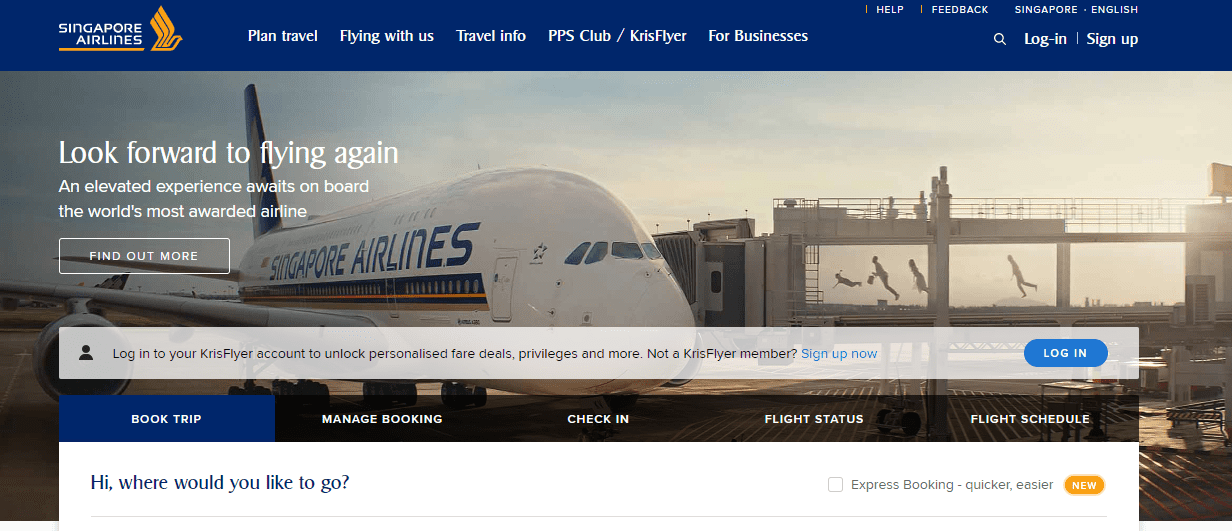 Singapore Airlines has established itself as one of the best airlines for its excellence in first-class services.  Practically offering private and comfortable suites, you will have the feeling of resting on a comfortable cloud with this airline. Plus, you'll be astounded by the diversity in its entertainment options, ranging from movies, documentaries, music, and even video games.
Etihad Airways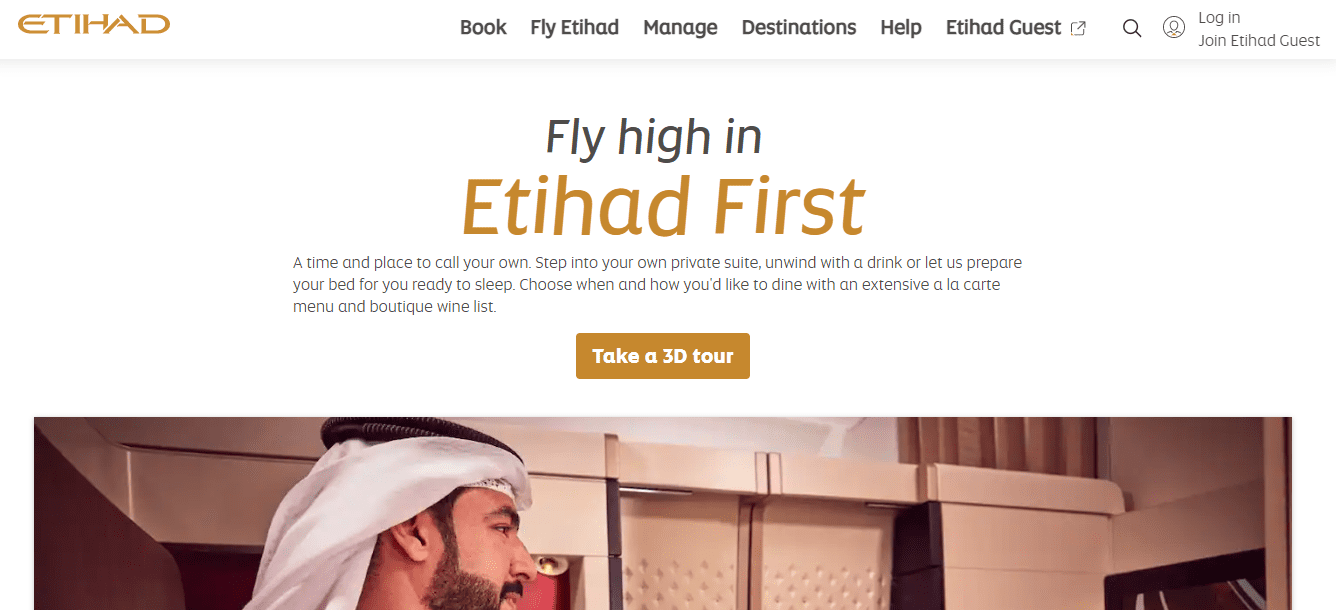 Etihad Airways is another airline that stands out for its luxurious services in the heights. In addition to its luxurious and elegant private cabins, you´ll find a minibar to enjoy your favorite drink while you fly.
Emirates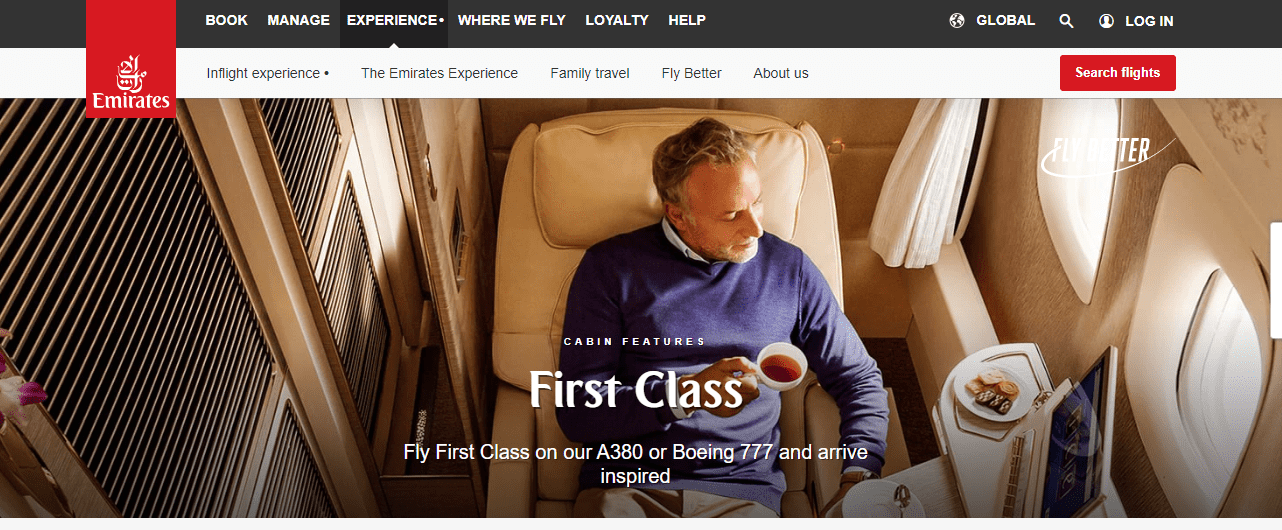 Emirates will welcome you in its elegant and luxurious floating cabins. As well as excellent food, you can also relax in its two spas with showers and underfloor heating. 
Qatar Airways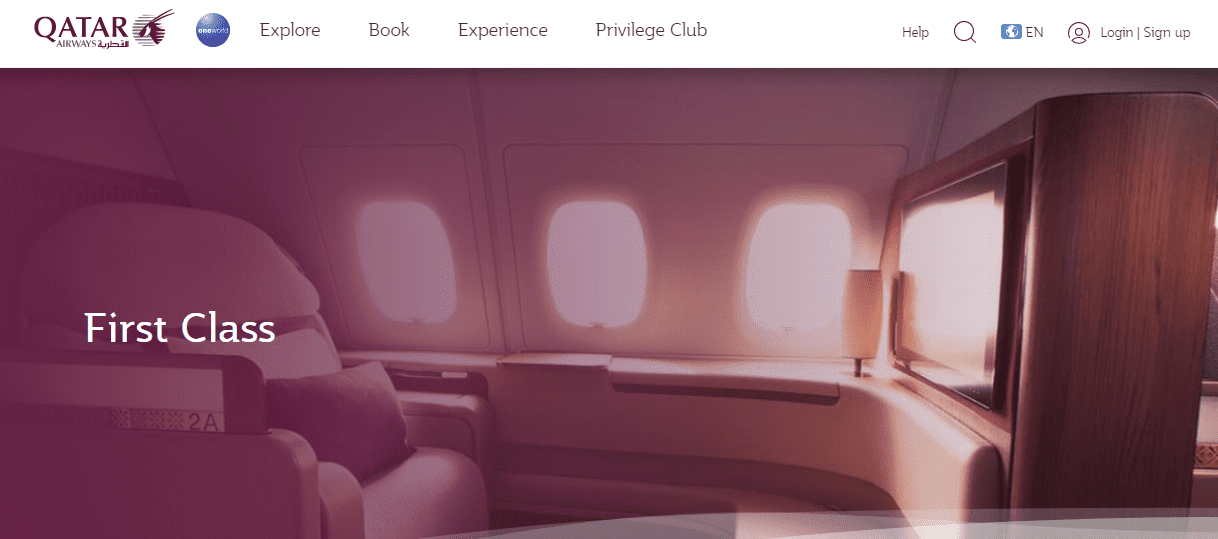 Qatar Airways has positioned itself as one of the best first class airlines thanks to the unforgettable experience in its comfortable and luxurious cabins with an exquisite food menu.
Air France
If you enjoy gastronomy, Air France arguably offers unparalleled gourmet food prepared by chefs such as Joël Robuchon, Guy Martin, or Régis Marcon. This fine dining helps you enjoy the comfort of first class seating even more. 
What Are The Different Types Of Flights?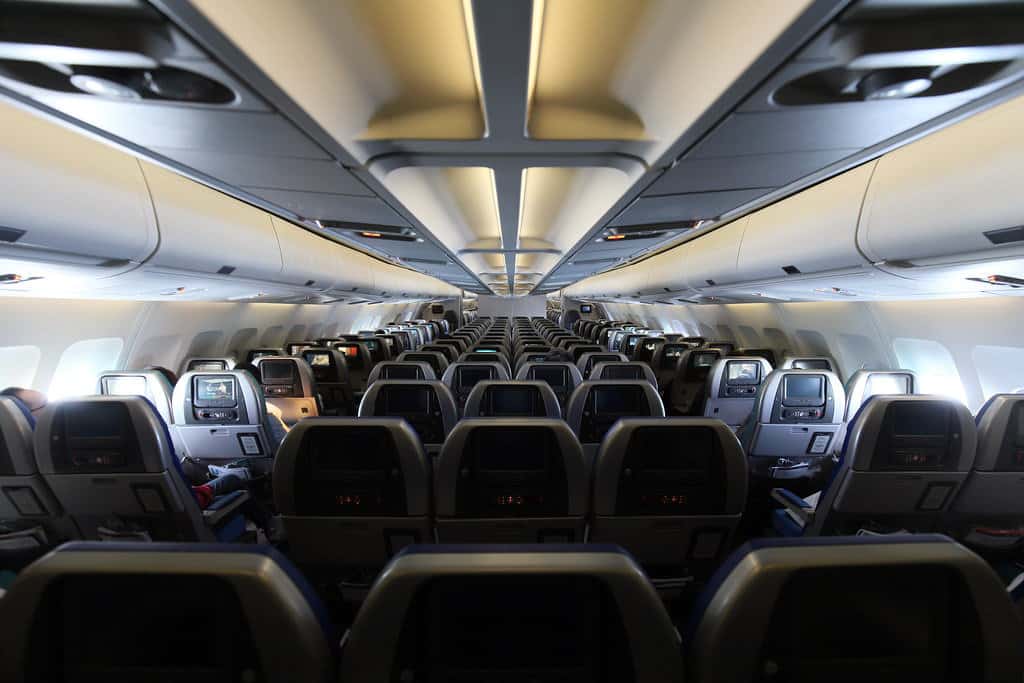 Each airline has its different classifications, but the most common are:
Economy or Standard Class
Although travelers demand it due to its affordable rates, they're not exactly the best in terms of comfort. The seats are usually small, sometimes without power outlets or entertainment screens. On short or domestic flights, they do not include food or drinks. Sometimes you'll be able to purchase small snacks such as chips or cookies. 
Business Class or Executive Class
This class offers greater comfort in its seats. It includes some food and drinks and various entertainment options.  These seats are generally like the first class but without all the bells and whistles. The cost is usually a little lower, making it an excellent choice if you travel for work or just want a little more comfort on your journey.
First Class
First Class is the most expensive class, but with the best comfort when flying. The airline will do its best to treat you like royalty. You can expect a diverse range of entertainment, exquisite menus, elegant toiletry bags, and comfortable and soft bedding that will allow you to rest peacefully. 
Is First Class Worth It?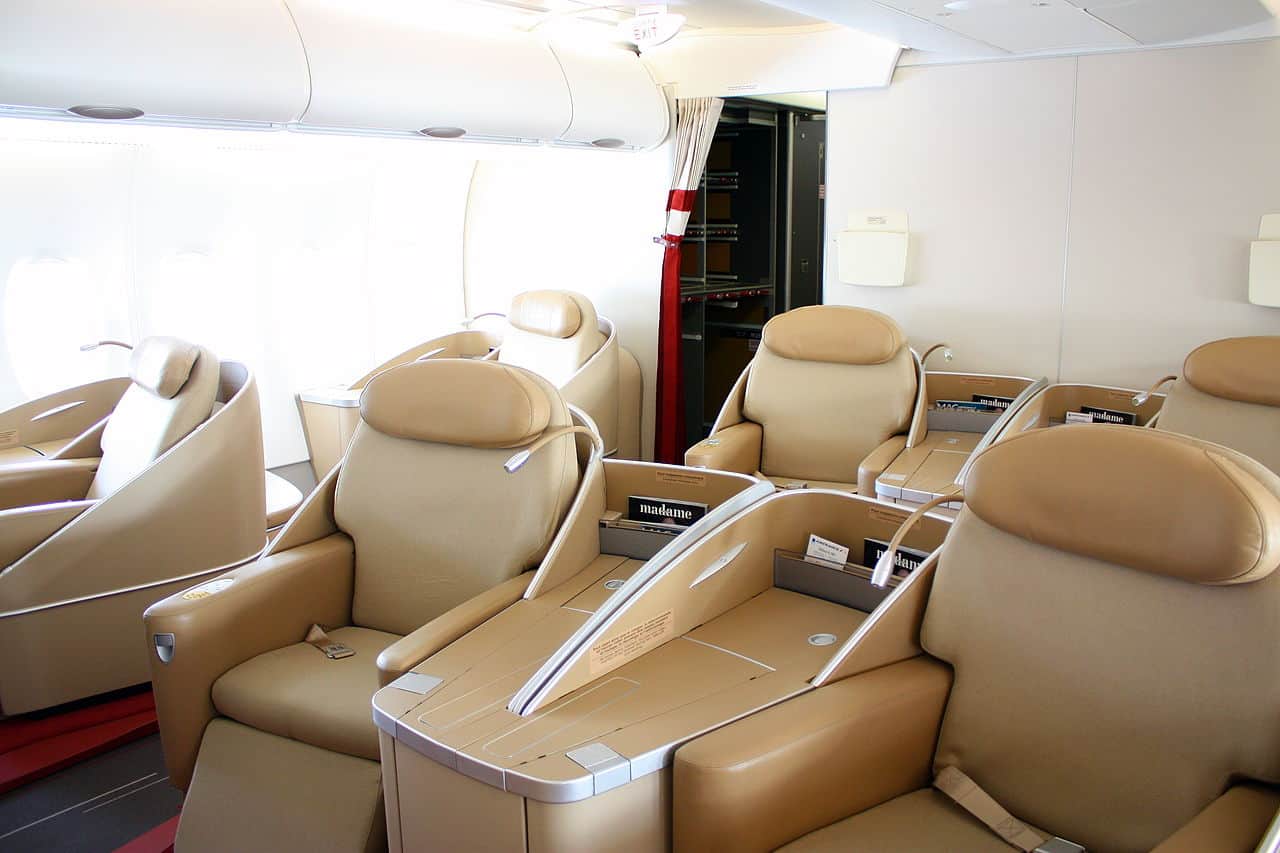 Perhaps you're about to book your flight, and this question is going through your head. While I personally believe first-class seating is something everyone deserves to experience once, I can't suggest whether a first class ticket is worth it to you. This depends on several factors that are personal to you.
Still, I've listed some of the most important factors below, so you can decide whether it's worth booking a first-class trip.   
How Much Money Do You Have?
It's well known that a seat in first class is expensive. If your ticket will leave a severe dent in your bank account or you simply prefer to spend that money on other elements of your holiday, perhaps first class is not your best option. The economy or tourist class will fulfill its function of taking you to your destination.
Is It a Special Occasion?
If you want to enjoy a unique experience through the clouds and create an unforgettable memory, traveling in first class should help you to achieve this goal. Ultimately, this depends on your tastes and who accompanies you. Do you consider celebrity treatment an exciting way to celebrate a special occasion? 
Who Are You Flying With?
If you're trying to impress a business colleague, first-class tickets (and the business lounge beforehand) are a great way to do so.
In addition, they´ll have privacy and luxurious attention to close those essential deals or forget about them while having a drink and relaxing in the heights. Either way, you can bet that your companion will be impressed. 
Are You Flying to an Important Meeting?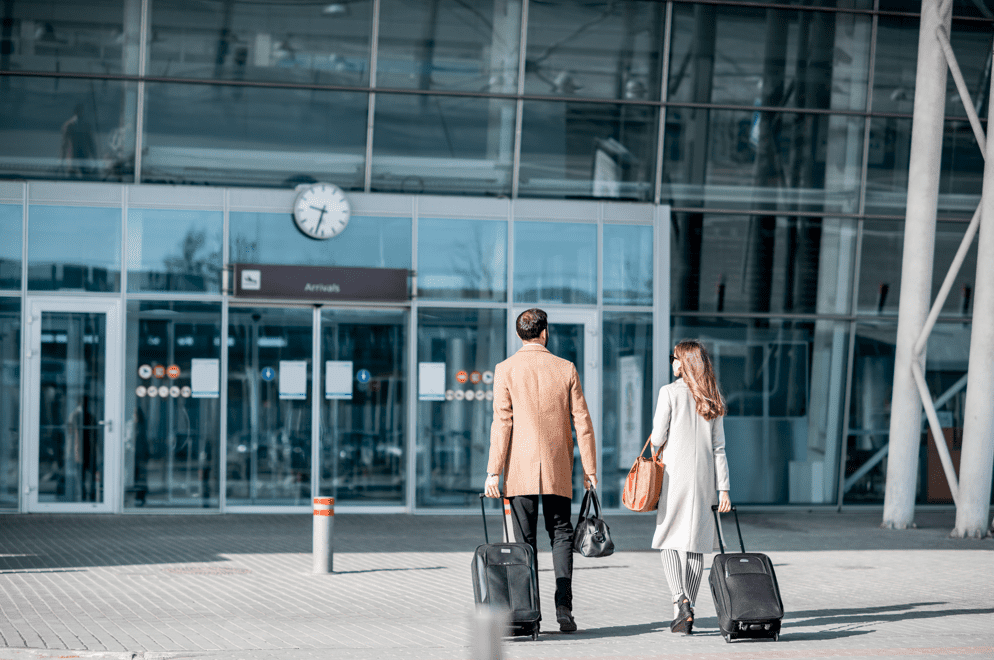 If you're constantly traveling for work or business, a little respite from the heights will not hurt. In some situations, the first-class cabins may give you your only real opportunity to relax and refresh before an important meeting. 
Have You Been Offered a Discount?
After booking initially economy-class seats, you may receive a discount offer to upgrade to first class. If that is the case, this could be your opportunity to take advantage of a bargain by paying the difference. 
If you´re part of the loyalty program of a specific airline, you'll eventually be granted an excellent opportunity to use your air miles and upgrade to first class. Do not miss this chance when it arises. You've earned it. 
Which Airlines Are You Using?
When deciding if it's worth traveling in first class, you must consider which airline you're traveling with. If you´re traveling on one of the airlines I recommended earlier (Singapore, Emirates, Etihad, Qatar Airlines, or Air France), that should excite you more. These airlines are among the most highly rated for giving first-class passengers an unforgettable luxury experience. 
How Important Is Your Time?
Time is money. For some people, the time saved by traveling first class is worth the extra expense because they have places to be – and quickly!
Remember, first-class seats get you the most efficient luggage service, boarding, and disembarking. You'll also be able to wash, freshen up, eat and sleep well on the plane rather than wait until you arrive at your hotel. 
Do You Need to Stay Connected?
A significant advantage of flying first class is that you'll be able to keep in touch with your loved ones and business colleagues while you fly. For some people, this is crucial. The first class gives you the benefit of flying with the most robust and reliable unlimited Wi-Fi. 
Is Comfort Your Priority?
If comfort is one of the most critical aspects, traveling in first class is ideal for you. You´ll be guaranteed the highest level of comfort, entertainment, and attention from the staff in these seats. 
The Advantages Of Taking First Class
More efficient check-in and baggage tracking.

Convenience and comfort throughout your flight.

The boarding process of the plane will be more efficient.

Innovative and sophisticated menus.

Private and spacious cabins. 

Personalized attention from the onboard staff

It will be far easier for you to rest on long trips. 
The Disadvantages Of Flying First Class
It's more expensive, sometimes ten times more expensive than regular seats. 

For short-haul flights, you may not realize the full benefit. 

Sometimes, first-class seats are limited, meaning you and your companions might not all be able to secure seats. 

Sometimes, Business Class provides all the extra features you're looking for at a lower price. 
How To Get Upgraded To First Class Using Points And Air Miles
The best way to get better rates and promotions to travel first class is to be part of an airline's loyalty program. These allow you to accumulate air miles that you can redeem to upgrade to first class. Each airline has different promotions. If you fly regularly with the same one and the promotions fit your need, it could be your best shot at an affordable first-class upgrade. 
You can also accumulate miles through your credit cards. If you fly regularly, it might be worth doing as much spending as you can on this type of rewards credit card to accumulate miles. From there, you can choose to purchase free economy seats or upgrade to first class at a considerable discount. These types of credit cards tend to carry an annual fee, so only apply if you feel like you're going to make the most of the rewards. These credit cards work best when you do all of your spending on them.   
Air France Flying Blue

For example, the Air France Flying Blue program allows you to obtain discounts on your checked luggage or a small discount when flying overseas from France. If you travel frequently and accumulate up to 60,000 miles, you'll be able to upgrade to the Flying Gold category. Then, with 90,000 miles, you'll upgrade to the Flying Premium category. These are the two highest categories that will allow you to access the best rates and promotions to fly first class.
Delta Air Lines Skymiles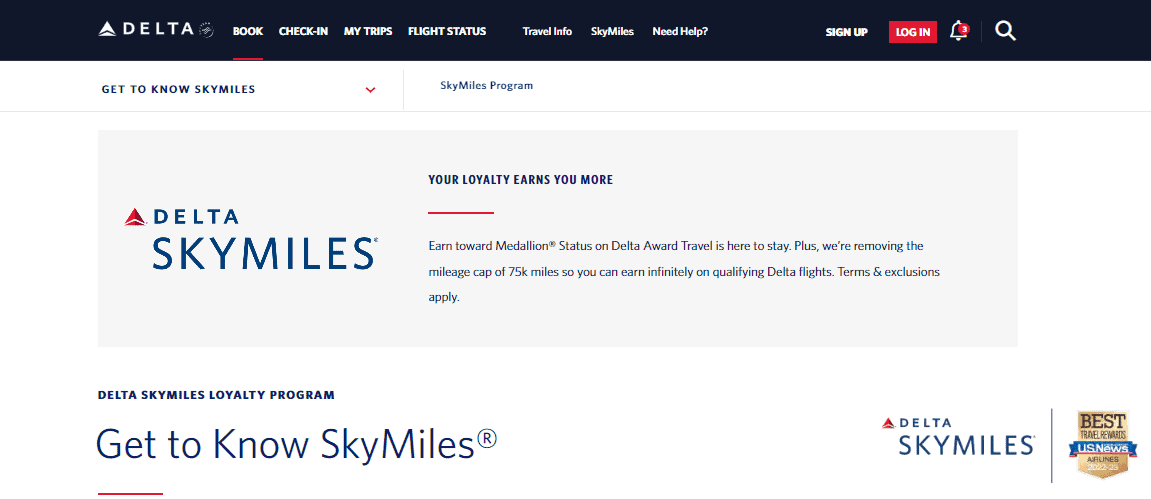 With the Delta Air Lines Skymiles program, it's a lot simpler. Each air mile is worth one cent towards your upgrade. Once you have enough, you can redeem your points through the Delta website. 
Lufthansa Miles and More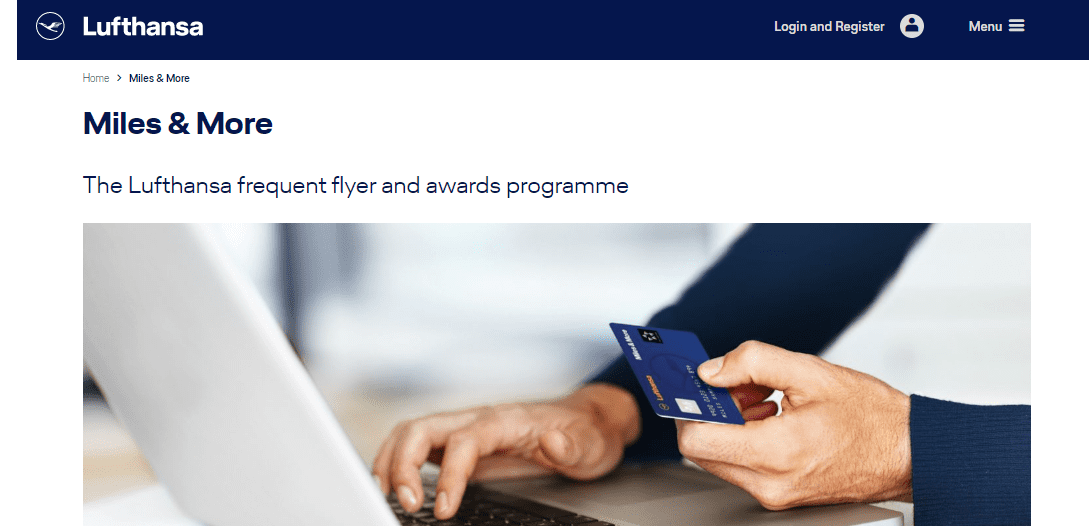 The Lufthansa Miles & More program is another program that is more popular in Europe. It includes the tiers of Frequent Flyer, Senator, and Circle Of Honor members. You'll be able to access discounts, promotions, and first-class upgrades depending on the level to which you belong. 
FAQs
Question: Is flying first class expensive?
Answer: The cost of first-class tickets depends on the airline, the destination, and the flight time. Yes, they cost a fair bit more than economy class, but they're not always unaffordable for the regular Joe. 
Question: Is first class only for long-haul flights?
Answer: No, first-class tickets are available for domestic and short-haul flights too. What's more, they're often more affordable for these shorter flights. 
Question: Can I only book first class seats through loyalty programs? 
Answer: No, they're available to anyone willing to pay, although loyalty programs will get you access to impressive discounts. 
Question: Is the first class section in the front or the back? 
Answer: First class is typically in the front of the plane, allowing for quicker boarding and disembarking. 
Is First Class Worth it: Final Thoughts
I have traveled first-class a couple of times, and I personally believe it's worth the extra expense. We all like to be treated like royalty from time to time or feel as if we are traveling like a superstar.
However, I've also been told that a business class seat is far savvier, as it offers excellent comfort at a lower price. I'd also suggest that standard class seats fulfill their mission on shorter flights, and you might be better off saving your money on comforts at your destination in this case.
Still, as I said, only you can decide if first class is worth it for you. I hope this article will help you to make that decision.
Sources:
https://upgradedpoints.com/travel/airlines/how-to-upgrade-on-delta-air-lines/