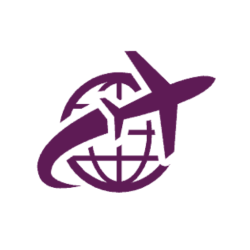 Latest posts by The Points Insider Team
(see all)
There is something very amazing that happens when holding a BA First ticket in your hand, especially when you manage to grab a bargain in the British Airways First Class sale. BA First is considered to be the ultimate in luxury flying! There are other, newer, competitors waiting in the wings, but British Airways will, I am sure, hold the crown to the best First Class travel experience at 36,000 feet.
First Class return tickets to New York at £10,000 each are not unheard of, but in this guide, I will show you how to find BA First Class tickets for a fraction of the price (and up to 90% off!). British Airways First Class sales occur 3 to 4 times each year and flyers can save on average 52% off the price of a First Class seat. BA First sales are usually held at the end of December, April, and September.
Related: The British Airways First Sale is on now for flights and holidays – with new flexible policy! – some big savings this year, here's the link to check the sale prices!
Not only can you save, on average, 52% off a BA First ticket, but it is possible to go one further and use Avios points to reduce the cost of a First ticket by up to 90%!
Imagine taking to the skies in the most sumptuous travel experience known, with the best cuisine, luxurious lounges – including access to the uber-exclusive Concorde lounge at Heathrow – as well as a lay-flat bed and attentive service. Now imagine all that for the price of a standard economy ticket!
Let us look at BA First Class, how to find bargains in the First Class sales and how to reduce the price of a First ticket even further using Avios points.
When Are the BA First Class Sales
Although the dates can change each year, often BA First Class sales happen at the end of December, mid-April, and September. During these sales BA First Class tickets reduce on average by 52% which means a £10,000 First return ticket can be purchased for £4,800. Avios points can reduce the price further.
Fortunately, the sale price can be found on flight comparison sites, such as Google Flights (we have a full review of Google Flights and tricks to find the cheapest flights here), so you won't just find BA First sales on the British Airways website or app. Although BA sales can be found through comparison websites, only the British Airways website highlights sales when they happen through promotion onsite banners or through email newsletters.
If you are part of the BA Executive club you should receive an email when BA First sales happen, so join free today to be notified when the next sale happens.
British Airways takes First Class very seriously, so even during sale periods, the number of First seats available on each flight in the sale is limited. It really is on a first come first served basis! If you have ever tried to use your Avios to book a flight in First, you will know first-hand how challenging this is.
If First Class is available as a reward seat, finding more than one seat available per flight is as rare as finding a four leaf clover. This is why First, being as renowned as it is, is very protected by BA, and reduced fares, and reward seats, are incredibly limited.
Flexibility is key. If you can be flexible with your dates and are on hand the moment sale prices are released through the British Airways website, you will stand a much better chance of grabbing a First Class ticket at a reduced fare.
How to Find the Cheapest BA First Tickets
There are some methods to finding the cheapest First seats on British Airways which surprisingly many people do not use. Although the BA website is the first place to start, there is another method I'll explain shortly that will also help you find the very cheapest BA First tickets on offer.
British Airways Website
Let's start with the BA website.
Visit BritishAirways.com
Log on to your BA Executive Club account (If you do not have one, sign up for free on the BA website)
Choose Manage from the menu, and select 'My Executive Club' from the options available
Search for flights using your preferred dates, and choose First as the cabin class
Once your search results are in you can see a flexible date banner at the top of the page allowing you to see the cheapest available First Class price for the date chosen, plus three days before and three days after – see the below screenshot:
You will also notice two arrows at either end of the date range. These arrows allow you to see the cheapest First Class prices for the previous weeks as well as future weeks.
As you can see, we can immediately save around 3.5% of the outbound First ticket price by flying out the day before. This is a good option to see current prices direct from BA when you have flexibility on your side.
Google Flights
Although the British Airways is a great place to search for First flights, the Google Flights comparison search engine gives better flexibility to really find the best prices.
Related: We have a full review of Google Flights and tricks to find the cheapest flights here
There is a way of seeing the flight price at a glance every day for an entire two-month period using Google Flights:
Visit Google Flights
Change Economy to First
Choose the departing airport
Choose the arriving airport
In the Airlines dropdown menu make sure only British Airways is selected
Select the Outbound Date
You should now see a screen similar to the one below, which will show you the average price each day for this flight across an entire two-month period!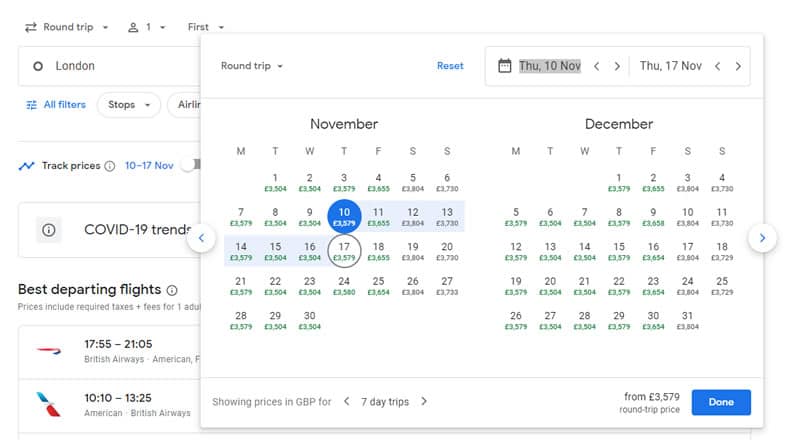 Please Note: the price shown is the average return price, not just the outbound price.
You can even change the number of days your trip is planned for underneath the date range, which will help improve the accuracy of the flight prices shown for First Class.
Use Avios to Reduce BA First Class Flight Fares
If you have managed to find a great BA First sale price and managed to save 52% off the standard ticket price, there is a way to reduce the value of the price down even further! Avios is the point system, or air miles offering, from British Airways that allows you to collect Avios in many different ways and then use those points for either a reward flight, to reduce the price of your flight, and lots more.
If, for example, we went to book a BA First Class return trip to New York in November, we can see the quote provided by BA is £4,053.36:

Before you reach the price, you may have noticed this section within the quote which shows how much could be saved with the right number of Avios points:

Yes, we could save up to £1,300 off this price with Avios. The amount of Avios required, and the maximum discount available, depends on the flight route and the dates flown, but using Avios could save an additional 32% off a First Class flight! This means a BA First Class return to New York could cost as little as £2,753.36!
Fortunately, the discount available on a First flight using Avios can be achieved at both the standard price and also a BA sale price too! Collecting Avios is easier than you may think – here is an article I put together to start collecting Avios, which is a really recommended read!
BA First Class Sales – The Insider's Notes
Finding reduced BA First tickets during a BA sale is possible but you will need to act fast as soon as the sales are announced. The British Airways allows you to search for First sale prices with some flexibility, although Google Flights can help find cheaper First fights across as much as a 62-day period at-a-glance.
Avios Points can be used to reduce the overall BA First ticket price, which includes sale prices too.
Read More: