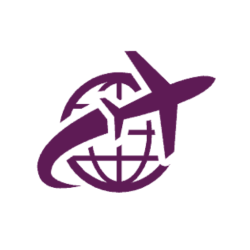 Latest posts by The Points Insider Team
(see all)
When it comes to choosing accommodations for your next trip, understanding the unique offerings of different hotel brands can make a world of difference.
If you came here trying to understand the differences – and if one is worth it over the other – you are in the right place.
While they may appear similar at first glance, each has its own distinct features and benefits that cater to different types of travelers.
In this guide I'll delve into the specifics of Hyatt House and Hyatt Place, highlighting their similarities, differences, and unique offerings. By the end, you'll have a clearer picture of which brand best matches your travel needs.
My TL;DR: Hyatt House generally has more amenities focused on extended stay travelers, whereas Hyatt Place is focused on business travelers in high foot traffic areas.
A Closer Look at Hyatt House and Hyatt Place
The Hyatt House and Hyatt Place brands fall under the vast Hyatt umbrella, well-known for its extensive portfolio of over 1,150 hotels across 26 different brands.
Both of these mid-tier properties cater to business and leisure travelers, offering a comfortable stay with a blend of modern amenities.
Here's my high level overview of the key distinctions between these two Hyatt brands:
| Features | Hyatt House | Hyatt Place |
| --- | --- | --- |
| Target Audience | Aimed at extended-stay visitors such as business travelers and family vacationers who need to stay for a week or more. | Designed for short-term stays and business travelers who need a comfortable place to sleep, work, and eat. |
| Room Types | Offers spacious residential-style suites with fully equipped kitchens. | Offers spacious rooms with a cozy corner sofa-sleeper. |
| Breakfast | Offers a complimentary full hot breakfast for all guests. | Provides a complimentary breakfast, but it's more limited compared to Hyatt House. |
| Amenities | Amenities include a 24-hour workout room, free laundry facilities, an outdoor common area (H Bar), and often a pool. | Basic amenities include a 24/7 gym, 24-hour business center, and a pool at most locations. |
| Service | Offers grocery shopping service and often has a bar offering a light dinner menu. | Does not offer grocery shopping service and has a more limited food and beverage menu. |
| Location | Typically located in residential areas or business parks. | Usually found in more urban and high foot-traffic areas. |
The Shared Features of Hyatt House and Hyatt Place
While the Hyatt House and Hyatt Place brands have their unique qualities, they also share numerous similarities, making them attractive choices for various travel needs.
1. Room Size and Interior Design
Rooms at both brands are fairly similar in size, ranging from approximately 300 to 700 square feet, providing a comfortable and contemporary ambiance. The lobbies are also personality-driven, featuring modern furnishings that add a touch of elegance to the overall experience.
2. Level of Service
Being limited-service hotels, both brands do not offer valets, bellhops, or room service. This approach ensures efficient service without compromising on the quality of the stay.
3. Room Setup
Both Hyatt House and Hyatt Place have rooms designed to create distinct living, sleeping, and working spaces. In Hyatt Place, a partition separates the sleeping area from the living room-style "cozy corner," often adorned with a sofa or sleeper sofa, providing a home-like feel.
4. Amenities
Both brands offer complimentary Wi-Fi, 24/7 fitness centers equipped with cardio machines, free weights and yoga mats, and swimming pools at most locations. Additionally, they are pet-friendly, although fees may apply.
5. On-site Dining
Both Hyatt House and Hyatt Place provide a complimentary buffet-style breakfast. Moreover, both brands feature an on-site restaurant or bar offering a variety of food and drink options, as well as a 24/7 grab-and-go market.
6. Business Services
Business travelers can take advantage of the 24/7 business center at all locations, equipped with free shared computers offering remote printing, along with meeting and event spaces.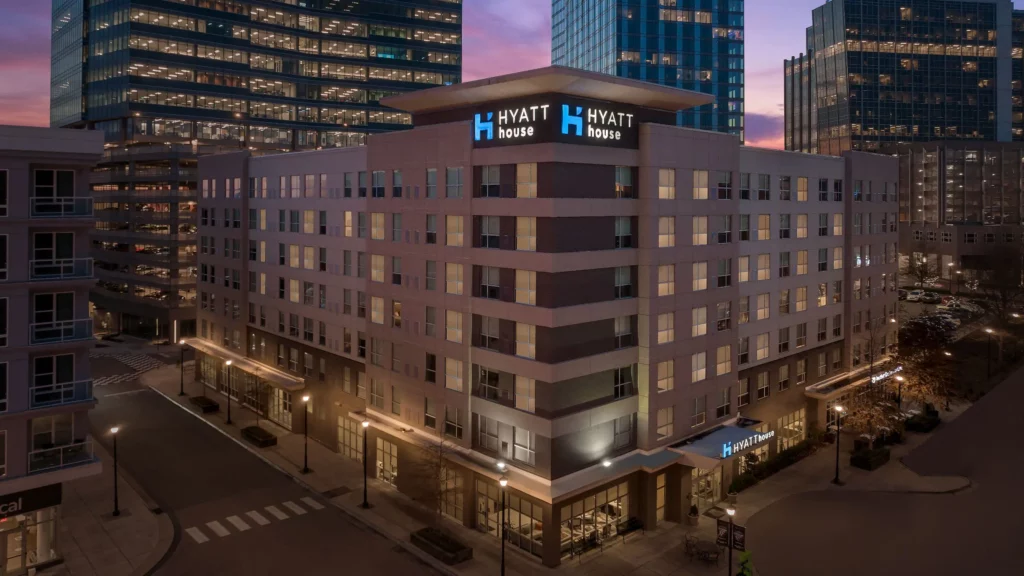 Hyatt House vs Hyatt Place Differences
While there are many similarities between Hyatt House and Hyatt Place, several key differences distinguish these brands, mainly centered around the target audience and the type of stay they cater to.
1. Target Audience
Hyatt House is primarily geared towards extended stays, providing rooms of different sizes equipped with full kitchens, making it an ideal choice for larger families or long-term business travelers. On the other hand, Hyatt Place's uniform room size caters more to shorter stays.
2. Room Categories and Facilities
Hyatt House offers a range of accommodations, from smaller "den" rooms to multi-bedroom suites. The rooms also include fully equipped kitchens with refrigerators, microwaves, and stovetops. Hyatt Place, on the other hand, offers mostly "standard" rooms without a full kitchen but includes a minifridge.
3. Laundry Facilities
Hyatt House provides self-directed laundry facilities on-site, open 24/7, which is not a standard feature at most Hyatt Place locations.
4. Recreational Facilities
Outdoor fire pits and grills are standard amenities at Hyatt House, but aren't usually found at Hyatt Places. Additionally, Hyatt House typically has larger fitness centers and pool areas compared to Hyatt Place.
Choosing Between Hyatt Place and Hyatt House
Selecting between Hyatt Place and Hyatt House for your next hotel stay can be a challenge, given their many shared features. However, understanding their subtle differences can guide you towards the most suitable choice for your next business trip or family vacation.
Both brands are rooted in providing comfortable stays in modern, spacious settings and include plenty of perks along the way, like free breakfast, fitness centers, and swimming pools.
Here's my bottom line:
Are you traveling for business? Go with Hyatt Place as they are generally more centrally located, with a more robust business center
Traveling with family or staying for a week+? Go with Hyatt House as they feature full kitchens, comprehensive breakfasts, and other long stay perks.
Related Reading on Hotel Brands
You may also be interested in our other comparisons and guides: