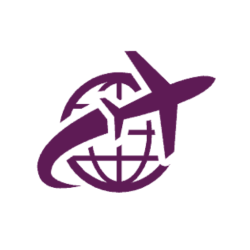 Latest posts by The Points Insider Team
(see all)
As the cost of flying Business Class is becoming more expensive frequent flyers are looking for ways to reduce their overall flight cost by mixing cabins and flying economy one way and Business Class the other way. How though can you mix cabins on a flight and get the best deal available?
As a general rule, if you fly one way in economy class and the other way in Business Class you can choose the cheapest leg of each flight. You can select the cheapest available economy seat, and the cheapest available Business Class seat, and combine them together for one return flight.
This method also usually gives you a better deal. When we take to the skies, we have to take the benefits when we can. This method gives you the best of both worlds – a Business Class flight to look forward to but at half the price!
What a Mixed Cabin Means
On the whole, a mixed cabin means your inbound and outbound flights are in different cabin classes. Your outbound flight could be in Economy, but your inbound flight could be in Business Class. Many travelers choose a mixed cabin flight to enhance their flight but save on the cost of a full premium flight return fare.
This gives you more flexibility, and the ability to choose different airlines for your inbound and outbound flights, and could mean at least part of your flight is away from Economy class.
How to Get a Mixed Cabin Flight Deal
Let's look at how this works exactly. Unfortunately, the majority of the flight search engines such as Google Flights, Sky Scanner, etc… will show you return flights for the cabin you choose. This isn't ideal for a mixed-cabin flight. You can though search through a flight search engine, choose the cheapest deal, and go through to the airline's website. From here you can often alter the flight, and upgrade one way.
In this example we are going to look for a trip to San Francisco in October with British Airways:
Step #1 – Visit the BA website, and search for your chosen flights BUT make sure you choose Economy as the cabin class (if you choose Premium Economy or Business Class the search will not show Economy prices)
Step #2 – Find and select the cheapest outbound economy flight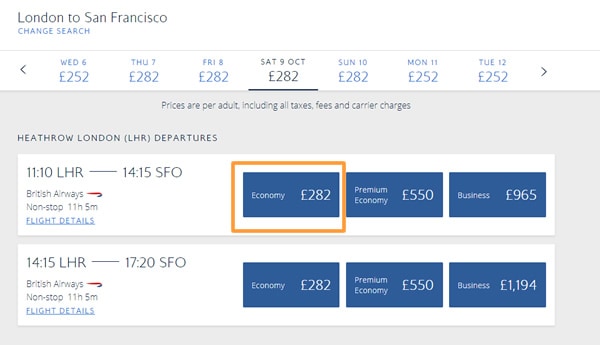 Step #3 – Find and select the cheapest inbound Business Class flight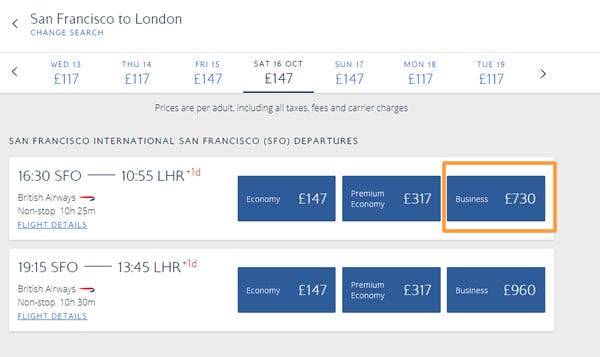 Step #4 – Make note of the quote, and repeat steps 2 and 3 again, but this time search for the cheapest Business Class outbound and Economy class inbound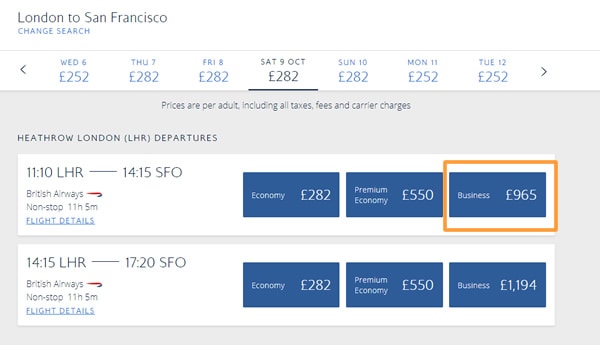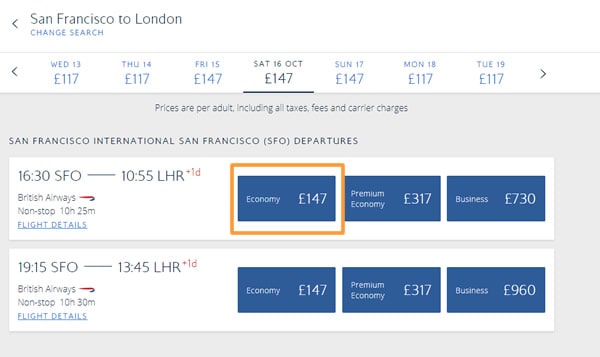 Using this method:
If we fly Economy outbound and Business inbound

the cheapest price is £1,011.52

If we fly Business Class outbound and Economy inbound

the cheapest price is £1,109.52
You can save £98 by taking the same flights but travelling Business Class flight on your return flight instead of your outbound flight.
Flying Out With One Airline and Back With Another 
You can fly out with one airline and fly the return part of your journey on a different airline. You will need to buy two separate tickets, one for each airline. Often though you will pay more this way. On some flights a single fare can be more expensive than a return fare. It is possible to use this mixed cabin method on separate airlines, but it can be difficult to find a cheaper deal using separate airlines than using the same airlines.
On the other hand, you may need to fly different airlines due to flight times and your plans. To use this method, you can use the flight search engines, such as Google Flights, and simply search for a one-way flight outbound in Economy, find the cheapest price and then search for the return leg in Business Class.
Repeat the exercise but this time swap Economy to the inbound flight and Business Class to the outbound flight. You will now have found the cheapest possible mixed cabin deal offer using one airline for your outbound flight and another airline for your inbound flight!
Is It Cheaper to Upgrade to Business Class at the Airport? 
You may be tempted to book an economy flight and look for a last-minute upgrade deal at the airport. In my experience airlines rarely offer cheaper upgrade options at the airport on the day you fly compared to the Business Class price you have paid when booking. This is often because flight prices tend to increase as you move closer to the flight date rather than decrease.
There can be occasions where either the airline is under-subscribed for Business Class or First Class flights and either choose to upgrade selected passengers for free – or will offer you an upgrade flight price at the time of checking in.
There's no harm in asking though. Often the airline will have upgrades available on the day but expect to pay more than you would have done at the time of booking your flight. It's wise to try different airline quotes rather than just sticking to one. Often flight comparison tools show you the lowest economy fare, but when you add this to a Business Class flight it may work out more expensive than other airlines – so it can pay to shop around.
The Costs of Flying a One-way vs Round-trip
It's often the case that a one-way flight is not the same cost as the outbound price you see on a return flight search. It can be a lot more expensive! In the example above a multi-cabin return, flight can be purchased for £1,011.52. The outbound Economy flight costs £282. Now let's do the exact same search again, but this time just a single outbound flight in Economy class on the same date: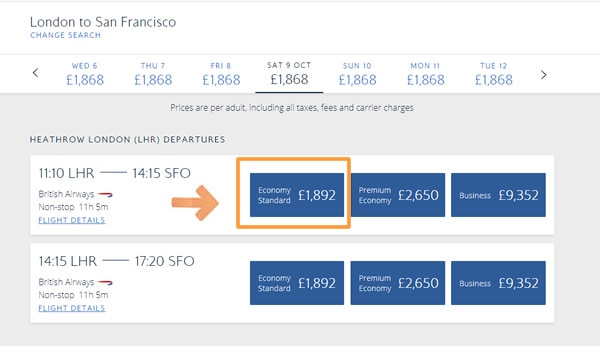 Yes that's £1,892 for a one way single flight!!!
Why Though is a Single Flight More Expensive Than a Return Flight?
There are more business travelers flying on single flights than holiday travelers. Business travelers are often not as sensitive to higher flight prices and are often limited to specific flight dates. In other words, the airline can charge a much higher price for single flights because the demand is there.
Reduce the Cost of Your Business Class Upgrade with Avios
If you are a regular reader of The Points Insider, you will know I love to save air miles and points. We all spend a lot each year on many different things, so why not pick up a reward whilst we can? You can't upgrade a Standard Economy fare to Business Class, but you can upgrade a Premium Economy fare to Business Class (or equally a Standard Economy flight to Premium Economy).
To upgrade a Premium Economy flight to Business Class you will need 44,000 Avios Points. There are plenty of ways to save Avios and earn up to 100,000 Avios a year. If this may be of interest, and you'd like to fly Business Class for free, it's definitely worth reading my guide on how to earn enough Avios Points for a free flight.
How to Fly Economy One Way and Business Return to Get a Great Deal: Final Thoughts
If the cost of a full return Business Class flight is enough to make your eyes water but you are looking to enhance at least part of your flight, then a mixed cabin deal may be best for you.
Staying with the same airline will often be a cheaper option that flying out with one airline and then returning with another – although depending on your flight schedule and travel plans, this may not be possible depending on whether you can get the flight times you need with one airline.
It's possible to upgrade your flight at the airport but be prepared to pay more than you would have done if you have just purchased a Business Class seat at the time of booking.
If you really want a good deal you could save up enough Avios Points and upgrade to Business Class one way for around 45,000 Avios Points. You will though need to hold a Premium Economy ticket if flying long-haul as you can only upgrade you cabin by one class with Avios Points, not two.
Read More:
• Business Class vs Economy
• British Airways Business Class vs First Class
• British Airways Business Class Perks