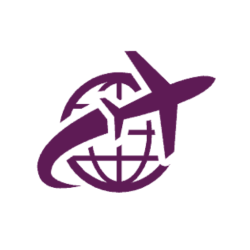 Latest posts by The Points Insider Team
(see all)
As the UK is about to start coming out of national restrictions and flights and holidays are again on the horizon, there has been a surge in demand for searches on travel and flight sites – such as Google Flights.
 Google Flights is an amazing feature-rich flight search tool giving you access to so much information to not only help you find the best prices but also answer a lot of questions you're likely to have too. Google Flights is so feature-rich that many people miss some of the hidden tricks and tips.
Here in summary are the features and tips when using Google Flights:
Use the Explore feature for trip suggestions
Find the best prices before you even search
Never overpay – the Price Graph can reveal the really cheap prices
Fare Alerts for all those secret airline sales
Filters are your friends – Narrow down your choices to save time
Look for separate tickets and reduce the overall price of your flight
The Date Grid can help you extend your trip for less
Cheap hotel prices as well as travel guides
Travel Guide and Things to Do
Find out what's onboard on your flight
Flights to earn your air miles and points
A full trip itinerary
Let's take a look at these tips and tricks in a little more detail with some examples and screenshots from the Google Flights search tool.
#1 The Explore Feature on Google Flights Can Help with Trip Inspiration at a Great Price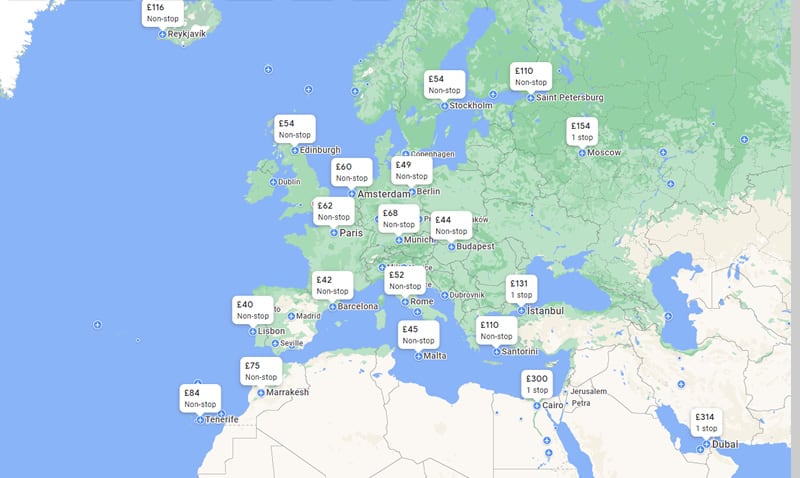 Courtesy: Google Flights – Explore FeatureIf you have an exact destination in mind, and exact date, then the standard Google Flights screen will do just fine. If you are flexible and looking for some travel inspiration, then the Google Flights Explore section is an amazing tool on its own – and has some really helpful features.
In the screenshot above we have narrowed down a search for a weekend break to Europe in August flying in Economy class. The results are pretty impressive. Google Flights is recommending top weekend break destinations and shows the cheapest weekend flight prices available.
How awesome is that? I can see that if I fly between the 6th and 9th of August, you could get a weekend trip to Madrid for just £32 with Ryanair.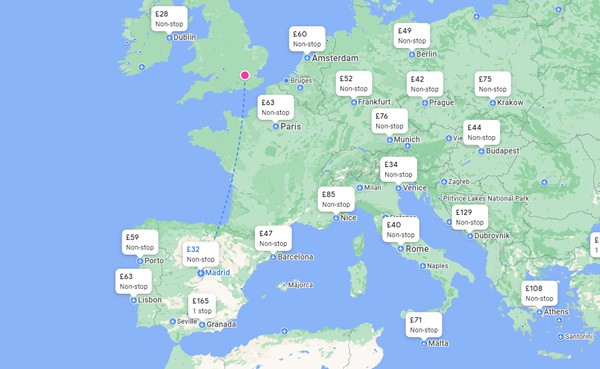 Courtesy: Google Flights – Flights to Madrid for £32Not only does it show you the cheapest flights, but it also shows you prices for available hotels too – as well as advice on the best times to travel, a selection of travel guides for the destination as well as questions regular travelers have asked.
#2 View Flight Prices Before You Search to Find the Best Rates
Courtesy: Google Flights – See prices before you searchUnlike many flight searches, the Google Flight search tool shows you the cheapest available prices before you even hit the Search button. To use this feature, choose your departure and destination locations and then click on the search date – after a second or so the cheapest prices for the months on view appear on the screen (see screenshot above).
This means if your dates are flexible you can see across at least two full months not only the cheapest prices but also see whether it's always cheaper to fly out or fly back on a certain day of the week. Weekend travel can often be cheaper than weekday travel especially, to places popular for business travelers.
If the date for your next trip is flexible this can be an invaluable little feature to help you save money.
#3 Never Overpay! – Take Advantage of the Price Graph on Google Flights to Help Uncover Those Cheap Flights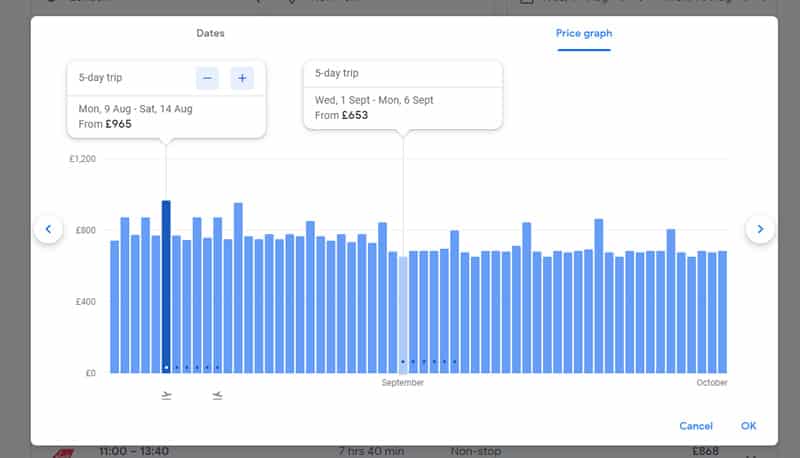 Courtesy: Google Flights – Price GraphThe flight prices appearing as the dates appear is useful, but once you've hit search you get access to a little hidden icon, which is the Price Graph Although the Price Graph shows you the same flight prices as the search facility did, the visual graph just looks easier to read.
You can see in the above image, which shows a search for New York flights in Premium Economy class during August are higher than in September and October. Although this isn't too unexpected what is really interesting is that the same flight just two weeks later is 32% cheaper!
#4 Use the Fare Alerts on Google Flights and Be Told of All the Secret Sales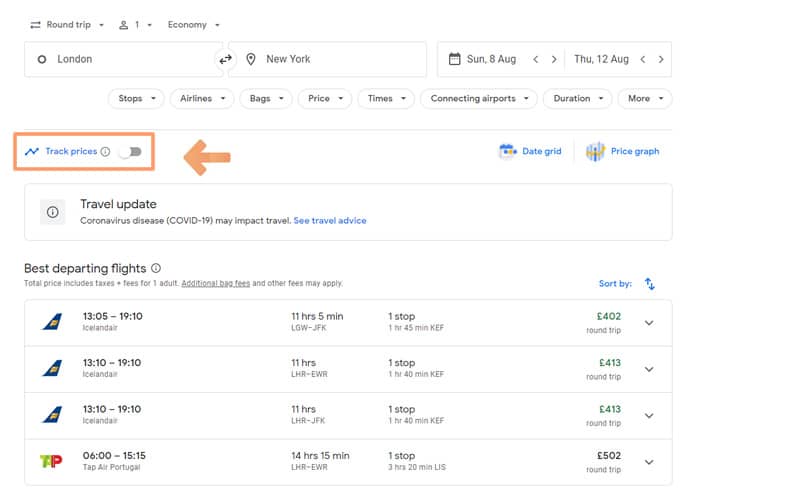 Courtesy: Google Flights – Track Flight Prices
I told you Google Flights was a feature rich – but The Fare Alerts tool can be a real little goldmine! You need to be logged in to Google but once you are you can carry out a search to a destination and then make sure the Track Prices toggle switch is set to on. Google now will keep a monitor of the flight you want to take and will email you the moment the price for that flight changes.
Some airlines' sales are not exactly public. Some you only find out about by visiting the airline's website or by logging in to your airline's air miles or points program. This way you get to find out directly from Google themselves of all sales and price reductions.
Let Google Flights tell you when flight prices reduce, and you could save quite a bit of money!
#5 Use Google Flights Extensive Filters to Save Time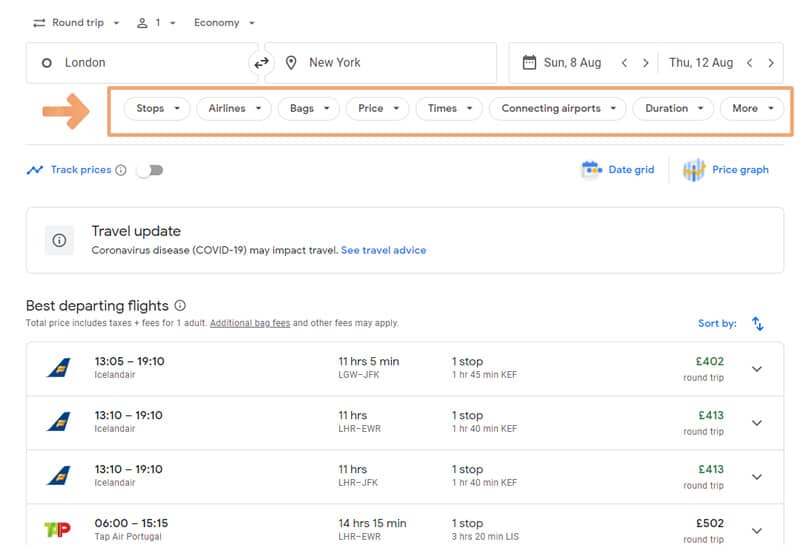 Courtesy: Google Flights – Flight FiltersOnly interested in direct flights, just need a morning or overnight flight or perhaps you need more than one carry-on case – all of these options, and more, are available through the extensive Google Flight filters.
Rather than looking through flight option after flight option to choose the best flight time or just those flights flying direct or no more than one stopover – simply select your filters and Google Flights will just show you the flights you could actually take. This can save so much time than traditional flight searching and scrolling.
#6 Look for Separate Tickets in the Hidden Filter to Look For Cheaper Return Flights
Courtesy: Google Flights – Separate Flight Tickets to SaveBy default, Google Flights will show you return flights from the same airline, and often to the same departure and arrival terminals. You can though search for separate tickets and look for flight options where you may fly outbound on one airline but fly back on a second airline.
You could find much cheaper flight prices using this method.
This can come with risks if your separate tickets include a stopover on one leg of your flight, and the continuing journey is with a different airline. As these are separate tickets if your first leg is delayed you may miss your second leg of the journey – and have to pay for a separate second-leg flight.
This is different from a stopover flight with the same airline where they will ensure you reach your end destination if your first leg is delayed. If your outbound and inbound flights are direct, you should be absolutely fine, and using this hidden feature you could save on your flight.
#7 The Date Grid Can Help You Extend Your Trip for Less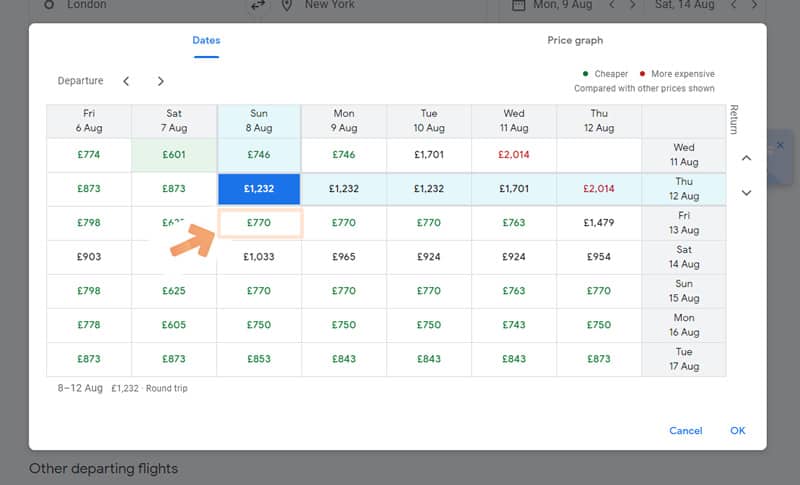 Courtesy: Google Flights – Date GridThere are many ways to show the same flight data, and so far we've looked at a few, but this method allows you to see whether you could extend your trip and actually save money.
Let me explain how this works.
The Date Grid option gives you an at-a-glance view of the flight prices for your chosen trip as well as the flight prices around your dates too for departing and arriving on different days.
The flight search in the screenshot above is a trip to New York in August in Premium Economy. We searched for a mini break departing Sunday 8th August and returning Thursday 12th August – but look, if you instead fly back on Friday 13th August (for all you non-superstitious people!) you save £462!
Not only can you extend your trip by another day, but this saving would more than cover the cost of a hotel room for another night, meaning not only do you get to enjoy the Big Apple for less but longer too.
#8 Cheap Hotel Prices
Courtesy: Google Flights – Hotel SearchDon't let the name Google Flights confuse you. Google has access to more data than any other company which means they can help you find cheap hotel prices too. As well as a separate Hotel section, you may notice that for each flight search Google will show not only the cheapest flight price but also the cheapest hotel prices.
Depending on special events, festivals, etc… hotel prices for a particular day may be expensive but flying the day or the day after may mean a slightly more expensive flight, but a much lower price hotel room.
#9 Travel Guide and Things to Do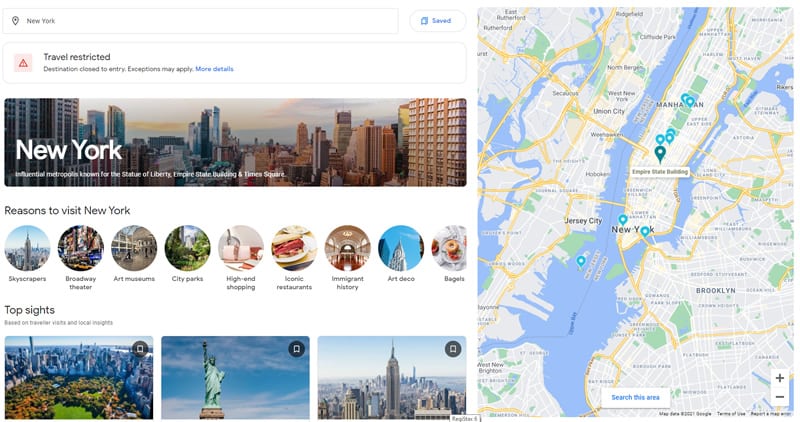 Courtesy: Google Flights – Travel Guide and things To DoWe've all done it. Become excited about a trip and spent hours on Google researching away. Google Flights brings this to you too. You may have noticed, when searching for your flight, the Things to Do section. This really is the most comprehensive travel guide we've seen.
In fact, it's so well designed to help you make you're the most of your trip, it's the webpage I visit most often when planning any up-and-coming trip.
#10 What's Onboard Your Flight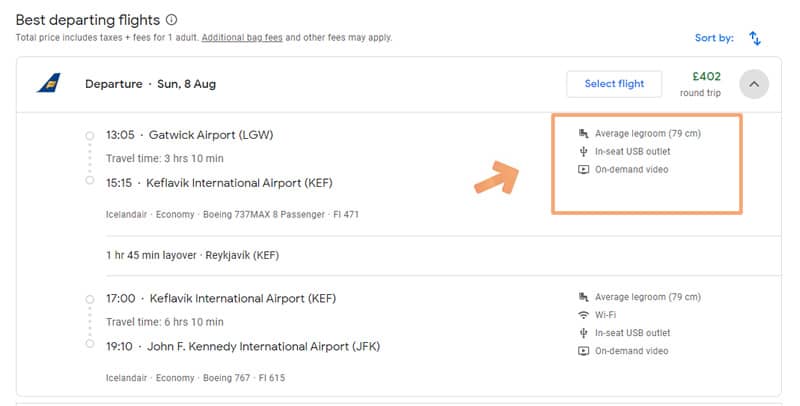 Courtesy: Google Flights – On Board Your FlightOften you may see different cabin names from different airlines. For example, the Virgin Delight offering from Virgin Atlantic. Unless you fly every airline often it can be confusing to know what this means, and what you're likely to expect on board. Beside each flight suggestion, you'll see a drop-down icon. Click this and Google will show you more information about the flight, such as flight number, aircraft type, and stop-over details – as we as what to expect in the cabin.
#11 Look for Flights to Earn You Air Miles and Points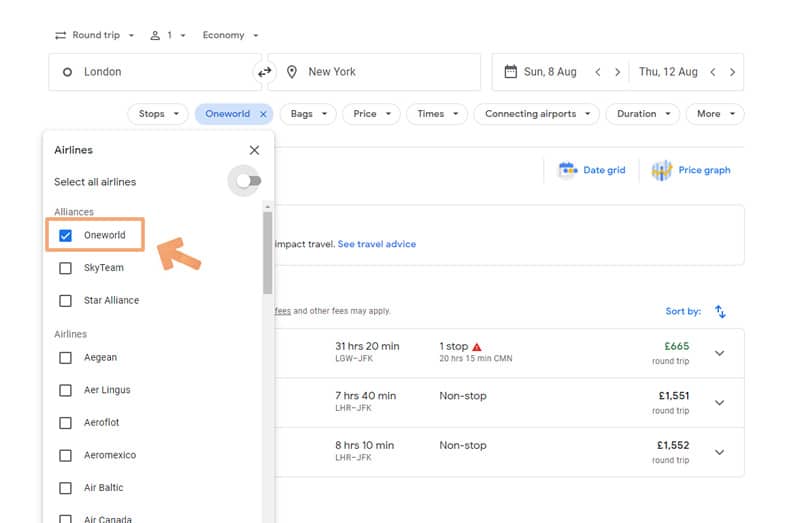 Courtesy: Google Flights – Search by Airlines or ProgramsIt isn't really feasible to earn air miles and points on every airline's air miles program. Well, it is possible but if you build up a small number of air miles with different airlines you will never be able to concentrate on one enough to make those rewards valuable enough.
Use the Flights filter to just choose the airline or airlines you are actively collecting air miles for. This means whatever flights are returned you will have a chance of increasing your points balance. Just note though this could filter out a much cheaper price with an alternative airline.
You can even search for all fourteen airlines now part of the OneWorld alliance (now that Alaska Airlines have joined the program) and continue to boost your OneWorld tier to earn benefits across the 14 airlines.
Gain Emerald or Sapphire status and you can enjoy lounge access for free regardless of your cabin class across all 14 airlines. This means if you build up enough tier points for Emerald or Ruby with Qatar airlines, you could use the BA Business Lounge at Heathrow for free.
#12 Full Trip Itinerary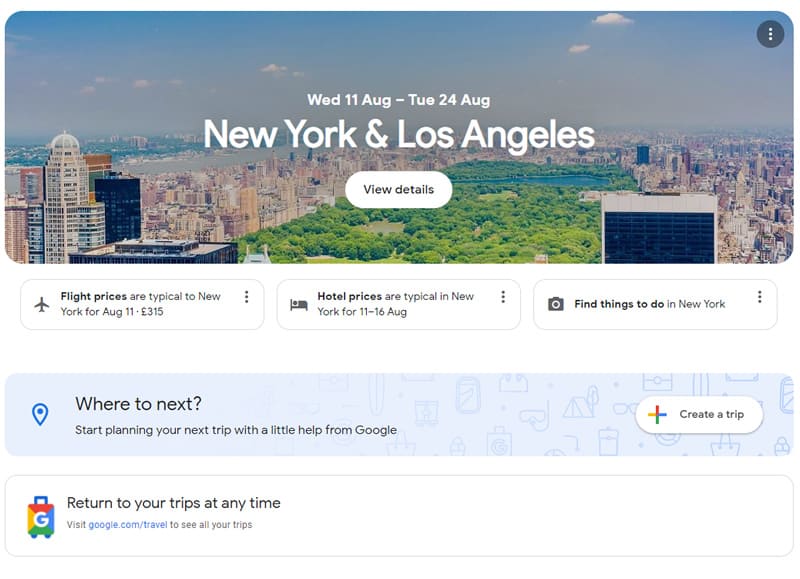 Courtesy: Google Flights – Trip ItinerarySearch through Google Flights quickly and you may quite easily miss the Travel section.
The Travel section is where you can create a full itinerary for your next trip. Personally, I think this section could be improved on a little, but equally, if your next trip is multi-location based and you need to fly between your destinations, it could be a handy tool to not only plan out where to go and what to do, but also whether by adjusting your trip you could save money on flights.
The Travel Articles are useful for people's first-hand experiences too.
Google Flights in Summary
So much more than just a flight search tool, Google Flights is a really indispensable tool – available across multiple devices – to help you save money and time on your next trip. The flight options enough are worth a visit but when you add together the features and vast knowledge Google has on your destination, it really is one of the most useful tools on the internet to find your next trip.