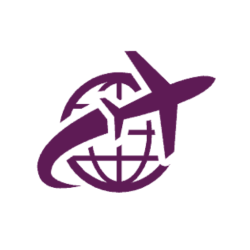 Latest posts by The Points Insider Team
(see all)
We've all been there. The temptation of hitting the upgrade button into the world of Business Class. If the price of the upgrade has you choking on your Cornflakes, there are ways to fly Business Class for a fraction of the usual price. We are going to reveal all.
You may see flight sales and discounts but there are other ways to find and access the very cheapest Business Class seats.
The cheapest way to fly Business Class is to join an airline's points program and collect enough points to purchase a Business Class fare. Using this method, you will only pay airport taxes and fees and save 70% off the Business Class flight price. Using Google Flights will also help you find the cheapest Business Class flights, without points, and can help you save as much as 50%.
The airline that has the cheapest Business Class fares
For regular readers, you'll know we talk a lot about British Airways and Virgin Atlantic. We cover these two airlines more than the others usually because their flight times and prices are comparable, but more importantly, their points programs (BA Executive Club and Virgin Flying Club) offer some really good opportunities for us in the UK to collect and spend the points we earn.
This time though we are going to look at another airline. It's possible to fly Business Class to almost any destination. The seats and cabins will look different on short-haul flights to Europe than they will on long-haul flights to Asia for example, but you can still experience that Business Class feeling.
With the cost of Business Class only ever seemingly increasing, and the average Business Class return flight to the US now reaching £1,800 it's time we look at other options.
Enter TAP Air Portugal
TAP Air Portugal isn't known by brand by many in the UK unless of course you fly often and know of this little gem of a cost saver. As well as standard European routes, they also fly to major cities in the US such as New York, Washington, Miami, San Francisco, and more. With the cost of a Business Class flight to New York with BA or Virgin may set you back £1,800, you can get a much cheaper rate with TAP Air Portugal, who offer a Business Class experience from London to New York JFK for just over £1,000!
That is a standard price, not a sale or promotion – and no points or miles are needed either. Unfortunately, the London to New York flight isn't direct. You will need to fly from London to Lisbon – change and then fly from Lisbon to New York. If you time this right, you can keep the stop-over to less than 2 hours.
The shortest overall journey time with TAP Air Portugal is around 12-13 hours which is 5 hours more than a direct flight with BA. With the cost of a Business Class flight on TAP Air Portugal matching the cost of a Premium Economy flight to New York with BA or Virgin, is the extra 5 hours of journey time, and extra stop-over in Lisbon, worth it?
Unless you are on a strict time limit, this can be a much better option.
TAP Air Portugal's Business Class offering doesn't perhaps have the prestige of British Airways or the luxury feel that comes with flying Virgin Atlantic but what TAP lacks here is more than makes up for with lounge access and a fully lay flat bed. The Business Class configuration is ingenious as much as it is unusual. They feature a row of two Business Class seats together, then a row of just one Business Class seat, which is alternated as you work your way down the cabin.
This means you can fly with a companion sitting next to you if you prefer, or you can try and book a single seat if you're flying solo. Your short-haul flight from London to Lisbon is in the Business Cabin too.
With lounge access, fast track security, speedy check-in, and the long-haul flight from Lisbon to New York in a lay-flat Business Class seat – it really seems worth the extra 5-hour journey time.
You can check out the latest prices and offers over at the TAP Air Portugal website
Find the Cheapest Business Class Tickets Using Google Flights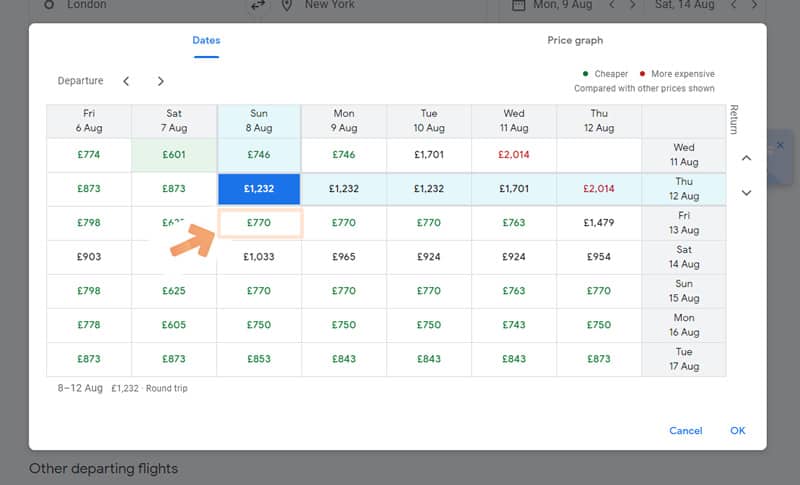 Heading on over to your preferred airline's website and looking up flights can be fun. Checking dates, upgrade options, and planning your trip. If you're anything like me I have a full spreadsheet open with hotel options, flight options, combined options, and point-earning potential – it's so much fun, but maybe I'm just a travel geek!
One tool you should have on your list is Google Flights.
Google Flights is a comparison flight engine. Google, armed with more website data and information than any other company on the planet – and with their now-owned ITA Matrix Software – can really deep dive into all the airline's flights, prices, upgrade options and combined multiple airline flights – and find the cheapest possible Business Class flights for you.
It's so much more than just a flight search engine. It has hidden all the travel wizardry many tools, features, and tricks to maximize every pound and every point. You really need to read our 12 hidden tips and tricks to save money with Google Flights
The caveat here is Google Flights does not show multiple cabin routes. This doesn't matter if you're planning on flying Business Class both ways but if you would rather fly Economy or Premium Economy one way and Business class the other way you will need to check the airline's website directly.
If you want to search for multi-cabin and multi-airline flights the best option would be to use Google Flights to search for one-way flights. Start with the outbound trip in one cabin, find the cheapest, and then search for single inbound flights in the other carriage. Repeat but switch the cabin classes – and you should find the best and cheapest multi-cabin and multi-airline Business Class flight!
The Cost of Upgrading Your Flight to Business Class and How to Get the Best Price
As a general rule, the cheapest way to upgrade your flight to Business Class is to use airline miles and points. By upgrading with points, you will only pay the airport taxes and fees for the upgrade, which can save you 80% of the upgrade price. Upgrading at the time of buying your flight is almost always cheaper than upgrading on the day.
On British Airways you can upgrade your flight from London to, say, New York, for 20,000 Avios Points one way – or 40,000 Avios Points return. You will need to have a Premium Economy ticket though to upgrade to Business Class on BA.
If you're not collecting points (if you're not I seriously recommend you read the Getting Started Collecting Airline Points guide!) and want to upgrade in cash, then it's almost always cheaper to upgrade at the time of buying your ticket than waiting until closer to your flight.
This is because flight prices are always rising. The closer to the date of travel the airlines know any new travelers are often doing so out of necessity (for example a business trip) and less sensitive to higher prices.
If you've really left it to the last minute you could check for upgrade options at the airport. If they are seriously under-subscribed in Business Class, you could get a better upgrade price. It never hurts to ask but it isn't worth risking this method and waiting until you reach the airport terminal – they could even be sold out.
If you're serious about upgrading to Business Class then do so as early as possible, while prices are at their lowest and the availability is there.
How You Can Get 2 for 1 Business Class Flights
There are ways to get 2 for 1 Business Class flights. If you are traveling as a couple, or with a friend and splitting the flight costs, this can be a really cheap option to fly Business Class. You may be wondering why you haven't seen these wonderful 2-for-1 Business Class flights, or any other type of flight for that matter, on the news or media.
Surely this time of news would go viral on Facebook and Instagram! Of course, like all things points and cheap flights related, there are a couple of hoops you need to get through to get this, but it isn't as difficult as you think. It does require some spending though.
Both British Airways and Virgin Atlantic offer 2-for-1 companion flight voucher rewards with their credit card offerings but I feel the British Airways offer gives you the best and cheapest way of achieving the Business Class option, so will focus on BA for this example. The British Airways Amex Premium Credit Card gives you a reward of a 2-for-1 companion flight in any class of travel.
In order to unlock the 2-for-1 Business Class seat reward you will need to:
Spend £10,000 in a single year on your credit card
Pay the annual £195 fee
You can only use your 2-for-1 companion flight voucher when booking the first flight using Avios Points (not cash). The number of Avios Points you will need for an upgraded flight depends on the destination of course.
If you were to fly return to Rome in Business Class it would cost 44,500 Avios Points.

If though you were flying return to New York in Business Class, it would cost 133,000 Avios Points.
Spend £3,000 in the first 90 days of opening the account, you'll also receive a bonus of 25,000 Avios Points towards your flight. It will take time to collect the points needed. This isn't an overnight solution, but if you are planning for a trip in 18 months to 2 years or more then this is a very viable option.
You will still need to pay the airport taxes and fees for both passengers. To Rome, this would be just £1 each but to New York, this would be around £600-£700 each – but it's still much cheaper than paying for two Business Class seats!
To find out more about the 2 for 1 Business Class flight reward take a look at the official BA Amex Credit Card website
Cheapest Places to fly Business Class
If you're looking for trip inspiration, flexible with the dates and destination but just want to get there in style then it's definitely worth looking at some of the cheapest places to fly Business Class around the world. As a whole, the cheapest places to fly Business Class are usually the closest. In the short haul, a return flight in Business Class to Paris is usually the cheapest destination. In long-haul, with a lay flat bed, the cheapest place to fly Business Class is usually Tel Aviv in Israel.
British Airways offer a Business Class cabin on almost all their flights. The flying short-haul in Business Class experience is different to the long haul. The seat itself is probably a closer match to Premium Economy in long-haul, but you will still at least get lounge access and bonus Avios Points and Tier Points for the Business Class flight.
A return short-haul flight to Paris in Business Class on BA, using a recent search for a flight in October, came with a price of just £241! A return long-haul flight to Tel Aviv in Business Class on BA, again using a recent search for a flight in October, came with a price of just £1,097 (the upgrade to BA First was only another £400).
The Google Flight tool allows you to search by an entire continent. Choose a continent, a flight class, and dates and it will show you not only the cheapest flights but also the cheapest destinations.
How to Fly Business Class for Free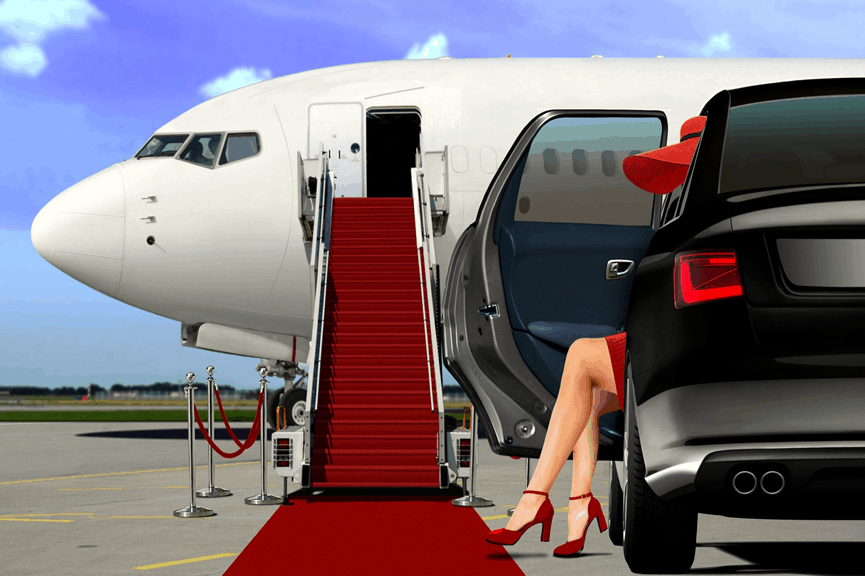 Unless you win a free flight in a competition, or someone buys you a flight, there isn't a way to just board a plane in Business Class without paying. When we mention a free flight it's in reference to the actual flight cost – but will also exclude the airport taxes and fees. These always need to be paid by the traveler and often work out at between 20% and 40% of the overall fare price you see online.
Air miles and point programs are truly the best way to fly Business Class for 'free'. Join the BA Executive Club and the Virgin Flying Club programs – plus join the Miles & More Lufthansa program too You can join all the airline points programs for free. The trick though is to focus on one. This way you can plan all your point spending around one airline to build your points faster and earn rewards sooner.
On average it will take around 12-24 months of smart savings to collect enough air miles or points for a free Business Class flight. If you want to fly Business Class to Paris, you will need 32,500 BA Avios Points. Fly to Sydney in Business Class and you will need over 200,000 BA Avios Points and so will take you longer to collect.
If you're serious about flying Business Class for free then read The Ultimate Guide to Flying Business Class using Air Miles for all the tips and tricks you'll need!
The Cheapest Way of Flying Business Class – the Insider's Notes
The cheapest way to fly Business Class is to collect and then spend airlines air miles and points programs. If you are flying as a couple or with a friend it would be worth looking into either the BA Amex Premium Credit Card or Virgin Atlantic Plus Credit Card both offer free companion flights when you meet the minimum spend and book the flight using points (the BA option is better if you want to fly Business Class).
The closer the destination the cheaper the fares become. You can fly short-haul to Paris in Business Class for around £240 or long-haul to Tel Aviv for £1,100 – this rule is not always absolute as it depends on the popularity of the destination. Be flexible and use the Google Flights tool to really maximize savings