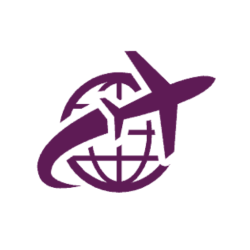 Latest posts by The Points Insider Team
(see all)
For those of you who have not heard much about the ITA Matrix I'm sure you'll have many questions, but probably the most important question, how you can use the ITA Matrix flight search tool to find the very cheapest flights available. Launched way back in 1999, ITA Software created the ITA Matrix. The ITA Matrix is essentially a data tool that has access to every commercial flight including the price of the flight.
With so much data ITA Software was able to create an insanely useful tool for travelers to help them find not just the flights promoted and advertised by each airline but give the power back to the traveler enabling them to create their own flight itinerary based on their needs, rather than the airlines.
This really was the start of the tools now available such as Google Flights, Sky Scanner, Expedia, etc… You can't book flights using the ITA Matrix. Unlike some of the search tools, the ITA Matrix has no marketing incentive to 'recommend' flights' to you based on how much the flight search tool is being paid.
This meant you always get results based on what you need, not just based on which airline is paying the most. Google purchased the ITA Matrix from ITA Software in 2017 and much of the ITA Matrix functionality now exists within Google Flights – but that's not to say the ITA Matrix doesn't still hold a lot of value.
What Is the ITA Matrix?
We've covered the history of the ITA Matrix but let's look at what the ITA Matrix is exactly and how it could benefit you.
The ITA Matrix is a flight search engine. It gives you the ability to really deep dive into lots of different flight permutations, a vast array of filters and options, and really helps you find the best routes, most suited times based on your travel needs – and also the cheapest flight prices.
All flight prices are shown in real-time – although of course airlines can change the flight prices in an instant, so a price you see today may of course have changed by tomorrow. It gives you the power of your flight searches. Want to search for different cabins, and multi-city flight trips, search across an entire month for the cheapest days and times – all options are available.
As a rule, the ITA Matrix has more filters and options than standard and traditional flight search tools although since Google purchased the ITA Matrix their Google Flight Tool has now started incorporating much of the data and functionality. It may not be long before Google Flights matches the search capabilities of the ITA Matrix (as much of the technology has been in-built) but I'm sure we'll see the ITA Matrix on our screens for a while longer.
How to Use the ITA Matrix to Find the Cheapest Flights – Full User Guide
Now on to the main reason you visited this page. How to use the ITA Matrix to find the cheapest flights based on your travel needs. To help guide you through the ITA Matrix search screens and walk through how to use it, below you will find a step-by-step guide:
#1 Visit the Google ITA Matrix website
The first step of course is visiting the ITA Matrix website by clicking here. The tool isn't available via an app, so you'll need your phone browser or a laptop or computer.
#2 Choose your Departure and Arrival destinations with Short Code and Carrier tips
You can simply enter where you're flying from and where you want to go to and carry on to Step 3 and the rest of the search fields. But, if you choose the 'Advanced Controls' option you'll open up a new world of options, possibilities, and permutations. I will warn you this is probably best suited to advanced users but I will try and walk you through the options.
The main Syntax screen shows the options available. All entries are abbreviations and shortcode to help with the database search. For example 'N: AA' code means you want to fly this leg of the flight nonstop (i.e. not stop-overs) and on American Airlines (AA).
By clicking on the 'Examples' tab you'll see some placeholders of possible entries. For example 'DL CHI DL' means you want to fly Delta for the full length of your flight, and also want to stop over in Chicago. Yes, the tool is that customizable. You just need to know all the shortcodes. These can be found by simply Googling the relevant carriers' codes and airport codes (e.g. London Heathrow is LHR).
#3 Choose the date, date range, and times of your flights
You can just enter the outbound and inbound dates, but the ITA Matrix is much more powerful than that.
Search Exact Dates
Using the 'Search Exact Dates' option you can enter the outbound and inbound dates as well as, in the third drop-down menu, the ability to select different date ranges and options.
The options are:
On this day only – this is the default option, and to be used for an exact match
Or day before – this option searches for the date you entered plus the day before
Or day after – this option is for flights on your chosen date, and the next day
Plus minus 1 day – this will search for flights on your chosen date, the day before, and the day after
Plus minus 2 days – this will search for flights on your chosen date and up to two days before and two days after
These options are really helpful and can save multiple searches on other flight search tools if your planned trip has to be around a particular date but the date you intend to fly is flexible enough to allow for a day or two on either side. The ITA Matrix is flexible enough to allow you to be very specific on your outbound flight but more flexible on your inbound flight – and vice versa.
As well as date options you also have the flexibility to choose time options too.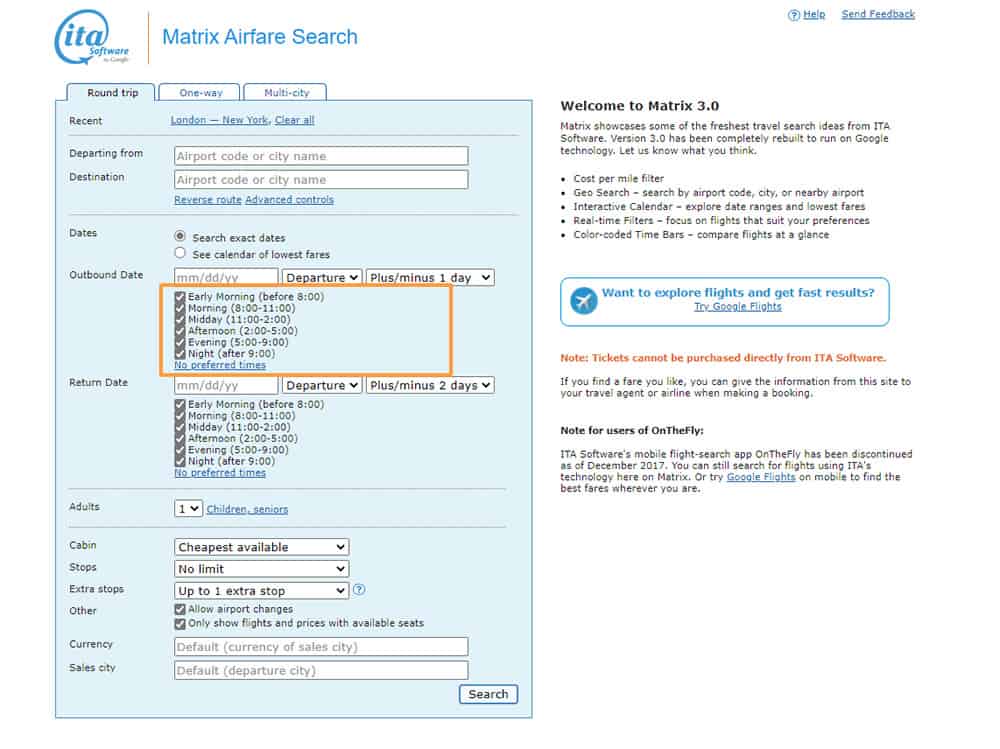 The time options available on both outbound and inbound flights are as follows:
Early Morning – (before 8am)
Morning – (8am – 11am)
Midday – (11am – 2pm)
Afternoon – (2pm – 5pm)
Evening – (5pm – 9pm)
Night (after 9pm)
You can choose different outbound and inbound flight times of course. You also have the option of 'No preferred times' and the tool will search all flight times for those dates.
One limitation that could be improved is to allow the flexibility to choose an outbound flight with the flexibility to fly a day or two before or after, but so that the inbound flight is x days following – although this level of filtering is possible using the 'See Calendar of Lowest Fares' option.
See Calendar of Lowest Fares
The Calendar of Lowest Fares option is really useful for really flexible travelers who can travel when they choose. Simply choose any date and your search results will include all flights for that date and a whole month after to help you find the lowest fare. You can now see a field to allow you to search for the return inbound flight exactly x days after the outbound (i.e. so that your trip will be for 5 nights, 7 nights or even between 5 and 7 nights by using '5-7' as in the example I have shown below).
#4 Select the travelers
No frills and whistles here. Simply choose the number of Adults, Children, and Seniors who will be flying The default option will show a drop-down menu to choose the number of adults flying.
If you have children, seniors, or youths flying with you simply select the
'Children, Seniors'
option and a new set of fields will display for you to complete.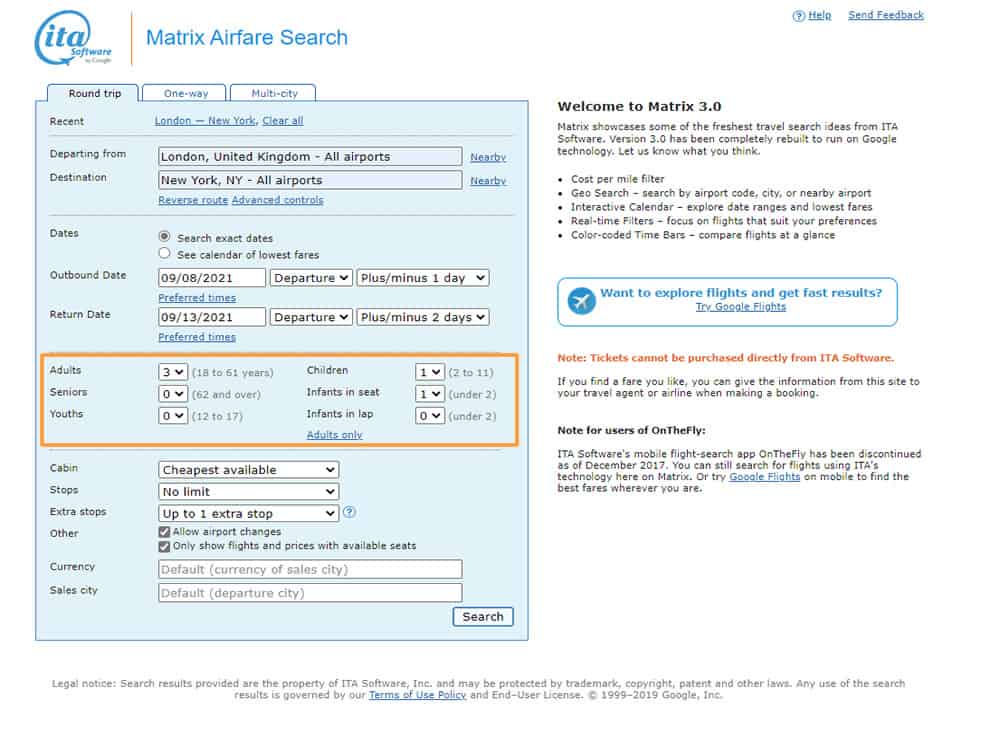 #5 Additional Filters and Choices
The last set of filters give you another set of drill-down filters to help you produce the flight(s) that meet your exact requirements.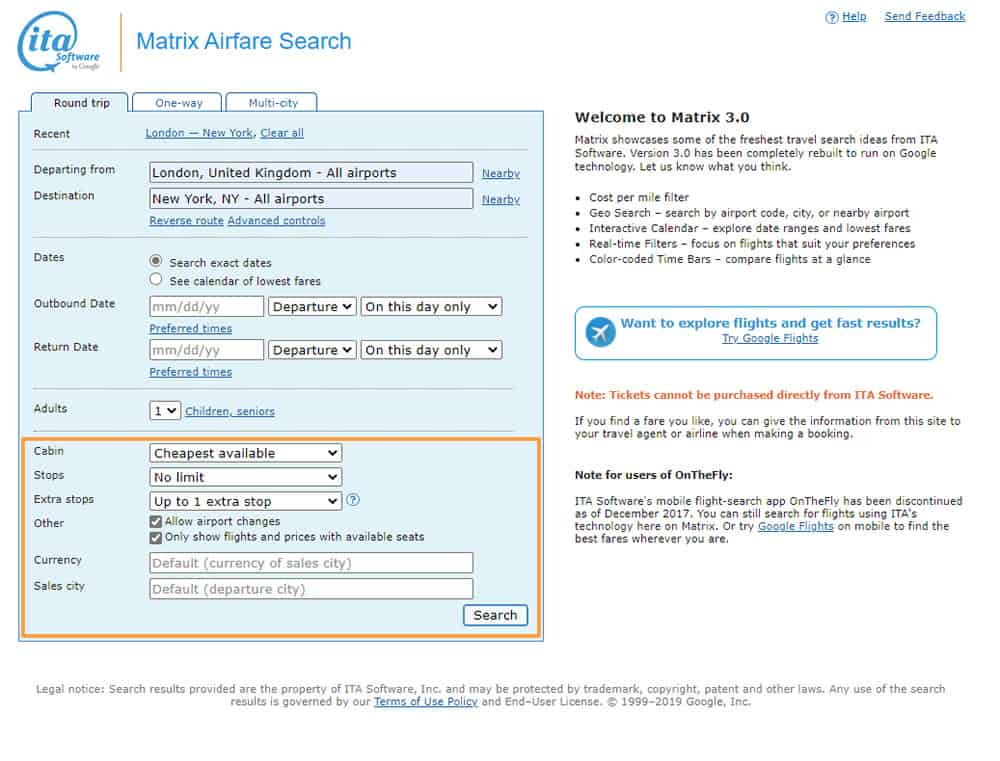 Let's walk through them one by one:
Cabin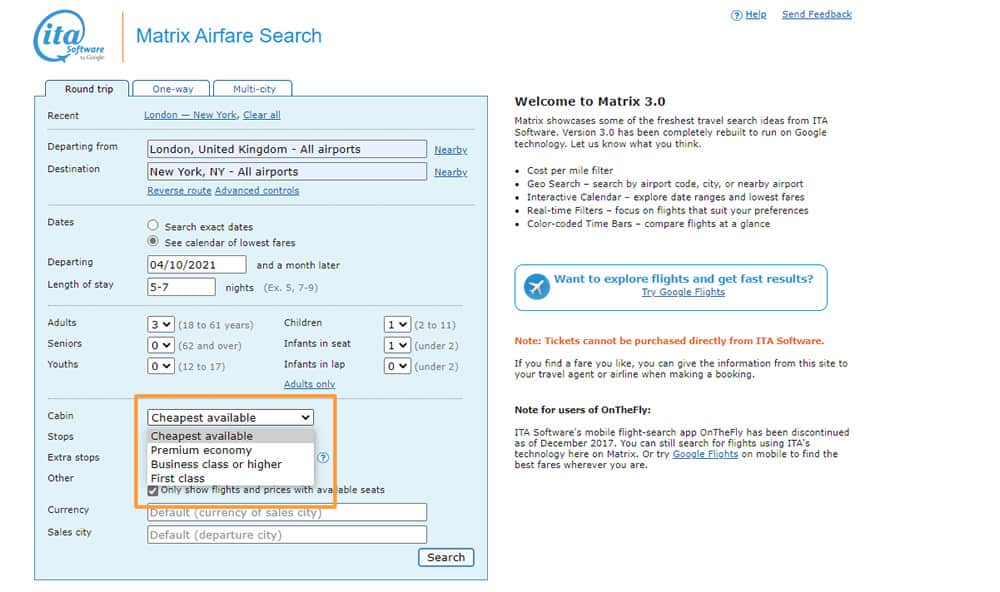 This filter gives you standard cabin class searches.
Cheapest Available (which is almost always Economy class)
Premium Economy
Business Class or Higher (i.e. Business Class and First Class)
First Class
Unfortunately, the ITA Matrix doesn't provide multi-cabin flight options (e.g. Economy outbound and Business Class inbound). For this you will need to search for one cabin option to find the lowest price and look for upgrade options directly with the airline.
Stops
This allows you to customize your flight based on the number of stopovers. Usually, but not always, a longer flight with multiple stop-overs can be cheaper than a direct flight.
For example, if you fly to New York from London Business Class with TAP Air Portugal you will save around 40% from the direct Business Class flights with BA or Virgin, but whereas the BA and Virgin flights are direct, the TAP Air Portugal flight requires you to fly to Lisbon first and then change for the long-haul flight adding another 5 hours to your overall journey.
This is one small example but by increasing the number of stop-overs can mean a much cheaper flight but of course this comes with the caveat of a longer overall journey time.
Extra Stops
This filter is a little confusing hence Google has added a field explanation. The Extra Stop option can be used if you want to increase the number of flights shown above the number your filter would ordinarily show. The ITA Matrix is designed to show you available flights based on your search and will attempt to limit flight results down based on your choices.
If you set Extra Stops to 'Up to 1 Extra Stop' and by default, your search results were only going to display direct routes, you will now see direct routes as well as flights with one extra stop. If the minimum number of stop-overs for your flight was already one, by selecting 'Up to 1 Extra Stop' you will now see the minimum of 1 stop-over as well as 2 stop-overs (as you've added one more).
Slightly confusing I know but limit the number of stopovers as much as you need to, but increase if you are looking for stop-over options and potentially cheaper flights.
Other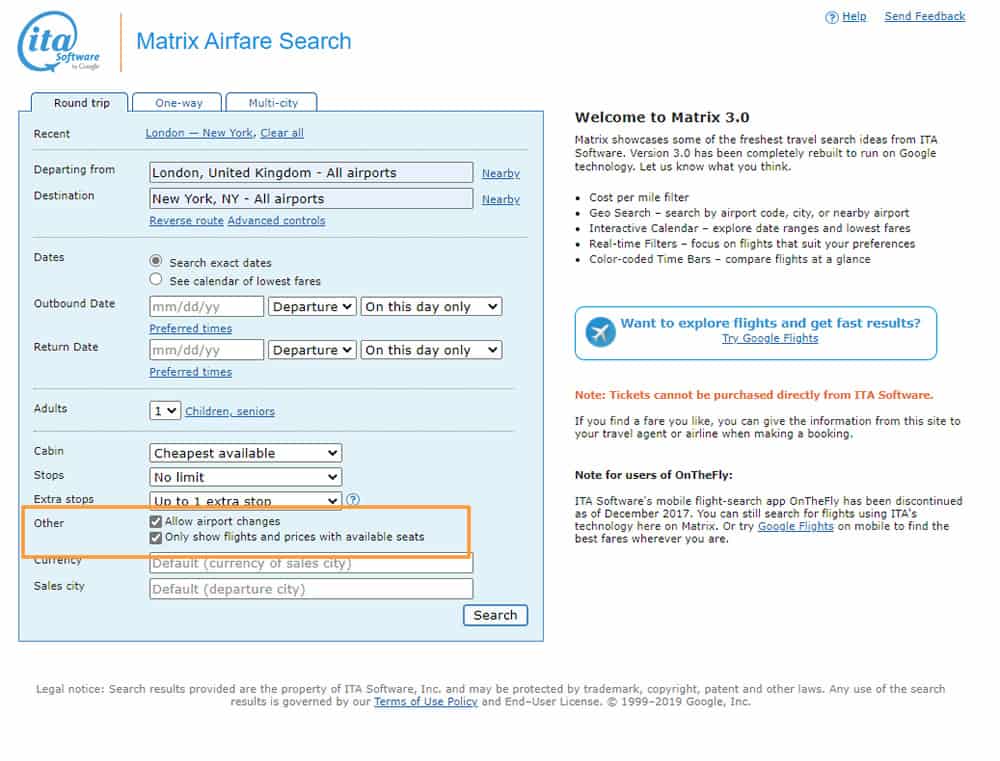 Allow airport changes
This is selected by default but be careful here. This means you may need to change airports during a stopover or could mean you may not fly back to the same airport you flew from. This isn't too bad if you booked a taxi to and from the airport, but not ideal if you travel by car – as you'll then need to arrange to travel between airports to collect your car.
This is where balancing up the cheapest price with inconveniences such as this is.
Using New York (again) as an example it's perfectly feasible to fly into JFK airport but then decide to fly back from Newark. This could work out cheaper than a flight back from JFK – and if you are heading to and from Manhattan the journey time from Times Square to JFK is similar from Times Square to Newark.
Only show flights with available seats
It's recommended to keep this option selected, which is by default, as you only really want to search for available flights. On the other hand, if you are researching or searching for routes and flight times, rather than prices and availability, it may make sense to untick this option so that you see all flights happening whether they have availability or not.
#6 Currency and Sales City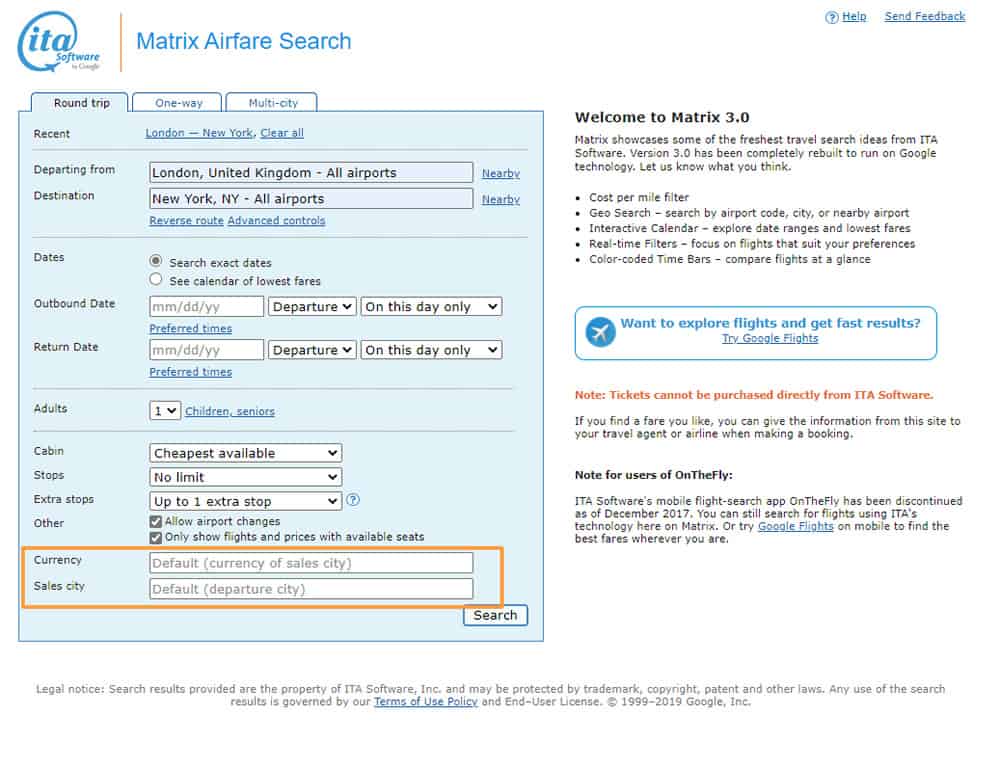 The last two fields on the search form – Currency and Sales City – are probably best left as the default.
If you are flying from London, then by default your Currency will be GBP and the default sales City will be London.
If you are looking to book a one-way flight from New York to London, then your default currency will be USD, and Sales City will be New York. You can overwrite these options of course. You may want to search for one-way flights from New York to London but want to pay in GBP – if so, then simply enter GBP into the Currency field and or London into the Sales City field.
#7 Search for Flights
Press the Search button and let the ITA Matrix do its thing and search all airlines and flights.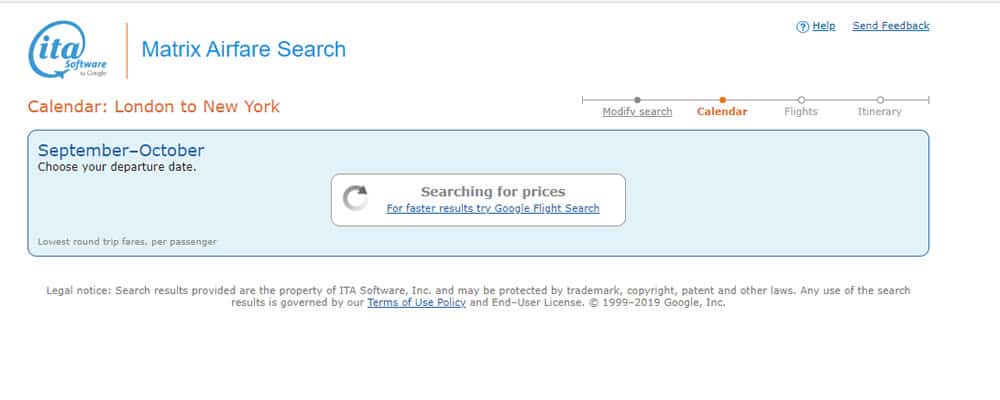 Be warned, this may take a while depending on how complex your flight requirements are. Once through the ITA Matrix has found all matching flights you'll see the results.
This is an example of my search for Business Class or First Class flights to New York within one month of 8
th
September for between a 5 and 6-night trip.
Just before you select a flight, hover your mouse over a date and you'll see different prices based on whether you searched for multiple travel days.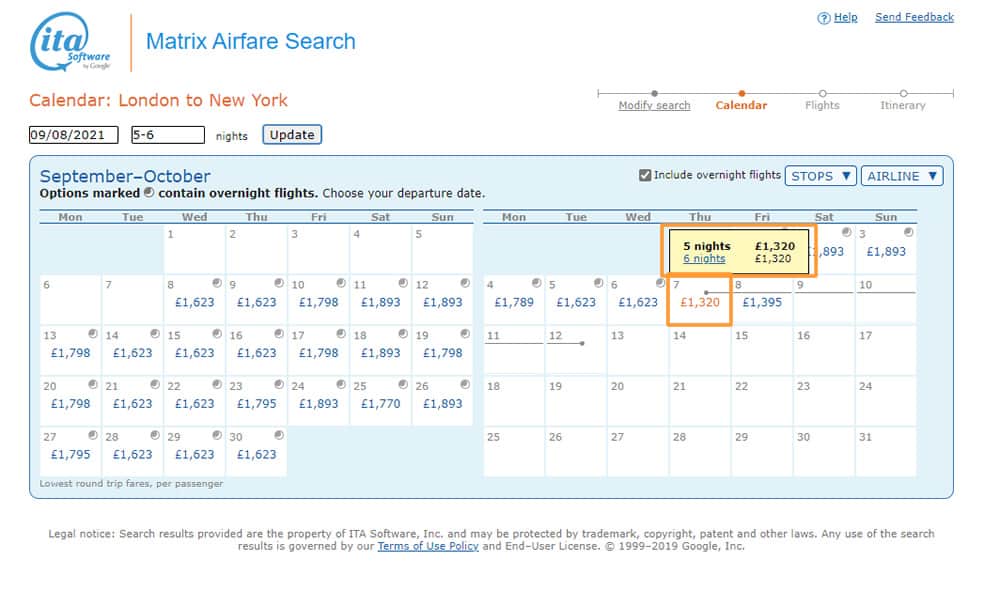 The color code helps zone in on cheaper flights, like those shown in orange in the screenshot above.
As you can see if you fly on 6th October instead of the 3rd October, you could save £573!
For example, I asked the ITA Matrix to show me the cheapest Business or First Class flights to New York between 5 and 6 nights. Instead of showing both prices at once, you will need to hover your mouse over each date to see the prices for all options.
#8 View Results and Other Options
We now have our results. The prices here are slightly lower than ITA Matrix first showed. Flights prices fluctuate very often as prices change based on demand.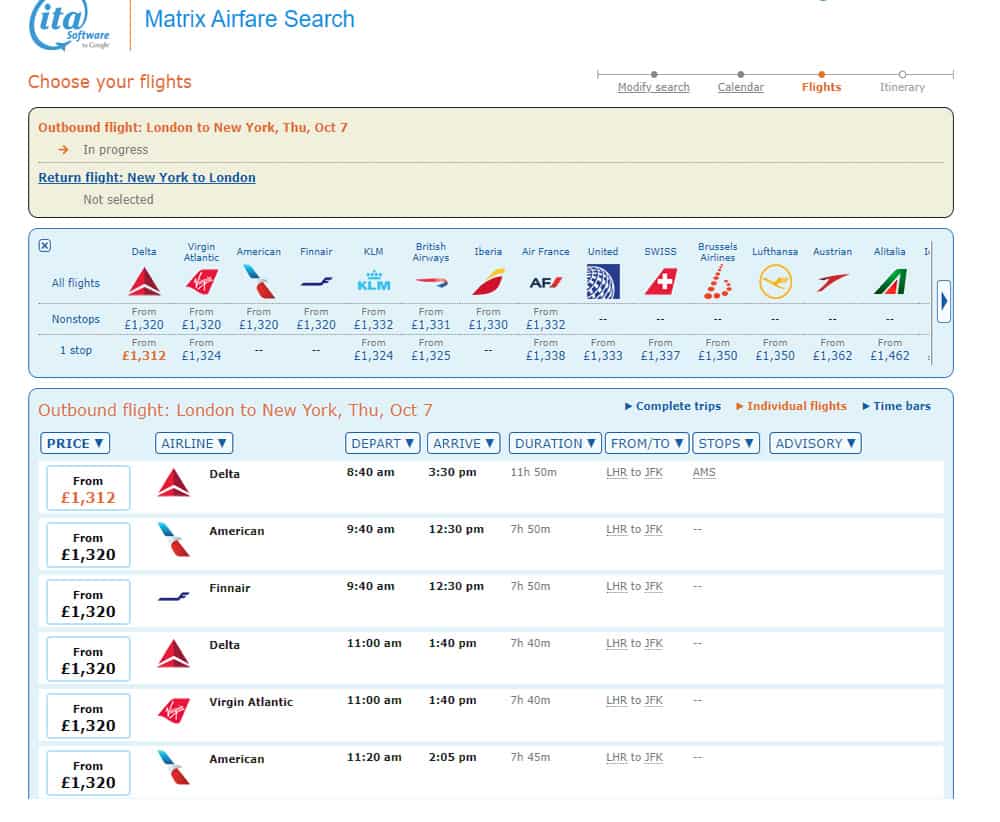 Flights by Specific Airlines
Although our initial search didn't filter out or just include certain airlines, it's here we can compare our preferred airline against the others. It may not be the cheapest but if your preferred airline, and the airline you collect points for, is only slightly more expensive than the cheapest option it may make sense to stay loyal and earn the point and tier points.
Individual Flights
By default, the ITA Matrix will show you results for a complete trip but you may want to look at the outbound and inbound flights separately. To do this select the 'Individual Flights' option: The same filters apply to individual flights as they do the round trips.
Time Bars
This is a useful tool. It doesn't change your filters or flight results, but it does show your flight search results in a more visual, Gantt-like, chart helping you better interpret and see the flight times.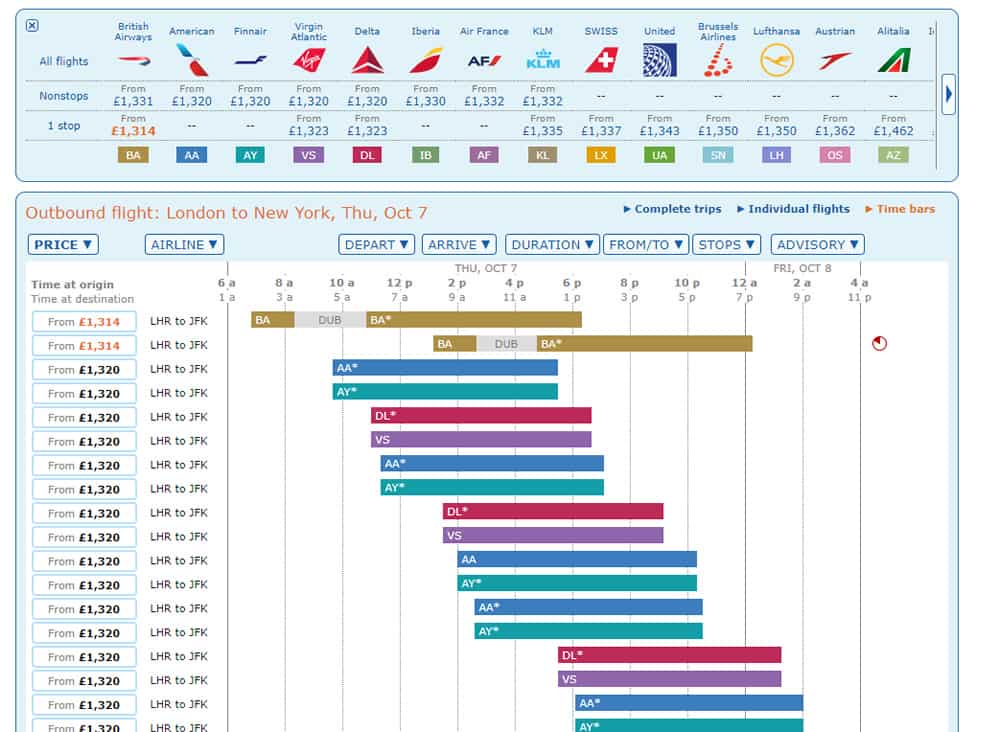 The color coding by the airline is a nice touch.
Sort and Filter Options
Above each column, you'll notice beside the column heading a drop-down arrow. This header bar is much more than just a sort button.
Extra Filters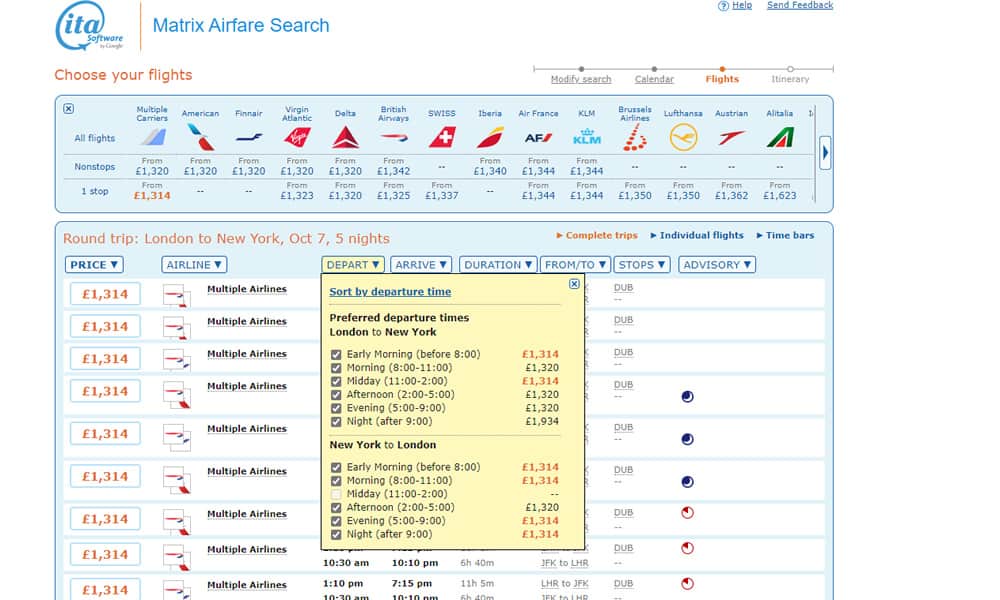 As you can see, when the 'Depart' header is selected, another filter window appears allowing you to fine-tune and narrow the search results even more. These are the same filters and fields we saw on the search form, but you may want to search as many results as you can and then filter down the results from there.
Each column heading allows you to choose different options based on times, prices, number of stops and even journey length.
Night Flights
Flying through the night may be a requirement if you have a business meeting to attend the following morning or may be something you want to avoid at all costs.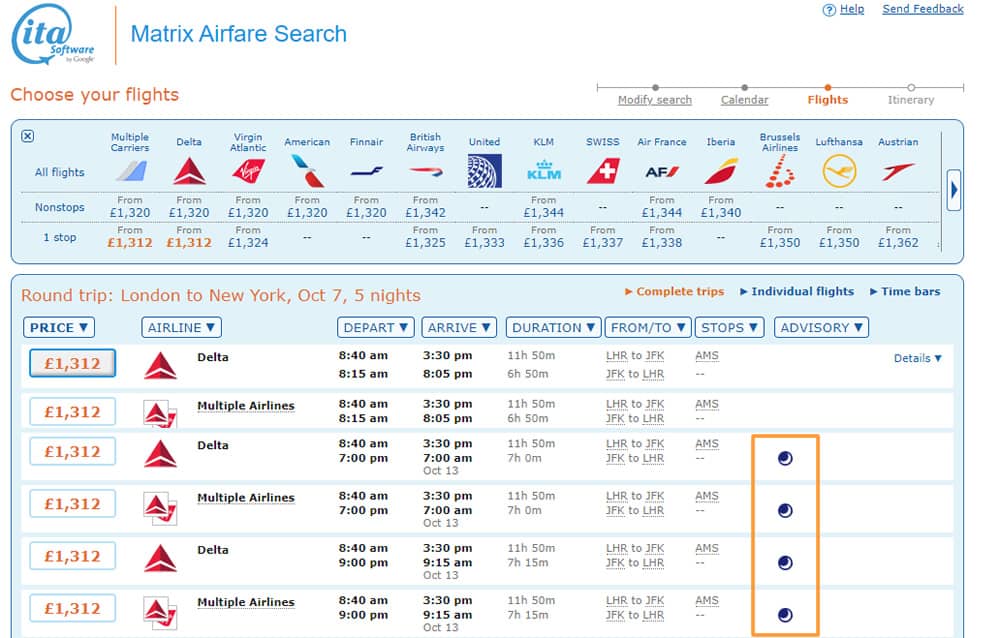 The Advisory column has a useful moon icon to denote where at least one of the flights on your trip is, what would be considered, a night flight.
Even More Details
Just before we select a flight, if you hover your mouse over any flight you will see a 'Details' link appear to the right of the flight result.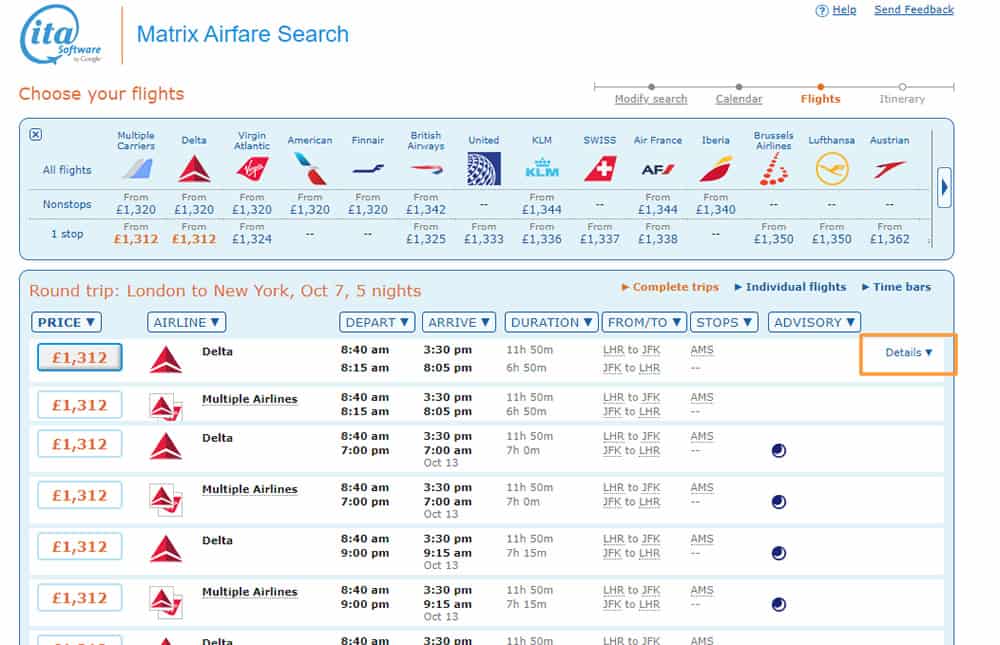 By clicking on the Details link you will open up a view showing a lot more details about that particular flight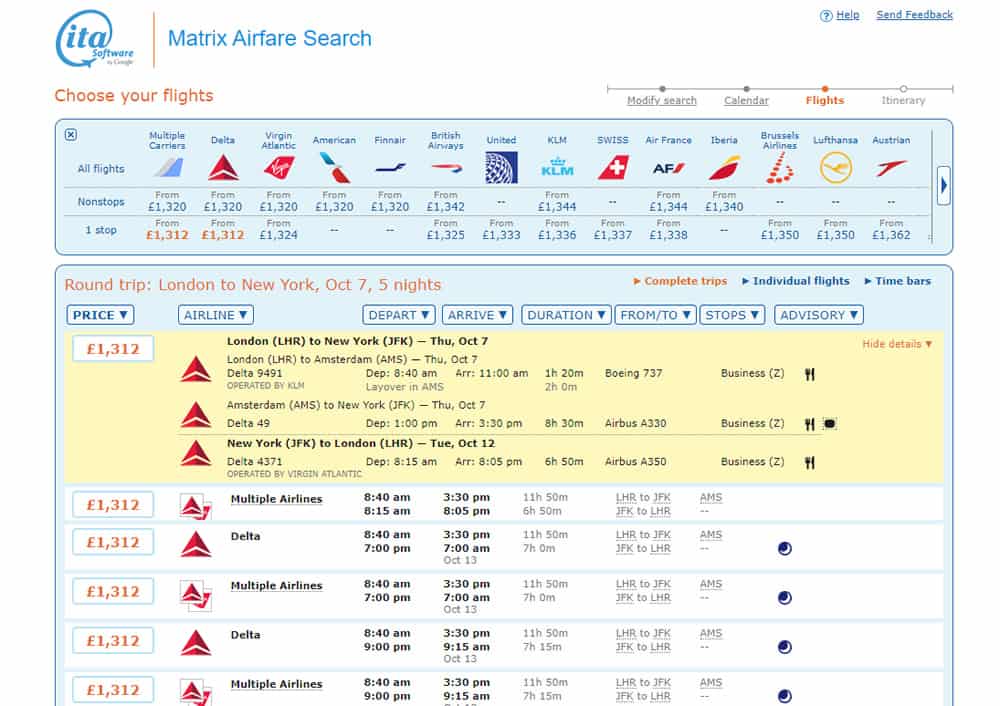 Flight numbers, duration, and even aircraft type is shown.
#9 Choose a Flight
Once you have exhausted all options and filters and have chosen your flight, you'll be taken to an Itinerary Details screen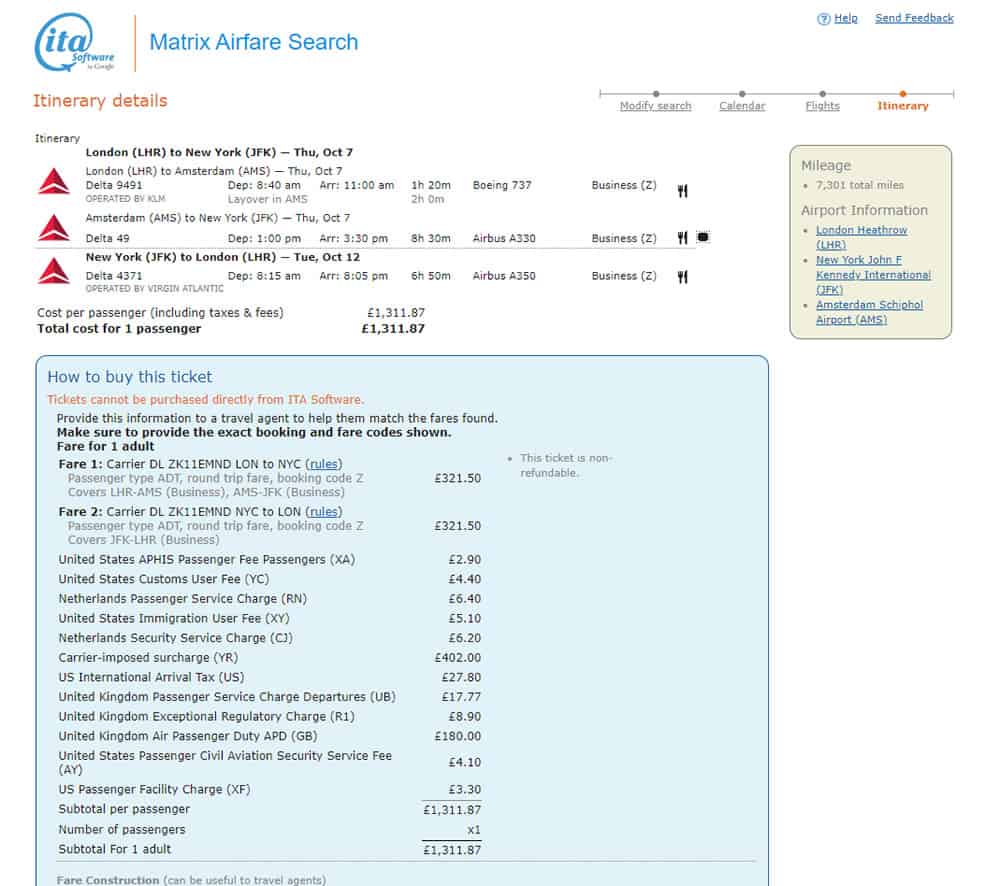 If you've not already had sensory data overload, here are some more for you! Not only will the ITA Matrix show you the details about your flights but it will also show to you the complete breakdown of your fare.
#10 Book a Flight Shown on the ITA Matrix
You'll notice there is no traditional 'Book Now' button shown anywhere on the screen. This is because ITA Matrix is a search tool, it doesn't allow you to book tickets or pass you to the airline. What the ITA Matrix will do though is provide the codes for this trip. With this information, you can take to a travel agent or call an airline and they will be able to find the same trip, and you can book directly with them.
We of course though live in an online world today, and you may just want to do this online instead. Now I know the cheapest day (7th October to 12th October) and the cheapest airline (Delta Airlines) I can visit the Delta Airlines website and search for this exact flight now.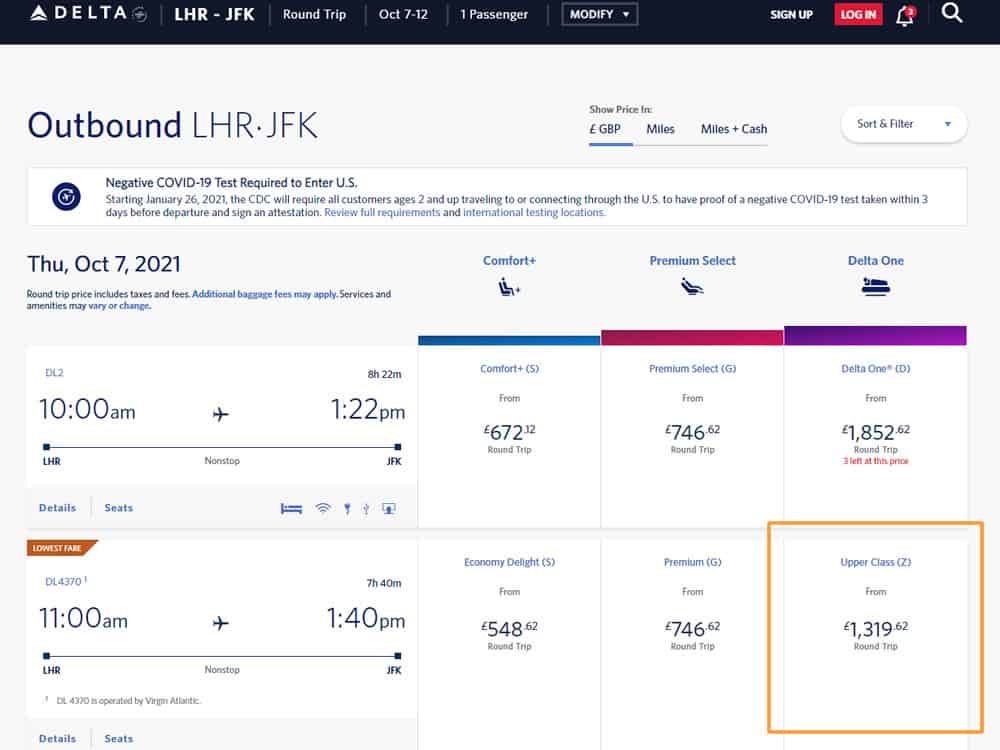 Although there is a £7 difference, I think we have now found our flight – and we know it's the cheapest option for our needs. We can now book the flight through the Delta website and look forward to our trip knowing that 20-30mins worth of research has made sure we've found the cheapest flight and the best deal!
#11 More Search Options
Throughout this guide so far, our walk-through scenario was based on a round trip. You may though need just a one-way flight or even more customized options with a multi-city trip.
One Way Flight Searches
Very similar to the walk-through we have made for round-trip flights but this time without the inbound destination fields.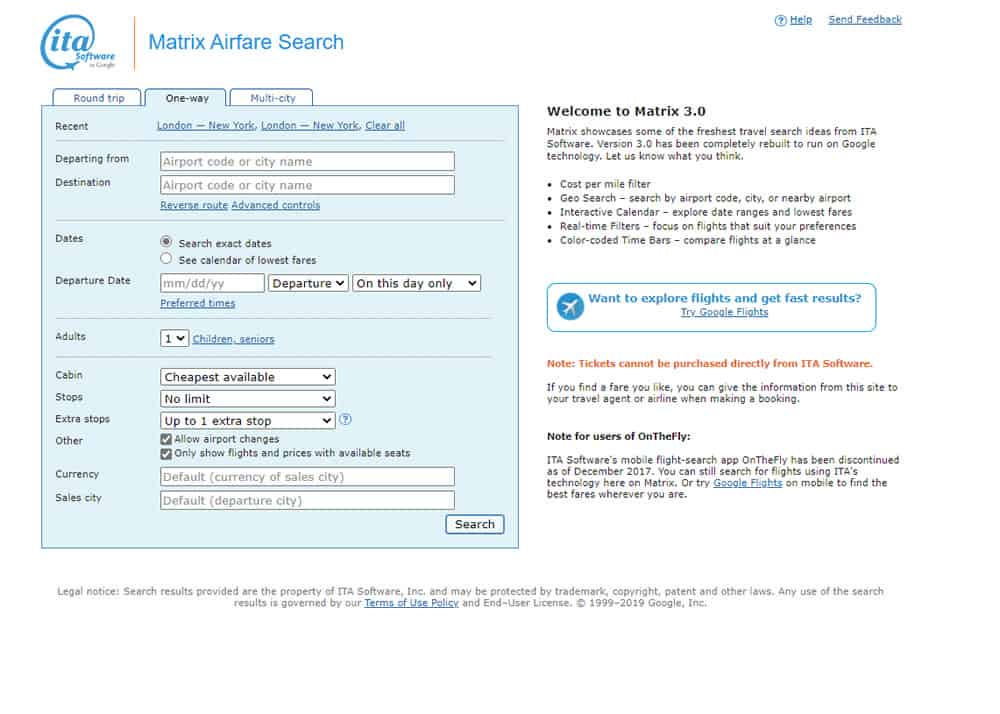 Simply follow steps 1 through 10 above but without adding the inbound flight option fields.
Multi-City Flight Searches
Again, similar to steps 1 through to 10 we have already followed, the Multi-City search allows you to add multiple flights as part of one overall trip.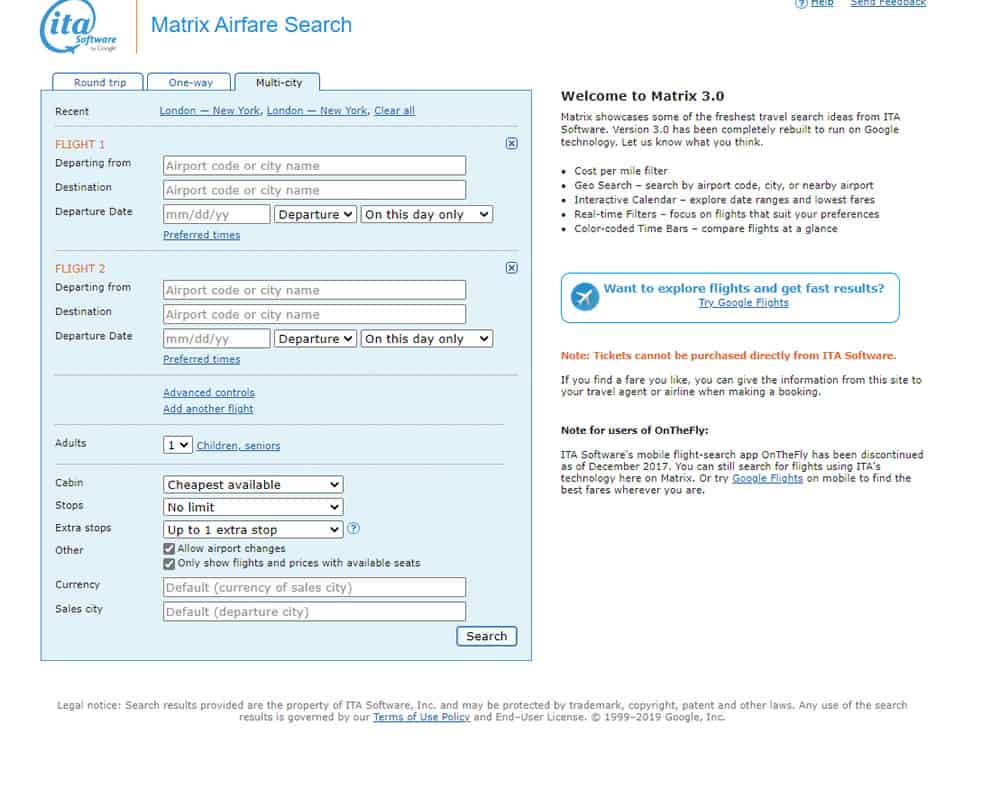 You're not just limited to two flights – using the 'Add Another Flight' option, you can add up to 6 flights in total as part of one trip.
You can have up to 6 6 Multi City Flight Options on ITA Matrix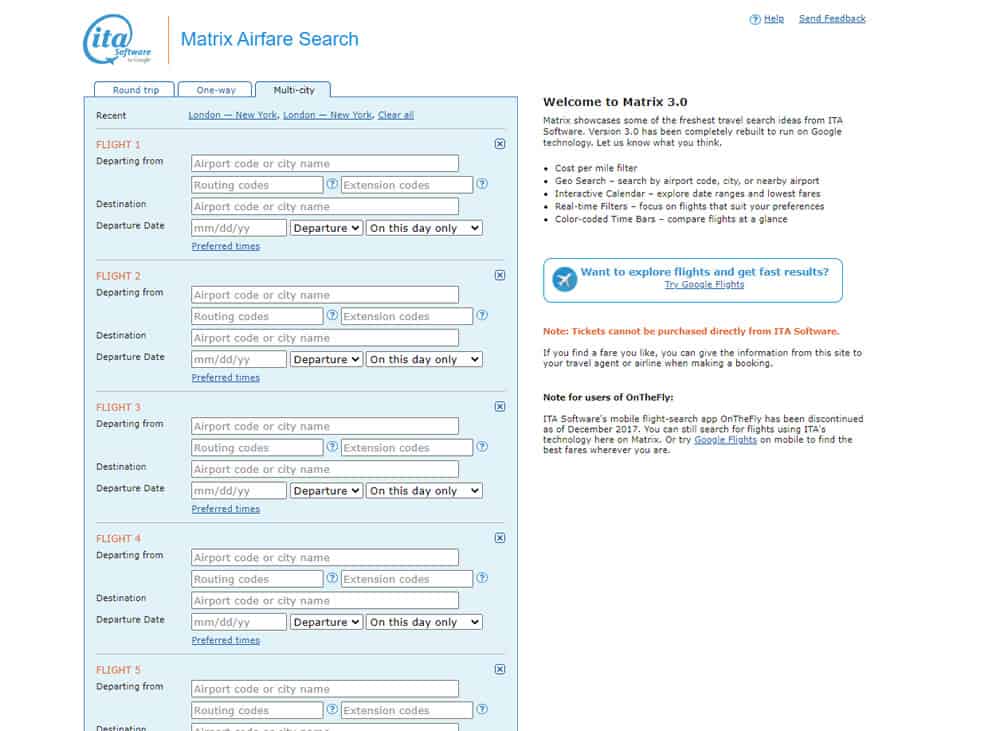 This should be plenty for even the seasoned travelers amongst you! Complete the same 1-10 steps, add as many separate flights as you need (up to 6) and then let the ITA Matrix tool do its thing. Remember though the more flights, options, and selections you add the longer the tool will take to run. It can take up to several minutes to complete.
ITA Matrix Tool vs Google Flights
Why are we not just using Google Flights instead? Both ITA Matrix and Google Flights are owned by Google. We are seeing more and more features of the ITA Matrix form part of the standard Google Flight functionality. The ITA Matrix is a data geek's delight. This though, as you will see, can make the interface more confusing to understand.
Other flight search engines focus on the user experience and usability of taking a visitor through the flight search and booking process as quickly and easily as possible. The more complex the experience the more likely they are to lose potential customers along the way. ITA Matrix is different. It isn't looking to make a sale. Instead, they are focused on information and data.
The interface may be more complex, but the results can help you not only find cheaper deals but flights that are more suited to your requirements. Google Flights is a great tool though and comes with its own advantages, such as trip inspiration and itinerary builder plus hotel prices too. Our own full and complete guide on using Google Flights features and how to save money on your next flight can be found here.
We would perhaps use the tools for slightly different reasons. For very specific in-depth queries with very specific flight requirements, we would use the ITA Matrix tool. If we were looking for trip inspiration and hotel rates to create a holiday price, then I would turn to Google Flights.
FAQs
Question: How do I book a flight with the ITA Matrix?
Answer: You can't book a flight through the ITA Matrix. You can use the ITA Matrix to find the cheapest and best flights for your trip and then either quote the codes provided by the ITA Matrix to either your travel agent or airline or you search for the provided flight through the airline's website and book your flight directly with them.
Question: Is the ITA matrix legit?
Answer: The ITA Matrix is absolutely legit. The ITA Matrix was created by ITA Software back in 1999. The ITA Matrix was bought by Google in 2017 and so is a very reputable, reliable, and legit flight search tool to use. You can use the ITA Matrix to search for the cheapest flights and use the information to book the flight through your travel agent or airline directly.
Question: Does the ITA Matrix Exclude Basic Economy flights?
Answer: No, the ITA Matrix does not exclude Basic Economy flights. The cheapest price found includes the basic economy offering from most airlines (e.g. Virgin Economy Light). This means you do not need to find a standard economy fare with an airline and then search to see if they offer a basic economy version.
The ITA Matrix Guide – The Insider's Notes
The ITA Matrix tool is definitely a flight search tool you should consider if you have very specific and exact search requirements that fall outside the general flight comparison search engines. The user interface is not as slick as the other flight tools but what it lacks in usability it more than makes up for features and data – lots of data!
The ITA Matrix is owned by Google, so is as reliable and trustworthy as flight search tools and software comes.
You can't book flights on the ITA Matrix, and they will not direct you to the airline's website to make the booking. Instead, the ITA Matrix will show you the trip's relevant flight codes which can be given to your travel agent. Alternatively, once you've found the right flight for you simply visit that airline's website and search and book through them directly.