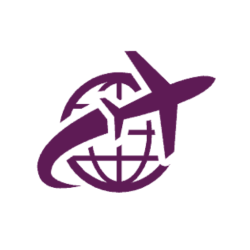 Latest posts by The Points Insider Team
(see all)
There is generally a lot to research to do when looking to book a flight. One of the most important things for any flier is how comfortable the experience will be. Without Premium Economy on short-haul flights, BA customers are left with the choice of either Club Europe or Economy (Euro Traveller).
In Economy, there is the option to upgrade the seat to an exit row seat with extra legroom, but which is better, Club Europe or Economy with extra legroom seats in the exit row?
Club Europe has no extra legroom seats, the seat pitch is exactly the same as the economy. An extra legroom seat in Economy will provide 6 inches of additional legroom compared to a seat in Club Europe. In Club Europe, the middle seat is not occupied. For space, the Economy with extra legroom seat is better.
I recently took a short-haul flight across to Germany with British Airways. I flew to Germany in Club Europe, and on the return flight I flew in Economy with an extra legroom seat, so I could properly compare the two, and in a relatively short time frame.
On my return flight, I had someone sitting next to me in the Economy exit row seat. This wasn't great for me, but perfect for this experiment to see under normal conditions which seat option is favorable, which provides the most amount of comfort, and which provides the best value.
In this article, I will share all the pros and cons of each, and which I felt was a better experience overall.
Flying in Club Europe with BA
Club Europe is the Business Class short-haul flight experience from British Airways.
Unfortunately, those that see Business Class as lay flat beds, and sumptuous surroundings and space, will be a little disappointed. The lay-flat bed type of seat is only available on long-haul flights to the US, Asia, Africa, and Australasia.
In Club Europe, the seat is exactly the same as in the economy. Same width, same pitch, and same legroom.
So, why then would people pay a lot extra to fly Business Class rather than just fly economy? Club Europe has a whole range of other benefits including dedicated check-in and bag drop, speedy boarding, BA lounge access, a free meal and drinks on the flight, as well as additional Avios and a generous boost in Tier Points.
I headed off to the airport earlier than I usually would for a short-haul flight. This is in part because of media stories of exceptionally long delays at the airports but also because I wanted to enjoy all the delights of the BA lounge for as long as possible! I arrived at the airport, and found the Business Class check-in desks but was disappointed to see how long the queues were. Credit to BA here, they had a lot of staff working and almost every check-in desk was manned, but I guess I arrived at a particularly busy time.
I decided to forgo the Business Class desks and headed down to the self-check-in area which looked quieter. Having dropped my bag I headed across to the separate fast-track airport security area, which was an absolute breeze, and I was through security within 10mins.
The standard airport security area looked quite busy, so I did save some more time for the lounge. I headed to the North BA Lounge at Terminal 5 of Heathrow. Before showing my Business Class ticket I was told the lounge was very busy and one of the other BA lounges may have more space.
The BA member of staff wasn't wrong – I struggled to get a seat. With a plate of food, I aimlessly walked up and down the lounge for a spare chair. I managed to find a space and enjoyed the sandwiches and then ordered hot food through the BA Lounge website (there is a QR code attached to each table which can be scanned for the link), which was brought to the table.
The meal I chose was a vegetable curry and a special edition Brewdog, exclusive for BA flights: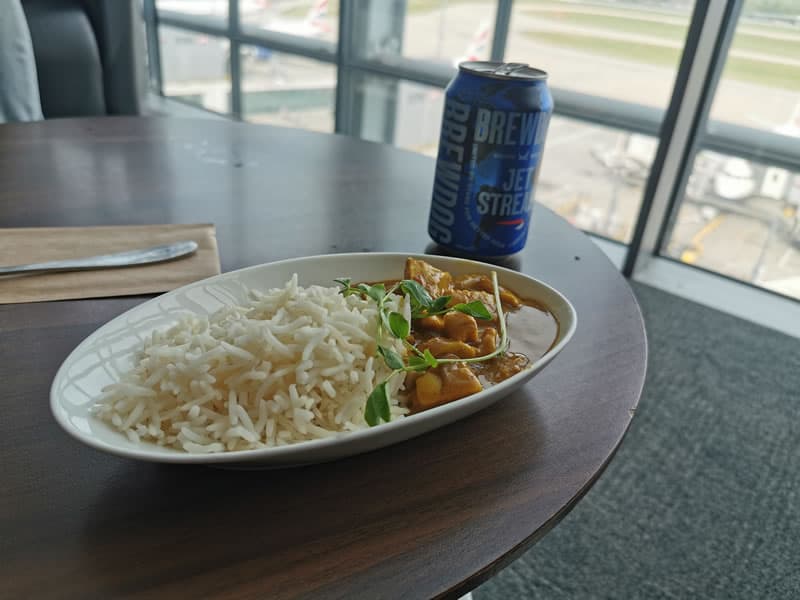 Boarding was simple and with speedy boarding, you are the first on to the plane. Although the leg pitch is the same as economy, the middle seat of the row of three on each aisle is blocked with an attached tray. This means they can not be used or booked. It certainly gives a feeling of being able to spread out, even without the extra legroom (and I'm 6ft). Business Class passengers are always offered a hot meal for free on every flight, whether short haul or long haul. I had a warm aubergine salad: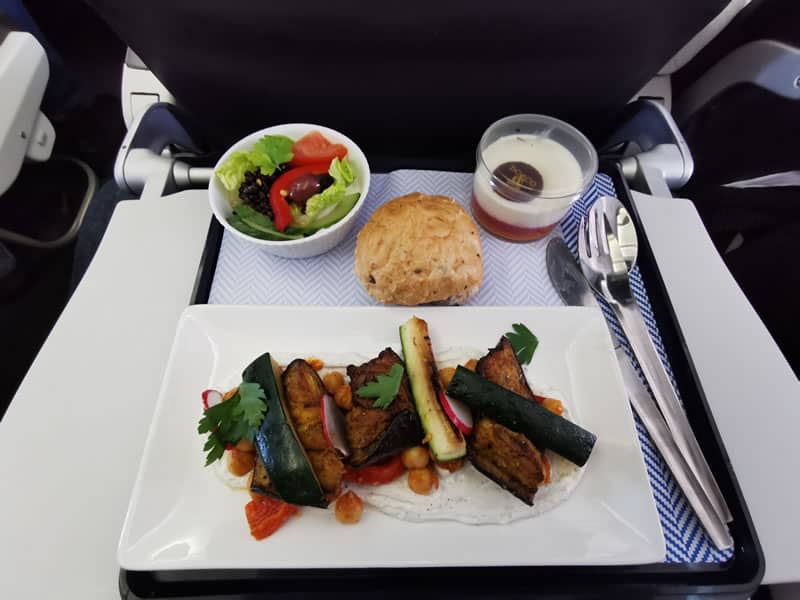 The meal was very nice although I would suggest to anyone to pre-order a meal before the flight. Fortunately, my first choice was readily available, but by the time the cabin crew reached my seat they had just one of the alternative meals available. With BA Business Class being such a premium offering I am very surprised they continue to cram Business Class passengers into economy-sized seat pitches.
For taller passengers, the lack of legroom in Club Europe may be a problem, although larger passengers may find the space around them more beneficial. The Club Europe experience overall isn't bad, and I would value the lounge access and other benefits at around £100-£150.
If the Club Europe seat is any more expensive than £120 each way, then I would choose the extra legroom seats in Economy and treat myself to a nice meal at a quieter restaurant at the airport terminal.
Flying in Economy with Extra Leg Room with BA
Unfortunately, the number of exit row seats on a BA short-haul flight can be as few as 12 in the economy. Booking an exit row seat as early as you can is recommended, although even on busy flights it's surprising to see how many exit row seats are still available until check-in.
It's best not to leave this to chance though.
The cost of an exit row seat varies but is often between £15-£20 per flight – which is £30-£40 per return flight.
There are conditions for using an exit row seat including required age, good health, etc… these terms are pointed out to anyone who books an extra legroom seat in the exit aisle, and you are required to agree to them in advance. Considering the average extra legroom seat is around £30-£40 return in comparison to an extra average of £325 return in Club Europe, it can be a great alternative and save a considerable amount of money.
There are no additional benefits of booking an exit row seat on British Airways than any other standard economy booking.
Unfortunately, the lounge is not an option here.
I arrived at the airport in Germany and as I had an early morning flight things were still reasonably quiet. Airport security is frustratingly slow in Germany compared to other countries I have traveled through, but I still managed to navigate my way through in under 15mins.
After an uneventful boarding, I took to my extra legroom seat. Considering my height, I felt I had space around me. My knees had no chance of hitting the seat in front and although the passenger in front thankfully didn't recline their seat throughout the flight, I still would have felt ok albeit a little cramped.
Here is a photo of my legroom in the extra legroom seat: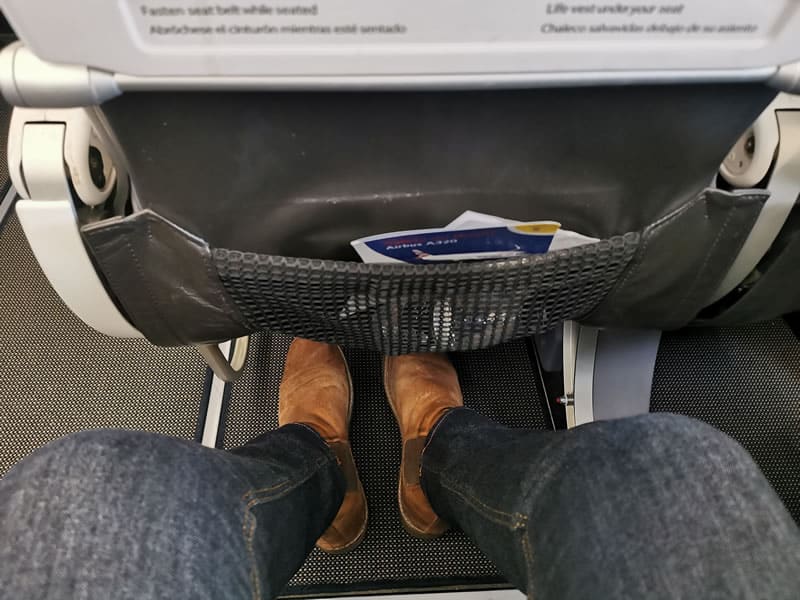 Unlike my Business Class flight, this time I had a stranger sitting next to me. Having just taken a flight a few days before with an empty middle seat I certainly noticed the difference and despite being tall and of average build, I felt as if I had less personal space. That said, if the person in the seat in front of me in Business Class had put their seat in recline, I would have felt more cramped there.
Getting the balance right is tough.
As a comparison, I flew long haul in Premium Economy with British Airways last year and although the legroom in Premium is comparable to an extra legroom seat in Economy, the extra recline on seats in Premium Economy made me feel very cramped when the passenger in front reclined all the way back.
There are no free hot meals in Economy, which applies to extra legroom seats too. A snack and a small bottle of water are provided complimentary. Hot meals though can be booked and paid for in advance.
BA Club Europe vs Extra Leg Room in Economy – The Winner
There is never or size fits all, or one cabin fits all when it comes to flying.
If having space is one of the most important factors to you when flying, then you have a choice between extra legroom or space around you with an empty middle seat.
If extra legroom is most important then go for extra legroom in the economy – on the other hand, if having space around you, and no one sitting next to you is more important, then Club Europe would be better. You could be fortunate and have no one sitting next to you in the exit row aisle in the economy, but that of course is never guaranteed.
It's not always just about the space. Club Europe takes many of the frustrations of traveling away.
A separate dedicated check-in area and fast track through security can save between 30mins to 1 hour at times alone. Combine this with the exclusive BA lounge access, first on and off the plane, more Avios and an average of 4 times more BA Tier Points per flight – if you are saving for the extra Tier level – can be worth it by itself.
My rule is if the cost of upgrading to Club Europe is more than £120 each way based on the Economy price (£100 for the benefits and factoring £20 for the extra legroom seat upgrade) then I would say the Extra Leg Room seats in Economy are best.
How to Upgrade to Club Europe for FREE
It's surprising how with such little effort, it's possible to upgrade to an Economy flight to Club Europe for free. This can be done by collecting Avios Points. We have a huge range of articles, tutorials, and explanations on this site on how to collect Avios Points spending no more than you do today.
Recommended Reading: Tips on Collecting and Spending Avios
For example, a return flight to Rome in September would cost £274.27 in Economy but can be upgraded to Business Class for 16,500 Avios plus the Economy fare, and a small additional amount for the taxes and fees for the upgrade.
The full Business Class fare is £494.27 for the same flight, so using 16,500 Avios for the upgrade helps you travel in style for much less. When searching for Avios redemption upgrades it is worth researching the cost of a part upgrade, full upgrade, saving on the full cash price with Avios, or even paying the full cash price.
At times the redemption rate offered for each Avios can be low. Anything less than £0.045 per Avios and it may be worth paying the cash for the upgrade and keeping the Avios for another booking.
Club Europe vs Economy Extra Leg Room – The Insider's Notes
Extra legroom seats in Economy are considerably cheaper in Economy than Club Europe by an average of £325 return
Collecting and using Avios for an upgrade to Club Europe can help save on the overall costs
There are no extra legroom seats in Club Europe, all seats have the same legroom as Economy
Club Europe has the middle seat in a row of three blocked out, so this will always be empty on every flight providing more space
Club Europe comes with more benefits helping make the flying experience more streamlined and stress-free
Extra leg room seats in Economy can be better for taller people