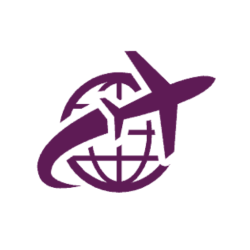 Latest posts by The Points Insider Team
(see all)
The cost to upgrade from Premium Economy to Upper Class can cost from around £700 per return, and the cost to upgrade from Economy to Upper Class is around £1,200.
Are all the benefits of an Upper-Class ticket worth the additional cost? The Upper-Class offering from Virgin Atlantic is comparable to Business Class on other major airlines. Virgin has no fourth 'First Class' section, so their Upper Class is really a combination of the two. With the excitement of a holiday approaching, we all know how stressful the journey can be. Whoever said 'traveling is half the fun' certainly never flew 10 hours in Economy after a 5-hour delay!
As well as the actual holiday itself, wouldn't it be nice if the journey was less hassle. How about a space to relax before the flight with beautiful décor, plenty of space, and comfortable seats as well as free food and drink.
This awaits all Upper-Class passengers in the Virgin Club lounge. As you stroll casually onto the plane past the enormous line of economy passengers waiting to board (can all these people really fit on one plane!!) you are welcomed on board with a glass of champagne and taken to your seat where you are giving your amenity bag and full course food and drinks menu for the flight.
It is worth upgrading to Virgin Upper Class if the price of the ticket is no more than double the price of Premium Economy. With access to the Virgin Club lounge, a fully reclinable lay flat-bed, and a much more comfortable and relaxing experience. Virgin does give VIP treatment to Upper-Class passengers.
Virgin Atlantic certainly know how to treat their Upper-Class passengers. Personally, I love flying Virgin's Upper Class – but there are a few points to mention, so read on!
Before we delve further into the overall experience let me summarise the benefits of the Upper Class:
Priority check-in through the Upper-Class desks
Virgin Club lounge access
Personal seat and space which lays flat to a 6ft 7.5-inch bed
Your seat turns into a fully flat bed, and the Virgin staff are happy to make up a bed for you with your own pillow and duvet
Full a-la-carte food menu where you can order at any time you choose
A Virgin Bar on most Upper-Class sections where you can not only order free drinks but also sit at the bar and socialize with those you travel with or other passengers – yes on the plane at 36,000 feet!
The two main upgraded offerings from Virgin, above Economy class, are as follows – just so you have a comparison:
Virgin Premium Economy
Dedicated more intimate cabin
Faster check-in through the Premium Economy desks
Around 3inches of additional legroom in a 34-inch seat pitch
Welcome glass of champagne
Virgin Upper Class
Dedicated Upper-Class cabin with its own dedicated bathrooms
Faster check-in through the Upper-Class desks
Personalized seating space with a lay-flat bed
Full dedicated Upper-Class food menu served at the time you choose
Virgin Bar on many flights
Virgin Atlantic have a seat comparison table available to help you compare their premium and upper-class offerings
How to Choose the Best Option For You When Booking Your Flight
Timing can be everything and can mean the difference of £1,000-£3,000 or more for the same ticket on the same flight in Upper Class. Throughout the year Virgin Atlantic offers many sales. These are ideal times to buy because at these times it's possible to buy an Upper Class return flight from around £1,000-£1,200 to New York.
This can be compared to around £3,000-£4,000 a flight when flights are not on sale. Also, the closer your flight date typically the more expensive your seat.
So how do you time the purchase right, and know when sales are happening?
Simple – join the Virgin Flying Club and make sure you're subscribed to their marketing newsletter. You'll then be one of the first to be notified through their regular emails. If you have built up any Virgin Flying Club miles through flying or shopping, you may be able to save some money by using 'Miles plus Cash'. This means you part pay for your flight with Flying Club miles and part pay with cash.
This can help reduce the price you have to pay for your Upper Class ticket.
Why Upgrade from Economy to Upper Class
If you've read the article to this point, you should already have a pretty good idea of why you should upgrade. The flight experience between the Economy and Upper Class is very different. You will often always remember your Upper-Class flight, and usually want to forget your Economy adventure. Upper Class though is not cheap. It can be very expensive. There is no concession for children, so if you are traveling as a family, each member will have to pay the same price. For a family of four this can work out anywhere between £4,000 and £10,000!
For solo travelers and couples, this does make the cost relatively more affordable.
As well as all the benefits already listed in this article, you will also earn a higher number of Tier Points and a larger number of Virgin Flying Club miles than in standard Economy. The difference in fare between Economy and Upper Class is often around £1,000 during a sale time or if you book your ticket far enough in advance (usually 3+ months).
If you consider an 8-hour flight will mean your airport experience – from entering the departure terminal to leaving the arrival terminal – will be around 12 hours, the cost of your upgrade £41.67 per hour. This of course is based on 24 hours of travel in total, as you will need 12 hours to come back again.
How do Virgin Economy Seats Compare to Upper Class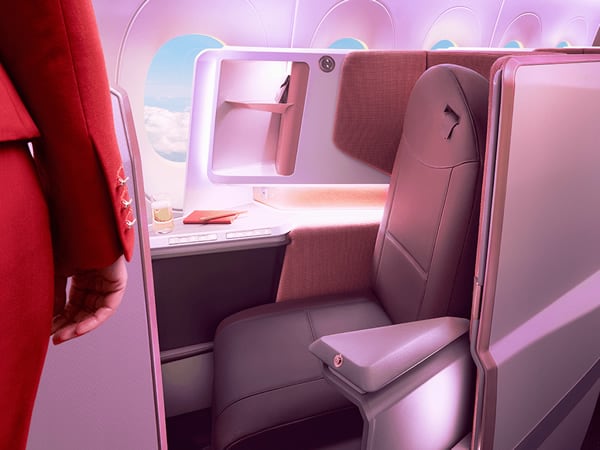 They differ enormously. The Virgin Standard Economy seat gives a 31-inch pitch and leg room for a 6ft person is a challenge. The Upper-Class seat is more of a fully reclining armchair that converts to a lay-flat bed measuring 6ft 7.5 inches – with a pillow and duvet. I also feel a little cheated if I do have a sleep on an Upper-Class flight. As comfortable as it is, I want selfishly want to enjoy every hour I'm paying for!
Can You Use the Virgin Club Lounge With an Upper-Class Ticket?
Yes, you can use the Virgin Club lounge with an Upper Class fare. There is no time limit in the Virgin lounge if your flight is delayed.
As we've mentioned, free food and drink is available as well as a more comfortable space plus newspapers, magazines and often showers – in case your flight is delayed, and you want to freshen up before a flight.
It is also worth mentioning that you can go between the terminal and the Virgin lounge whenever you choose. You can enter the lounge, leave to do some duty free shopping or stretch your legs, and then return again to the lounge.
 Do the Virgin Upper Class Seats Lay Flat?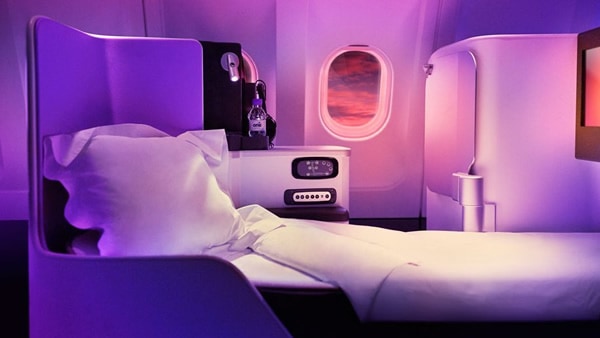 Yes, the Virgin Upper Class seats lay completely flat. In a fully horizontal position, your 'bed' is 6ft 7.5 inch in length. I am 6ft and although my feet feel a little pressed up against the foot bar (preventing your feet dangling in the aisle blocking food trolleys and air stewards and air stewardesses from doing their job) it's a small price to pay for the personal space you gain.
Does the Virgin Upper Class Section Have a Bar Onboard?
Surprisingly, yes Virgin Upper Class cabins do have bars on board! The concept of having a proper bar, with bar stools, on a flight, seemed as wonderful as it did unimaginably. It's not quite Wetherspoon's on a Friday night, but it can be a nice way to leave your seat area for a while for different scenery. I have used the Virgin Upper-Class services a number of times and in reality, the bar area is usually quite quiet.
The air stewards and air stewardesses do a great job in serving you any drink you choose whenever you want at your seat. That being said, the novelty factor is worth the trip to the bar in itself where a friendly bartender will be happy to take your order as you sip your cocktail at 36,000 ft!
 Is it worth upgrading to Virgin Upper Class?
A very resounding YES! – it is worth upgrading to Upper Class if you can afford the upgraded fare. It is worth looking out for deals and sales. Upper Class fares can be priced from £1,000 return, which is a great price for the benefits you get if you break it down on a cost-per-hour basis.
As you know though The Points Guru loves to boost points and air miles to help achieve some of these travel luxuries and upgrades. If Upper Class is something you would love to try, but you can't justify the extra cost, there are many articles on this showing you how to start earning Virgin Flying Club miles on everyday purchases, and how to earn enough Flying Club miles for an Upper Class New York return flight within 24 months!