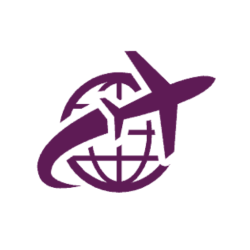 Latest posts by The Points Insider Team
(see all)
Upgrading to BA Business Class from BA Premium Economy can cost on average around £960 to the USA or £1,107 to Australasia.
But is the extra cost worth the benefits you'll get in BA's Business Class service? Business Class is the long sought-after travel class for many of us. All of us give the check-in attendant a polite greeting and flashing smile, with fingers crossed behind our back hoping and wishing for a free Business Class upgrade, and disappointed as your Standard Economy ticket is passed back to you.
The British Airways 2022 Sale is on now for Business Class seats!!! …for flights and holidays with great savings and a new flexible policy! – some big savings this year, here's the link to check the sale prices
The cost of standard economy flights is definitely getting cheaper but premium class flights such as Business Class and First Class are seeing yearly price increases. Are luxuries such as the Business Class offering from Business Airways worth the extra £1,000 price tag, or do you get just as much for your money in Premium Economy?
It is worth upgrading to British Airways Business Class as long as the ticket price is no more than double the cost of the Premium Economy ticket. A Business Class ticket on BA will give you access to the BA Lounges, your own personal space seat with a lay-flat bed, a full a-la-carte meal on board as well as a more relaxed and calming travel experience.
The BA Business Class experience can also have its downsides too. We will cover the pros and cons of upgrading your ticket to Business Class, as well as details to find great BA Business Class deals, and how to reduce the overall cost with Avios Points.
In summary, Here Are Some of the Amazing Benefits of Awaiting BA Business Class Passengers:
BA Lounge access offers comfortable surroundings as well as free food and drink
Faster check-in through the dedicated Business Class desks, as well as being one of the first people to board the plane (just after First Class passengers have embarked)
Your seat is in its own personal space and gives you a 6ft lay-flat bed
Order food and drink whenever you choose
Your ticket entitles you to take 2 suitcases of up to 32kg
A dedicated a-la-carte meal offering on board, just for Business Class flyers
British Airways offer three premium and more luxurious offerings above the Standard Economy offering. These are the three options, to give you a comparison guide:
Premium Economy
Faster check-in through the dedicated Premium Economy check-in desk
Speedy boarding ahead of Standard Economy passengers
A 38-inch pitch – which will give you an additional 3-4 inches of legroom
A welcome glass of bubbly or fresh orange juice as you take your seat
Business Class
Faster check-in using the dedicated Business Class check-in desk
Faster boarding on to the plane ahead of Standard Economy and Premium Economy passengers
Fast track through the Business Class airport security area
A seat that when fully reclined will give you a 6ft lay-flat bed
You can take up to 2 x 32kg suitcases on board
Dedicated menu where food and drink can be ordered at any time
Access to the relaxing BA Lounges
First Class
Dedicated First Class experience
First Class check-in counters
Fast track through the dedicated Business and First Class airport security areas
A private concierge service exclusive for First Class passengers
A seat that when fully reclined will give you a 6ft 6inch lay-flat bed
You can take up to 3 x 32kg suitcases on board
Exclusive a-la-carte food menu for First Class passengers
Access to the grand and exclusive First Class lounges – and also the ultra-exclusive Concord Lounge at London's Heathrow Airport
British Airways have a comparison table available here to help you compare their premium and upper-class offerings
How to Decide Whether to Upgrade to Business Class When You Book Your Flight?
Throughout the year BA has a number of different sales. Some give great discounts, others small percentages. Some sales are just reduced Avios spending required for booking and upgrading your seat. This is why staying in the know is very important. Join the BA Executive Club for free and they will send you regular newsletters, which will notify you of any sales taking place.
Also join The Point's Guru Newsletter as I'll be showing when BA sales are likely to be, and when they actually happen – plus how to maximize your saving and Avios Point boosting!
Buying at the right price, or far enough ahead of your planned trip, can see your Business Class price fall as much as 52% against the original standard Business Class fare. This can see a Business Class fare at £3,000 drop to around £1,600! If you collect Avios Points (if you don't you should be!) you may find the 'Avios Plus Cash' option available. This simply allows you to part pay for your Business Class ticket using Avios Points and pay the rest in cash.
You can collect Avios Points in so many ways. If you build up enough Avios Points you could earn enough to pay for your flight in full and get a free Business Class flight! (you would still need to pay the taxes and fees but still a considerable saving)
Why Should You Upgrade From Economy to Business Class?
Hopefully, a lot of the benefits we have covered have shown you the reasons you should upgrade to Business Class on BA. As well as the lounge, the lay-flat bed, etc… you will also earn more Tier Points and more Avios Points towards your next flight or upgrade. This doesn't just apply to long-haul travel this applies to European flights too.
Recently I flew from London City Airport to Germany on British Airways in Business Class. London City Airport is a much smaller airport, and European flight planes are smaller – so no lay-flat bed there – but my upgrade fee from Standard Economy to Business Class was just £100 in the sale!
Not, only did I gain access to the BA lounges and have a nice comfortable seat with all the other benefits and trimmings, but I also benefited from a heavy boost in Tier Points and miles. In fact, many savvy flyers saw the benefits of the boosted air miles, and tier status achieved through cheap European flights that people were booking them and not taking the flight just to earn the bonuses.
In fact, it became so popular a hack and so many people didn't turn up for flights leaving Business Class empty, that British Airways had to introduce a rule to say if flights were not taken then airmiles and tier points would not be awarded. Harsh but necessary. Avios air miles are a great way of saving for flights and upgrades, but the Tier Points (which can only be accumulated through flying British Airways) can give really good benefits and bonuses.
In fact, British Airways have introduced a Lifetime Tier Points award. If you collect 35,000 Tier Points over the lifetime of your flying with British Airways, they will reward you with Gold Tier status for life. This in itself comes with a host of benefits but noticeable free lounge access regardless of the class you fly for the rest of your life.
As I'm sure you can guess, earning 35,000 Tier Points is not going to be easy. In comparison, a First Class flight to New York return will earn you around 1,000 Tier Points. It takes a lot of flights and many years, but still a nice reward if you achieve this.
How Do Virgin Economy Seats Compare to Business Class?
The seats in economy and business class are different in many ways. In Business Class your seat will feel like your own personal space. You will of course have other people around you but not as tightly packed together as in economy. Business Class in British Airways can though feel a little over-cramped. It perhaps is one downsize. The layout, designed to maximize the number of Business Class seats British Airways can fit inside the Business Class cabin, creates a snug feel. Perhaps more so than in other Business Class cabins (such as Virgin's Upper Class for example).
On one flight, a few years back, an air stewardess literally had to straddle across me and my seat to serve food to the Business Class seat next to me. A strange experience, but a result of space saving and flight maximizing. Fortunately, the layout designs have changed since then, and this is no longer a problem.
The Business Class seats were well equipped and very comfortable.
The British Airways 2022 Sale is on now for Business Class seats!!! …for flights and holidays with great savings and a new flexible policy! – some big savings this year, here's the link to check the sale prices
Can You Use the BA Lounge with a Business Class ticket?
Yes, you can use the BA lounge with a Business Class ticket. There are a number of BA lounges though. At Heathrow for example there are:
BA Business Class Lounge – for BA Business and First Class passengers and OneWorld Alliance partners with Emerald and Sapphire status
BA First Class Lounge – for BA First Class passengers only and OneWorld Alliance partners with Emerald status
BA Concord Lounge – for BA First Class passengers only
The BA Lounge for Business Class passengers is a great space to relax before the flight and catch up with work.
Do the BA Business Class Seats Lay Flat?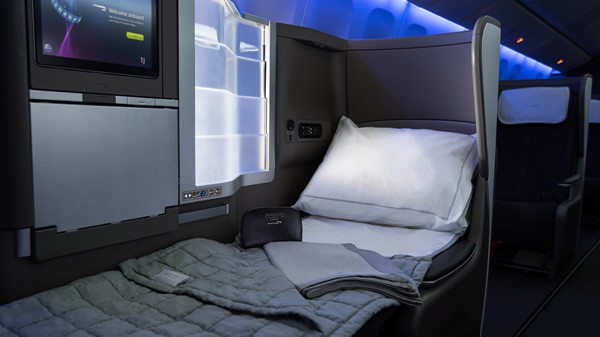 The BA Business Class seats do lay completely flat. In Business Class your seat converts to a 6ft long lay-flat bed, whereas in First Class the seat converts to a 6ft 7inch lay-flat bed. Standard Economy and Premium Economy seats only recline.
Is It Worth Upgrading to BA Business Class?
A very definite yes, you should upgrade to BA Business Class It truly is a wonderful experience and one you are unlikely to forget. The experience between Premium Economy and Business Class is quite different, and much more luxurious and eloquent in Business Class. If you are already choosing to spend an additional £500 on a Premium Economy fare, it really is worth the consideration of the additional cost to upgrade your ticket to Upper Class.
It is also worth considering that an average 10-hour flight will mean your total time from entering the departure airport to leaving the arrival airport, will be around 14 hours. This is without any flight delays. This means that an additional £500 cost for an upgrade from Premium Economy to Business Class will work out at just £17.85 per hour (based on a 28-hour total time, including the return trip).
Certainly, worth considering!
If you can not justify the extra spend please take a look at some of the other articles on this site, where I will show you how to maximize your Avios Point collecting and have enough Avios Points for a free Business Class flight to New York within 18 months!