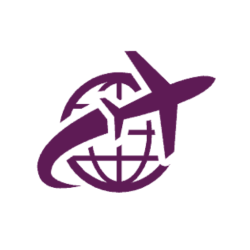 Latest posts by The Points Insider Team
(see all)
You've booked your flight. Your booking passes are on their way to your inbox, you're now shopping for holiday clothes and searching The Points Insider for great point-saving tips – but now you've just realized it's a long 10-hour flight in the economy – just how will you survive!
Whoever said 'the journey is half the fun' clearly never flew economy! To help you survive your long-haul flight in the economy we've put together the best 13 tried and tested ways to help you survive and make your economy flight go with a breeze.
13 Tried and Tested Tips to Help You Survive a Long Haul Flight in Economy
Choose your seats beforehand, or arrive early at the terminal to check-in
Bring a cooling eye mask with you
Charge all your devices in full before you leave
Download any films or TV series the night before
Be very selective when choosing your seat
Upgrade to an extra leg room seat if you can
Bring noise-canceling headphones
Drink plenty of fluids
Take your own food and snacks onto the cabin
Bring a book or newspaper
Carry a Powerbank with you
Bring wired as well as Bluetooth headphones
A neck pillow can help you get some shut-eye
Rather than just give you a list of tips, I want to explain how these tips have helped me survive economy flights over the past years and some things to look out for!
#1 Choose your seats beforehand or arrive early at the terminal to check-in
Don't leave the uncertainty of where you are going to sit to the powers of the airline. Where you sit can make the world of difference between a comfortable long-haul flight and a nightmare of one. There are less than desirable seats on a plane. Travelers who fly often know which ones they are (next to bathrooms, restricted recline, and almost every single middle seat) – and of course they have already avoided them.
The airlines have to fill those seats of course and guess who gets them – that's right, those who have opted for the Lite or Basic flights. If you can it is worth paying for the Classic or Standard economy flights or at least the ticket class that allows you to choose your seat in advance.
Seat Guru allows you to enter the aircraft (the airline shows this to you as part of the booking. They will show you good seats (in green), seats that you may want to avoid (orange), and seats you definitely want to avoid (in red). Choose your seat wisely and it could make all the difference.
#2 Bring a cooling eye mask with you
An eye mask will give you three benefits:
It keeps out the light to help you sleep
Nothing says 'don't disturb me' than wearing an eye mask – so it'll give you some uninterrupted peace
An eye mask is a good way to create your own inner space
Let's face it, the economy is cramped. Being able to create your own inner space and zone can be really important to help you switch off to your surroundings. A cooling eye mask is also really useful at 24,000 feet. Many travelers often feel hot and uncomfortable in the cabin. A cooling eye mask can help provide some much-needed cooling relief as well as the benefits already listed above.
#3 Charge all your devices before you leave your home or hotel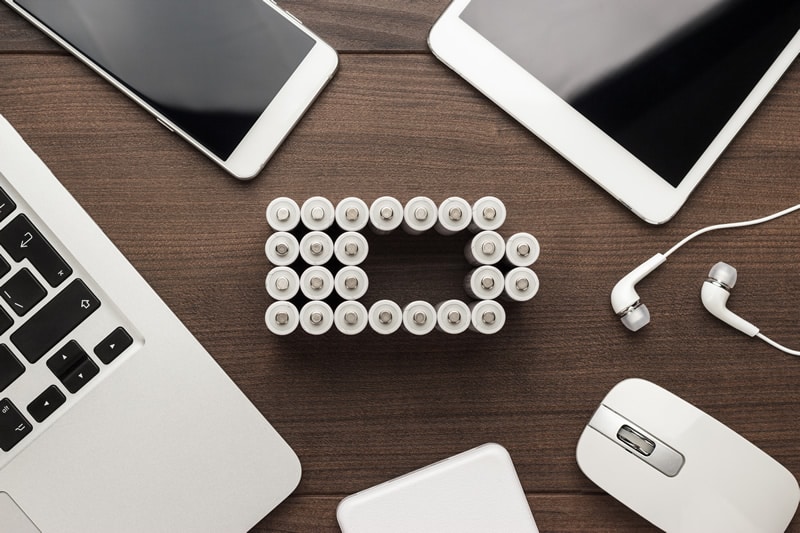 Nothing can be more frustrating than settling down for a 10-hour flight, plugging in your headphones into your phone or tablet, and watching as the battery symbol flashes at 4% remaining! All that music, that TV series you were going to binge on – all gone! Business Class and most Premium Economy have electrical sockets, but these are rare in standard economy.
Top Tip: Set a reminder on your phone right now to remind you, the afternoon before you fly, to fully charge all the devices you plan to take on your trip and once charged turn as many off as possible to conserve battery power!
#4 Download any films or TV series the night before
As you're setting your reminder (see tip #3) it may be worth adding a note to also download any TV series you may want to binge on the plane or films you've been meaning to watch. There's no better time than on a long-haul flight!
Many of the subscription services such as Amazon Prime Films, Netflix, and Disney+ allow you to download a range of films and TV series. If you don't have such a subscription, then it's possible to download a selection of TV programs and a small number of films to your device using the BBC iPlayer.
Of course, many of the long-haul airlines have a media screen and so many choices of films or TV shows!
#5 Be very selective when choosing your seat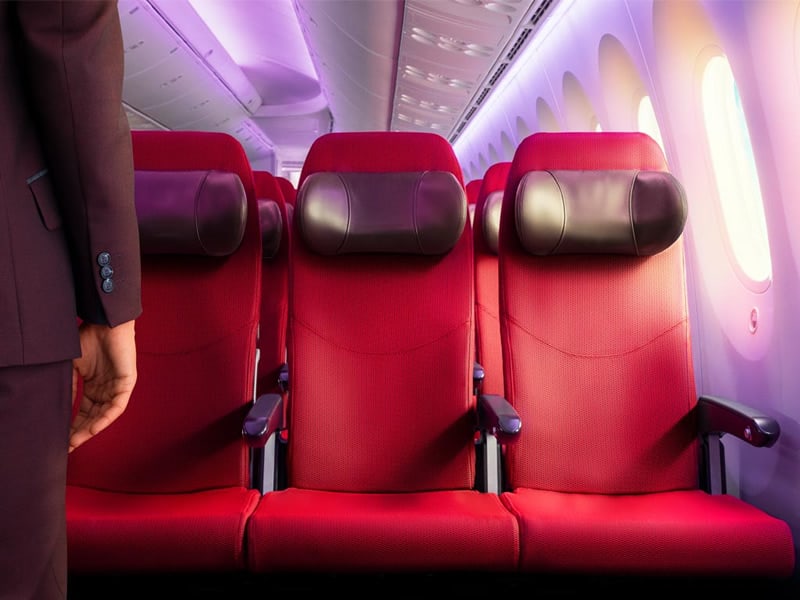 This tip goes hand in hand with tip #1. Your seat is going to be all-important. You can't always get it right of course but you can reduce your chances and avoid seats other travelers have told people to avoid. You should try and avoid seats near bathrooms otherwise people queuing around your seat can be distracting and annoying, especially if you have the aisle seat.
Seats towards the back of the plane often have restricted recline – although if you are someone who prefers not to put your seat back in recline as not to disturb the space of the person sitting behind you, the back of the plane seat can be a real advantage as you can recline guilt free!
Visit SeatGuru, find the aircraft for your planned flight, and check which seats travelers recommend avoiding before you choose your seat. If you would prefer not to pay the extra to reserve a seat I would recommend arriving early enough at check-in and requesting a change of seat if the pre-allocated seat is not to your liking.
#6 Upgrade to an extra legroom seat if you can
Nothing says extra comfort than three little inches – but it's amazing how much more space you feel you have with an extra leg room seat. Many airline operators offer seat upgrades for a fee. With British Airways and Virgin Atlantic this is usually around £50 per flight but some airlines, such as United Airlines, make it really expensive to grab those couple of extra inches.
On a recent flight back from America, United Airlines wanted to charge me £295 for two people to upgrade one-way to a seat with 3 inches of extra leg room! It is a nice touch if you can get it but book early, as these seats are always in demand and usually sell out quickly!
#7 Bring noise-cancelling headphones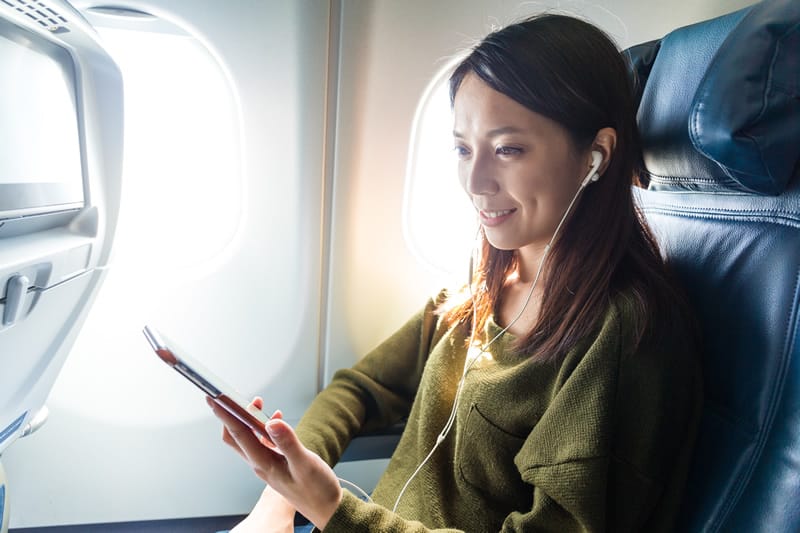 We all like to zone out on a flight and doing so with a pair of headphones is usually the best way.Noise-cancelling headphones come with two benefits:
You block out the noise not to disturb other travelers
They help block out the noise around you
Creating your own personal zone can be one of the best ways to get through and survive a long-haul flight in economy. Headphones along with an eye mask can be a great way of reducing sensory input and the cabin environment around you
#8 Drink plenty of fluids
Drinking water is often at least one tip for almost every how-to article, but it is important to keep hydrated especially on a plane. Flying on an airplane is one way to become very hydrated very quickly. There are scientific reasons for this which I won't fully go in to here (partly because, being a non-scientist, it doesn't make a lot of sense!) but I understand it is to do with mixed air combinations through the ventilation systems.
Anyway, enough of my attempt at a science lesson – but the air ventilation along with alcohol intake (which naturally dehydrates you) as well as more trips to the bathroom out of boredom and you have a classic recipe for a need to drink more water! Drink water before you take off and keep hydrated on the plane. There are many studies since 2011 warning flyers from drinking airplane tap water – so perhaps keep to bottled water as a precaution measure.
Although you can't take water through airport security, you can buy bottled water past security before boarding the plane, so it's worth picking up a 1-2 liter bottle for the flight. It can save headaches, fatigue, and nausea. It also isn't always easy to grab the attention of air stewards, so having some fluid you can get to quickly can help make your flight more comfortable.
#9 Take your own snacks and food onto the plane
We are all served a meal in economy on long-haul flights. Often this will include two main meals and a snack. This generally is enough to keep most people going but it never hurts to have some food with you. You may never know when the need for something to eat takes you and just knowing you have food and drink available, just in case you need it, can really help on a long-haul flight
#10 Bring a book or newspaper
On a plane, we can all have digital overload! Not only does the seat-back TV with instant access to a range of TV shows and films, we also take onboard a number of gizmos and gadgets to help with boredom. These can range from mobile phones to tablets to ebook readers such as Amazon's Kindle.
Sometimes we just need to turn those screens off! A book or newspaper can be a good way to switch off from all the digital screens around you. It can also be a good way to break up your viewing schedule so you're not always staring at a screen for 10 hours.
#11 Carry a Powerpack with you
The battery power on our devices are lasting longer than ever, but they don't last forever. You could be near the end of a gripping TV season conclusion on your tablet and the power warning displays on the screen. With many economy seats being without a power source ordinarily, it means finding out the conclusion when you land and can find a power socket.
Powerbanks are allowed into the cabin as long as the power doesn't exceed a certain amount stated by each airline on their website. The majority of home-use power banks often fall under these guidelines and are safe to take on to the plane, but it is worth double-checking.
On the other hand, you could take with you a power bank. A good power bank can hold enough charge to power up your devices four times over – plenty of power for even the longest of journeys, and most gripping of series!
Top Tip: If you do opt for a powerbank just make sure to pack your devices power cables into your cabin bag!
It's no good holding on to your power bank whilst realizing your tablet's charging cable is in the back of the plane in the hold.
#12 Bring wired as well as Bluetooth headphones
Many of us have Bluetooth headphones to connect to our mobile phones and tablets. Bluetooth headphones are great and save getting tangled up in wires in your seat. Bluetooth headphones can though have connection issues at times and may even run out of battery power halfway through a flight.
If you keep the wired headphones that came with your device in your cabin bag, you'll always be able to be connected regardless of Bluetooth or headphone battery issues. As your headphones are one of the best ways to survive an economy flight and help you keep your flight as relaxed as possible, you don't want to leave this to change or error.
#13 A neck pillow can help you get some shut-eye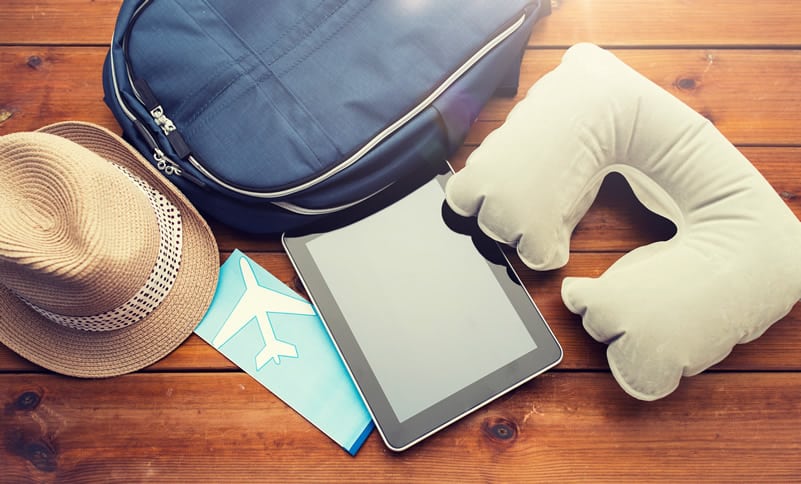 We've covered a lot of tips in this article but sleeping throughout your flight is always the best way to get through survive an economy flight. If only we could fall asleep as the plane takes off and wake as the Captain announces, 'please fasten your seatbelt, we're coming into land!'
If only!
If you can speed up your journey by sleeping on the plane you will be well advised to give it a try, and a comfortable neck pillow can really make a difference.
If you've ever tried to prop your head against the cabin window or try and rest your head on your shoulder, you'll know just how uncomfortable it can be. A neck pillow can take pressure off your neck and back muscles and help you relax in your seat for some shut-eye.
This list of 13 tips isn't exhaustive and I will add more tips and hacks as time goes on.
How to Survive long haul in the Economy – The Insider's Notes
Your seat can be one very important ways to help survive your economy flight – so upgrade to extra legroom if you can, if not pre-select your seat away from troublesome hot spots or at the very least arrive early to the terminal and request a specific seat if you have been pre-allocated a seat (although this is far from guaranteed)
Make sure you bring on board your own amenities including food and drink. Facial wipes can be helpful too to freshen up. Make sure all your devices are fully charged and all the content you want to make use of on the flight has been downloaded. A power bank may be a very useful accessory to make sure all devices can be topped up on the plane if the power runs low.