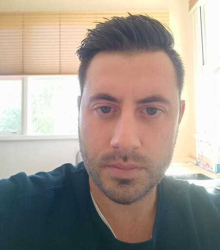 Latest posts by David Borgogni
(see all)
Having been an aviation geek from a young age, I've booked hundreds of flights over the years! However, the process of booking flights – and finding the best deals – can be really frustrating. Finding a good platform for this is vital. So when it comes to Google Flights vs. Expedia: which one is actually better? Which is best for gaining the maximum rewards and benefits, and which one can help you to find the cheapest prices?
I've used both. I can tell you that they're actually pretty different in terms of what they offer, but they each have their uses! Keep reading to find my thoughts and experiences with Google Flights and Expedia.
The Bottom Line Up Front
I think that it's difficult to compare these two, as they're so different. However, I prefer Expedia for two main reasons: firstly, the reward scheme is great and has saved me a lot of money over the years! Secondly, I find it easier sometimes to book everything in one place.
However, Google Flights is excellent for finding cheap flights, mainly domestic flights within the US, and I like their price drop guarantee.
Google Flights vs Expedia – Snapshot Comparison
| | | |
| --- | --- | --- |
| Feature | Google Flights | Expedia |
| User-Friendliness | 8/10 | 8/10 |
| Package Deals | 5/10 | 8/10 |
| Rewards/Loyalty Points | 5/10 | 9/10 |
| Costs/Pricing | 8/10 | 8/10 |
| Mobile App | 0/10 | 8/10 |
| Travel Insurance | 0/10 | 8/10 |
| Refund Policy | 0/10 | 6/10 |
| Overall | 6.5/10 | 8/10 |
Main Differences Between Google Flights vs Expedia
The main differences between Google Flights vsExpedia are:
Google Flights doesn't allow you to book much using their platform, whereas Expedia allows you to book everything in one place.
Google Flights doesn't have as much to offer in terms of holiday packages, whereas Expedia has some good deals that include everything from flights to hotels to food.
Google Flights doesn't have its own reward scheme, whereas Expedia has a very good reward scheme.
Google Flights makes it easier to find super-cheap flights, whereas Expedia doesn't have as much choice.
Google Flights doesn't have a mobile app, whereas Expedia does.
The Main Features of Google Flights
Google Flights was launched in 2011, so it's a newer booking site to hit the scene. Using the power of Google, it's a great way to find flights and trips.
I've used Google Flights to book a few flights. Here's what I think:
User-Friendliness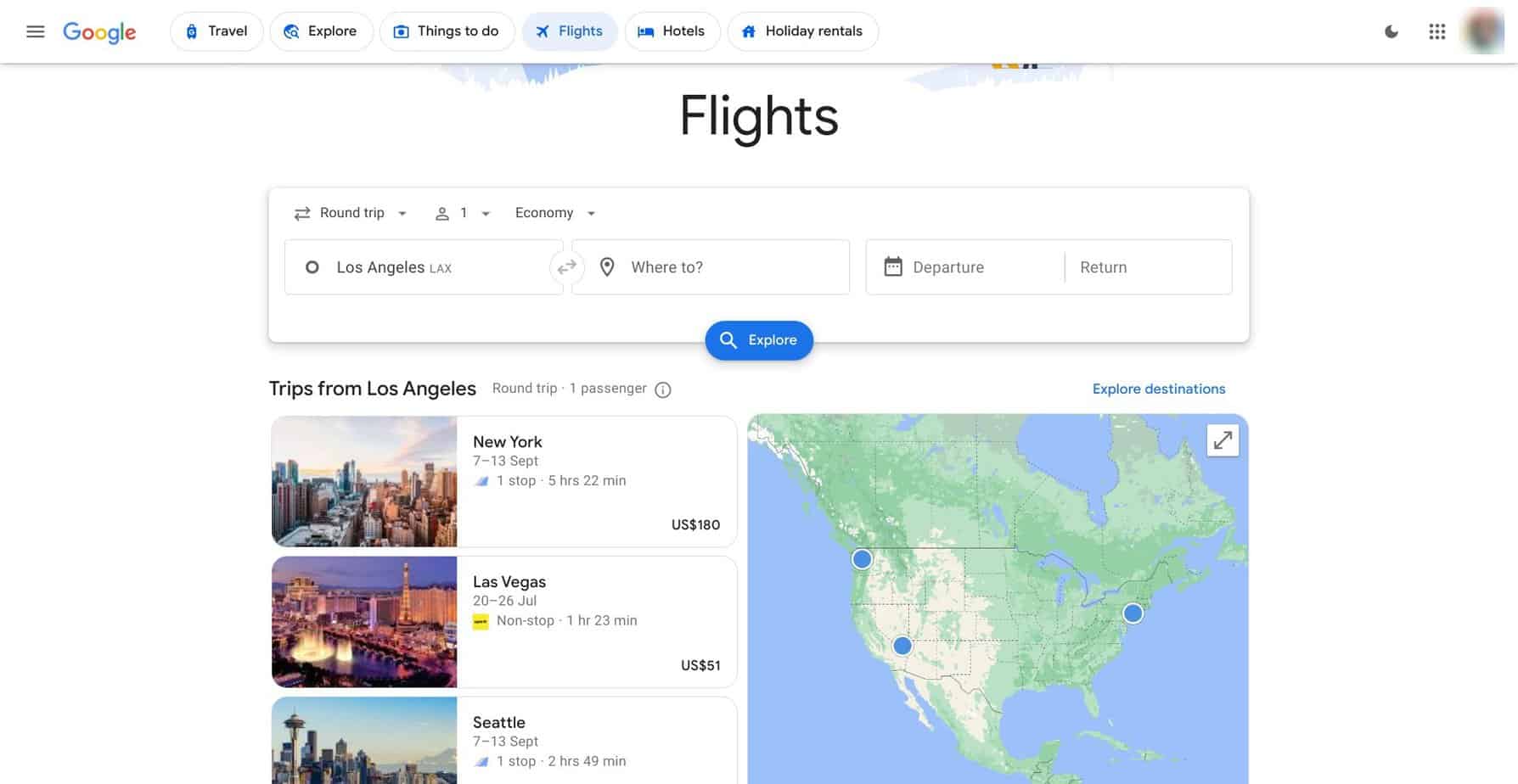 Google Flights is pretty user-friendly. If you can use Google, you'll find the interface of Google Flights very familiar! It's super easy to book flights. It's a little more basic than Expedia and doesn't offer the same in terms of travel guides. You kind of need to have an idea of where you're going before you can search for deals.
However, the map function is pretty cool. You can pick your starting location, and it'll bring up flights nearby with prices, so you can see roughly how much it'll cost you. If you need to take a domestic flight, this is a useful way to get an instant idea of the price.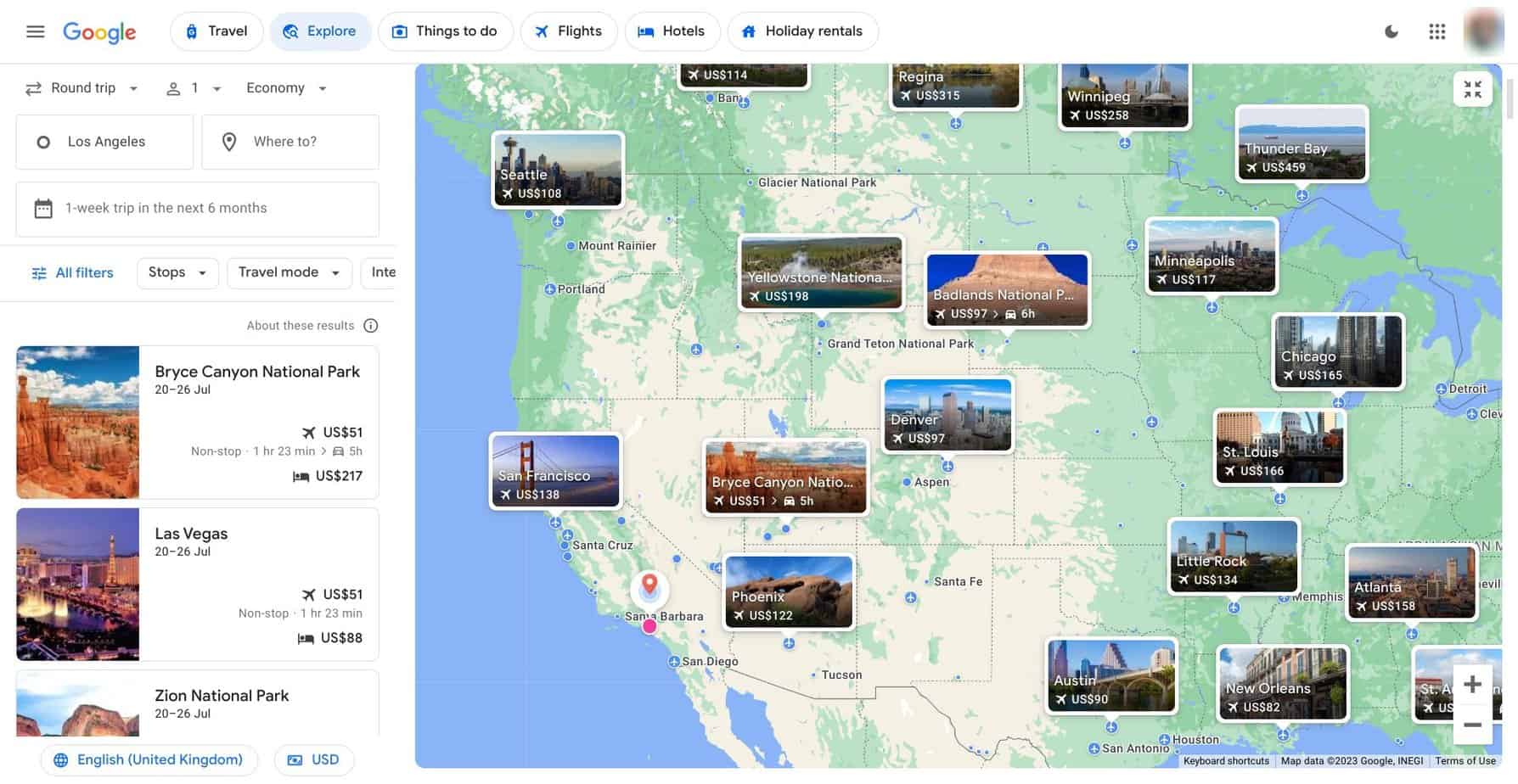 The interface of Expedia is perhaps slightly easier when hunting for last-minute bargain vacations, but overall, Google Flights works well.
Packages/Pricing
Using Google Flights, you can look for:
Flights
Activities/Day Trips
Hotels
Holiday Rentals
However, you can't look for car rentals, which is a downside. I like finding things to do using Google Flights: you can type in a destination, and it'll bring up the top places to go, and it will bring up reviews and send you straight to a Google search with one click.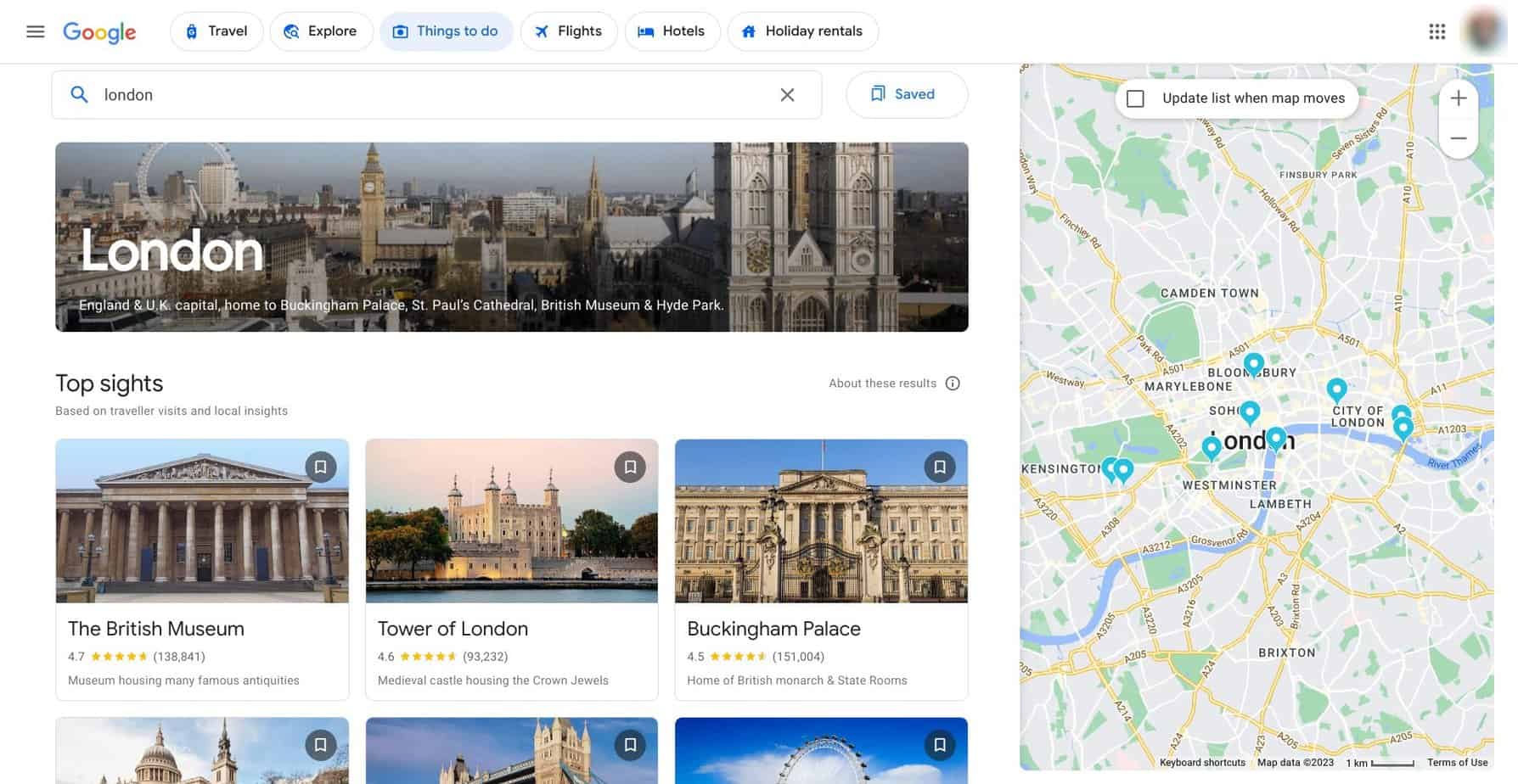 However, this could be easier. I'd prefer it to be within one platform in the same way as Expedia; it doesn't lay out the cost of tours and reviews and basic information on one page, for example. Still, it's a fast way to grab some ideas for day trips.
If you're outside of the US, you won't be able to book flights directly on Google. You also won't be able to book experiences or day trips no matter where you are in the world using Google Flights. If you prefer the idea of booking your whole trip on one platform, you'll probably prefer Expedia.
Let's talk about flights. Finding cheap flights is easy using Google Flights, and I like that you can filter your results to find the flight with the least carbon emissions.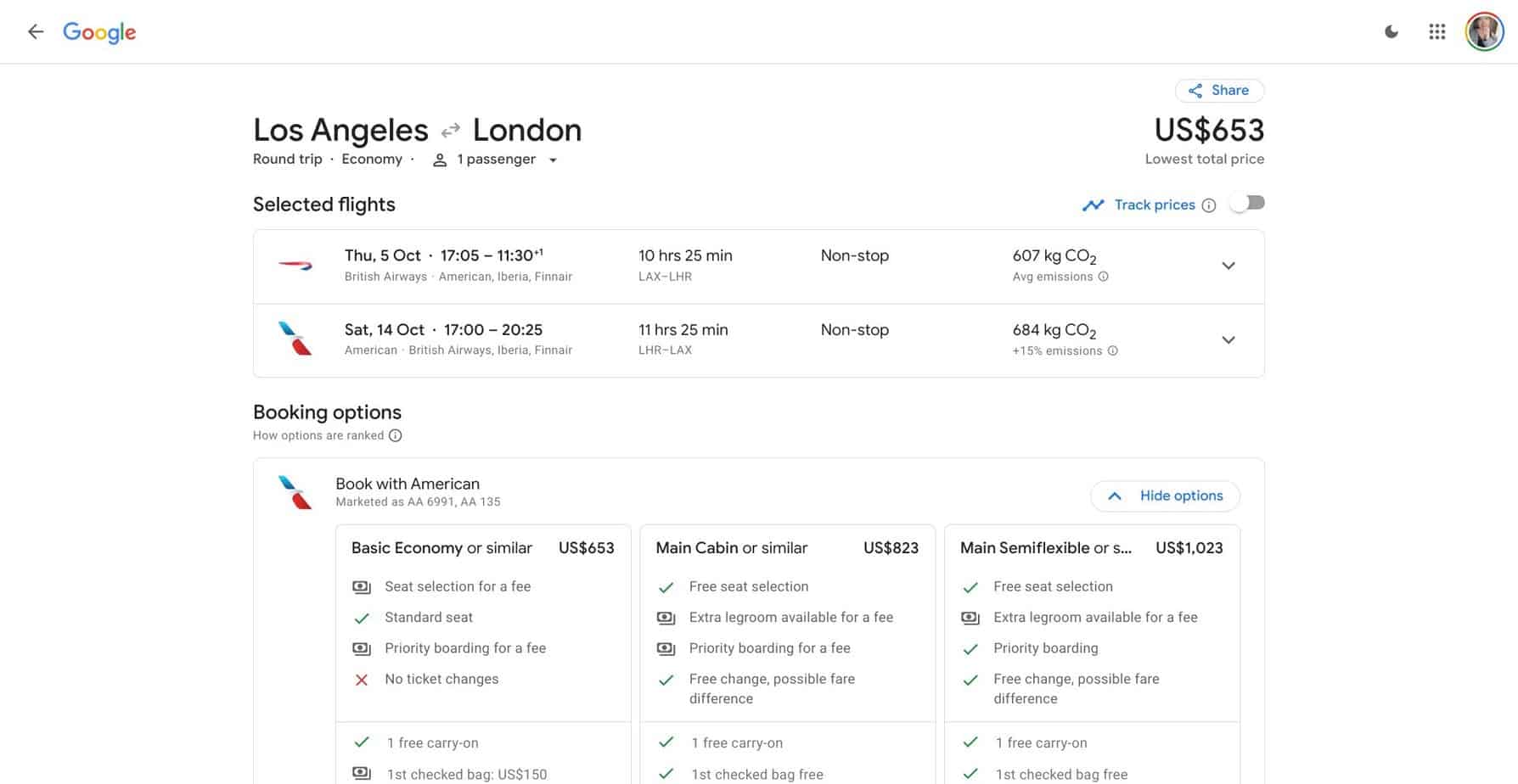 You can see all booking options, and then it'll take you directly to the airline to book (or allow you to book if you're flying within the US and you've chosen an applicable flights). Chances are, you'll be using Google Flights as a kind of enhanced search engine: you can look for the lowest prices this way, but you will also have to deal with each service provider separately. So if you prefer convenience, you'll probably want to go for Expedia.
I'd say Google Flights is particularly strong in terms of finding the best deals on flights, however. You can track prices and even set up a Google alert to tell you when the price drops. This is incredibly useful and takes a lot of the legwork out of finding the best deals!
Loyalty/Reward Points
Google Flights doesn't offer reward points or a loyalty scheme. However, it does allow you to filter your search via a particular alliance or airline, which means it's easier to ensure that you're collecting more airline points.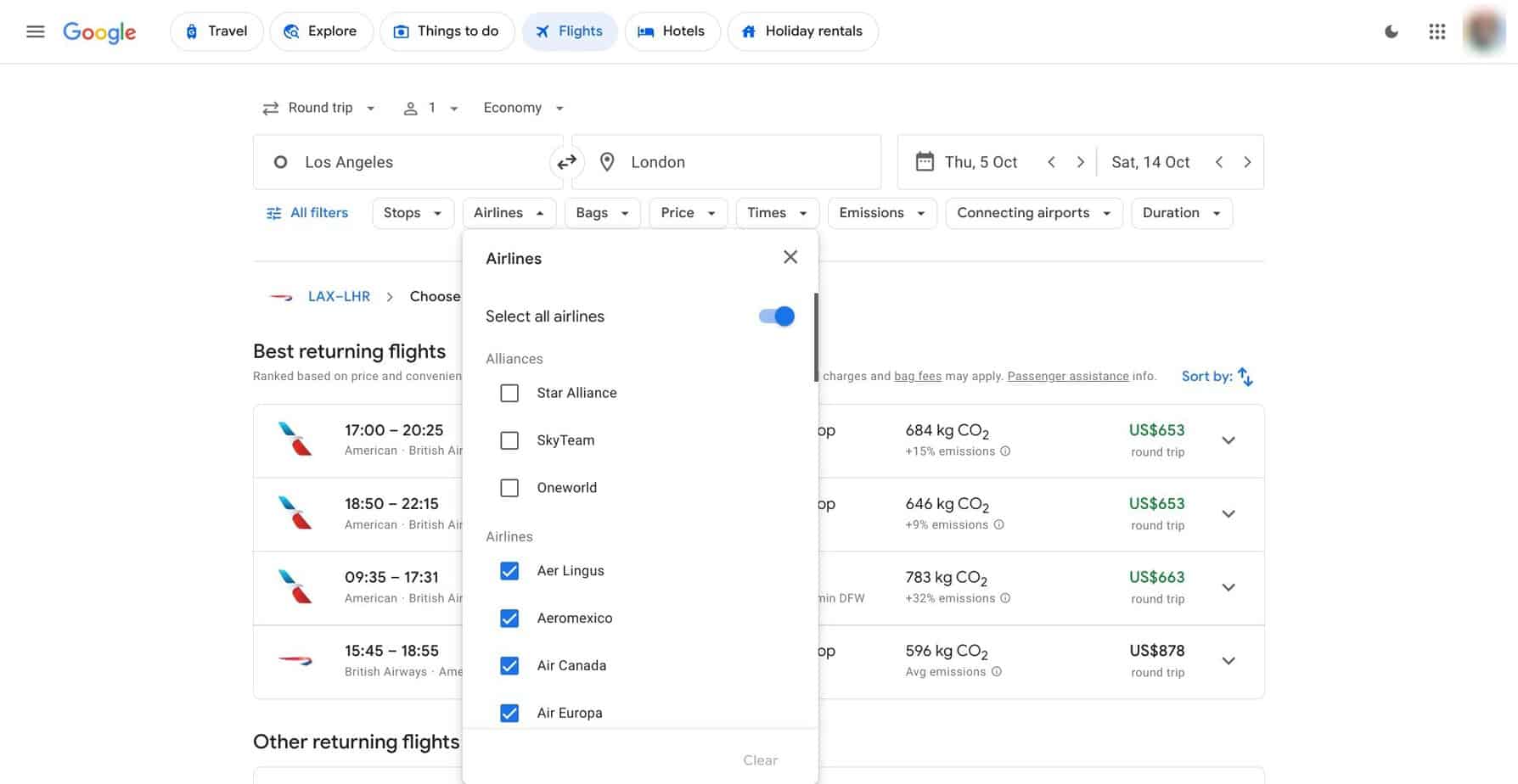 I do feel that Expedia has the edge here because it allows you to collect points and move up tiers on top of collecting air miles; Google Flights just doesn't have anything similar.
Travel Insurance
Google Flights doesn't have travel insurance. It does, however, have a price guarantee on qualifying flights. This means that if the price of a flight drops after you book via Google Flights, you can get the difference back.
This doesn't apply to all flights, but still, having Google as a middleman could help protect you against price drops.
Mobile App
At the time of writing, there is no mobile app for Google Flights. You can use it on mobile, but the functionality isn't great compared to using it on desktop.
Refund Policy
Because you're not booking using Google Flights itself, they don't have a refund policy. That's why it's so important to carefully check the refund policies for each provider. They can't assist with cancelations or changes, so you'll be dealing with the airline directly if you need to cancel or get a refund.
The Main Features of Expedia
I've used Expedia quite a lot over the years! Launched in 1996, it's one of the oldest booking websites, and it's known for being reliable. Here's what I think of the main features:
User-Friendliness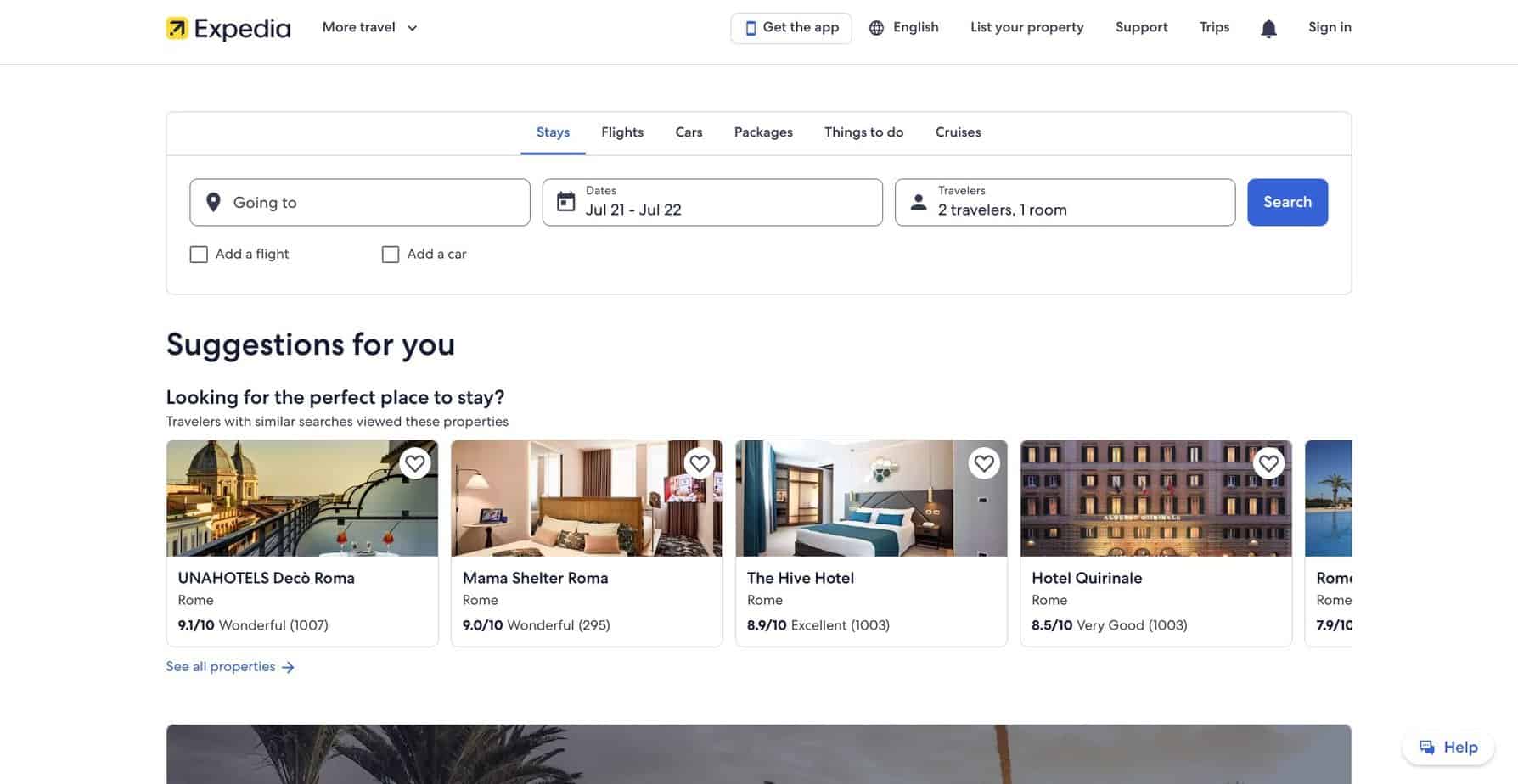 I find Expedia to be very straightforward to use. While it can feel a little overwhelming scrolling through everything, it makes it very easy to narrow down your search results, and everything is easy to find. If you're trying to find somewhere new to stay, their travel guides are particularly good. They'll give you a rundown of the best places to go in each area. Although you won't find anything 'off-the-beaten-track' here, it's still useful, and you can quickly find tours for each location.
Packages/Pricing
You can book the following using Expedia:
Stays
Flights
Cars
Packages
Trips/Experiences
Cruises
I've personally booked vacations, flights, and day trips using Expedia. The whole process is pretty straightforward, and they have some interesting day trips depending on where you want to go: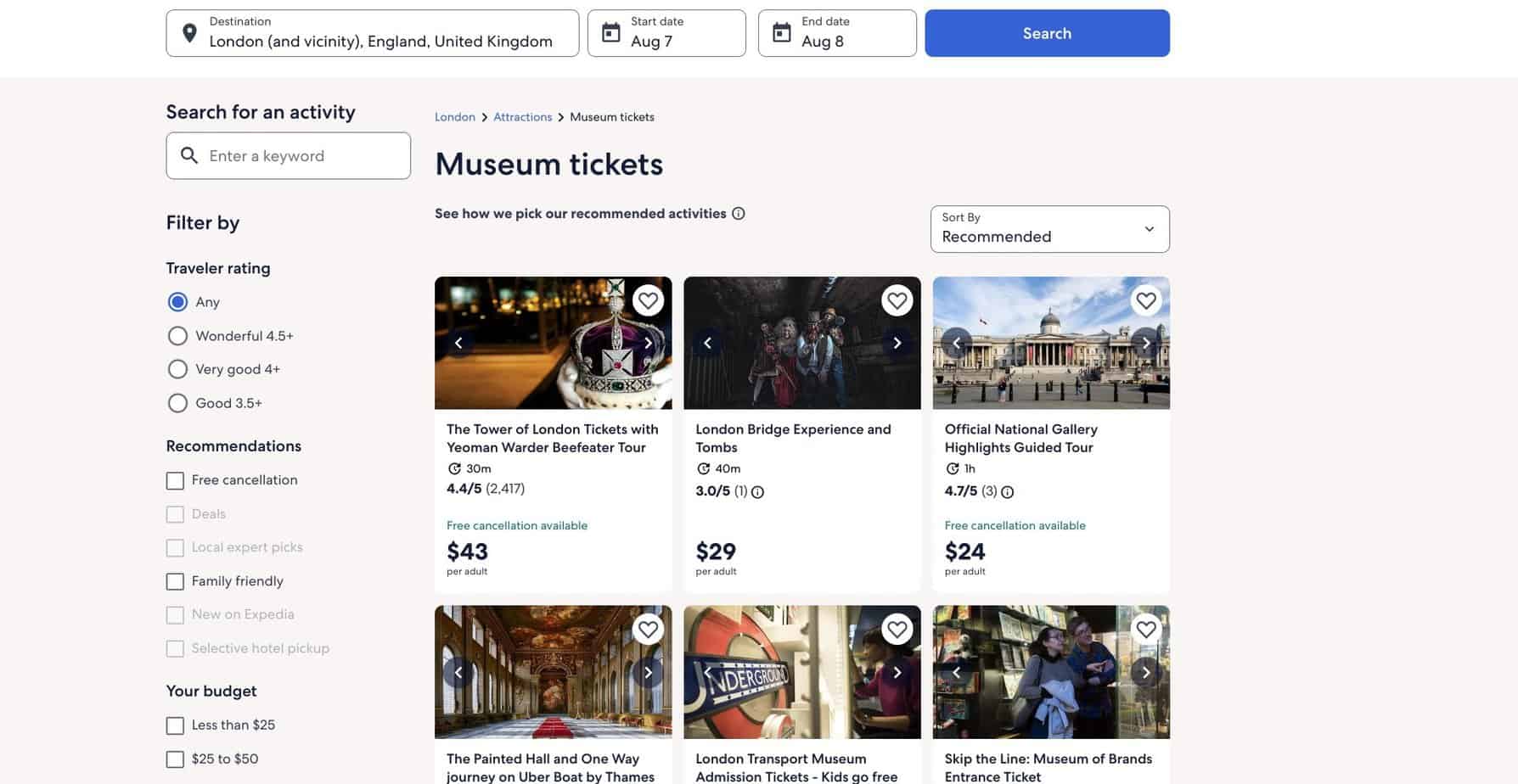 For example, looking for museum tickets in London will bring up the most popular destinations, allowing you to book tours in advance. Clicking on a tour will bring up all the details you need to know:
You'll get the lowdown on meeting points, times, and pricing. Crucially, you'll also get verified reviews, which is great for making an informed decision on the attractions you want to visit.
I like that you can bookmark anything you like: this means you can collect ideas for your vacation and narrow them down later. It's possible to book the majority of your experiences using Expedia, although if you do want to explore some hidden gems, you may have to use other sites (like Tripadvisor) to get ideas.
Let's talk about flights: Expedia is pretty good in that regard, offering flights to a huge range of destinations. It's pretty close to Google Flights in terms of choice and pricing.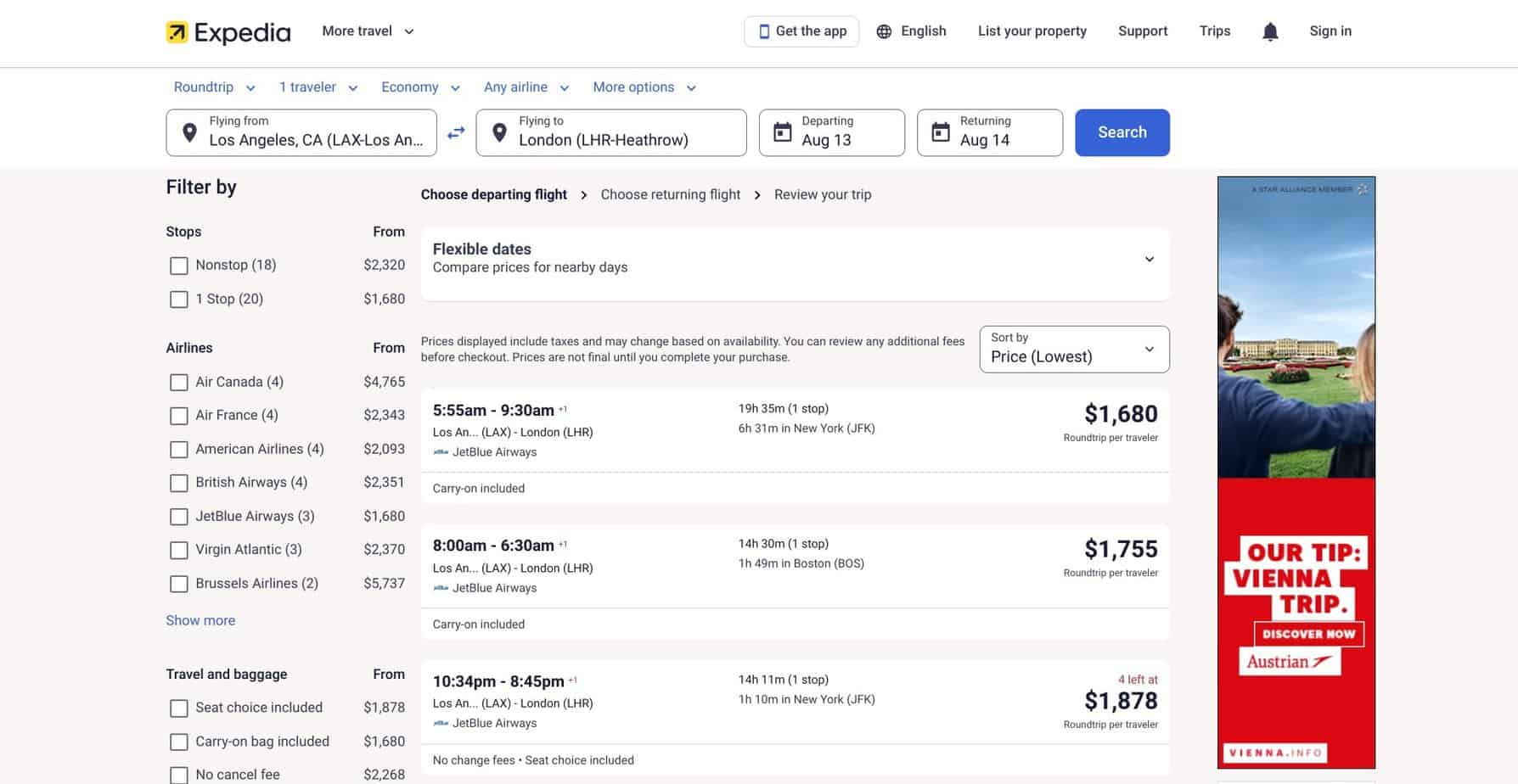 You can get some last-minute deals using Expedia; if you have the flexibility and you're feeling adventurous, you could try sticking it out to see if you can get a last-minute booking somewhere new. However, if you do this, I'd recommend also checking other websites (like Booking.com) to see if you can get a better deal. Unless you're committed to building your Expedia loyalty points, of course.
Loyalty/Reward Points
One of my favorite things about Expedia is its One Key rewards program. As you book through Expedia, you'll move up the reward tiers, unlocking up to a 10% discount on hotels and up to 30% if adding a hotel to a flight. You may also unlock access to free room upgrades or even food/drink rewards.
On top of this, you'll earn OneKeyCash, up to 6% for every dollar spent. This means the more you book, the more cash you'll earn. I have used this and saved a good amount of money this way.
This is on top of your airline loyalty program earnings and credit card rewards, which means that if you're smart, you can travel for much less. You can spend OneKeyCash on Hotels.com and Vrbo, too. But it's worth noting that you can only spend it on applicable hotels and flights.
I think that One Key is the better loyalty program compared to Google Flights.
Travel Insurance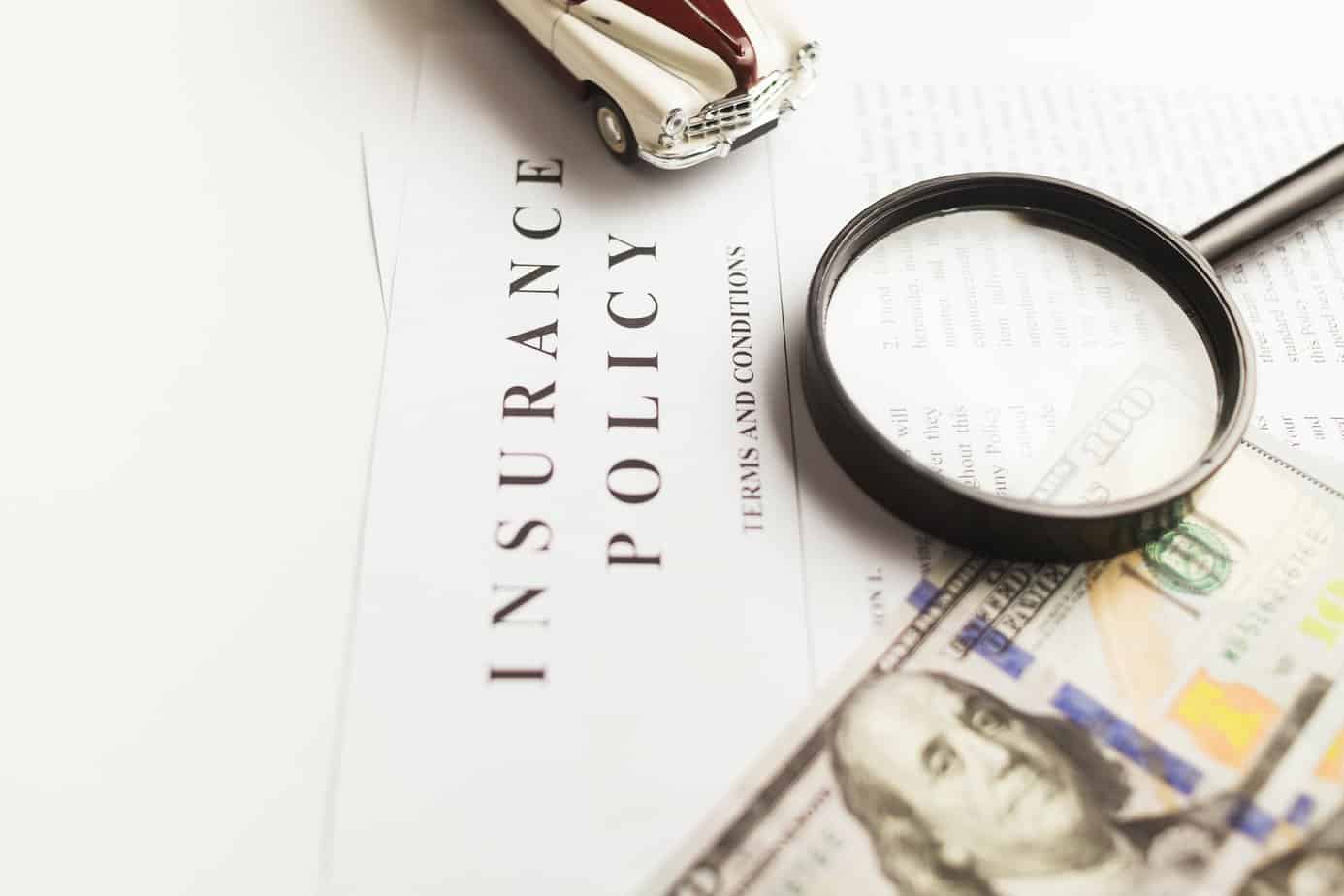 The travel insurance offered by Expedia is pretty good. There are a few different plans:
Package Protection Plan
This is the most comprehensive plan. It's the most expensive but will give you the most coverage. It protects you from any flight problems (for example, changing or canceling flights or flight delays) and emergencies (like having to return home early, if you need to call someone for help, or if you have emergency medical bills).
It also covers your baggage if your stolen, lost, or damaged.
Expedia Vacation Waiver
This covers particular flight issues. For example, if you need to cancel your flight or change it, you can use the waiver to cover it. But you can only do this once!
Emergency Cancellation Plan
If you need to cancel at the last minute, you can use the emergency cancellation plan. However, you can't cancel unless you or a close loved one has a medical emergency, and this needs to be proven by a doctor's note. An important note: it's also only applicable for flights within the US.
Total Protection Plan
This is like a combination of a couple of different plans. It protects you if you need to cancel for an emergency (but this only applies to medical emergencies), and also protects your baggage against loss, theft, or damage.
Cruise Travel Protection
If you go for a cruise using Expedia, you can choose their Cruise Travel Protection, which protects you if your cruise is delayed by a significant amount of time. It also protects you if you need to pay emergency medical bills or if your luggage is damaged, lost, or stolen.
Car Rental Insurance
If something happens to your rental car due to a weather emergency (like hail, wind, flooding, or fire), you can claim your car rental insurance to cover the damage.
Mobile App
The mobile app is pretty good in my opinion. It's easy to navigate with a stripped-back UI, and you can easily search and book flights and day trips.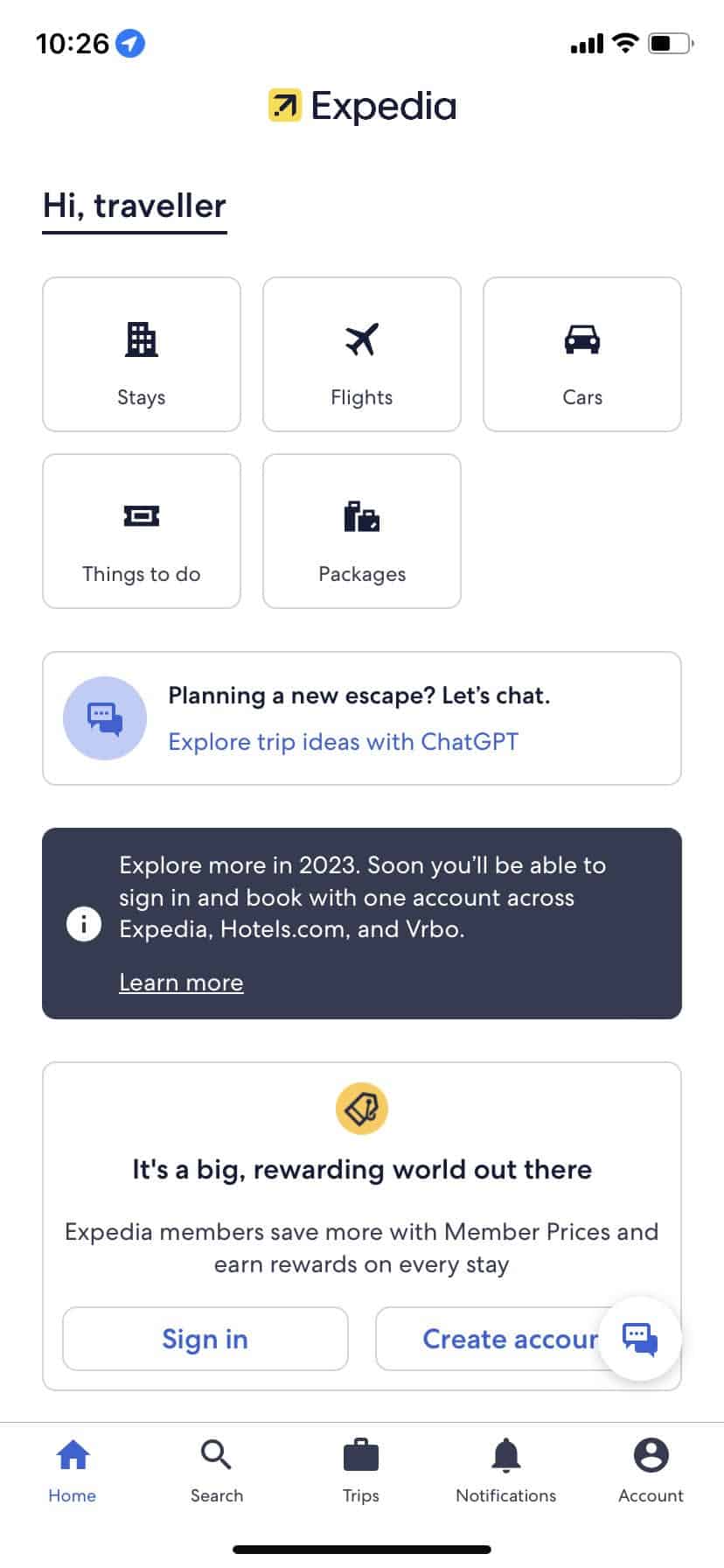 You can make even more savings using the app, up to 20%, on certain trips if you book using the app. You can also view your previous trips and manage your upcoming trips.
Refund Policy
The downside to Expedia is that the refund policy is complicated to engage with. It's complicated because while booking via Expedia, you'll still have to chase down refunds from every travel provider, all of which may have their own policies. There are also cancellation policies to think about – you could have to pay Expedia's cancellation fees and the fees from the provider. When you book a trip, it's worth looking into this closely so you'll be prepared for the charges in an emergency.
Google Flights vs Expedia – Pros and Cons
Here's a quick summary of the things I like and dislike about both platforms:
Google Flights
Pros
Great for finding cheap flights
Useful for filtering flights by particular metrics
Can set up price drop alerts for specific flights
Good price protection plan available on certain flights
Looking for nearby destinations is easy using the map
Allows you to find flights on your chosen airlines, making it easier to get air miles
Cons
Can't actually book much through Google Flights – instead, you book through individual providers
Day trip information isn't laid out as clearly as Expedia
Doesn't have a mobile app
Doesn't have a reward scheme
Expedia
Pros
The platform is straightforward
Travel guides are good for inspiration
Pricing is pretty good, depending on what you're looking for
The reward program is great
The mobile app is easy to use
Cons
Refunds can be hard to get
May be hit with double cancellation charges in an emergency
Google Flights vs Expedia – Alternatives to Try
If you want to keep trying different platforms, here are a few I'd suggest:
Frequently Asked Questions
Before I give you my final thoughts, here are some commonly asked questions about Google Flights and Expedia:
Question: Are Google Flights and Expedia reliable?
Answer: Yes. Google Flights is excellent for finding deals, and Expedia is reliable when it comes to booking using their platform.
Question: Why doesn't Google Flights have a mobile app?
Answer: At the time of writing, Google Flights doesn't have a mobile app. It has a small number of users in comparison to other platforms, which could be part of the reason why.
Question: Can I book just flights using Expedia?
Answer: Yes, you can book flights using Expedia without booking a hotel.
My Final Thoughts
It's hard to compare them because they're both so different. I do prefer Expedia. I've personally gained a ton of reward points over the years using Expedia, and I think it's easier to book everything in one place. Having said that, Google Flights has its uses. To find cheap flights, particularly domestic flights, is way easier using Google Flights. I also like the fact that you can set up alerts to notify you of price drops, and the price drop guarantee is great.