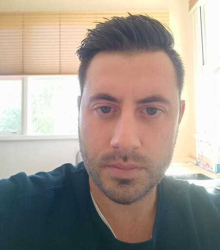 Latest posts by David Borgogni
(see all)
Booking a hotel stay can be a pricey endeavor! I've been a keen explorer since a young age, and visiting new places is high on my list of priorities. This means I need to try to save money when I can, either by hunting down special offers or collecting rewards. So between two popular websites, Hotels.com and Booking.com, which is better for saving money?
Which has the better reward scheme? And which one offers the best experiences in terms of hotel stays and trips? I've used both, and I can tell you they both have their strengths. However, one definitely has the edge over the other for me.
Bottom Line Up Front
If I have to pick one, it has to be Hotels.com. I think the rewards system is very good, and you can get some incredible hotel stays here. I also like their package deals and the fact that you can book specific trips for different groups of people. Having said that, Booking.com is slightly more fun to browse, and you can get some good last-minute deals. Plus, I like that you can book day trips, flights, car hire, and hotels simultaneously.
Hotels.com vs Booking.com – Snapshot Comparison
| | | |
| --- | --- | --- |
| Feature | Hotels.com | Booking.com |
| User-Friendliness | 7/10 | 8/10 |
| Package Deals | 7/10 | 9/10 |
| Rewards/Loyalty Points | 9/10 | 6/10 |
| Costs/Pricing | 8/10 | 8/10 |
| Mobile App | 8/10 | 8/10 |
| Travel Insurance | 5/10 | 5/10 |
| Refund Policy | 6/10 | 6/10 |
| Overall | 7/10 | 7/10 |
Main Differences Between Hotels.com vs. Booking.com
The main differences between Hotels.com vs Booking.com are:
Hotels.com focuses on hotels, whereas Booking.com allows you to book day trips too.
Hotels.com allows you to book group trips like work events or class reunions, whereas Booking.com doesn't.
Hotels.com uses the OneKey rewards system, which has tier rewards and allows you to collect OneKeyCash, whereas Booking.com only offers tier rewards.
Hotels.com is slightly stripped-back, whereas Booking.com is more fun to browse.
The Main Features of Hotels.com
Hotels.com was launched in 1991 when it was created as part of the Hotel Reservations Network. It now comes under the umbrella of companies owned by Expedia, which also includes Vrbo and Trivago. I like Hotels.com. I like the simple interface and the discounted stays you can grab if you know where to look. Here's what I think about the main features!
User-Friendliness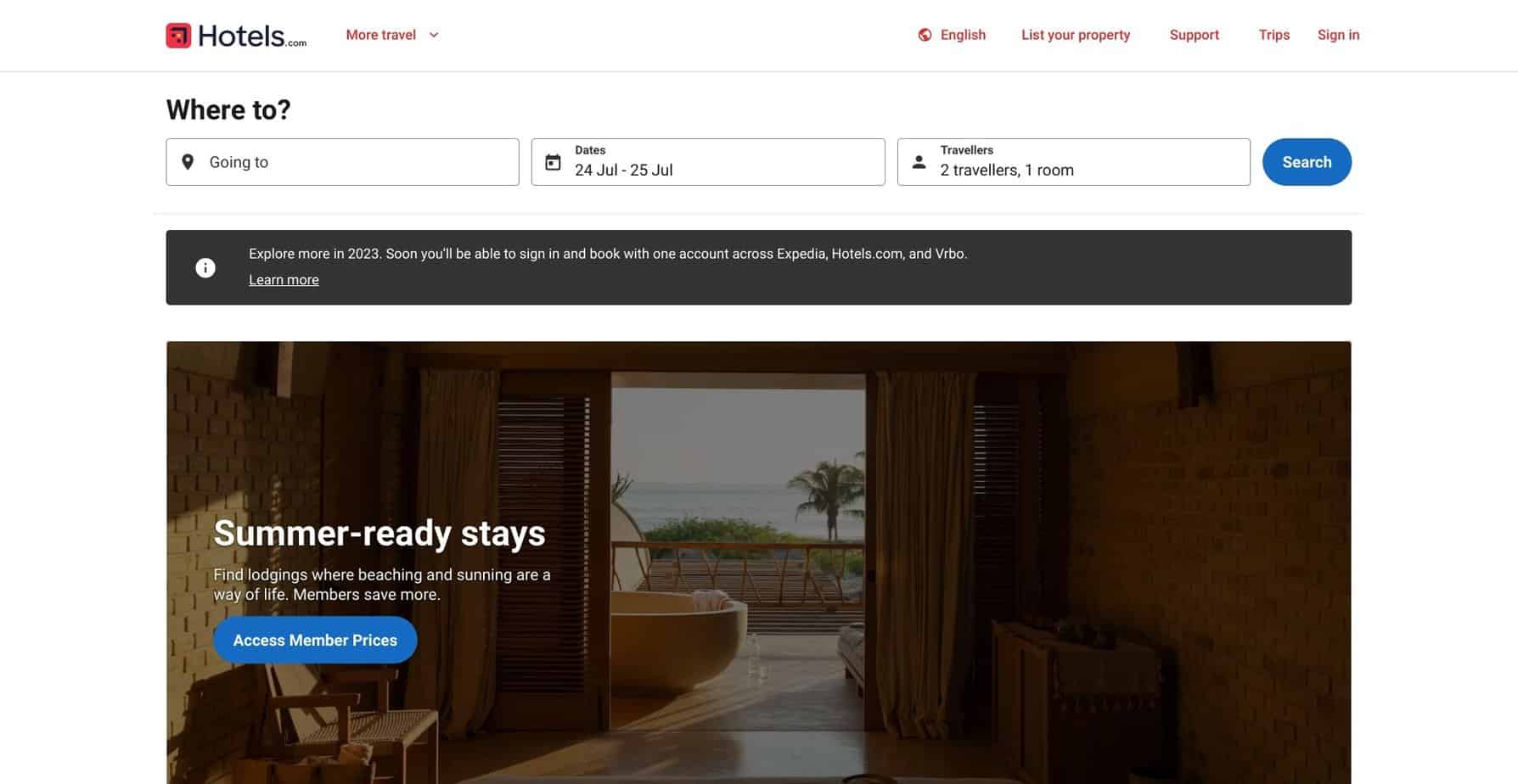 Hotels.com is pretty user-friendly. Signing up for an account is simple enough but worth doing: it'll allow you to see members' prices, which is great. I would say it's not as inspirational to browse as websites like Expedia or Booking.com: they do have some collections of hotels to look at, but they don't have the same exciting, visually appealing travel guides that you can find elsewhere.
Packages/Deals
You can book hotels, holiday lets, group events, and meetings.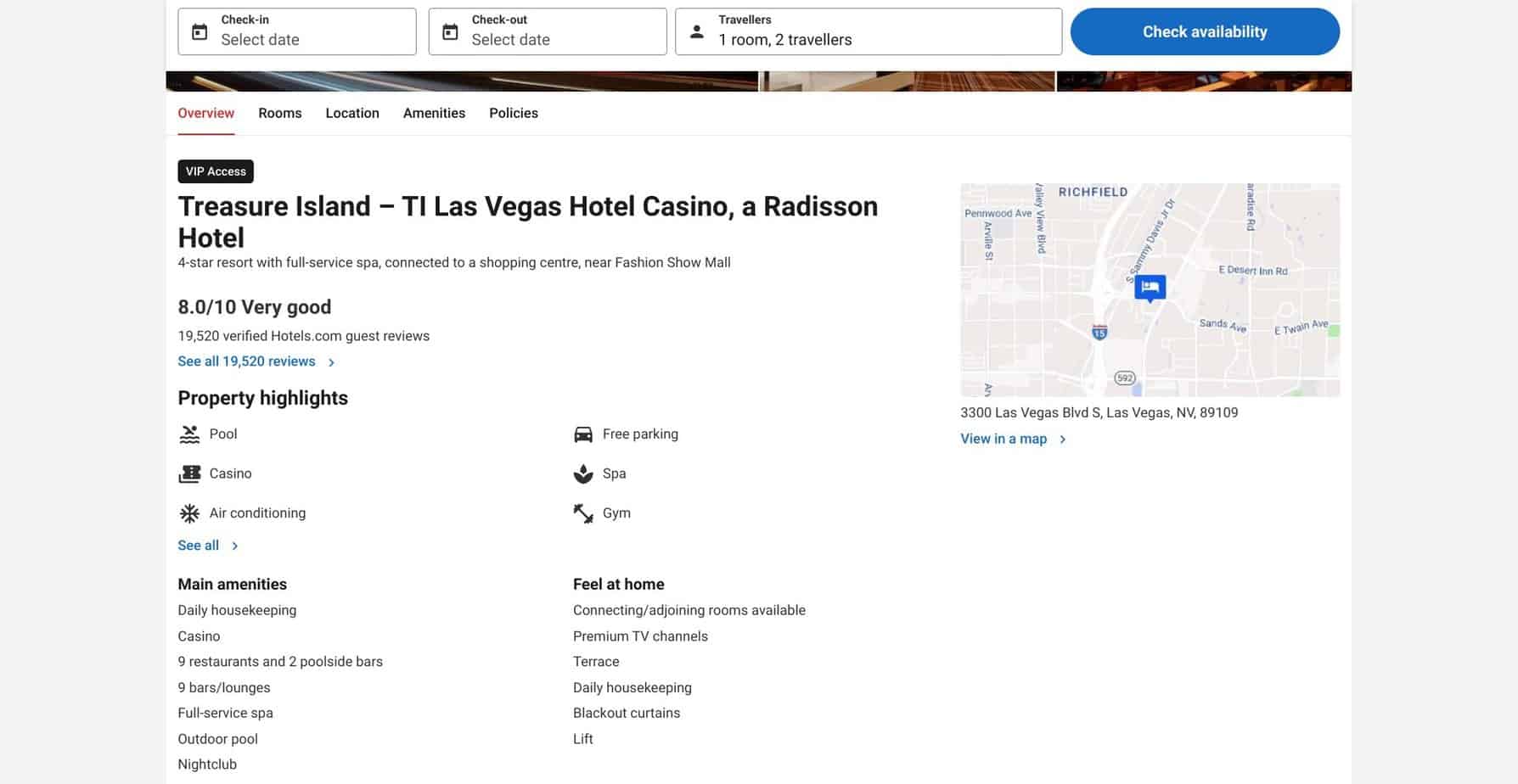 They specialize in hotels, and they have a huge range to choose from. Whether you're looking for a budget weekend getaway or two weeks in a luxury resort, you'll be able to find what you're looking for here. Clicking on the hotel will bring up in-depth information about each one, including the amenities, property highlights, location, and available rooms.
Crucially, you can look at reviews. There are thousands of verified hotel reviews on Hotels.com, which will give you tons of honest perspectives to look at. When you're trying to make the best decision, having these opinions will really help. You can also book holiday lets here. This means you can book properties like cottages and apartments, which are ideal if you'd rather go for self-catering. This is perfect if you're on a tight budget.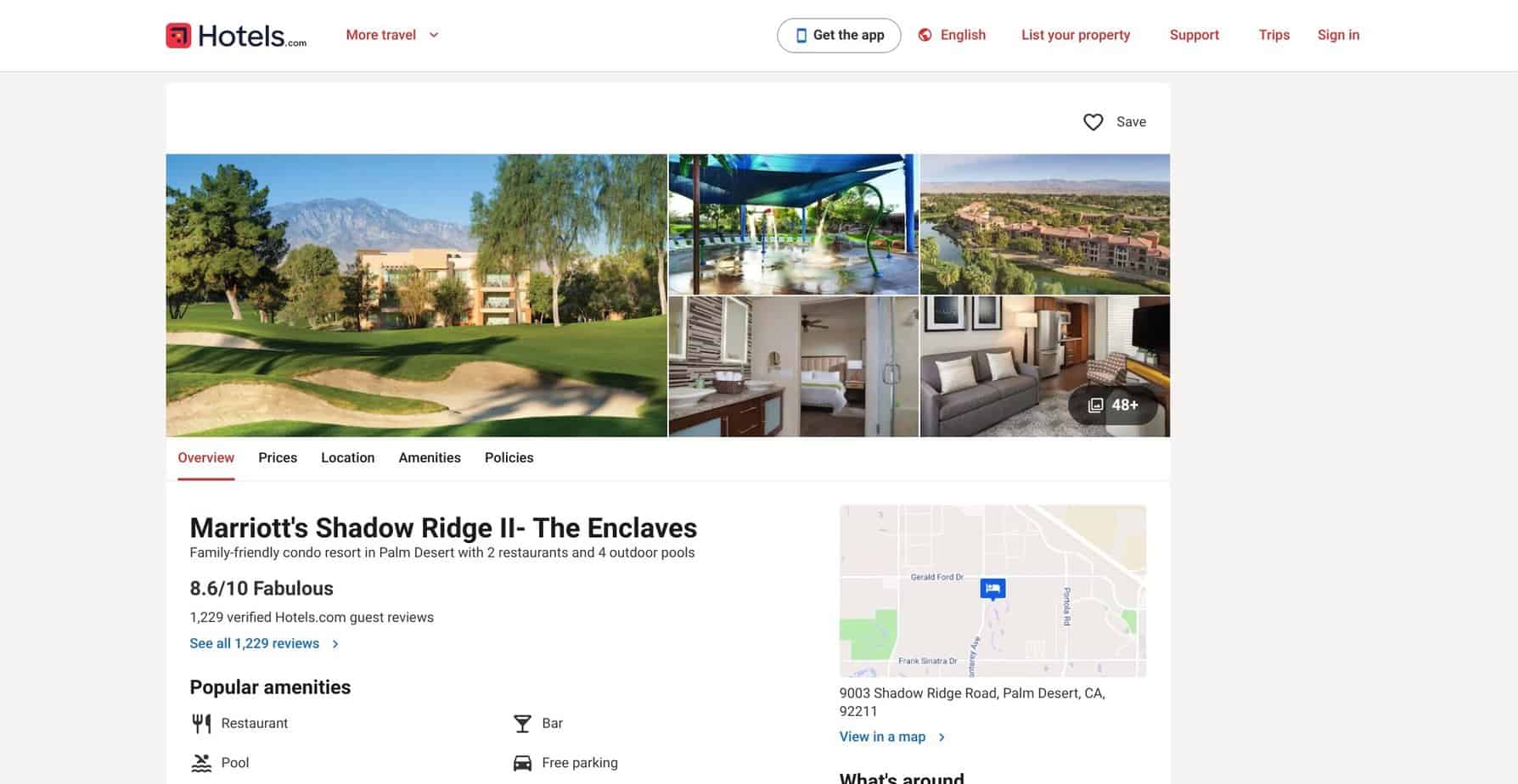 These offer longer stays, too, so you can stay up to 30 days in one place. Hotels.com also offers car rentals, along with meeting spaces for group events. It's really easy to book these events, too. You can filter them by the type of group you have (bachelorette parties, family reunions, conventions, business meetings, and so on), making it much simpler to find what you're looking for.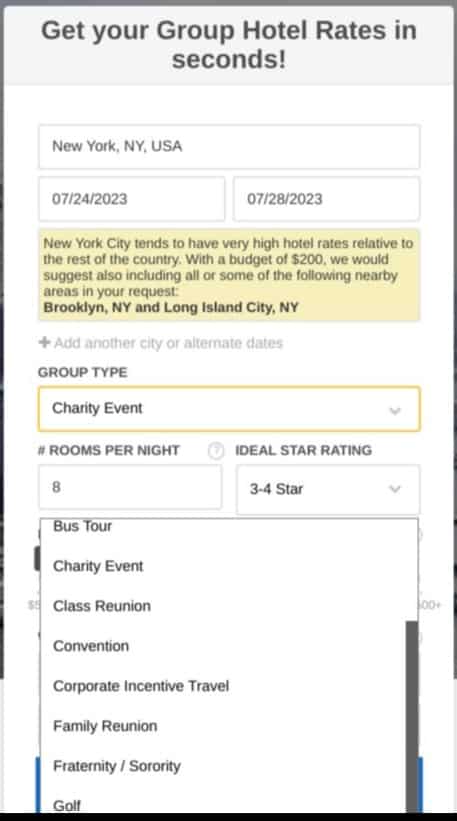 I think that Hotels.com has some decent deals, especially on weekend trips for members: if you're willing to be flexible, you can get a good price. It's always best to browse several sites to ensure you're getting the best deal; however, Hotels.com's pricing is great.
Rewards/Loyalty Points
Hotels.com is in transition when it comes to reward points: previously, their reward scheme allowed you to collect perks that are aimed at making your stay better, like a free night if you stay for ten nights, room upgrades, free meals, and more.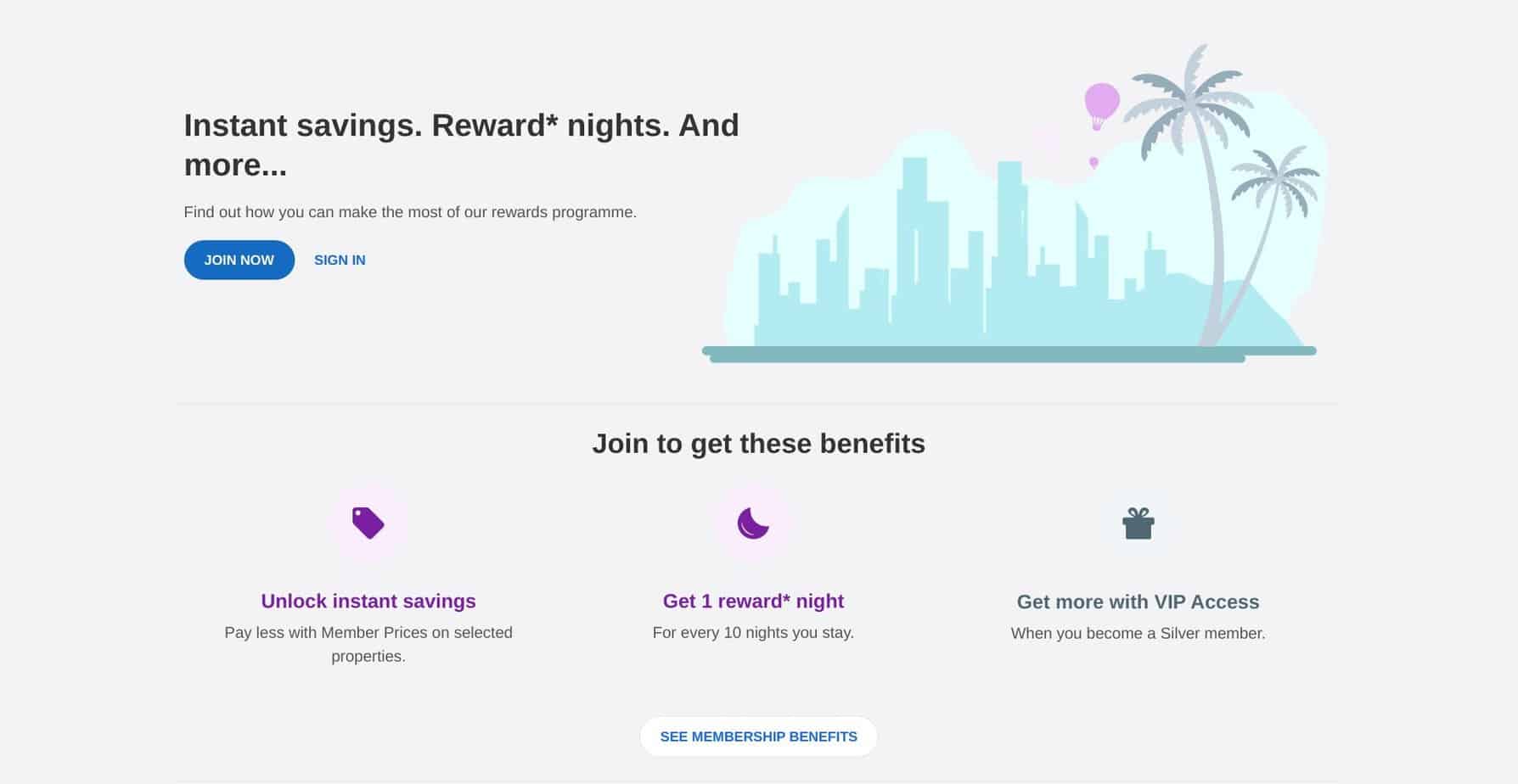 However, from July 6, 2023, the reward scheme for Hotels.com will shift to the One Key reward program, which is the same as Expedia and Vrbo. One Key works like this: you can get a 10% discount on selected hotels and up to 30% if adding a hotel to a flight. Moving up the tiers will unlock more benefits, like room upgrades and food/drink rewards.
Crucially, you'll also earn OneKeyCash, which means you can earn up to 6% for every dollar spent. You can collect these rewards on top of your air miles and other reward points, which means you can save money on future trips. I really like this reward program, and I think it's better than the rewards offered by Booking.com.
Travel Insurance
Hotels.com doesn't offer its own travel insurance. They have some fully refundable options, meaning you can book without too much risk. However, if you're looking for the kind of insurance that protects you against lost baggage and so on, you'll have to look elsewhere.
Mobile App
The mobile app is pretty good. It's simple and allows you to book stays, manage your current bookings, and view past bookings.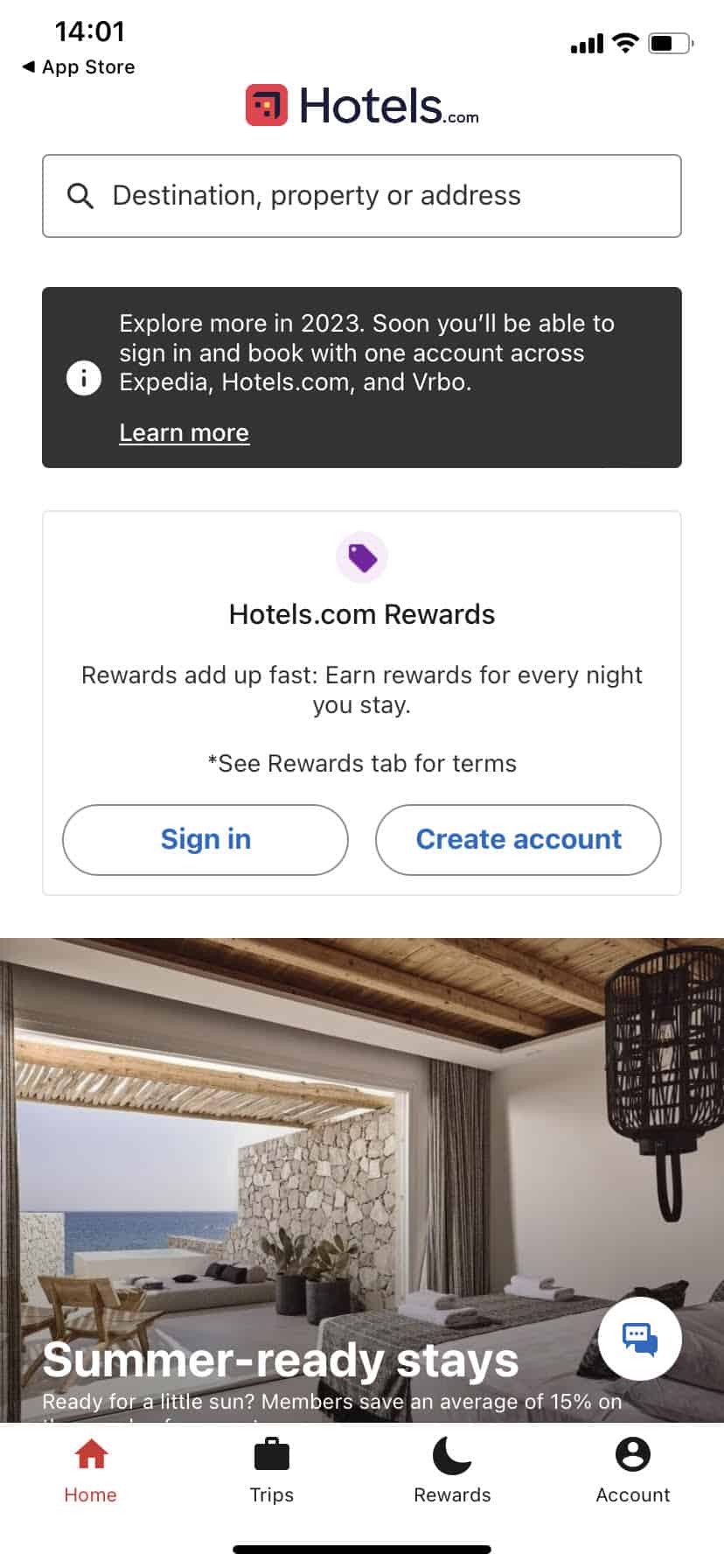 You can also view your rewards on the app, too, which will transfer over to the new reward scheme when it launches. You can get push notifications for certain things too (like when it's almost time for your trip).
Refund Policy
The refund policy offered by Hotels.com varies depending on the options you choose at the booking stage. They have refundable bookings and non-refundable bookings. If you choose the latter and you cancel, you'll be out of luck: Hotels.com is not obligated to give you your money back.
Meanwhile, refundable bookings are different. How the refund works depends on how you paid. If you request a refund on a booking made with a credit or debit card, they'll refund you within 24 hours. If you paid with a gift card, they'll send you a new gift card instead. It's worth noting that some bookings have a cancelation fee. This means you will have to pay a certain amount if you cancel, so that's something to watch out for.
The Main Features of Booking.com
Now, let's talk about Booking.com. I've used them a few times and found them to be pretty straightforward. Launched in 2000, it's a popular platform allowing you to book flights, vacations, and more. It's designed to make the booking process easier, as you can do everything under one 'roof', so to speak.
User-Friendliness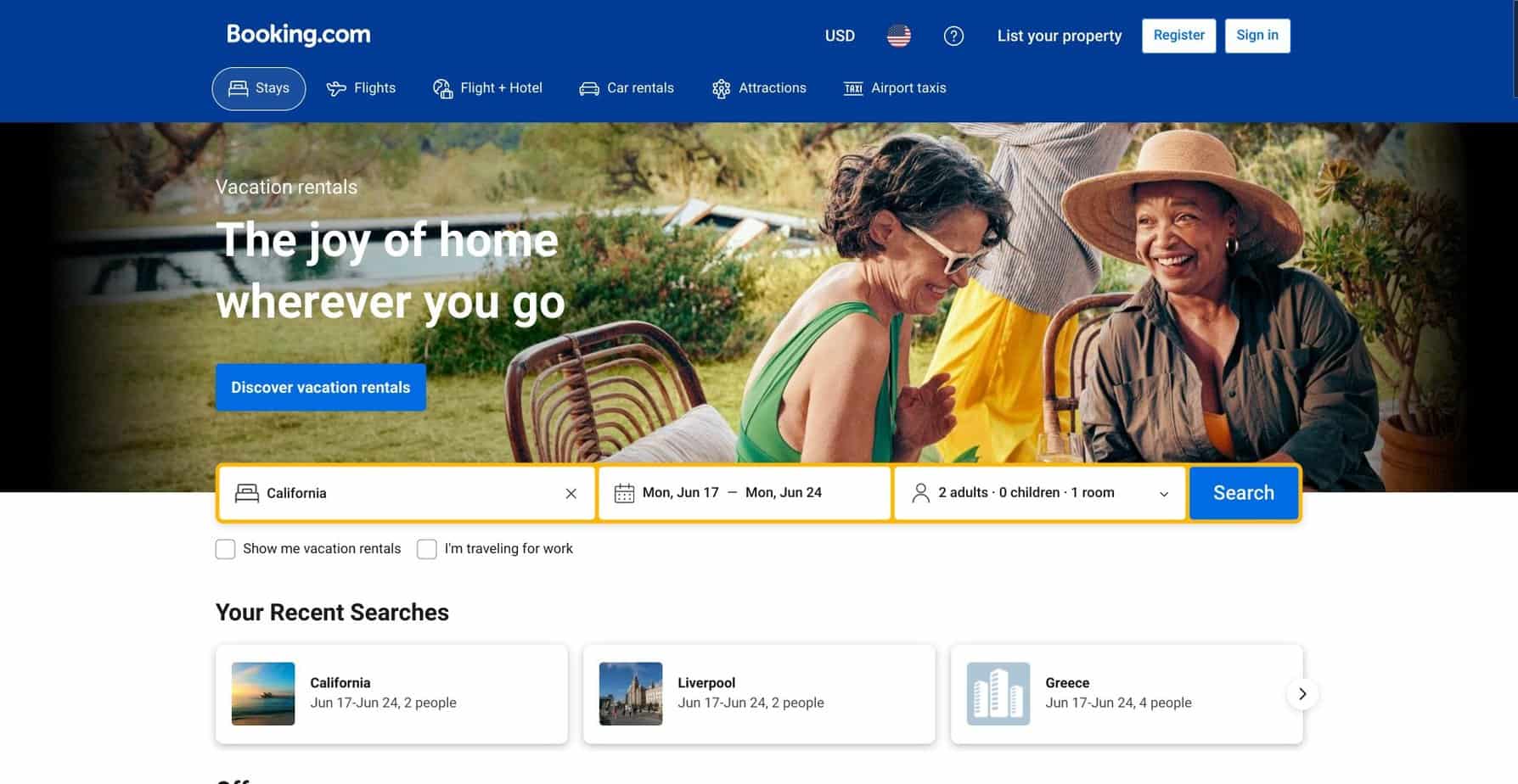 Booking.com is a user-friendly interface. I prefer it to Hotels.com in terms of how it looks, but that's just a minor point: they both work pretty well in terms of finding what you need. However, I'd say that Booking.com is more visually appealing, and it offers more in terms of inspiration.
If you're stuck, for example, you can browse their destination guides, or you can filter trips by the kind of mood you want (romantic, adventurous, family-friendly, and so on). This makes it easier to find something that suits you.
Packages/Deals
You can book several different trips using Booking.com, including stays, flights, and hotels, just flights, car rentals, day trips, and airport taxis. It's very simple to do: just filter by the date you're looking for and the location you want to visit, and it will bring up suitable places or attractions.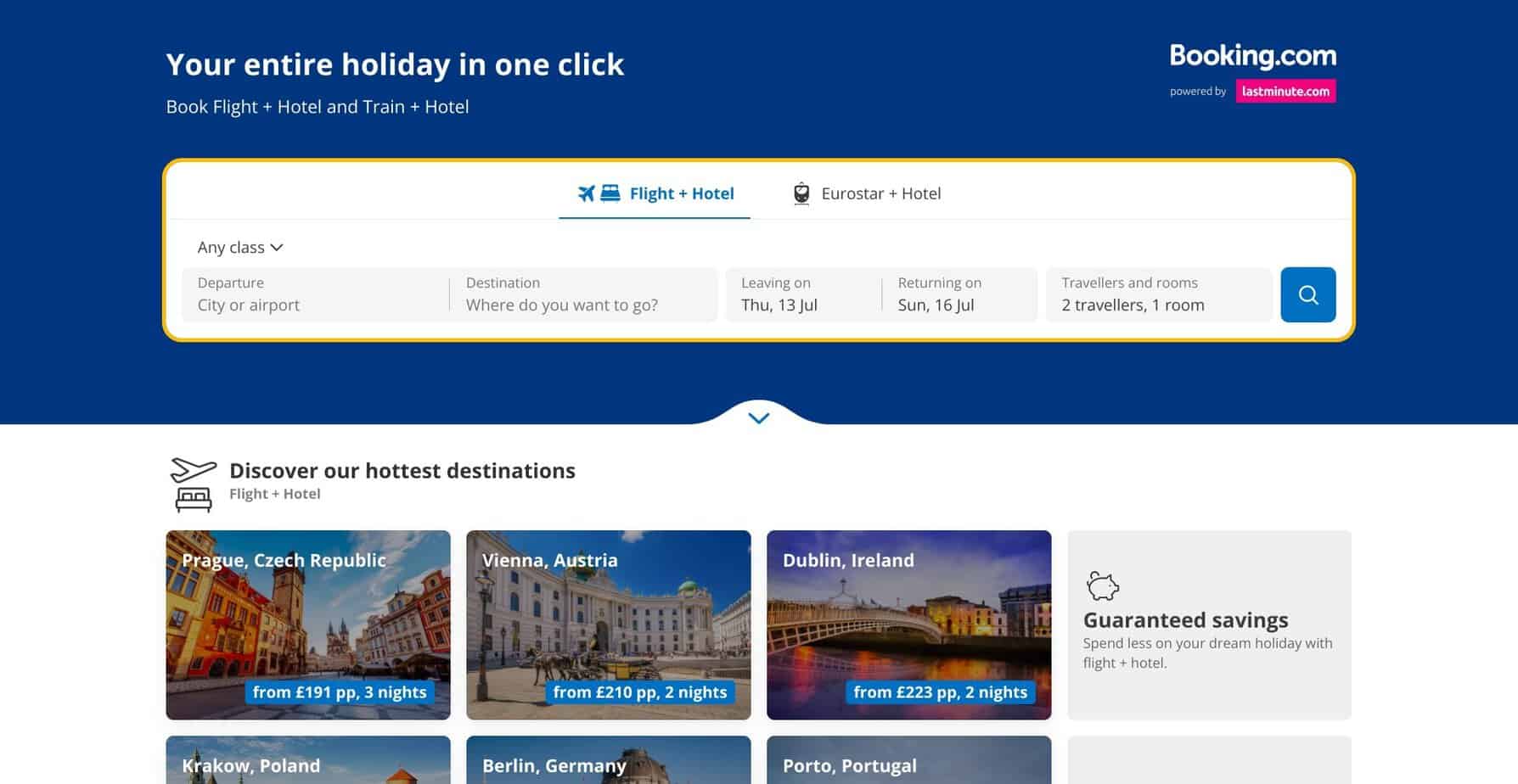 I like that you can book everything using Booking.com: day trips, flights, hotel, and car rental all in one place. You can bookmark whatever you're browsing to save it for later, and in terms of convenience, it's excellent.
They offer bundles, which are pretty decent in terms of the amount of money you can save, although if you want to explore areas off the beaten track, you may need to look elsewhere. They have flash sales, too, and if you can catch them, they're a great opportunity to explore on a budget.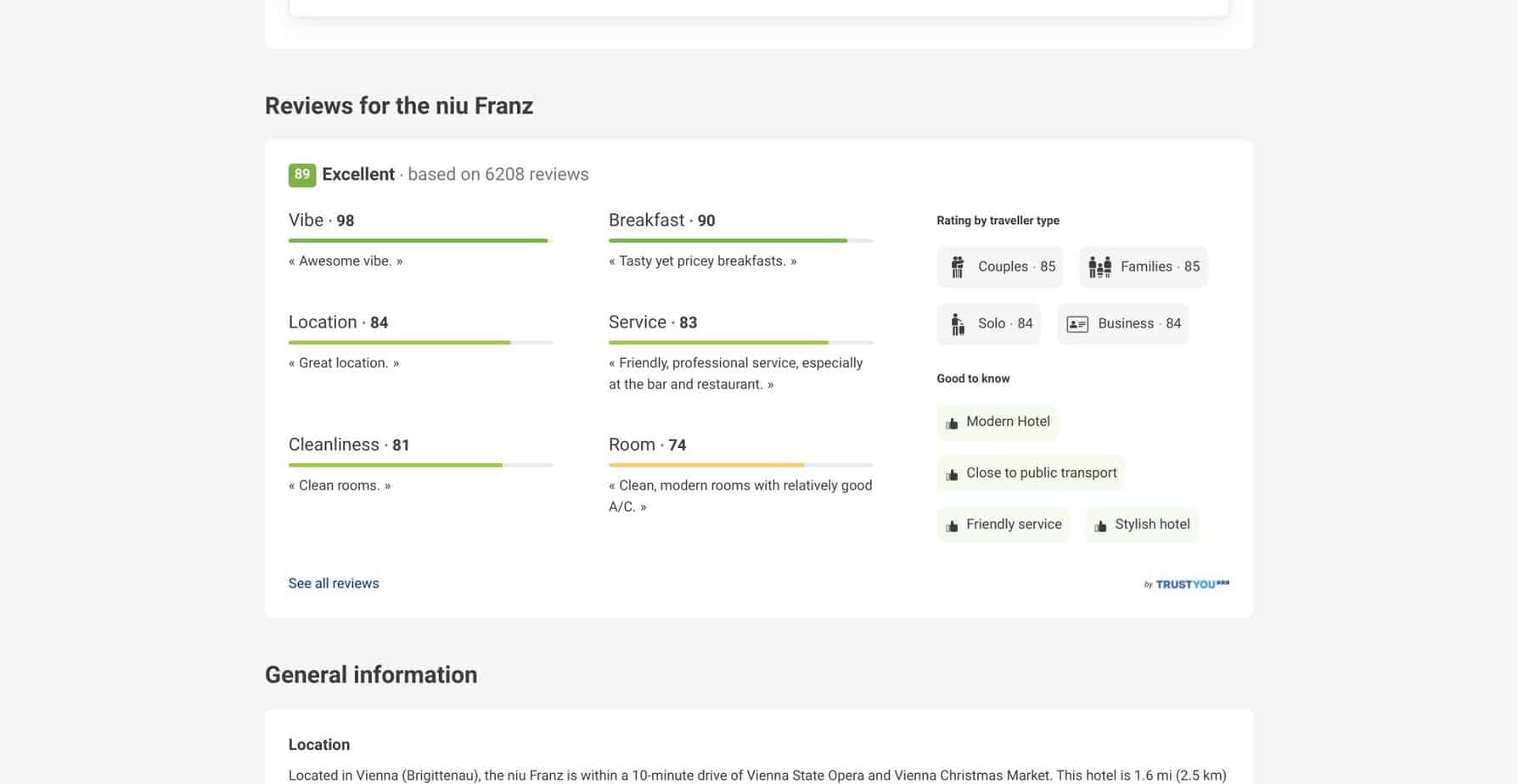 You can see a range of reviews for every trip, too, which is useful for making an informed decision about where to stay. This is extra useful because some hotels are not as well-maintained as others, and often, user reviews are the only way to get a clear, honest picture on what you can expect.
I think Booking.com has the edge here because of its convenience: booking it all in one go, including day trips, is nice. It's just easier and saves time, making it convenient when you're traveling to quickly pull up the app and grab any tickets you need.
Rewards/Loyalty Points
You'll benefit from the Genius loyalty program if you use Booking.com. The more trips you book, the higher you'll move through their program. The rewards include:
Level 1 – 10% discount
Level 2 – 15% discount, free breakfasts, free room upgrades for selected properties
Level 3 – 20% discount, free breakfasts, free room upgrades for selected properties, priority support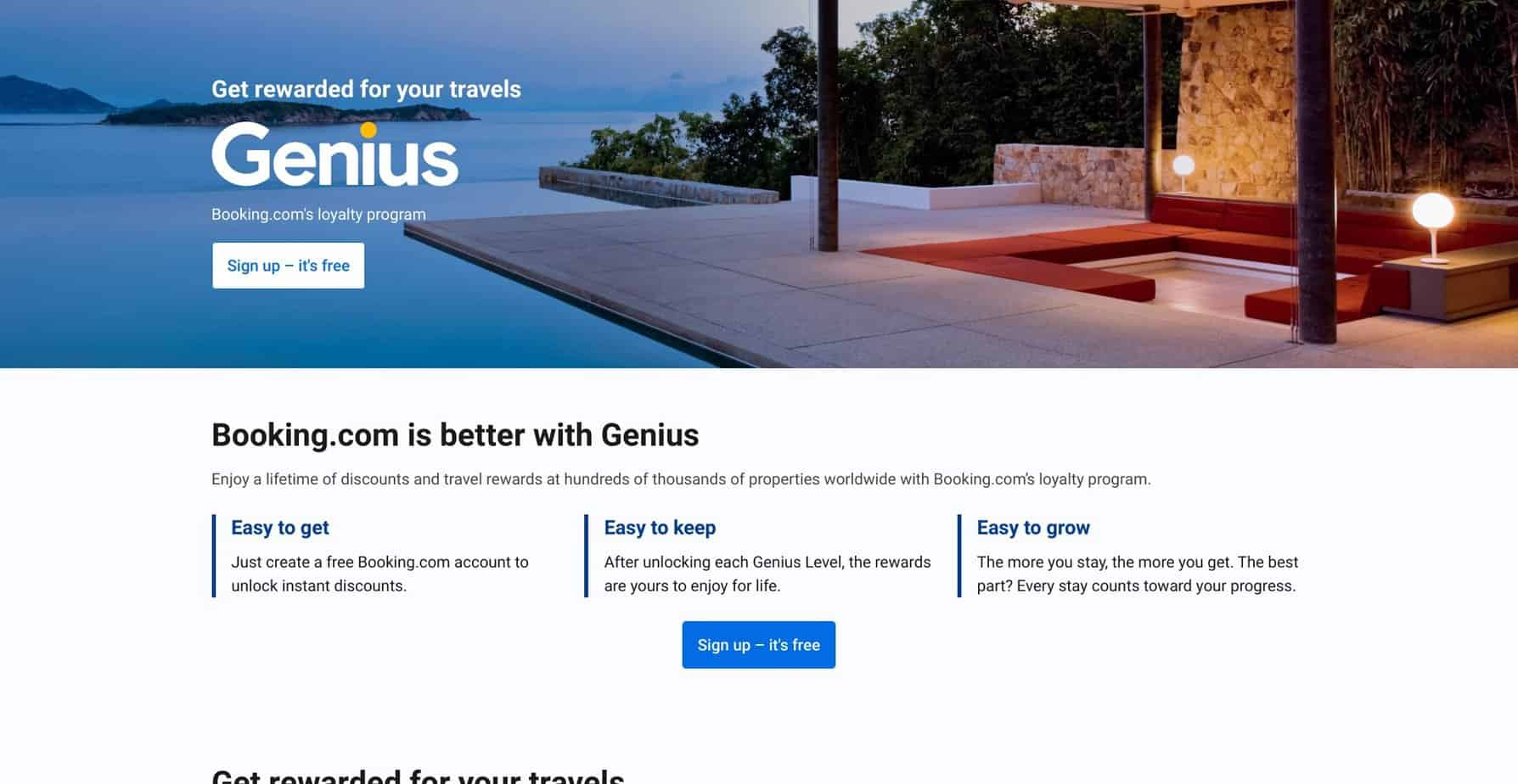 Up to 20% is a hefty discount, especially on expensive trips, so it's definitely a good deal if you plan to use Booking.com a lot. However, not every hotel qualifies for Genius rewards. This means you can have a decent discount ready but not be able to use it at the hotel you're looking at.
I do think that the Hotels.com OneKey rewards program is better because you'll be gaining cash that you can use on future trips, along with your air miles and credit card rewards. Still, if you love using Hotels.com, you stand to save some money.
Travel Insurance
Booking.com offers no travel insurance, so you'll have to book separately. Every hotel or property booked using this service has its own cancelation policy.
Mobile App
The mobile app is very similar to Hotels.com in terms of features: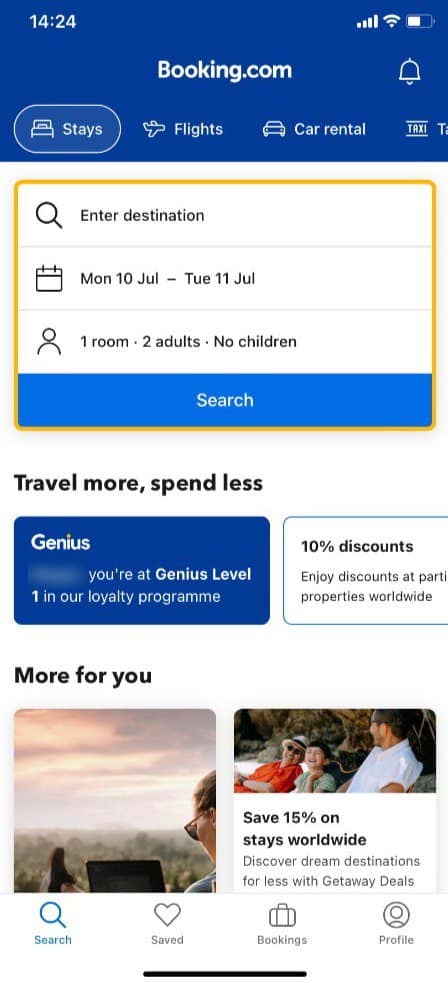 You can book new stays, look at your bookmarked trips, and view your current and past bookings. You can also check the reward tier you're currently on and browse their special offers (for example, saving 15% off specific locations).
Refund Policy
The refund policy for Booking.com is fairly straightforward: If you need to cancel your trip, you can do so up to 30 days before the arrival date with no cancellation fee. If you cancel closer to the time, you may be charged a fee. You also need to watch out for the service provider's cancellation policy. These can vary and may hit you with charges if you cancel too close to the trip date.
Hotels.com Booking.com – Pros and Cons
Let's do a rundown of the pros and cons of both booking sites:
Hotels.com
Pros
Easy to use
Some last-minute bargains can be found
Can book group outings
The app is easy to use
Thousands of honest, verified reviews to check for each hotel
Good reward program
Cons
It could be a little more visually appealing/fun to browse
Booking.com
Pros
Easy to use
Vacation guides are useful for inspiration
Flash sales are great
The mobile app is easy to use
Bundles are good value
Cons
Reward programs could be better
Other Booking Websites to Try
If you want to keep browsing, there are a few places to check out:
Frequently Asked Questions
I'll give you my final verdict in the next section, but here are some questions you may have:
Question: Will I save money by using Hotels.com or Booking.com?
Answer: Probably, yes. It's not a guarantee, but chances are you'll save a little cash by using a website like Hotels.com or Booking.com. They can negotiate good hotel deals, passing on the savings to customers.
You can sometimes get some excellent deals by going directly to the provider. I'd say it's worth double-checking before you go ahead with a booking by visiting the provider's own website. (However, you'll be sacrificing reward points, so that's something to remember.)
Question: Is Hotels.com and Booking.com ATOL protected?
Answer: ATOL protection (or Air Travel Organiser's License protection) is excellent for customers; it allows you to claim refunds if the holiday company shuts down before or during a trip.
However, this only counts if you're booking a flight and a hotel together. ATOL protection only kicks in if you're booking a flight; this means that if you're only booking a stay or a day trip, it won't be covered by ATOL.
Any trips that include air travel will be covered, so you won't have to worry in that case.
Question: What makes Hotels.com different from Expedia and Vrbo?
Answer: Although all come under the umbrella of Expedia, they all have a different focus. Vrbo is good for exploring Asia; Expedia is good for booking day trips, car rentals, flights, and hotel stays in one package; and Hotels.com focuses on hotels.
There is some overlap, however, and you can collect rewards that you can claim across all three websites.
To Sum Up …
For me, Hotels.com has the edge. This is mostly thanks to the rewards system: you can collect tier rewards and OneKeyCash, which you can spend across different websites under the Expedia umbrella. They also have some great package deals. Plus, if you need to book something like a class reunion or a work event, you can do so using Hotels.com, which is useful in certain circumstances.
But that doesn't mean Booking.com doesn't have its uses. It's fun to browse, and I like that you can book everything in one place. They have some great last-minute deals, too.
Read More: Hotel Points Programs Guide and How to Maximize Hotel Points