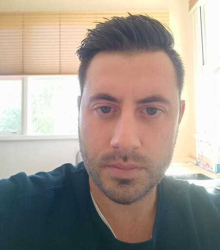 Latest posts by David Borgogni
(see all)
If you're looking to book your next vacation, knowing which site to use can be hard. I know this myself: having been an avid air traveler since the age of 6, I've traveled just about everywhere, with some amazing experiences and some less-than-ideal situations! The question is, when it comes to Expedia vs. Booking.com – which one is better for making travel easier and more affordable? Which has the best reward scheme, and how do they work?
I've used both Expedia and Booking.com over the years, so I'll take you through both in detail, so you can figure out which one works best for your needs!
The Bottom Line Up Front
Between the two booking sites, I prefer Expedia. I find the loyalty scheme, is more generous: it offers both tiers, which unlock discounts and points that you can spend on future trips. I also think travel insurance is better.
However, there are some benefits to Booking.com. You can get some great deals there, and you can cancel your trip up to 30 days before you leave with no charge.
Expedia vs Booking.com – Snapshot Comparison
| | | |
| --- | --- | --- |
| Feature | Expedia | Booking.com |
| User-Friendliness | 8/10 | 8/10 |
| Package Deals | 8/10 | 9/10 |
| Rewards/Loyalty Points | 9/10 | 6/10 |
| Costs/Pricing | 8/10 | 8/10 |
| Mobile App | 8/10 | 8/10 |
| Travel Insurance | 8/10 | 5/10 |
| Refund Policy | 6/10 | 6/10 |
| Overall | 8/10 | 7/10 |
Main Differences Between Expedia vs Booking.com
The main differences between Expedia vs Booking.com are:
Expedia's loyalty scheme offers both tiers and points, whereas Booking.com only offers tiers
Expedia offers several types of travel insurance, whereas Booking.com doesn't
Expedia has slightly fewer opportunities for last-minute bargains, whereas Booking.com has plenty
Expedia's refund policy can be difficult to navigate, whereas Booking.com's is slightly easier to navigate
The Main Features of Expedia
Microsoft launched Expedia in 1996 (although, of course, it's changed a little since then). It's a popular place to book flights, hotel reservations, vacation packages, and other services like car rentals. I've used Expedia many times over the years, and I think it's a pretty decent place to go for last-minute deals. Here's how it works:
User-Friendliness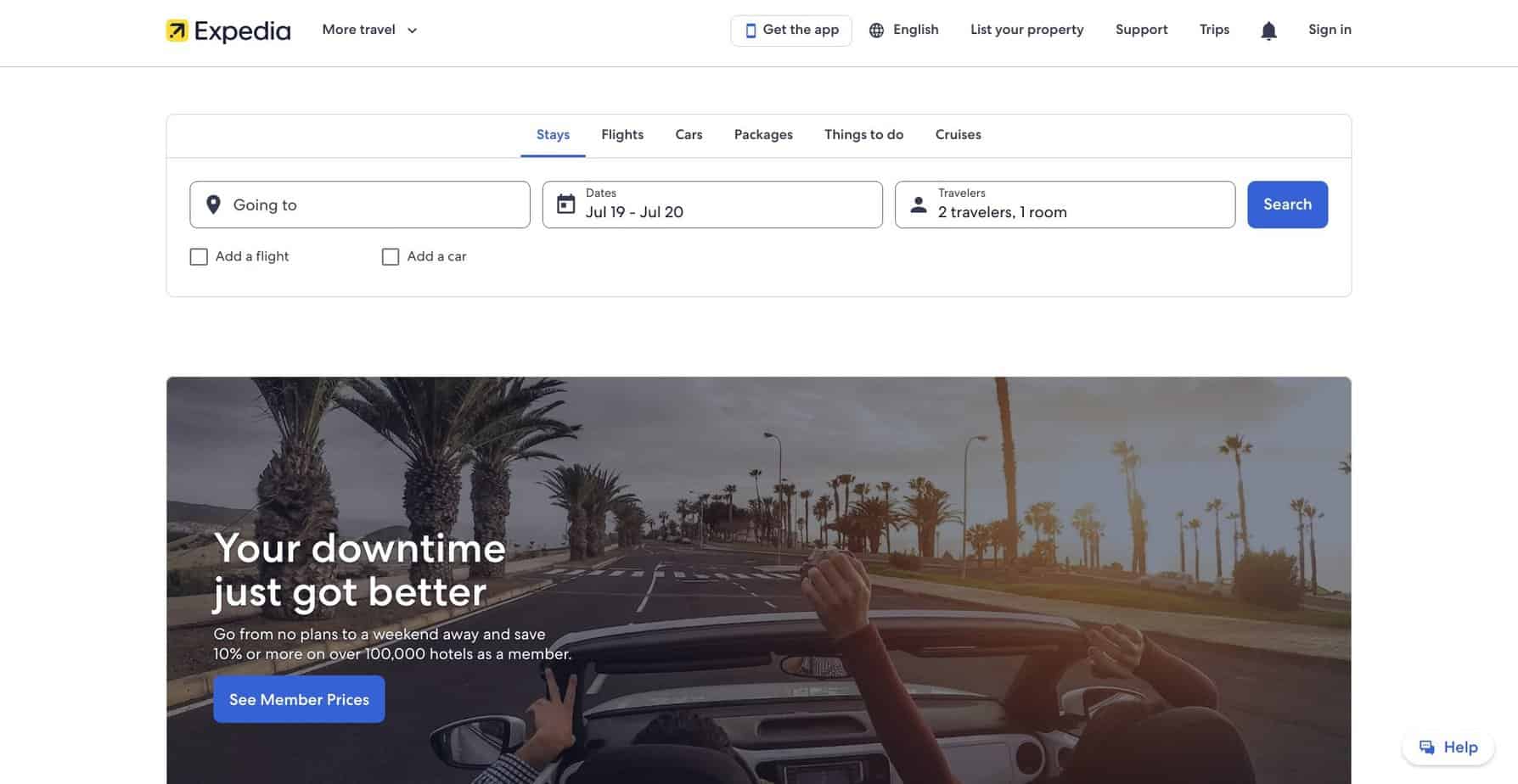 I find Expedia pretty easy to use. They have everything you need immediately, and their search function works well. Searching for your destination and chosen dates will bring up several options: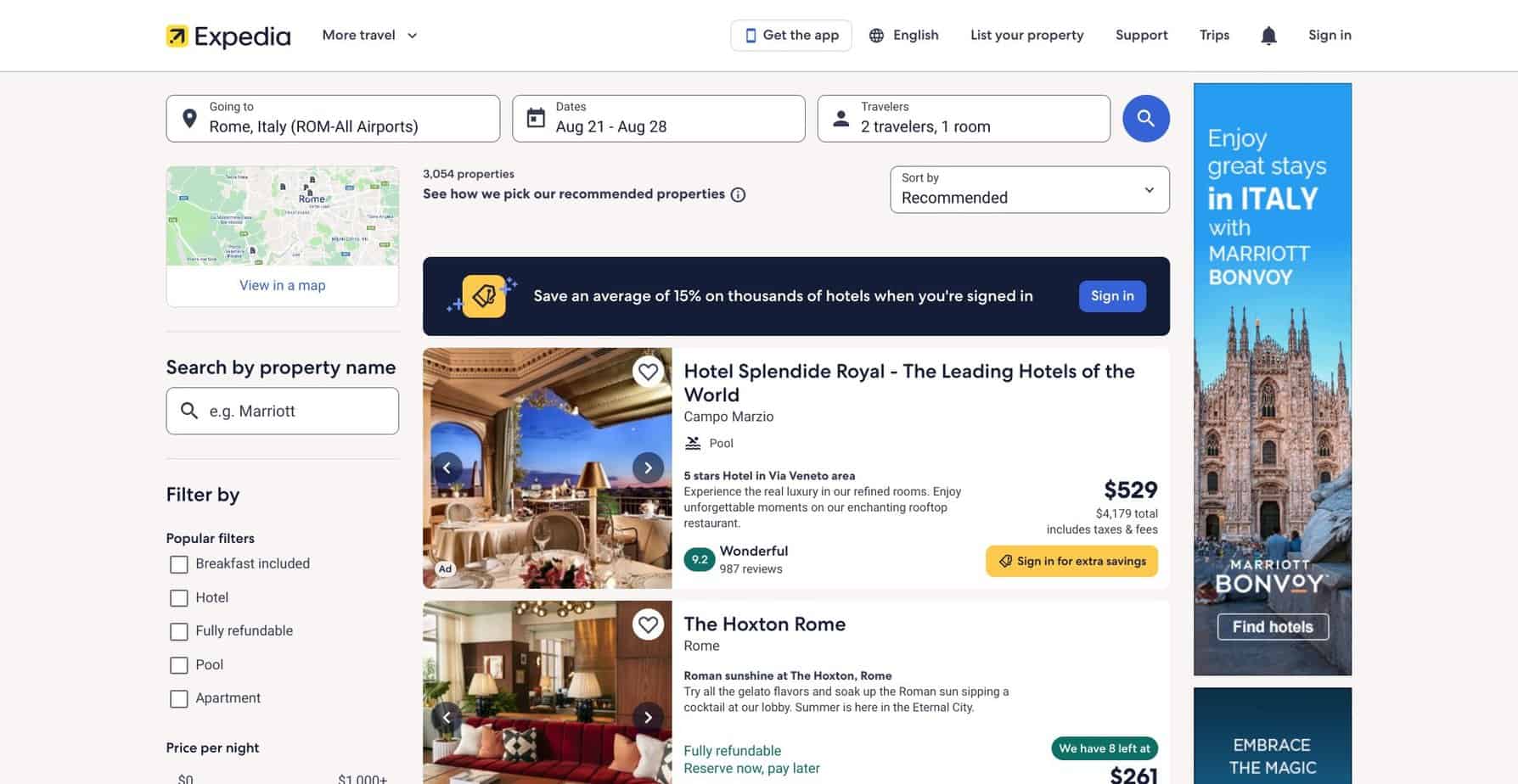 You can filter these by useful metrics, like price per night, whether you're looking for a hotel or an apartment, or fully-refundable trips. The whole process from start to finish, whether you're booking a hotel or a car from the airport on arrival, is really straightforward. I find the app easy to use, too (more detail on that a little later).
I like the travel guides, too. If I'm exploring somewhere new, it's nice to have some details on key places to visit.
Packages/Deals
You can book the following services using Expedia:
Stays
Flights
Cars
Packages
Things to Do
Cruises
I've booked stays, flights, and packages with them before, and I find that they have a huge amount of choice to go for: whether you're looking for a budget place to stay for a weekend away or a luxurious 5-star all-inclusive resort, you'll probably be able to find something to suit you here.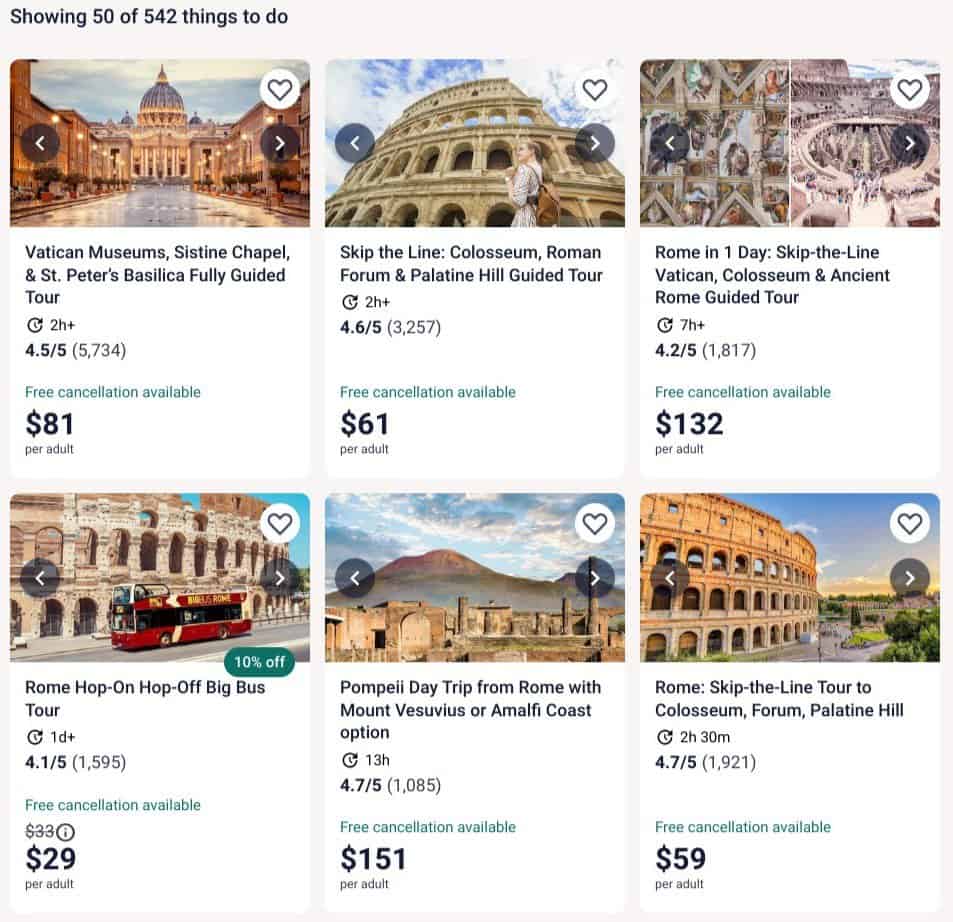 For example, if you want to look for days out in Rome, it'll bring up the most popular destinations. It will also allow you to pick a category, like food and drink, historical destinations, or tours and day trips.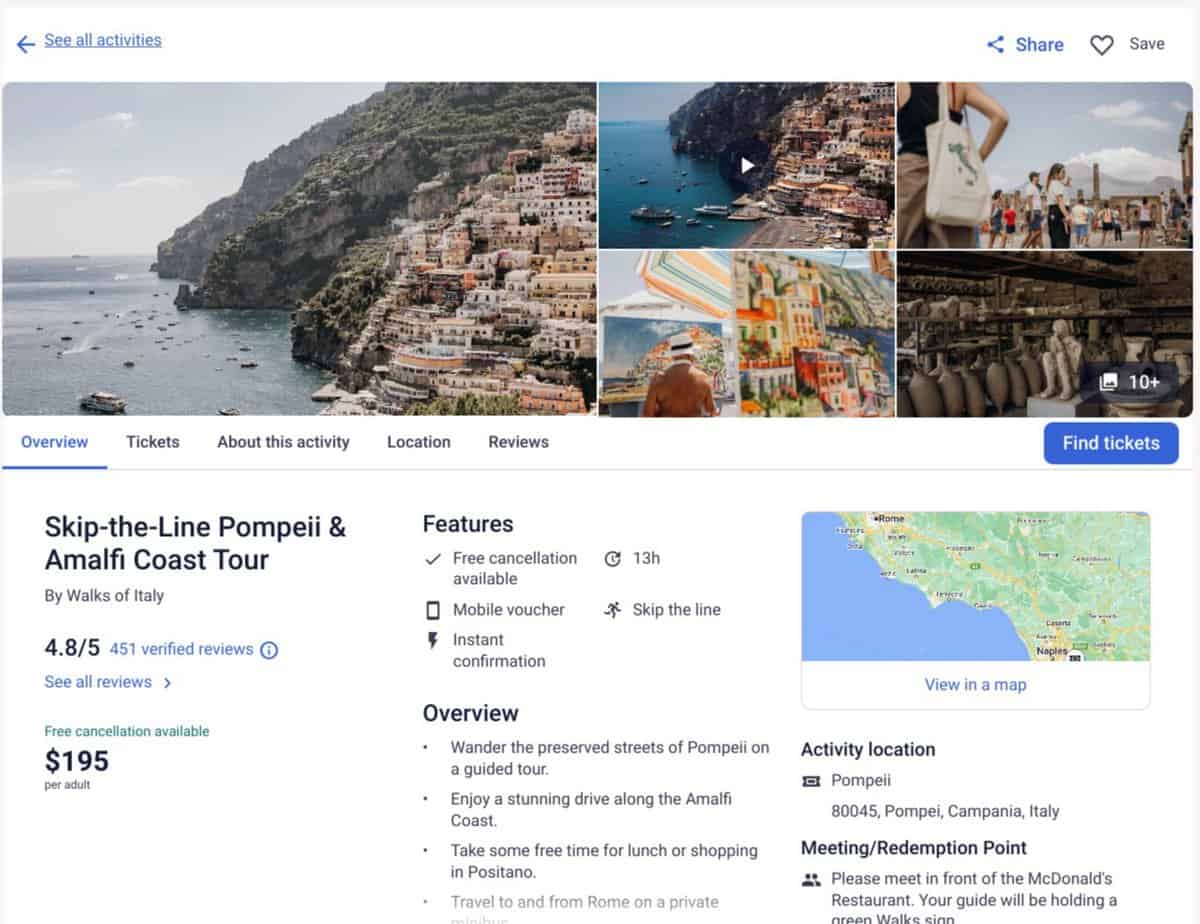 Once you've picked your chosen attraction/trip/transport, you'll be taken to a page with all the details you need. You can save these attractions for later if you're planning a trip and want to keep everything together. I find Expedia to be pretty reliable and trustworthy. However, cancellation policies can be a little tricky to navigate. I'll go into that in more detail later!
Rewards/Loyalty Points
Expedia offers some rewards for loyal customers through their program, One Key. One Key unlocks a 10% discount on thousands of hotels and up to 30% if adding a hotel to a flight. You will move up the reward tiers, unlocking access to free room upgrades in certain properties or food/drink rewards. You'll also earn OneKeyCash, up to 6%, for every dollar spent.
This is a pretty decent reward: you'll earn this on top of airline loyalty program earnings and your credit card rewards, which means you can quickly rack up a decent amount of rewards by booking through Expedia. I like Expedia for this reason: I travel often, so I often find that I can save quite a bit of cash on trips this way.
OneKeyCash can be spent on Expedia, Hotels.com, and Vrbo, but only when booking selected hotels, trips, or car rentals. Crucially, you can spend these points on flights. That means if you're taking a quick trip to visit family or to go to a meeting, you might be able to use your points to go toward the cost.
In my opinion, Expedia's reward program is pretty good and has the edge over Booking.com.
Prices
The critical question is: is booking through Expedia cheaper or more expensive than booking directly? The honest answer is that it varies. If you're just booking flights, then you might be able to find cheaper elsewhere, especially if you have a lot of air miles banked with a particular airline.
In terms of packages, though, I find Expedia pretty competitive. You can find last-minute deals here, and the ability to filter your search via price is good if you're working with a specific budget. I like the travel bundles, too. Their last-minute deals are often reasonable, and their packages often contain everything you need, so you can easily see how much a last-minute getaway will cost.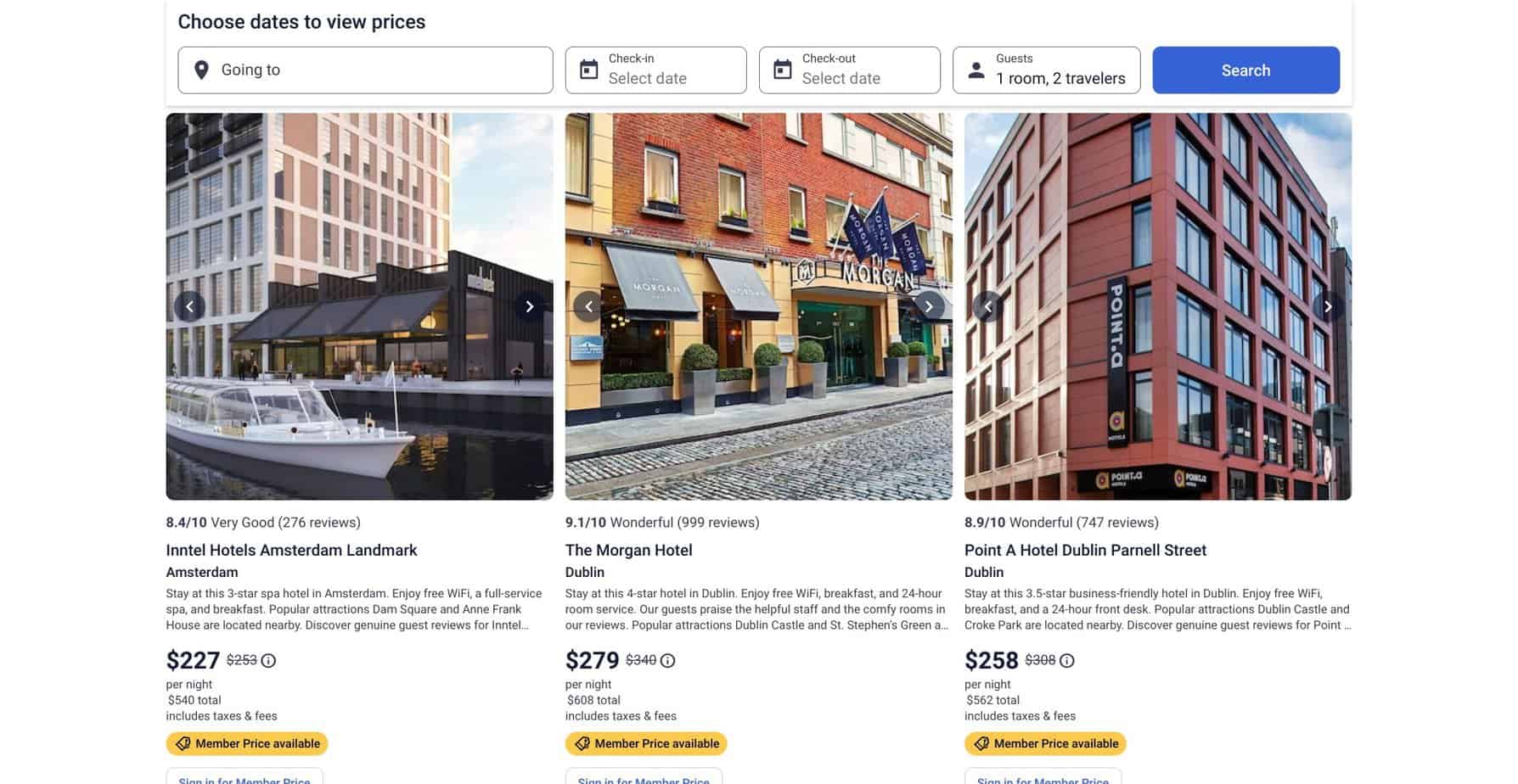 Travel Insurance
Expedia offers travel insurance, which will refund you if certain conditions are met. There are a few different types to choose from:
Package Protection Plan
Their package protection plan is the most comprehensive and entitles you to protection from:
Changing or canceling your flight
Flight delays
Early return home in the event of an emergency
Emergency medical bills
Stolen, lost, or damaged baggage
If anyone in your party is injured or killed
If you need to call someone for help
Expedia Vacation Waiver
This covers certain flight issues, for example, if you need to cancel or change your flight before you go. This is a one-time-only deal, however.
Emergency Cancellation Plan
If you have an emergency before you leave, you can cancel your trip completely. However, this must be a medical emergency and requires a doctor's note. It's only applicable for flights within the US.
Total Protection Plan
This covers you for a few emergencies. For example, if you need to cancel your trip beforehand, you can do so (but again, this only applies to medical emergencies). It protects your baggage against loss, theft, or damage, too.
Cruise Travel Protection
If you book a cruise via Expedia, this covers you if you need to cancel your trip due to a medical emergency. It also protects you if your cruise is delayed, you must pay emergency medical bills, or if your luggage is damaged, lost, or stolen.
Car Rental Insurance
This covers your expenses if events like hail, wind, flooding, and fire damage your rental car. If it's not your fault, this insurance covers the damage.
Mobile App
The Expedia mobile app is pretty easy to use. It works like the website, allowing you to book a trip on the move.
.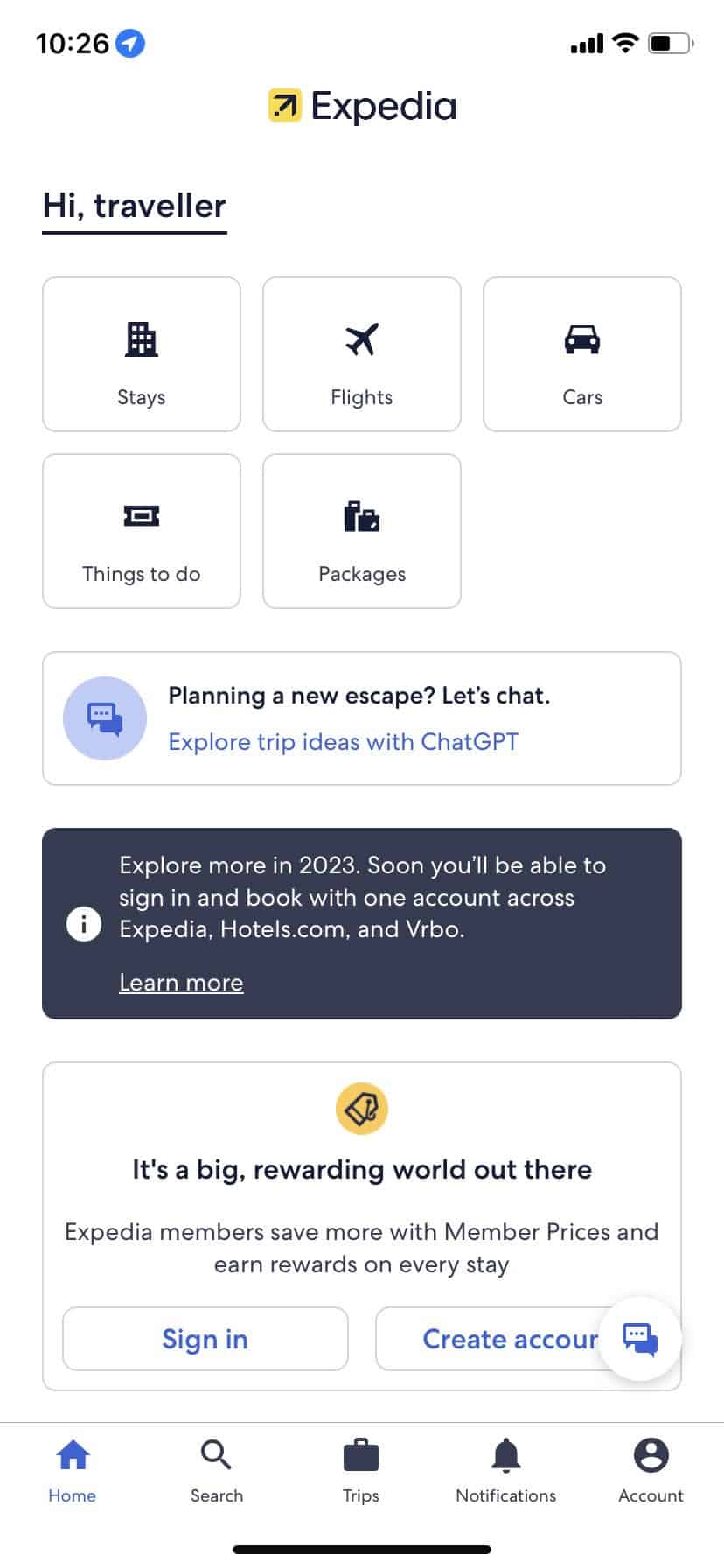 You may also save up to 20% on certain trips if you use the app, so it's absolutely worth checking on there, too!
Refund Policy
The main issue I – and many others! – have with Expedia is the difficulty in obtaining refunds. This is mostly because it's so complicated. Because every travel provider has their own policies, you'll have to navigate all of them, and even if you cancel using Expedia, you might have to work to obtain refunds from the hotels or day trips you've booked.
There are also cancellation policies to consider. You could be hit twice here, once with Expedia's own cancellation fees and once with the fees from the service provider.
The Main Features of Booking.com
Booking.com was officially launched in 2000 when Bookings.org merged with Bookings.nl. It's one of the most popular platforms for booking vacations, flights, and car rentals.
I've used Booking.com for several reasons, and I've found it pretty easy to use every time. Let's take a look at it in more detail.
User-Friendliness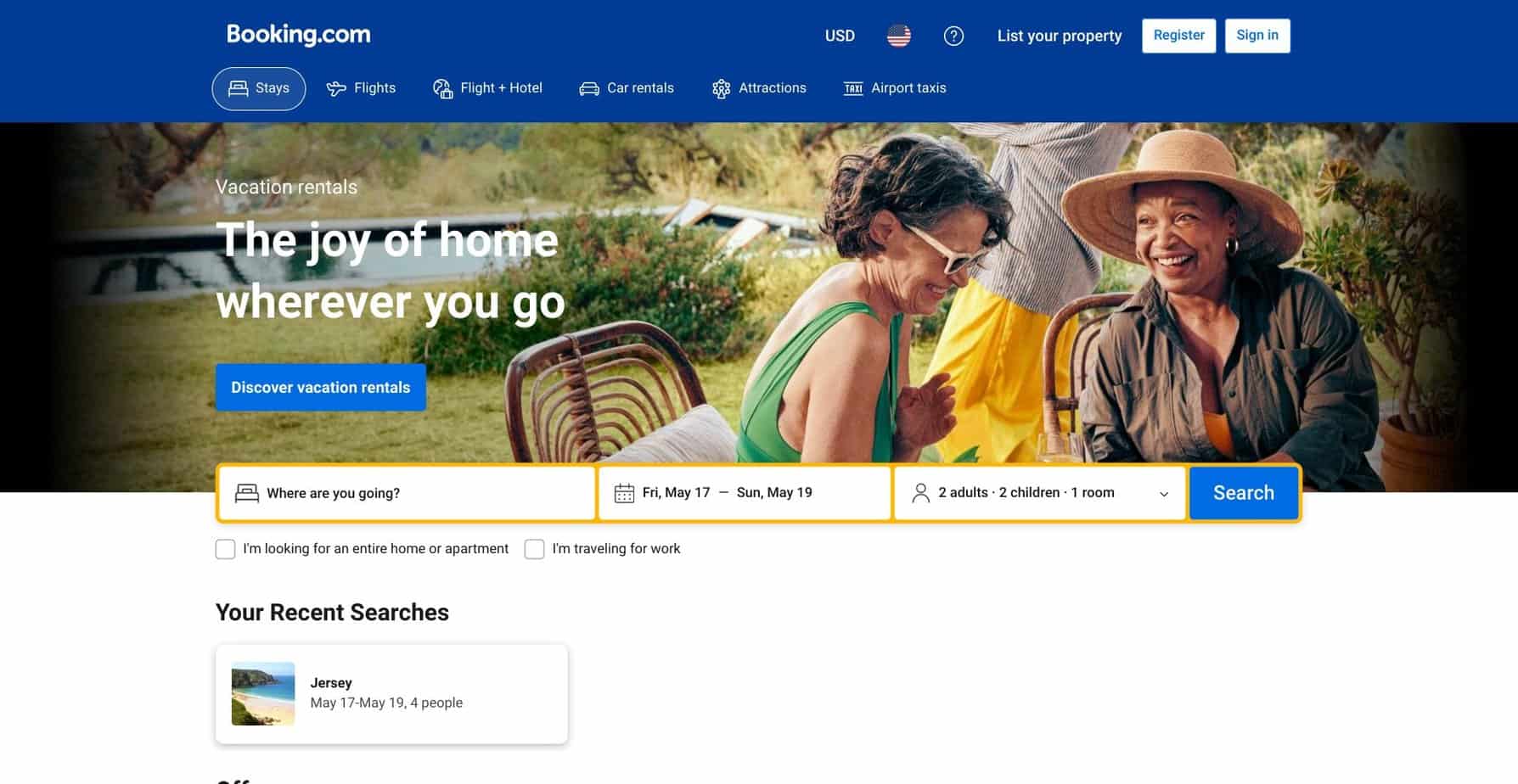 Booking.com is really easy to use. It's similar to Expedia: you can just type in your destination, the dates you want to travel, and details about your group, and it will bring up results, which you can filter via price, type, and so on.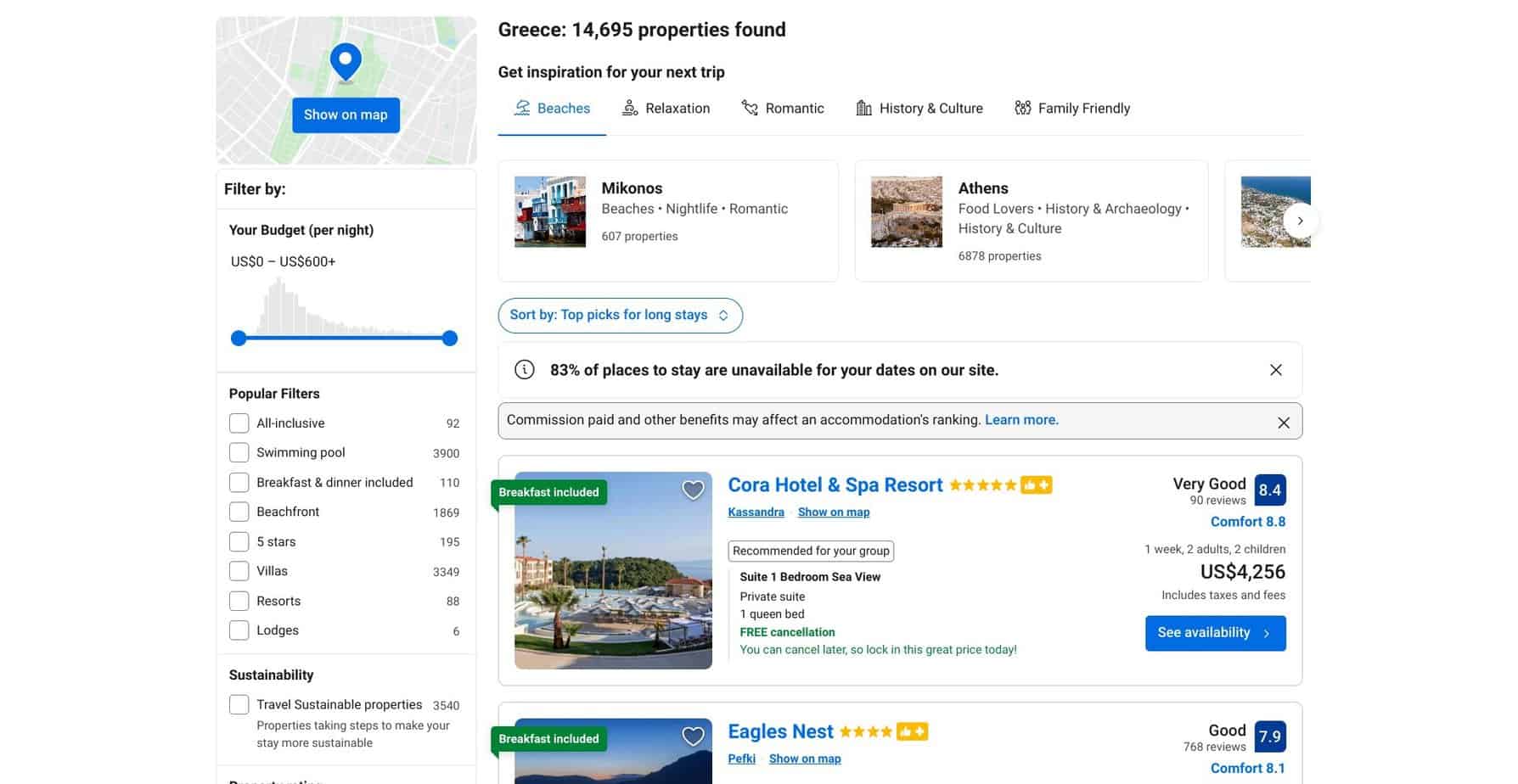 It's super easy to navigate. I also like the fact that you can filter your trip by the vibe you're looking for (adventurous, romantic, family-friendly), and you can check out their destination guides for some inspiration.
Packages/Deals
You can book the following using Booking.com:
Stays
Flights
Flights + hotels
Car rentals
Attractions
Airport taxis
I've booked flights and stays using Booking.com, and they have a good selection to choose from.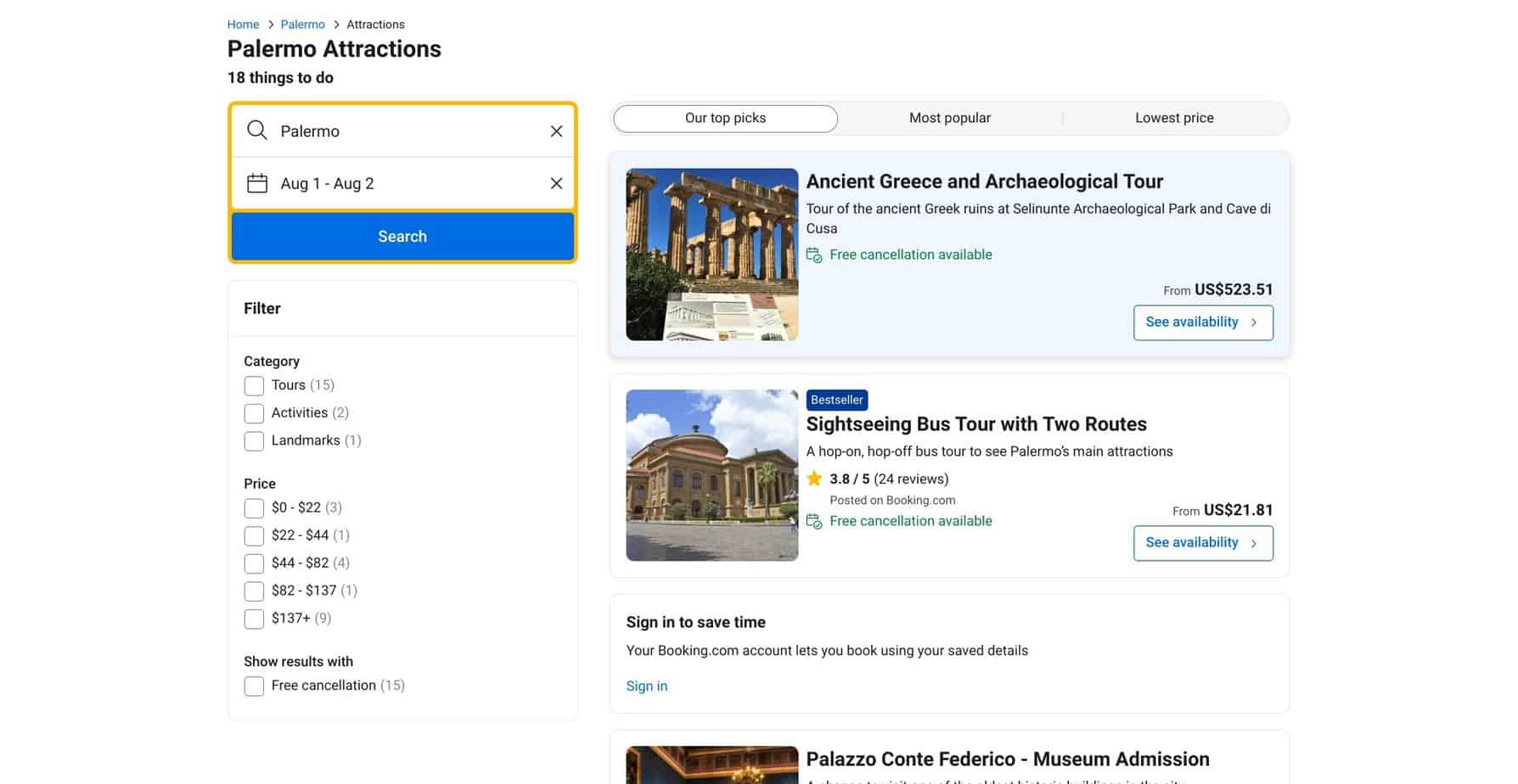 You can book day trips, and filtering through them is really easy: I like that you can sort them by price. Once you click on a trip, you can bookmark it and view details like the itinerary, meeting point, what's included and what's not included, and so on.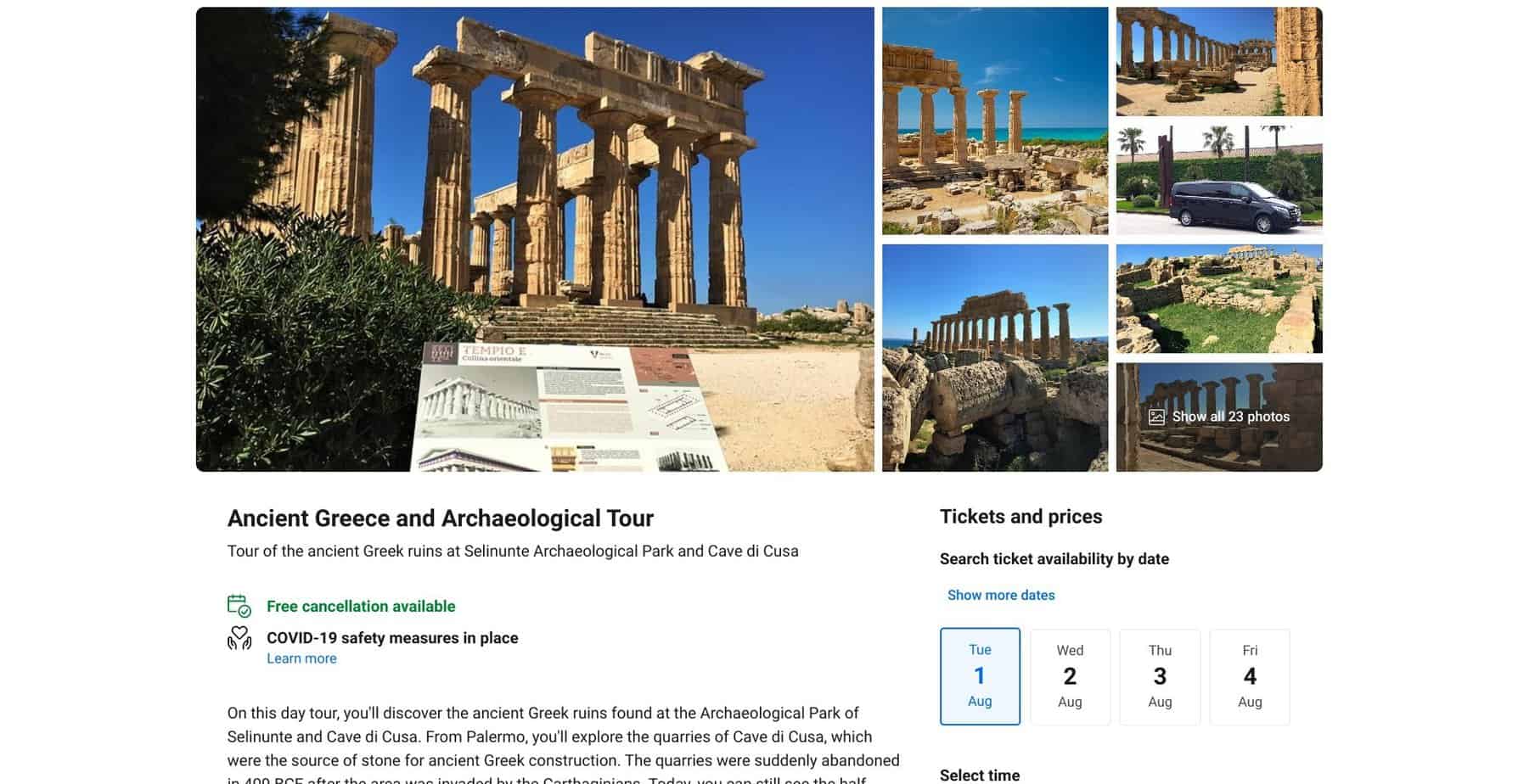 Their bundles are pretty good, and their flash sales are excellent if you can grab them at the right time. I've had good experiences with Booking.com, but if you look up other reviews online, you may see mixed responses. Some properties are not as well-maintained as they should be. I'd say the best thing to do is to look closely at the reviews for each hotel or property: these will give you a more honest idea of what each place is like.
Rewards/Loyalty Points
Booking.com has the Genius loyalty program. There are some pretty decent rewards to find here. You can climb through the levels to unlock rewards:
Level 1 – 10% discount
Level 2 – 15% discount, free breakfasts, free room upgrades for selected properties
Level 3 – 20% discount, free breakfasts, free room upgrades for selected properties, priority support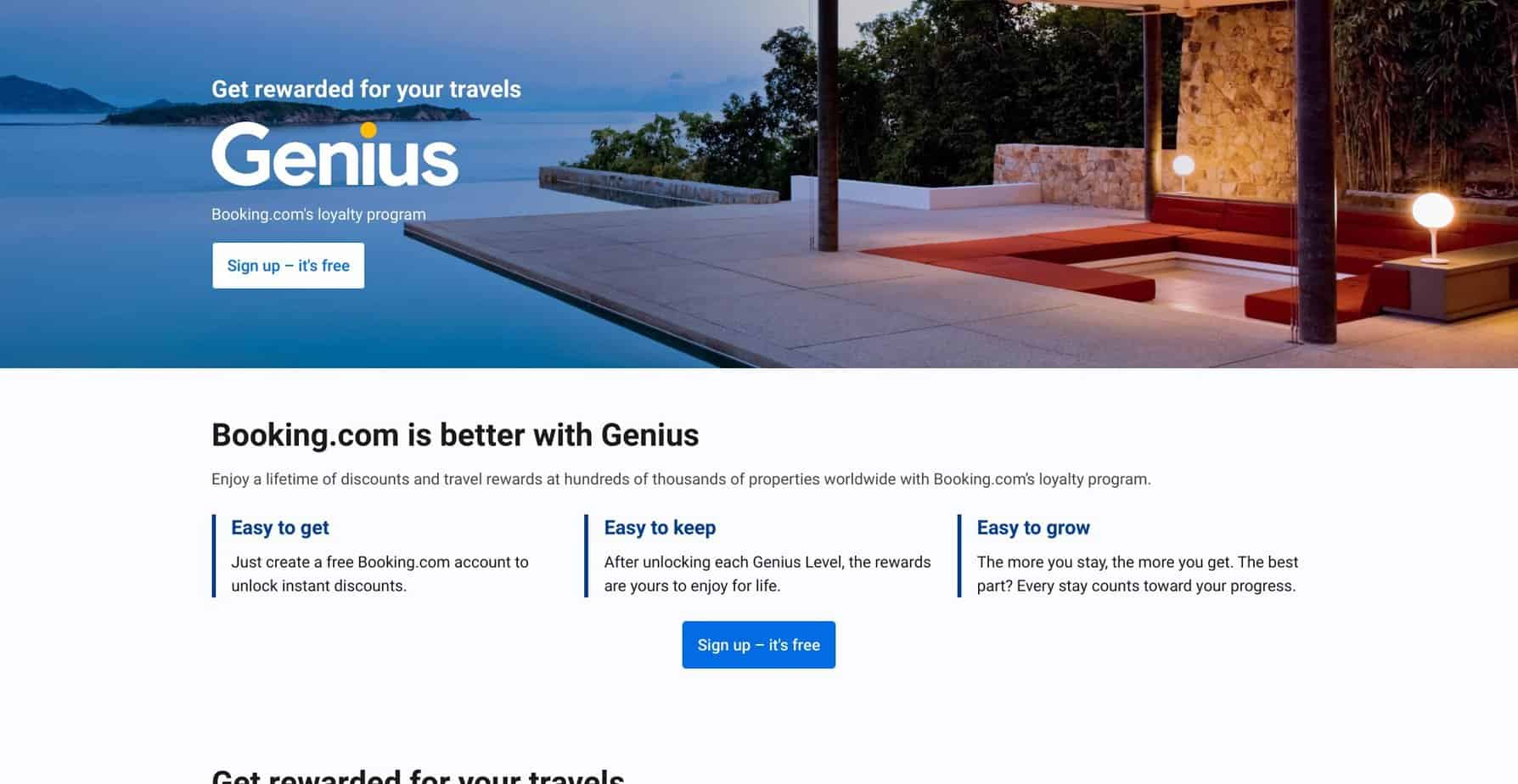 Every stay counts, so if you use Booking.com a lot, you can quickly move up the ranks. Up to 20% discount is pretty decent! A big drawback is that not every hotel uses the Genius program, so you might be limited in your destinations when you want to use your reward.
However, I prefer Expedia's loyalty program, as you'll also rack up points to use on later stays. Booking.com's reward program isn't as generous in that regard, although of course, you may still be able to gain airline points on your trips depending on which package you go for.
Prices
The pricing on Booking.com is pretty good. It's generally cheaper to book through Booking.com, although this depends on where you're going – sometimes it still works out to book flights directly, for example.
I'd say that Booking.com is good when it comes to sales. Those last-minute getaways are really affordable using their platform, especially their all-inclusive vacations. If you have some flexibility, it might be worth waiting until close to your vacation date to book somewhere – you could get a real bargain (although it's obviously a risk!).
Travel Insurance
Booking.com doesn't offer the same travel insurance as Expedia. This means you'll have to arrange your travel insurance via another service.
Each property or trip has its own cancellation policy, for example. So you'll have to consider the risk element involved in each part of the trip and plan accordingly.
Mobile App
The mobile app is really easy to use – I find it easier to use than the desktop site, in fact. You can search and book in the same way, and you can easily view your upcoming trips. You can also see your genius level and the rewards you have unlocked so far.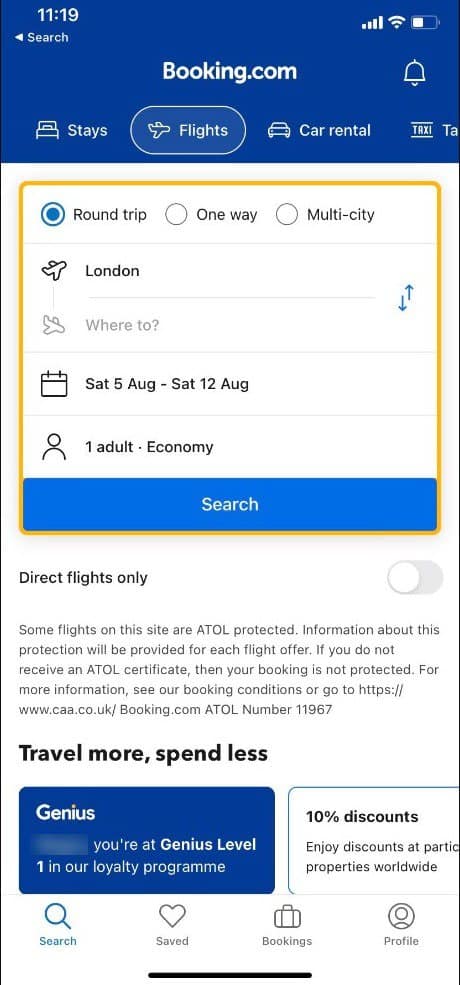 The app will send you reminders of upcoming trips, and you can view your past and canceled bookings, too.
Refund Policy
Booking.com's refund policy is pretty simple. You can cancel your trip up to 30 days before the arrival date. If you do this, there will be no cancellation fee. However, canceling closer to the time may incur a fee. If you don't arrive, you'll be charged for the total reservation amount.
You will have to read through the service provider's cancellation policy for your particular trip, as these can vary.
Expedia vs Booking.com – Pros and Cons
Let's take a quick look at the pros and cons of both.
Expedia
Pros
The platform is easy to use
Can book a variety of trips and experiences
Pricing is pretty good
The reward program is great
The mobile app works well
Cons
Refunds can be difficult to obtain
Booking.com
Pros
Easy-to-use platform
The mobile app is useful
Can book a range of vacations and trips
Flash sales are very good
Holiday bundles are good value
Cons
Reward programs could be better
The properties can vary in quality
Other Booking Websites to Consider
There are a few other booking sites you could look at, too:
Frequently Asked Questions
Before you go, here are some frequently asked questions you might be interested in:
Question: Are Expedia and Booking.com legit?
Answer: Yes, they're both trustworthy sites with good security credentials. I feel safe and confident booking trips through Expedia and Booking.com.
Question: Is it better to use a third-party site or book hotels and flights directly?
Answer: There are pros and cons to third-party sites like Expedia or Booking.com. You may be able to get better deals sometimes if you're prepared to book everything separately, directly from the provider.
However, you're usually more likely to grab a bargain with a third-party site, as they can negotiate better deals. Plus, you'll be gaining reward points or moving up tiers in a loyalty program, which is really useful.
Question: Are Expedia and Booking.com ATOL protected?
Answer: ATOL (Air Travel Organiser's License) is a program designed to protect travelers if the company they're using shuts down before or during a trip.
For both Expedia and Booking.com, if you book separate flights and accommodation, you might not be covered by ATOL. However, if you book a package vacation, you should be covered, as the law states that package holidays must be covered.
Expedia vs Booking: To Sum Up …
Expedia is far better from a frequent flier perspective. I take so many flights that I'm looking for the ability to make air travel a little more affordable. Expedia's loyalty scheme is excellent for that. I also prefer the travel insurance offered by Expedia.
Booking.com is great though: you may be able to find a last-minute deal there, so if you're a spontaneous traveler, it's definitely worth a shot. You can also move up those loyalty tiers, unlocking some discounts, and if you can find an applicable hotel, you could make some real savings!