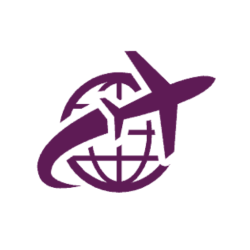 Latest posts by The Points Insider Team
(see all)
What is British Airways World Traveller Plus (Premium Economy) REALLY like? The first question asked when comparing standard economy to premium economy is whether the additional cost (usually double standard economy) is worth the price, and whether the photos on the British Airways website do the experience awaiting justice, or is it a waste of money.
In December 2021 I took a Premium Economy flight on the new 777 Boeing aircraft to really test out the service. I flew Business Class on the way out to the US (my BA Business Class review here) and flew the Premium Economy cabin on the return journey, to really compare the cabins.
I tested everything from the food, to the recline, the entertainment, and everything in the cabin. I tested EVERYTHING and took many photos to be able to provide evidence of the experience and try to explain whether I thought BA Premium Economy was worth it, and how it compared to the Business Class experience.
Unfortunately, no lounge access is included with Premium Economy tickets, so I had to enjoy the standard departure lounge, but did the comfort on board the Premium Economy seat make up for this?
The results may surprise you!
Premium Economy Check-In and Bag Drop
All airports have often different experiences from each other when it comes to the check-in process. The check-ins are managed by the airline though, so my experience is attributed back to British Airways, although I can not of course blame them for the departure area. Unfortunately, during my check-in, there were no Premium Economy check-in desks, so I had to queue with other economy passengers.
Covid checks in the US were strict and thorough, so extra time getting through check-in was expected. The experience was relatively uneventful but so far, at this point in the journey, I didn't feel that I had experienced any benefits of an upgrade ticket. With no lounge access available on a Premium Economy ticket, I enjoyed the delights of the airport delicacies whilst waiting for the departure gate to be announced.
A short walk to the departure gate meant a wait for my group to be called and could board. Of course, passengers with seats further upfront of the plane boarded first but boarding and seating before the crowds of the standard economy was a (slightly) nice touch.
BA Premium Economy Full Review – Tried and Tested!
Although not my first time traveling in Premium Economy with British Airways, this was my first Premium Economy flight on the new 777 aircraft.
First Impressions
My first impression was generally an improved look-at-feel to what can be a tired and cold cabin. The smaller more intimate Premium Economy cabin felt fresher than before and had very small but nice finishing touches.
The comfort of the Premium Economy Seat
Taking my aisle seat, I instantly noticed a few improvements and changes to the seat and seat pitch from previous Premium Economy flights with BA. The footrest had been replaced with a better design and was certainly more comfortable to use. I am 6ft, so the foot well of the seat pitch is pretty important to me.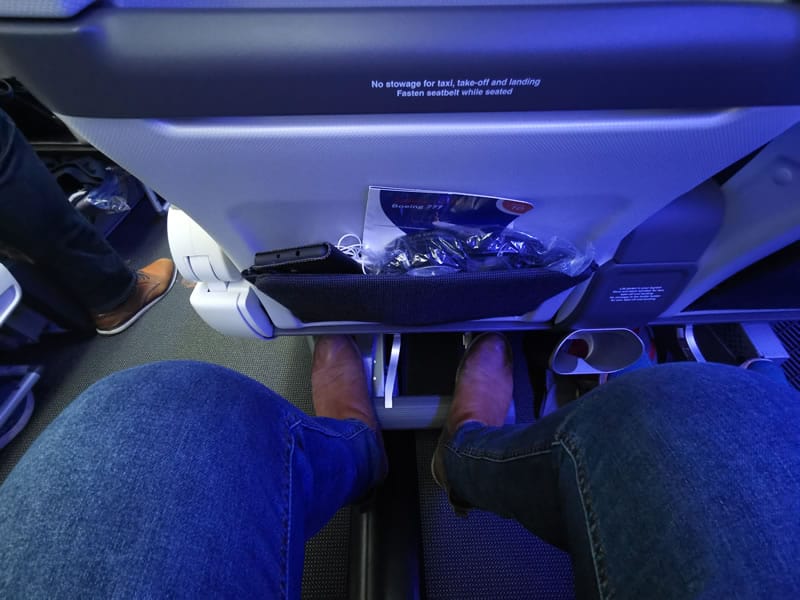 I would compare the legroom in Premium Economy to that of extra legroom seats in standard economy. The seat comes with the entertainment system in the headrest in front of you, as you would expect, as well as in-seat power to charge a laptop or mobile phone during the flight.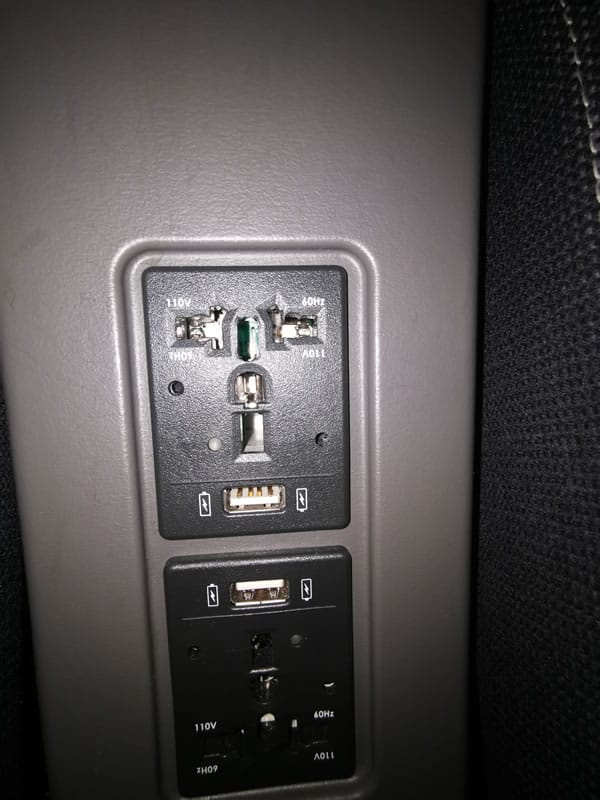 A pillow and duvet were also provided, although these are available in the standard economy too. The extra wide seat is definitely noticed, especially when compared to standard economy. The width of two seats in premium economy is close to the width of three seats in standard economy.
I had one MAJOR issue with the premium economy seat, but we will come on to that shortly.
Negatives of Flying Premium with BA
These early impressions though didn't last, and it was from here on that the value puts on Premium Economy passengers against First and Business Class is really felt. For example, onboard other airlines' Premium Economy seats for similar prices (like Virgin Atlantic) an onboard welcome drink of either champagne or orange juice is provided. It's a very nice little touch as you take your seat but is not offered by British Airways.
There is also no amenity bag unlike other airlines when flying Premium Economy. Don't get me wrong, amenity bags are not the reason I fly Premium Economy but when other airlines are improving their Premium Economy experience to add little extras on top of a wider seat, it is something you can come to expect.
After a rather uneventful takeoff, we had to wait an hour before the first drink was offered to Premium Economy passengers, as the crew tended to First and Business Class first.
The free drink was offered with a bag of pretzels. Unfortunately, the cabin crew had run out of alcohol before they reached our seats.
A visit to the bathrooms is going to be expected during a 10-hour flight, but unfortunately, the Premium Economy cabin has no bathrooms. Use of the nearest bathrooms in Business Class is not permitted for Premium Economy travelers.
You have to pass through the curtain separating the cabins and use the bathrooms in standard economy. Queues were at times busy but manageable. One of my biggest frustrations though in Premium Economy with BA and probably the main reason I would choose not to fly this cabin class again is the depth of the seat recline!
If the person puts their seat back in front of you and reclines in full, it feels as if the back of the chair is now in your lap and chest. Personal space completely disappeared. You have little choice but to also fully recline your seat to provide some personal space again – which forces the person in the seat behind to need to do the same.
Being comfortable on a flight is of course important, and why premium tickets are purchased, but this can not come at a cost of personal space whilst traveling for so many hours!
Food and Drink
Being a vegetarian, I was disappointed to see that the vegetarian food options had almost run out by the time our seats were reached by the cabin crew for the meal of the flight. Fortunately, I was able to take one of the last but felt sorry for any vegetarians behind me in Premium Economy, and anyone vegetarian in standard economy.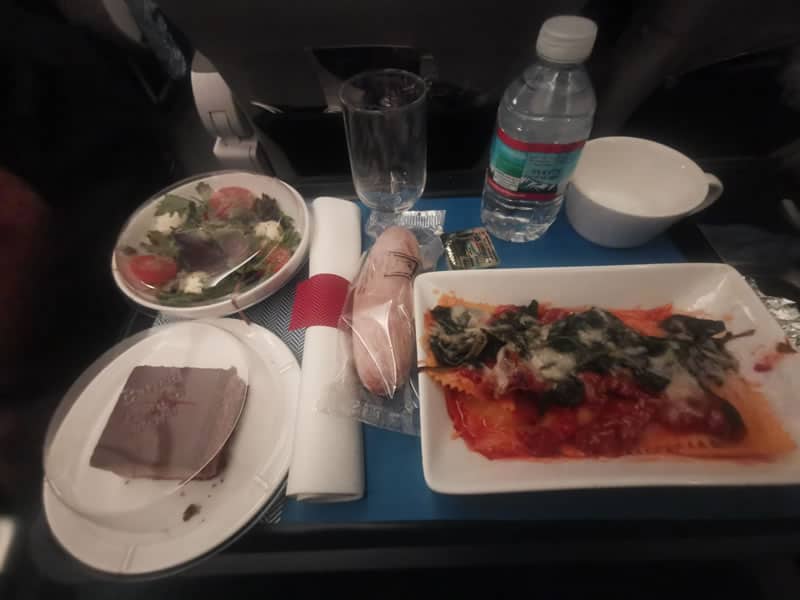 There of course is an argument for pre-booking a meal before your flight.
I would definitely suggest this when booking a BA flight, although in my defense there were no vegetarian options available for pre-booking. Specially prepared gluten-free and vegan options were available, but Vegetarian was not a pre-bookable option. In the future, I would book a vegan meal just to ensure I could eat a meal on the plane, especially for my upgraded premium economy fare.
The last food to be served was 2 hours and 45 mins before landing, which was a filled roll and a muffin. Unfortunately, the only filled rolls available were ham and cheese. Again, no catering for anyone who does not eat meat.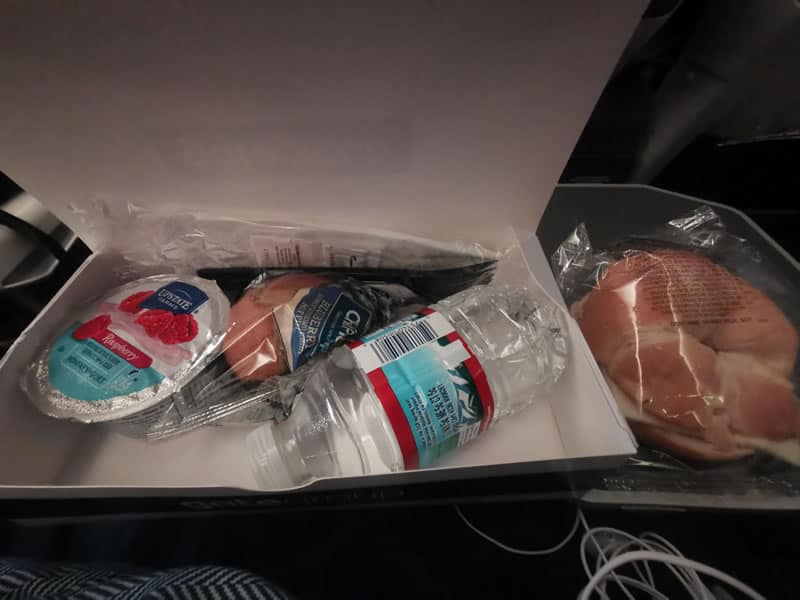 I do not expect any service to cater to my specific personal eating choices but to provide one food option which contains meat seems a little narrow-sighted in today's age of choice. That being said, the muffin was nice!
After Landing
As expected, First and Business Class passengers left the plane first with Premium Economy passengers following. Due to Covid regulations, all passengers had to remain seated after landing until their row numbers were called and they could exit the plane. Although a Premium Economy passenger, they were no priority baggage collection available. The wait for baggage took around 45mins from plane departure.
Is BA Premium Economy Worth It?
Value for money is always the biggest consideration when trying to see whether any service or experience is 'worth it. For me, I would struggle to see the additional value given in the BA Premium Economy service if the cost was more than 30% of the standard economy service.
Especially of other competitor airlines that flew the same route, and also offered premium economy. The service certainly has value. The smaller cabin, extra legroom, and wider seat are certainly most welcome during a long-haul flight of six hours or more.
It is difficult not to consider the lack of food and drink options a factor, but I would also imagine these shortages are perhaps attributed to Covid logistic delays of supplies than being an issue that happens often. The crazy amount of seat recline has to be looked into. People value personal space in equal measure.
It is a shame that little touches like a welcome drink, use of the premium bathrooms, and better food and drink choices aren't made available to premium economy passengers as they are with other airlines.
Is BA Premium Economy Much Better than Standard Economy
The BA Premium Economy experience does is notably better than the standard economy. A wider seat, and more leg room, are by far the best benefits on offer. Unfortunately experiencing Business Class only a few days before highlighted the service gap between the two experiences but compared to the standard economy alone any passenger will notice the benefits.
Until you reach your seat on the plane the pre-flight experience is virtually the same. One factor I haven't really mentioned is that Premium Economy cabin seat rows are set in 2-4-2 rows, meaning two seats together before the left-hand aisle then four seats together in the middle, before the right-hand aisle, and a further two seats.
This is great for two people traveling together who wish to sit together without a third person joining you, which is almost inevitable during busy flights. If you are a Gold or Silver Tier member you can book your seats for free at the time of booking. For those with Bronze Tier membership, you can book your seat up to 7 days before you fly.
Those with Blue Tier, or not a current BA Executive Club member, will have to pay in advance to choose your seat or you can choose your seat for free when checking in, which is exactly 24 hours before you fly. If the two seats together are very important to you, and part of the reason for upgrading to Premium Economy, it may be advisable to pre-book and pay to choose your seats to save disappointment during check-in.
FAQs
Question: Is BA World Traveller Plus the same as Premium Economy?
Answer: Yes, BA World Traveller Plus is the name given by British Airways to their premium economy service. It is worth noting that on smaller short-haul planes, mainly to Europe, there is no premium economy cabin, only Euro Traveller (European short-haul economy cabin) and Club Europe (European short-haul business class cabin). Premium Economy is only available on long-haul flights.
Question: Can you access the BA Lounge with Premium Economy?
Answer: Unfortunately, you can not access the BA lounges with a Premium Economy ticket. The BA lounges are only available to First, Business Class and Gold Tier members, as well as One World Alliance members with the right tier levels. Many airports offer independent lounges where access can be booked in advance for a fee.
BA Premium Economy Review for 2022 – The Insider's Notes

After a BA Club World journey only a few days before, the BA Premium Economy experience appeared a disappointing alternative. The lack of food options and drink onboard during my flight may not be standard, but little touches like amenity bags and a welcome drink can make a big difference.

The seat pitch and legroom are noticeable upgrades from a standard economy seat. Those taller travelers will almost certainly notice the difference. There are definitely ways BA can improve their Premium Economy experience, but if you can get an upgrade to Premium using your Avios or a for a good price against the standard economy price, you will for sure notice the difference!