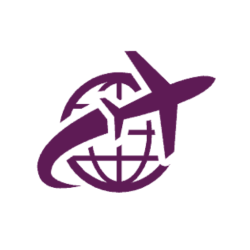 Latest posts by The Points Insider Team
(see all)
It may come as no surprise that the Avios needed to fly to Sydney, Australia, is the highest number of air miles needed to fly to any destination in the World. Considering it is further away in terms of distance, it comes as little surprise. Also, after nearly two years the Australian Government has decided to open up its borders to travelers and tourists as a result of the growing relaxation of travel rules across the globe due to the Covid pandemic.
Those with friends and family down under will finally be able to meet loved ones once again.
65,000 Avios Points are needed to fly from London to Sydney and return in Economy during off-peak. 100,000 Avios are required during peak times. 130,000 Avios are required in Premium Economy (off-peak), 250,000 Avios are required in Business Class (off-peak), and 340,000 Avios in First (off-peak).
Avios reward flights to Sydney are often taken very quickly. At the time of writing there are the following number of Avios reward seats available to Sydney over the next 12 months:
303 in Economy
40 in Premium Economy
2 in Business Class
0 in First
Australia Travel Borders Open in 2022 for Travellers
Since 2020 the borders to Australia have been closed to UK travelers and backpackers due to the Covid pandemic.
For almost two years UK residents have had to remain patient waiting for the announcement by the Australian Government that the borders were about to reopen and were happy to welcome British holidaymakers and business travelers back onto their shores.
Fully vaccinated UK residents will be able to travel to Australia from 21st February 2022. Travelers will need to be double vaccinated at a minimum and will require proof of a negative Covid test up to 72 hours prior to the departure time of the scheduled flight. There are many destinations BA passengers can fly to with British Airways either direct on BA flights to destinations such as Sydney, or through partner share flights with Australian airlines Qantas.
How to Find Avios Reward Flights to Sydney
The cheapest way of finding Avios reward flights to Sydney is to search on the British Airways website. You will first need to log in to your BA Executive Club account and make a flight search using the 'Flights using Avios' option. Unfortunately, this is a very slow way of searching for Avios flights although this is the easiest if you have very specific dates in mind for a trip, where flexibility is not an option.
Alternatively, a call to the British Airways customer service department will provide the same results, although they have the software to check a range of dates simultaneously. This method comes with a per-minute call cost to call British Airways, which is frustrating if you want to pay to book a flight.
There is another method.
Seat Spy is a really handy tool to search for all flights across an 11-month period to any destination, and it will tell you – in a very clear and easy-to-read way – on which days reward seats are available, and which class they are too.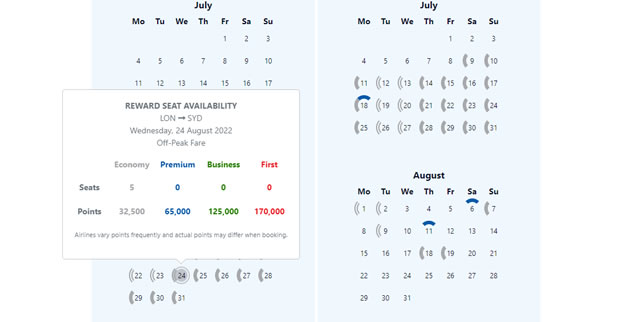 An account with Seat Spy is free, and you can make a number of free searches for economy flights worldwide, but if you want to make lots of searches, or check reward seat availability in higher cabin classes from Premium Economy up to First, you'll need a premium subscription.
Subscriptions range from £2.99 to £7.99 a month depending on access and how quickly you'll receive notifications on new reward seat releases, but if you fly a lot of have thousands of Avios to spend, this can be invaluable, so you don't miss out on the flight you want.
Why are Avios Reward Flights to Sydney Hard to Find
Flying for 22 hours is tiring and frustrating enough but doing so back in Economy in a standard seat – especially if you are tall – can be nothing short of a nightmare. Also, flights to Sydney are very popular meaning British Airways know it will regularly sell out of standard-price seats.
More reward seats have recently become available by British Airways, but popular flight destination reward seats to places such as Sydney are still hard to find.
The popularity of the destination, and the desire to move as far up the cabin classes as possible without paying full price means low supply is up against high demand.
With premium price tools such as Seat Spy, which provide customers on the top package immediate WhatsApp alerts for any new reward seats appearing by British Airways to their tracked destination, it means without such tools and services you are left fighting for the remaining reward seats that have a generally higher supply than demand.
It also depends on how regular the flights are.
Flights to destinations that fly multiple times each day have more flights, more seats, and more reward seat availability. But longer, further destinations, that do not offer such a regularly running flight schedule, means anyone wishing to book a reward seat must book as soon as they become available.
Avios Needed to Fly to Sydney – The Insider's Notes
The good news is the Australian borders are opening up to UK holidaymakers, and business travelers, from February 2022 after nearly two years of border restrictions. Those with huge accounts full of Avios could take advantage now of flights to Sydney from 65,000 Avios up to 400,000 Avios depending on the time of year you fly, and the cabin you wish to fly in.
Reward seat availability to Sydney is often low, and seats are taken quickly. Services and premium tools such as Seat Spy can help Avios holders find reward seats as they become available.