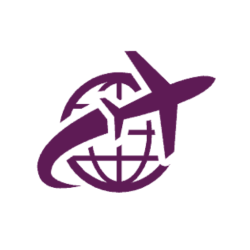 Latest posts by The Points Insider Team
(see all)
So, what is British Airways Club World (Business Class) REALLY Like? Is it worth the price, are the benefits as good as they sound, and do the photos on the British Airways do the club world experience justice, or is it just a let-down? I recently took the new Business Class seat on the Boeing 777 aircraft for a spin and tried and tested EVERYTHING important to most travelers, so I could write this full BA Business Class review and tell you whether it really is as good as the hype – and took many (many) photos for you as evidence.
The new British Airways Club World (Business Class) service is worth the price for service, attention, and most importantly space. The busy business Club World lounge frustration is offset with the new business class suite onboard, with a closing door, welcome glass of champagne, and private space.
On board, I tried out the Club World lounge at Heathrow terminal 5, as well as tested out the new suite, food options, amenities, comfort for the duration of the flight, and attentiveness of the crew. I'm sure you'll find the results of interest!
Sidenote: For comparison, I tried and tested the new World Traveller Plus (Premium Economy) with a whole different and surprising experience, find out why here!
Business Class Check-In, Bag Drop, and Fast Track Security
With any Business Class experience, you should find a fast check-in, bag drop, and fast-track security option a breeze.
Was it really like this though? At the time of writing, Covid still requires additional checks at the airport and face masks throughout the journey. This means completing all the pre-required checks, Covid vaccination statuses, and pre-flight test certificates in advance for a smooth check-in experience.
With British Airways this can be done through the VeriFly app. It's relatively pain-free and saves time – well it will save time for you but unfortunately, many passengers will not be as prepared as you. Although I was in the Club World check-in queue it moved slowly, until some very smart BA employee made arrangements for those queuing in the Club World queue (with only 3 members of staff serving) to go forward into the exclusive First Class check-in area for check-in.
This thought was after a 45min wait, whilst check-in staff frantically made phone calls to see whether passengers without the correct documentation could board. Considering the very small number of First Class passengers, there were approx.. 10 members of staff checking First Class customers in here, hence no queue! Why there was 3 staff checking in a large queue of Club World passengers, and 10 staff checking in very few First passengers seems a puzzle no one was interested in at the airport in solving.
Fortunately, being prepared with the VeriFly app helped, and I was checked in within a couple of minutes. Fast track security was empty, and I was through within a minute or two. My suggestion is to arrive at the airport in plenty of time, especially if Covid restrictions and certificates are required to fly. This way you will not feel panic as person after person in front of you in the queue spends around 5mins per person to check in, and you will also have time to enjoy the lounge.
My other suggestion is to use the VerfiFly app to upload all requirements in advance. It will save so much time for you, and all those queuing behind you!
My Club World Lounge Experience – Heathrow Terminal 5
As often is the case in the BA Club World lounge – it was busy! The BA Club World lounge itself is quite a sizeable area in Heathrow Terminal 5 and has a large number of seats, but it can be really busy. Private toilet facilities, as well as free and unlimited food and drink, await you. Although there was no champagne in the Club World lounge (as I overheard a few other passengers mutter and complain to themselves) there was a range of Proseccos, wine, beers, spirits, and soft drinks.
You can help yourself to the free snacks – including mince pies which were a nice seasonal touch – at the time you wish throughout your stay at the lounge. After finding a seat you can order food through the BA website shown on the table you are sitting at or access it through the handy QR code. A small choice of both meat and vegetarian options was available – as well as afternoon tea, which consisted of three sandwiches and a wedge of cake. Delicious.
Almost every seat had power options for last-minute charging of phones, laptops, and tablets. The Club World lounge was busy, and it didn't necessarily feel as if you were escaping the hustle and bustle of the airport terminal, but the free food and drink in a comfy chair certainly didn't degrade from the overall Business Class experience.
The New BA Business Class 777 Suite Full Review – Tried and Tested!
There has been a lot of excitement around the new BA Business Class (Club World) 777 Suite! What makes a business class seat into a business class suite – the answer is, a sliding door!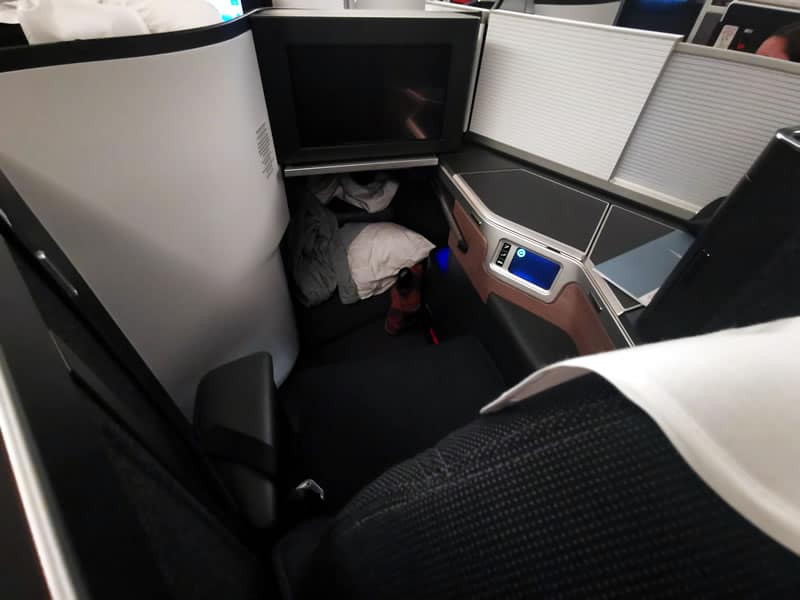 As you step onto the plane and are directed to your seat by the smiling cabin crew at the front door, you'll notice you almost step into your suite, rather than sit down at your seat. A small but subtle difference. Before take-off, the suite door must remain open but is unlocked by the cabin crew after take-off.
First Impressions – Club World Seat
First impressions can be everything. The flight I took was a long 11-hour flight to Las Vegas, so I certainly had time to try and test everything around me. Climbing into the new BA Business Class Suite felt like climbing into the cockpit of a Ford Mondeo. All the necessities and amenities around you, are elegantly done, but a tiny bit cramped. I am 6ft tall and of average build, and the reality is I never felt truly cramped, although the footwell could have been slightly taller – but was used to house the electricity and wiring of the large HD 18-inch TV directly facing you.
The sleek and elegant panel finish resembled the sweeping stream of the BA logo. Whether intentional or not within the design it looked and felt premium.
As well as a remote control for the touchscreen TV, there was an additional touchscreen panel to control the versatile seat. The footrest could be moved up and down, as well as the recline, by the panel. It also had two further options to convert to a fully flat bed – or a handy button to take the seat into the take-off and landing positions when needed.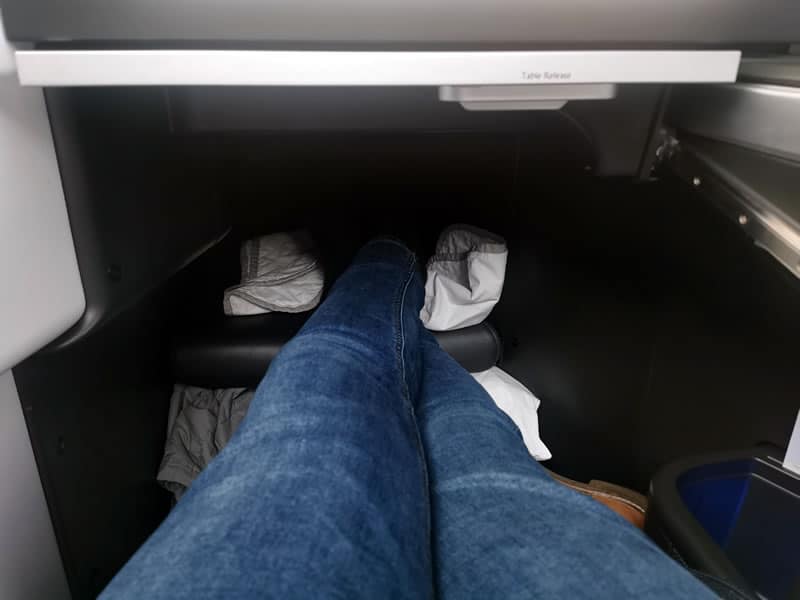 User friendly and has a nice design.
If there are two of you traveling, you may find it better to choose the middle two seats in a row of four. There is a sliding panel between the seats which can be opened to talk and still feel as if you are sitting next to someone – or if you are traveling on business and prefer some private space without the awkwardness of closing the middle sliding panel against a colleague, then choose one of the window seat suites!
There was an abundance of small cubby holes and compartments to put your stuff away from sight, just remember to check them all before you leave the plane as it would be easy to leave something behind!
Comfort
So how comfortable are the new 777 BA Business Class Suites? The new 777 BA Business Class seats are very comfortable. The seat contours to almost any position, as well as a comfortable footrest and plenty of storage space. There is also an armrest that lifts up and down from the seat, creating an armchair-type feel. After a long 11-hour flight I felt I could have flown for another 11 hours without a problem.
The comfort of the Club World suite is a huge step up from the comfort of Premium Economy, and a milestone step up from standard Economy.
Lay Flat Bed
The Business Class seat converts into a full lay flat 6-foot bed. This is perfect if you need some sleep in between business meetings, or even if you're traveling to or from a holiday destination overnight. As you entire your suite you'll notice some welcome bedding.
It consists of a small pillow (about three-quarters the size of a standard pillow at home) as well as an under-sheet to lay on, and a thin duvet as a blanket. I usually find it a struggle to sleep in Economy or Premium Economy but had no issues sleeping for around 6 hours in Business Class. The amenities bag (that I will come on to shortly) included a sleeping eye mask and a pair of socks.
With the suite, door closed you really do feel as if you have your own personal space to relax and sleep.
Entertainment
The BA Business Class suite comes with a full HD screen (estimated 18 inches) with a range of movies and TV shows.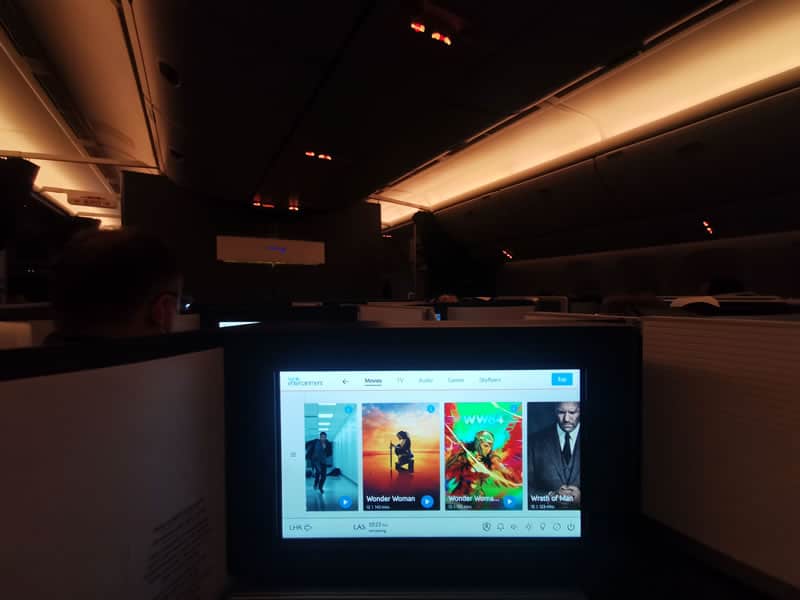 The HD screen is fully touch screen, and inside one of the compartments is a handy remote control. It is worth noting the entertainment viewed is the same regardless of whether you fly Economy, Premium Economy, or Business Class. Unfortunately, I personally found the movie choices and TV shows a little dull and limited. I am sure most people would find something to watch, and almost everyone in the Club World cabin looked to be watching TV, but despite flying around 22 hours return I didn't really find anything to watch – so enjoyed some pre-downloaded TV shows on my phone instead.
Amenities
On your seat, as you enter your suite, you'll find an amenities bag waiting for you.
My amenities bag contained:
Eye mask
Socks
Moisturizers and lotions
Pen (handy for completing landing cards!)
Toothbrush and toothpaste
I doubt many of us would opt to fly Business Class for the sake of a small amenities bag, so I think the photo and content list is enough detail here.
Food and Drink
You'll be given a food and drinks menu shortly after taking your seat. I have tried to take some photos of the menu for you, although the cabin was quite dark at the time.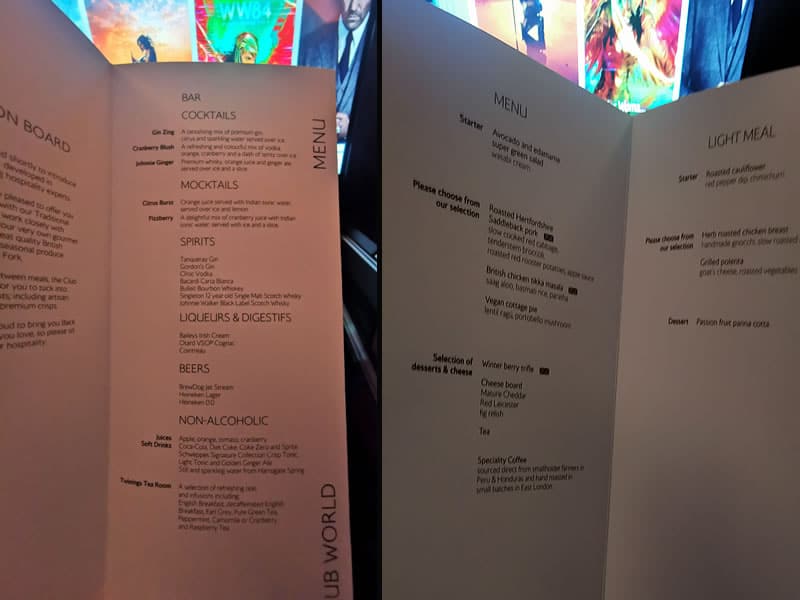 As well as a selection of meat and vegetarian dishes, you can pre-order food ranges before you fly through your booking on the BA website. The food is served on china plates with silver cutlery. I had the vegan cottage pie which was very nice, as well as a glass of wine and a couple of exclusive BA Brewdog beers for the flight. There are snacks available during the flight – I will come on to these next.
I found the food range and choices in Club World to be much better than those offered in Premium Economy (for comparison purposes).
Snacks on Board
Throughout the flight there are a selection of snacks (mainly biscuits) as well as water, wines, and fruit juices in the galley between the two Club World cabins.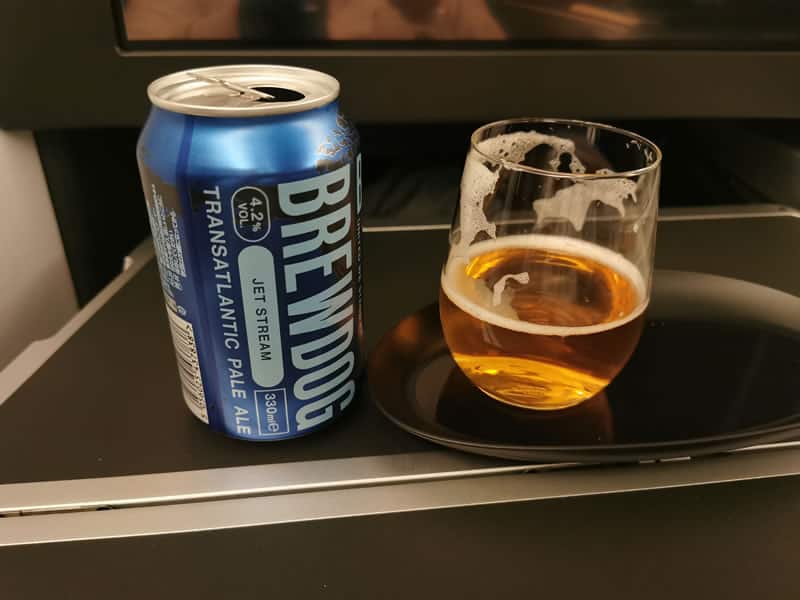 You can help yourselves to these as much as you like throughout the flight, and everything here is free.
After the food in the BA Club World lounge, as well as a sumptuous meal and pudding, you may not feel like any more food – but who can resist a sneaky packet of biscuits on the way back from a bathroom break?
WiFi
WiFi is onboard – but it is not free to even Business Class passengers! I really think BA is missing a trick here. The cost of full streaming WiFi access for the entire flight I took was £14.99, or it was just £4.99 for enough data to message people on the ground for the entire flight. This was cheaper than advertised on the BA website before I flew, so perhaps Perks such as these seem to be stripped back now from Business Class, which makes it a less attractive service against other business class offerings from competitors.
The messaging WiFi package was tried and tested. It was ok but struggled to get a service at times. WiFi is only free to First Class passengers.
After Landing Experience
Many airlines have been instructed by the airports not to let all passengers leave at once. So as the plane lands and taxis into place, the usual chaos of everyone at the same time scrabbling to their feet, forcing open the overhead locker and throwing down suitcases like it's a competition to win a First class seat – people now need to remain in their seats and only collect belongings from their overhead lockers once their row is called.
First passengers will of course disembark first followed by Club World. Club World on the new 777 planes are in two sections, a front and back section. Passengers in the front section are the first to be served food and drink and the first to disembark the plane, before the second section and then World Traveller Plus (Premium Economy). If you pre-book your seats – which you can for free if you're a Gold or Silver Tier member, or from 7 days before your flight if you're a Bronze Tier member – you may want to choose the front cabin. Club World passengers' baggage is also prioritized off the plane, so you should find your bags one of the first in baggage claim. Mine was.
How to fly in the BA Club World Suite for Free!
Avios is the best way to fly in the new BA Club World suite for free!
Depending on your destination (check out the Avios Air Fare Calculator here) you could fly in the BA Club World suite from 110,000 Avios.
This is based on a long-haul off-peak flight to New York.
Collecting this many Avios is doable, depending on your spending habits.
For example:
25,000 Avios – BA Amex Plus Card application (and spend £3,000 in first 3 months – although there is an annual £250 fee)
25,000 Avios – Open a Barclays Premium Account with BA add on
10,000 Avios – Insurance switches per year
These three items alone would earn you more than 50% of the Avios you need for the standard 110,000 Avios fares. During an Avios sale, this price could be even cheaper!
Add in Nectar point swaps to Avios for grocery and petrol spending, earnings for hotel and holiday spending, and shopping online through the BA Shopping Portal whenever you can, really can make those Avios grow quickly! If you did take out the BA Amex Plus Card and spent £10,000 on the card in a 12-month period, you will receive a companion flight voucher.
This voucher means two people could fly on the same flight for the one Avios flight price of 110,000 Avios! – using the New York example again. It is worth noting that only the flight seat price is free when using Avios, you will still need to pay the taxes and fees. On a Business Class flight this is on average 20-30% of the flight cost but considerably cheaper still than paying full fare!
Is BA Business Class Worth It?
Value for money is very relative, and usually 'is BA Business Class worth it is the most commonly asked question. For me it is worth it for a long-haul flight of more than 7-8 hours, but only if you can get Club World for no more than 4x World Traveller (Economy) or 2x World Traveller Plus (Premium Economy). If the cost of Business Class is 8x-10x the cost of Economy then you are paying for a higher demand in the service, rather than really what the service is worth based on pitch size, fast tracking and free food and drink.
Upgrading a Premium Economy fare to Club World is the best way to stretch those Avios points across multiple flights, especially when the Business Class fare is considerably higher than Premium Economy. Now the point of The Points Insider (excuse the pun) is about collecting points not paying full cash fares.
This is why it is important to take advantage of Avio's earning potential.
I used collected Avios points to upgrade to Club World and spent no more than I would have done day to day to get there.
A one-way upgrade from Premium Economy to Business Class can cost from just 20,000 Avios to New York. 20,000 can almost easily be collected in a year. I have shown some examples already, but another way is a one-year subscription to The Spectator magazine for £179. This will give you a reward of 12,500 Avios as a bonus. The remaining 7,500 Avios can be made with a few online purchases through the BA Shopping portal as well as Nectar transferred to Avios through shopping at Sainsbury's and filling up your petrol tank at either Esso or Sainsbury's petrol stations.
Is BA Business Class Much Better Than Premium Economy?
BA Business Class is considerably a better service and experience than BA Premium Economy. Unfortunately in my experience is that the BA Business Class is a good service in its category, but BA Premium Economy is poor in its category – which widens the difference between the offerings. Would I upgrade from economy to premium economy at double the price – probably not?
Would I upgrade from economy to business class at four times the price – probably yes.
Premium Economy in BA is just an extended Economy service rather than an enhanced one. There is a separate cabin, wider seat, and more legroom – but no dedicated check-in desks, no pre-departure drink, the same food choice as the economy, and a ridiculously large seat recline hampering any personal space you thought you gained – take away the premium nature of the service.
FAQs
Question: Is BA Business Class the same as BA Club World?
Answer: Yes, it is exactly the same thing. BA Club World is the long haul offering to Business Class, whereas BA Club Europe is the short-haul offering to Business Class.
Question: Is BA Business Class back to normal?
Answer: It is getting there. Masks have to be worn at all places at the airport, including the Club Lounge – and throughout the duration of your flight unless you are eating or drinking. Check-in times are longer due to increased Covid checks.
Question: Can you choose a seat for free on BA Business Class at the time of booking?
Answer: No! – This I think is a very poor marketing decision. After sometimes spending thousands of pounds on a Business Class seat the majority of travelers will need to pay extra to sit together and by as much as £110 per seat each way!
This means a couple will spend up to an additional £440 just to choose seats for a return journey! If you are a Gold or Silver Tier status member you can choose your seat for free at the time of booking, but this will usually be a small number of flyers. If you made it to Bronze Tier status you can choose a seat for free up to 7 days from the date of departure.
For everyone else, you can either pay to choose your seat or take the gamble that seats together are available 24 hours before check-in opens, which can be done for free.
Top Tip: Seats can be selected for free in all cabins exactly 24 hours from the check-in time. If you can be one of the first to check-in, you will have a greater seat choice selection.
Question: Do Business Class seats really lie flat?
Answer: Yes, they do! – Even for someone like me who is 6ft in height.
Question: Is there a dress code for BA Business Class?
Answer: Not really. You can wear casual clothes. No suits or fancy dresses are required.
Question: What is so special about BA Business Class?
Answer: In part, it's the expense that adds exclusivity, that adds desire, but this can be said of all expensive commodities. The other part is that you remove all the frustrations of traveling like lengthy queues, crowded airport terminals, and cramped seats. With fast check-in, fast security clearance, a business class lounge for free food and drinks, and personal space onboard with no one sitting next to you, or reclining their seat in front of you, it is about traveling how everyone would like to travel.
BA Business Class Review – The Insiders Notes

The new BA Business Class Suite on their Boeing 777 planes is a worthy contender in the competitive Business Class space. The seats are comfortable, even if the feeling is a little cramped as so many mod cons as well as storage space are added into your area, but the space is put to good use.The lounges can be busy, but they serve a purpose. All in all the BA Club World (Business Class) Suites on the Boeing 777 are definitely recommended, and something you should start saving your Avios towards to enjoy the experience too!