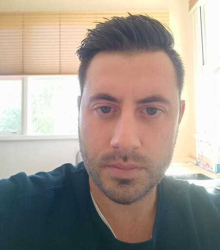 Latest posts by David Borgogni
(see all)
I wrote this Priceline review to determine once and for all if the travel booking website is legitimate and safe to use. With my family spread out worldwide, I've been a frequent flyer since childhood. Now that I'm an adult and paying for all my flights myself, I'm naturally always on the lookout for the best possible deal. Over the years, I've used all kinds of online booking sites to find those deals, and while some have been amazing others have given me nothing but trouble, while others still proved to be outright scams.
So, which one is Priceline?
To find out, I put the site through its paces to determine if it's the real deal. You'll discover my verdict in the review below.
Bottom Line Up Front
Having tested the site for myself, I can confirm that Priceline is a legitimate and credible booking website.
Although the user interface could be a little less cluttered, it is nonetheless an easy to use and reliable source of top travel deals.
Overall Snapshot
| | |
| --- | --- |
| Reputation: | 7 / 10 |
| User-Friendliness: | 7 / 10 |
| Mobile App: | 8 / 10 |
| Pricing: | 8 / 10 |
| Discounts: | 9 / 10 |
| VIP and Rewards: | 7 / 10 |
| Customer Service: | 8 / 10 |
| Refund policy | 6 / 10 |
| Overall  | 7 / 10 |
Priceline Review: My Experience Using Priceline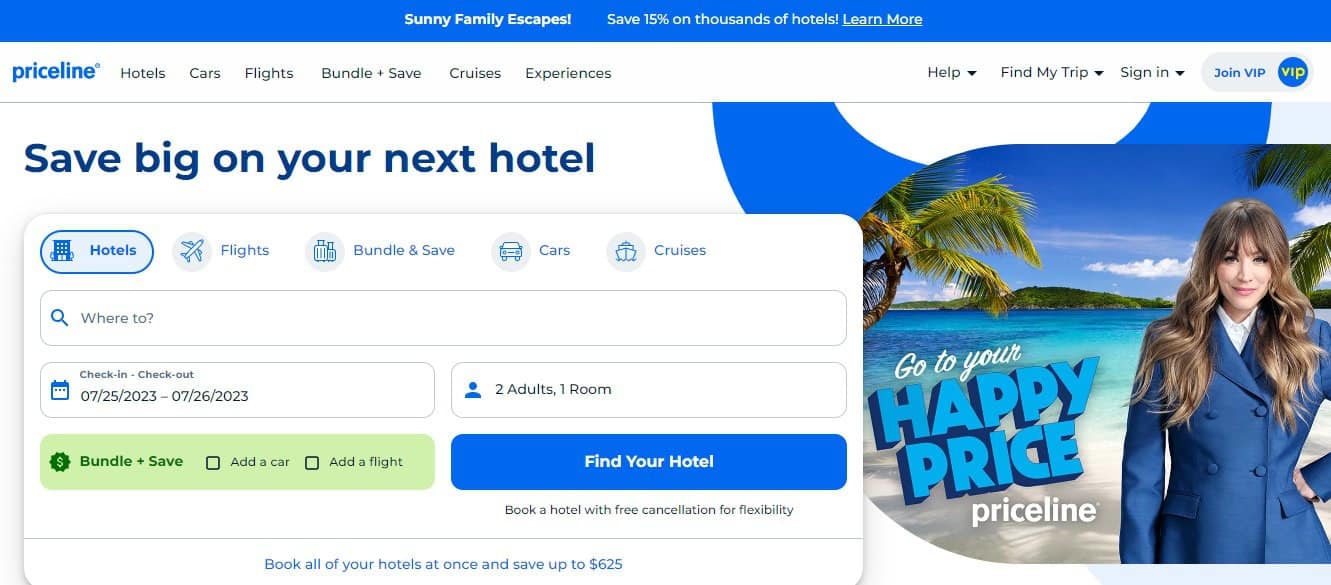 Reputation
The first step towards determining the legitimacy of any booking website is to do a little digging into its background and public reputation. My own digging revealed multiple signs that Priceline is a legitimate company. First, there's the fact that they've been helping people to book flights, accommodation, and more for over 25 years.
Okay, so it's not impossible that a scam operation could remain in existence for all that time, but certainly, no company could develop the kind of high-profile reputation that Priceline has if they weren't the genuine article. Endorsed by names like William Shatner, the booking platform attracts over 46 million visitors per month, making it the second most visited travel website in the United States behind TripAdvisor.
Next, I considered what genuine Priceline customers had to say about the company on respected consumer-review site, Trustpilot.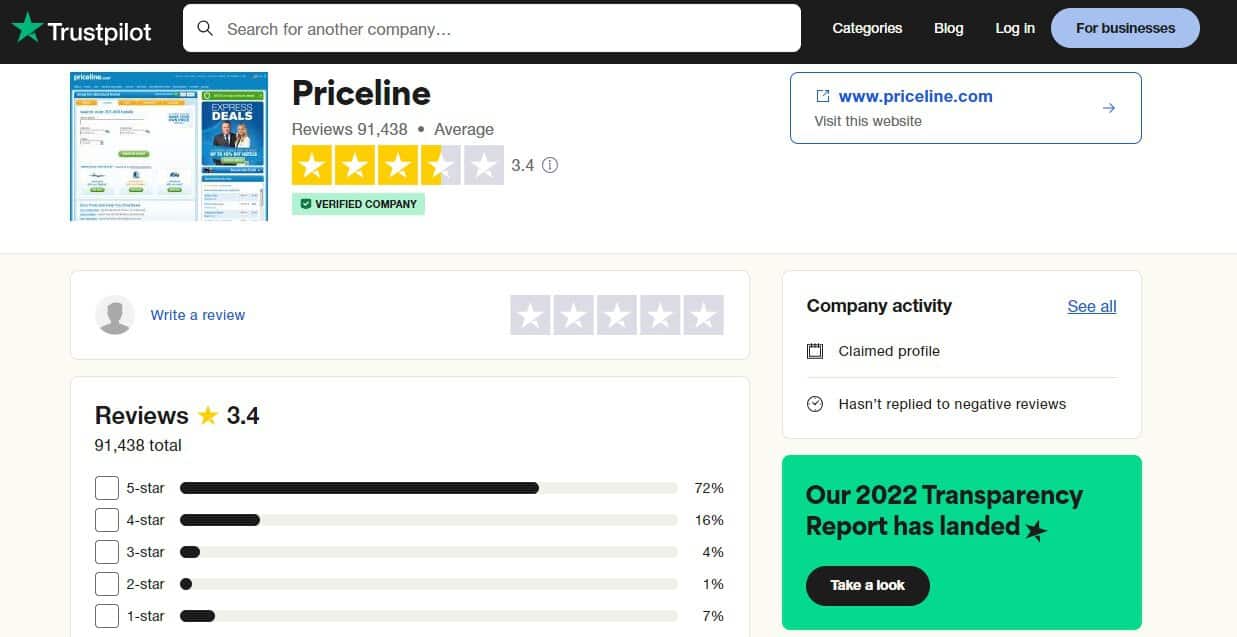 There, the company holds an average rating of 3.4, generated from close to 100,000 reviews, the majority of which are positive. A lot of the reviews praise Priceline for their great customer service, although I also found plenty of negative reviews as well.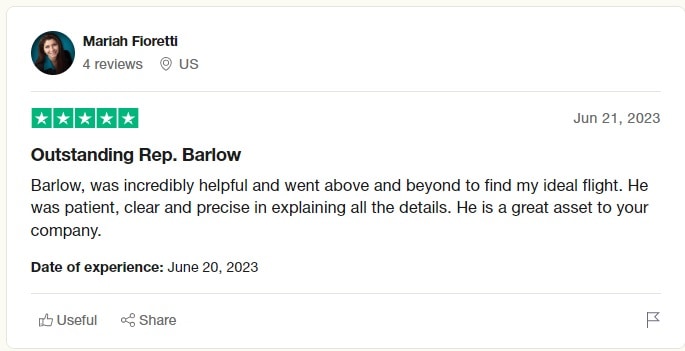 Most of Priceline's 1-Star reviews are from customers who used their car rental service, though on closer inspection, it seems that most of the problems were caused by third-party car rental companies and not Priceline itself.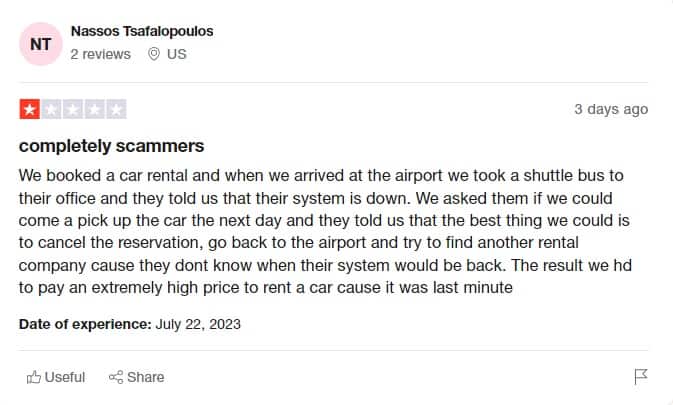 In my experience, when something like this is a regular problem, it's usually because the booking company hasn't vetted their vendors thoroughly enough, which could be a cause for concern.
Still, there's only one way to tell if I can really trust Priceline or not, and that's to dive in and use it.
VERDICT: 7 / 10
User-Friendliness
On first appearance, Priceline's website is certainly a lot more in-your-face than many of it's competitors.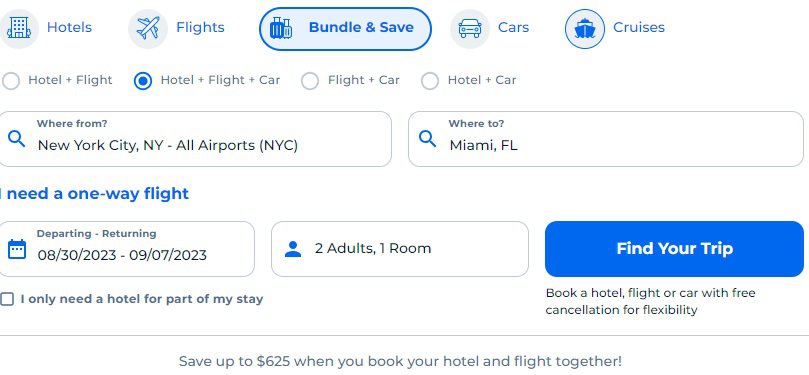 If you read my Priceline vs. Booking.com comparison, you'll know that I find their homepage a little cluttered. Sure, the searchable booking engine takes pride of place, and it's very easy to search for hotels, flights, car rentals, and even cruises. The problem is that Priceline seems to have crammed every available option and every Call to Action (CTA) they could possibly think of into one box, which could be overwhelming.
On the plus side, I do like that the website makes it a breeze to book multiple aspects of your trip in one bundle, simplifying a process that I've found unnecessarily complicated on other sites in the past.
VERDICT: 7 / 10
Mobile App
Priceline's mobile app is actually more user-friendly than its desktop website.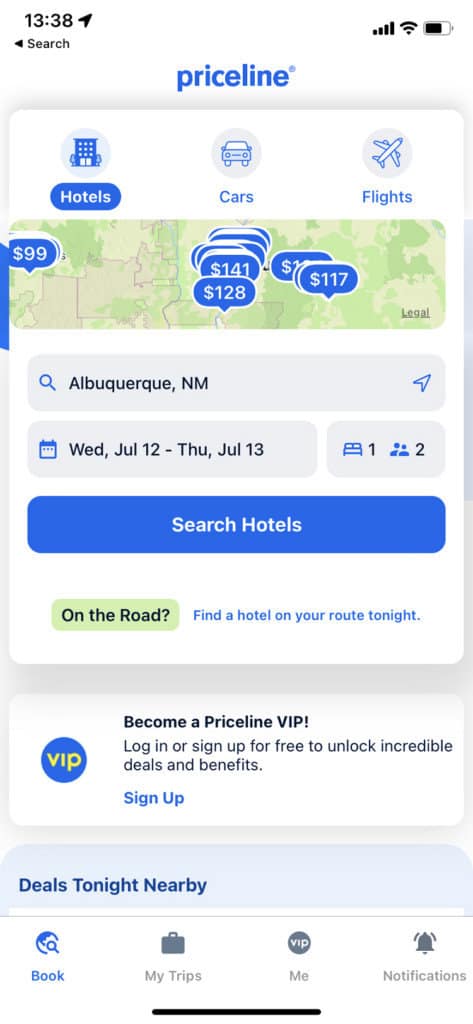 It feels far less cluttered and has clearly been well-optimized for use while traveling.
One clear example of this is the 'On the Road' feature.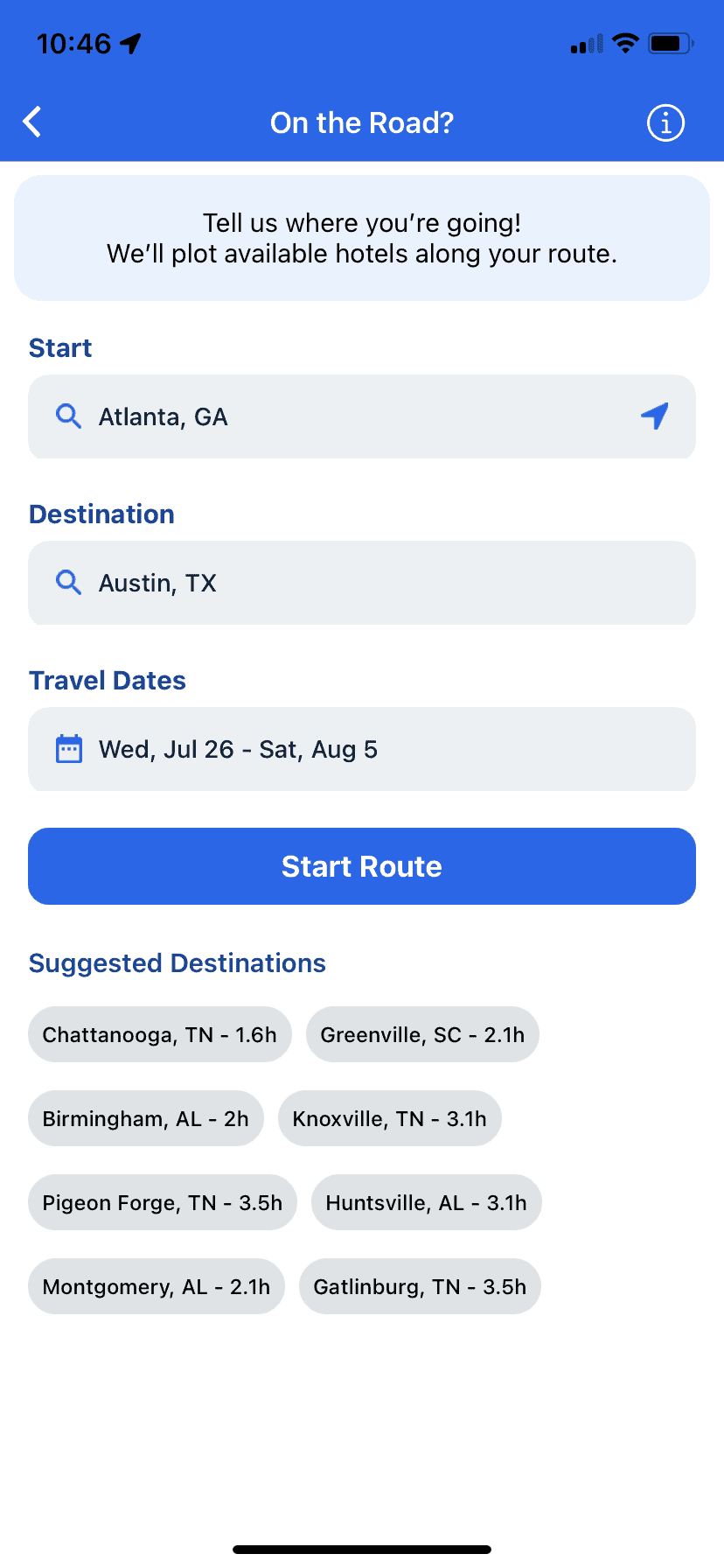 Set your start and end destination, and Priceline will recommend accommodation options along your route, which you can then filter by price, rating, and neighborhood.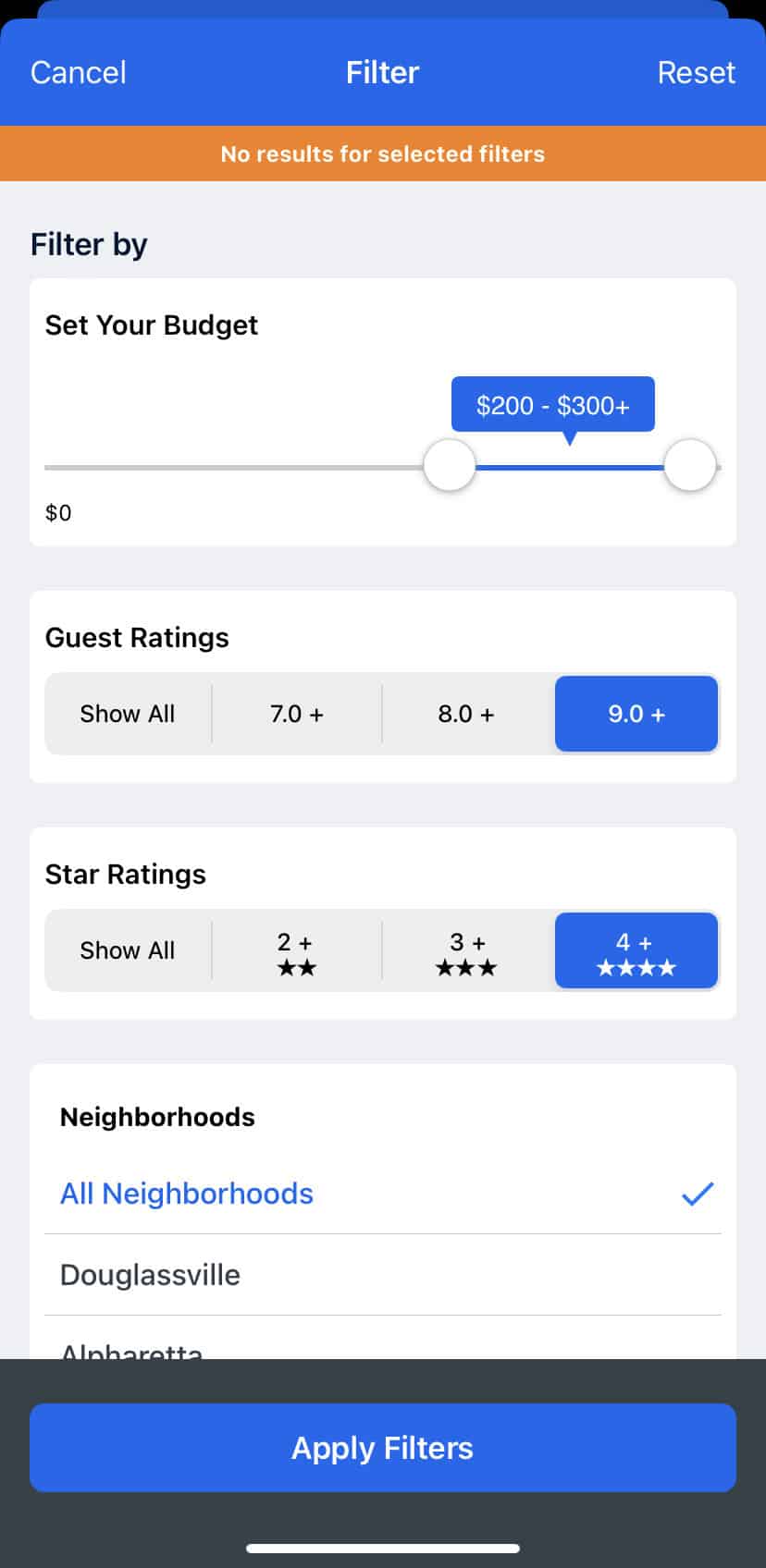 The app also provides a convenient way to manage your existing bookings and monitor your Priceline VIP status.
The only thing it doesn't do such a great job at is letting you book hotel + flight bundles, which is a little weird given that the company promotes bundles so heavily on its website.
That small thing aside, I would definitely much rather use the mobile app than the desktop site for quick and easy bookings.
VERDICT: 8 / 10
Pricing
Now we get to the important question:
Can you get a good deal on Priceline?
Planning a trip for our wedding anniversary, I looked at a flight + hotel + car rental for a trip from New York to Paris.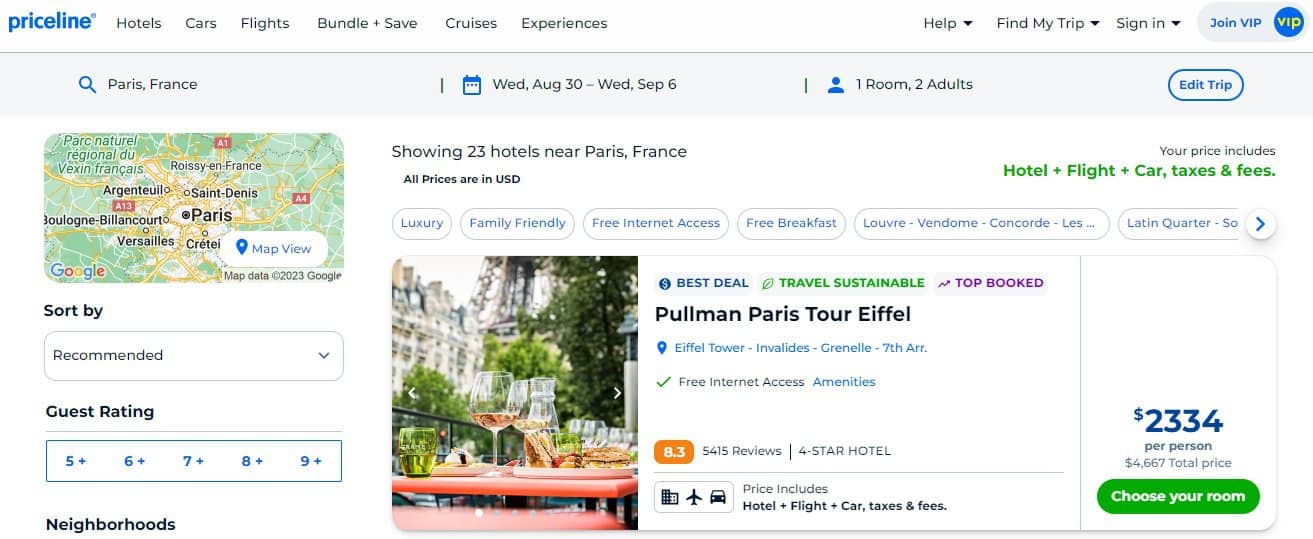 Comparing the top-recommended package deal for a 4-star hotel stay across Priceline, Booking.com, and Expedia, Priceline was by far the most expensive.
Their best deal worked out at a total of $2334 per person, compared to the other two, who both offered comparable packages for under $1,500.
That's not to say there aren't good deals to be found.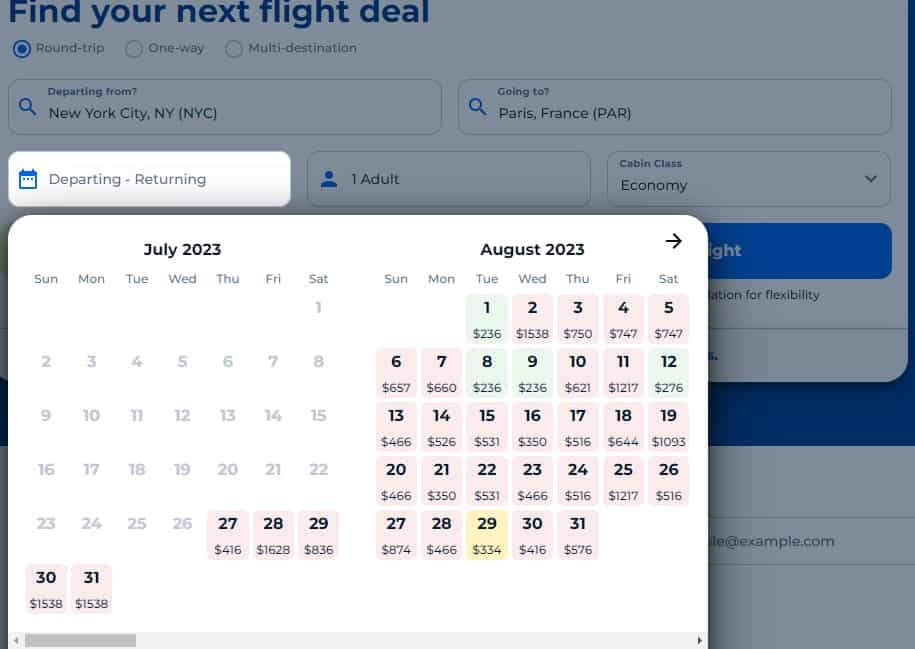 A flight-only search for the same trip did reveal better bargains than I could find on any of the other two sites.
VERDICT: 8 / 10
Discounts
One cool thing about Priceline is that their booking engine is the driving factor behind American Forces Travel, a discount booking site for veterans and active service personnel.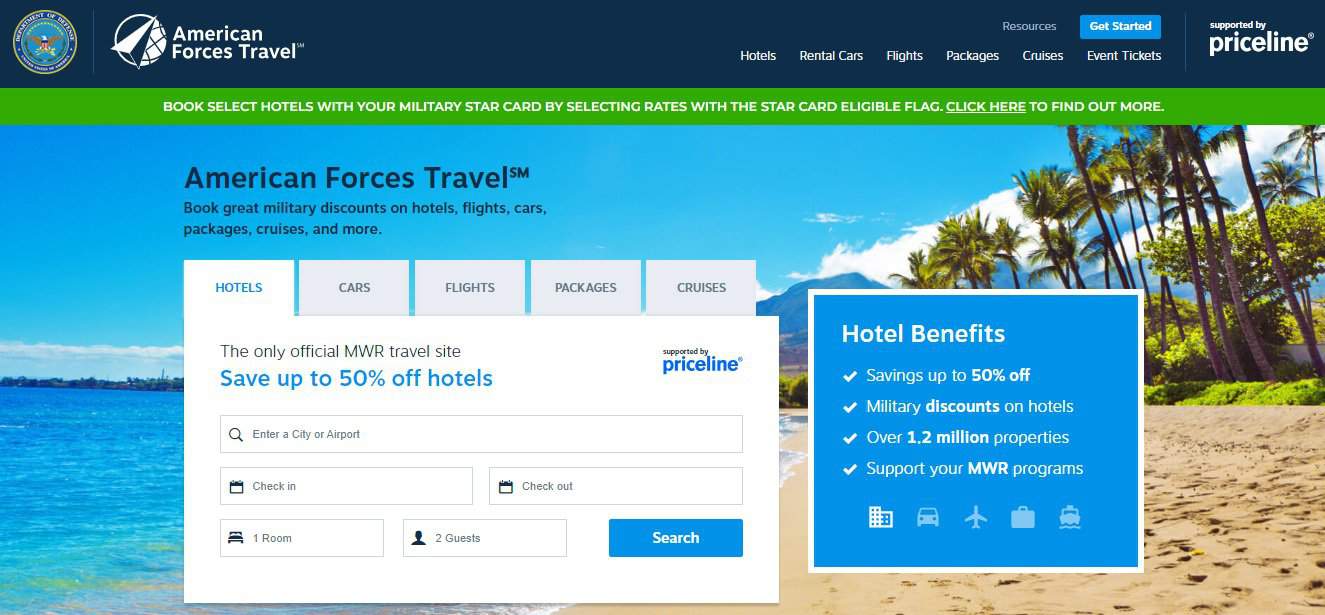 Elsewhere, the platform does offer some fantastic bargain breaks such as cheap flights, though these are typically found in special offers promoted throughout the website, meaning your destination choices for a low-cost getaway are limited to wherever Priceline is promoting at the time.

If you're prepared to be spontaneous, however, these deals for a hotel room are not to be scoffed at. At the time of writing, I could land a weekend break for two in a four-star hotel in downtown Miami for under $1,000. To me that's a great deal!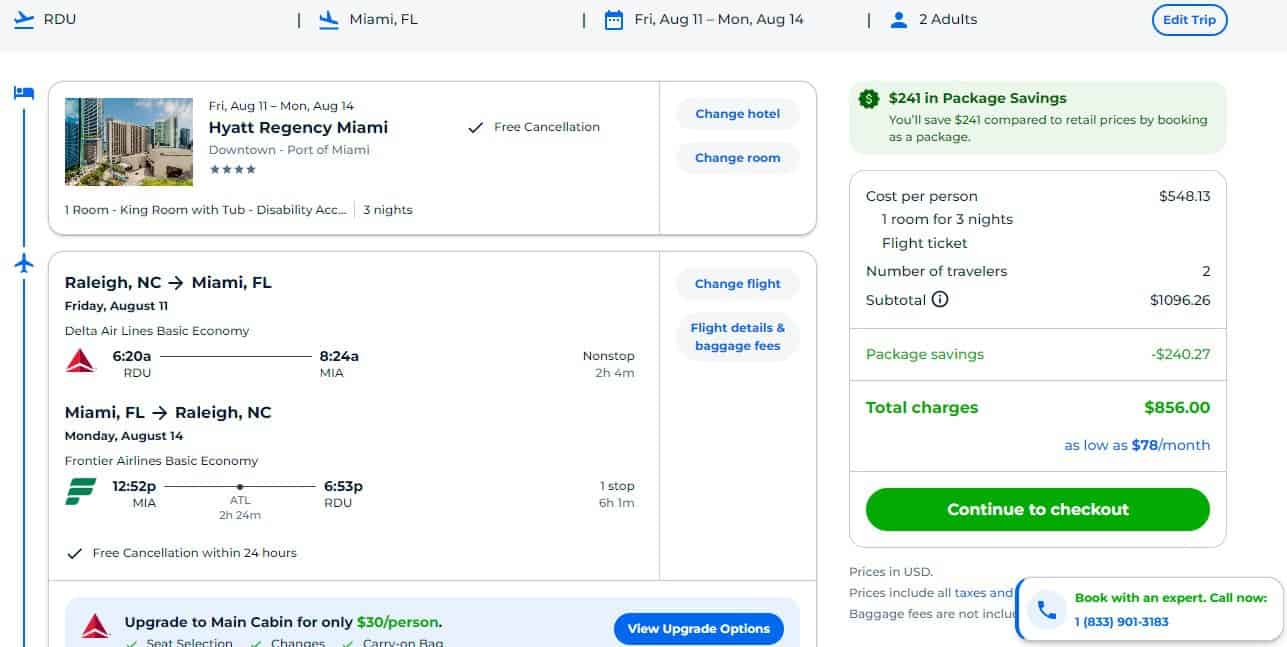 That's with all fees and taxes included, resulting in a great discount that I couldn't find matched by any other website. Ultimately, while I went elsewhere for our anniversary Paris trip, a bargain break to Miami was too good to pass on, and I snapped it up straight away.
The checkout process was smooth, secure, and painless, further lending Priceline credibility as a legitimate site.
VERDICT: 9 / 10
VIP and Rewards
Priceline VIP rewards is the company's loyalty program in which you earn travel points for each booking.
The more points you earn, the greater the perks.
Benefits of Priceline rewards include:
Price-match guarantee
Hotel savings between 10% – 50%
Car rental savings between 10% – 20%
Add-on deals
Discount coupons.
The Priceline VIP membership does prove to be a worthwhile deal.
Sign up for free, and you automatically get a 10% hotel and car rental discount. You then only need to book two trips to boost that hotel discount up to 50%.
Combine that with the package deals I mentioned earlier, and it's not impossible to book a top-tier trip at rock-bottom rates.
VERDICT: 9 / 10
Customer Service
Priceline customer service agents are available 24/7 via live chat, SMS, WhatsApp and telephone. Although booking my trip to Paris was straightforward and hassle-free, I reached out to customer service via phone, and live chat to get the answers to a few personal questions I had about my booking. Of the three, live chat was by far the fastest option, though you do have to wrangle your way past a frustrating AI chatbot first. That said, the difference in the response times between the three support channels was seconds rather than minutes.
Phone travel service was by far the slowest. It took at least 90 seconds for the automated system to understand my inquiry, after which I was told there was a six-minute wait time and Priceline would call me back. On the plus side, the service reps I spoke to via all three platforms were not just friendly and courteous but genuinely helpful, explaining everything clearly and simply without ever coming across as condescending.
Of course, that's my personal experience, though my earlier background checks on Trustpilot did reveal a good number of reviews from people ticked off after a bad experience with Priceline's services.
VERDICT: 8 / 10
Refund Policy
Thankfully, I had no problems with my trip and haven't had to ask for a refund. However, I certainly would not have handed over my American Express credit card details without first checking that I'd be well covered should something go wrong. Fortunately, Priceline has a generous 'cancel for any reason' policy on refunds, meaning you can cancel any flight -no questions asked- up to eight hours before you're due to take off.
Do so, and you'll receive either a full or partial refund depending on whether any non-refundable deposits or cancellation fees were included in your Priceline booking. Hotel refunds are typically at the discretion of the hotel itself, which isn't such a good deal as it isn't always clear what kind of refund agreement you're entering into.
Overall, Priceline's refund policy is legit and above board, though I'd prefer it if it applied to all their services, as this would make using the service much less confusing. To be safe, make sure to take out travel insurance.
VERDICT: 6 / 10
Priceline Pros and Cons
Pros
Priceline offers generous savings on package vacations
The platform offers more 'experience' bookings than other platforms, perfect if you want to add a theme park or excursion to your trip.
Cons
The desktop user interface could be easier to use
The long wait time for phone support was disappointing, especially as other options are very fast.
Resort fees and other hotel costs often aren't included if you choose to pay on arrival
Priceline Key Features
Easy-to-use booking engine
Price-match guarantee for VIP members
Phone-only package deals
Intuitive trip-management dashboard
5 channels of customer support
Top 3 Priceline Alternatives
1. Booking.com
Booking.com's website feels much less crowded than Priceline's making it a great alternative if you find the latter to be too cluttered and overwhelming. The site also does an excellent job at booking multiple hotels, flights, and experiences in one package, though Priceline's package deals and VIP loyalty program typically offer better value.
See Priceline vs. Booking.com for more.
2. Expedia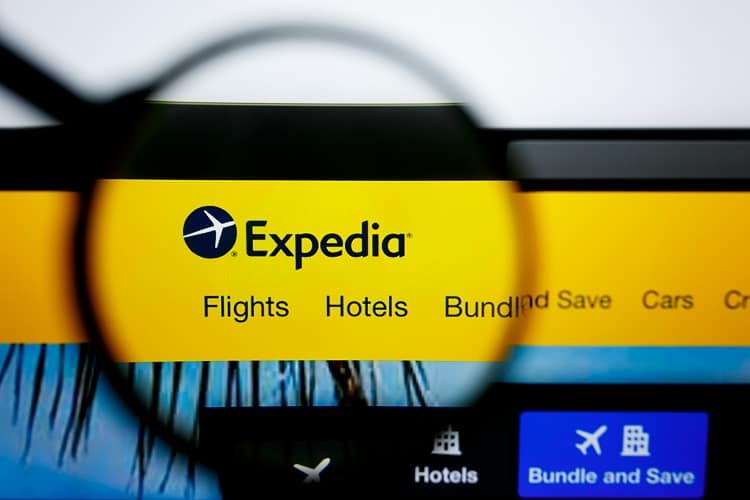 Expedia has been one of my go-to hotel booking sites for years, and I'm always impressed with the fantastic deals I find there. The company's loyalty program is comparable to Priceline's, though their difficult-to-navigate refund policy leaves something to be desired.
What's more, while Expedia is a great choice for booking trips well in advance, I found better last-minute bargains on Priceline. To read more of my thoughts on Expedia, check out my Expedia vs. Booking.com comparison.
3. Hotels.com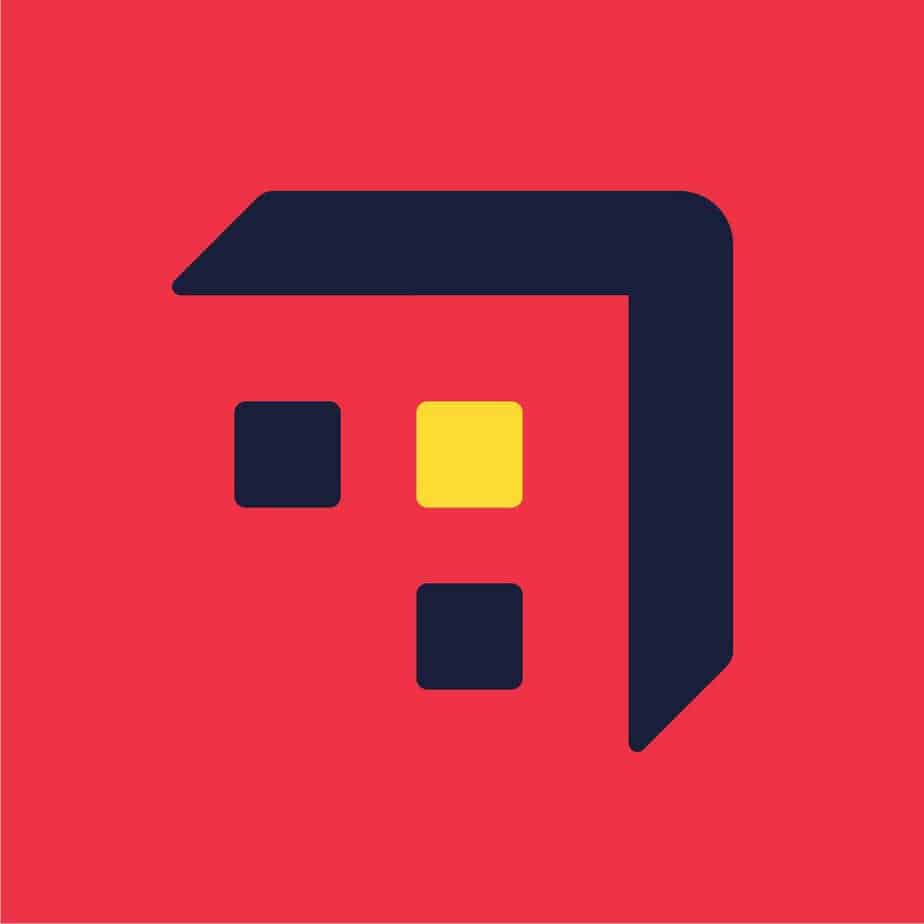 Unsurprisingly, Hotels.com gives Priceline a serious run for its money in terms of hotel accommodation. However, if you need a package deal with flights and/or rental car included, you'll find Priceline to be a much better option. As I mentioned in my Hotels.com vs Booking.com comparison, one thing I really like about Hotels.com is their group packages.
If you're planning a large trip for a sporting event, wedding, corporate event, or any number of other occasions, Hotels.com offers much better group rates.
Frequently Asked Questions
Question: Does Priceline sell my information?
Answer: Priceline doesn't disclose personal data to advertisers or other third-parties except as is necessary to provide their service.
For example, if you book a flight, the company will have to share your information with the airline to complete your booking.
Question: Is it safe to book through Priceline?
Answer: Yes. Priceline uses secure encryption technology to keep your financial information and other personal data secure.
Question: Who owns Priceline?
Answer: Priceline is owned by a Connecticut-based company called Booking Holdings Inc. which also owns such as Booking.com and OpenTable.
Priceline Review: My Final Verdict
It's been a little while since I wrote this review, and I'm pleased to confirm that I snapped up the Miami weekend break deal which went flawlessly. There were no problems with booking the trip, nor with the flights or hotel. Even the car rental went without a hitch, which was a relief as that's one aspect of Priceline's service that receives the most criticism and complaints.
To sum up, then, I found my experience with Priceline.com to be smooth, safe, and hassle-free, confirming in my mind that yes, Priceline is legit. Sure, I'd love to see them simplify their user interface, and sure, sites like Booking.com and Expedia have better-advanced rates, but if you're looking for a last-minute getaway and don't mind being spontaneous, there are some great bargains to be found on Priceline.