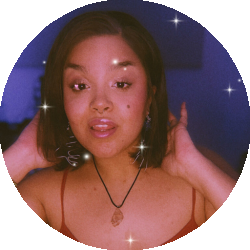 Latest posts by Lillie Forteau
(see all)
lHG (the InterContinental Hotels Group) is a chain of hotels and resorts, which include Intercontinental, Crowne Plaza, Regent, Atwell Suites, Candlewood Suites, Holiday Inn, Kimpton (my personal favorite, shout out to their DC Dupont Circle location!), and more. IHG has over 6,000 properties, 17 different brands, and a massive reach worldwide. 
With all of the travel disruptions brought on by Covid-19, IHG has offered to extend their free night rewards program. Let's look into the IHG free night extension bellow.
Bottom Line Up Front
IHG offers two ways to get a free night extension with a stay at their properties. This article will highlight a recent extension to free nights, and go over the various IHG properties and brands, free night offers you can get while staying at any IHG property, the IHG One Rewards Program, and the easiest ways to accrue points (hint: it's credit-card related!).
What Brands Are Within IHG?
IHG has four collections comprising 17 brands. Take a look:
Luxury and Lifestyle Collection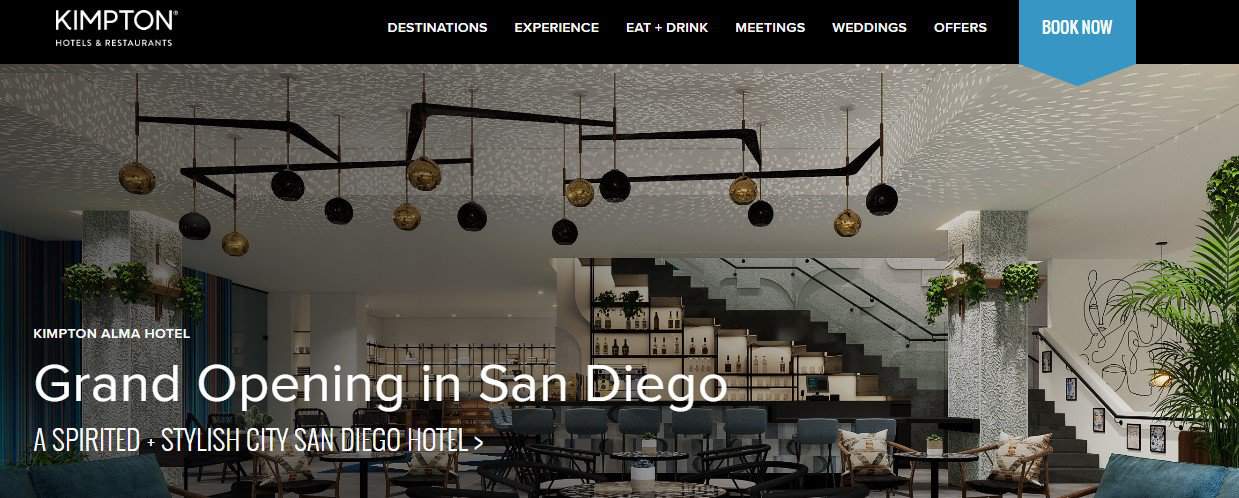 Six Senses

Regent

Intercontinental

Vignette Collection

Kimpton

Hotel Indigo
Premium Collection
Voco

Hualuxe

Even Hotels

Crowne Plaza
Essentials Collection

Holiday Inn

Holiday Inn Express

Avid
Suites Collection

Atwell Suites

Staybridge Suites

Holiday Inn Club Vacations

Candlewood Suites
Money-Saving News for IHG Members
IHG just announced an extension for status, points expiration, and IHG Rewards Credit Card Anniversary Night Certificates. This is good news if your travel plans have been impacted by Covid-19. They are as follows: 
Program Status
All member status levels have been extended through the end of February, 2023
Points for Club Members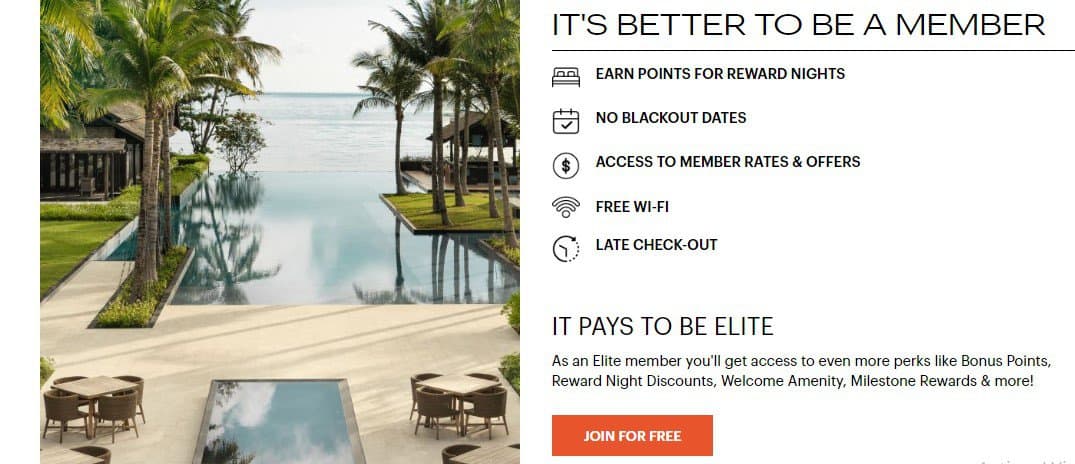 Club Members' points expire after 12 months. As of this month, points have been extended; your current points will now expire December 21, 2022

Generally, for Club Members,

IHG's Terms and Conditions state

, "Club level membership Points will expire if your membership account becomes inactive for any period of twelve (12) months or longer, which means your Points will be removed from your account and will no longer be available for redemption." Here's

how to maintain your points

!

Terms: IHG also

notes that

"use of the one night per year provided to IHG One Rewards credit card holders does not constitute an "earn" or "redeem" activity to prevent Point expiration."
Points for Elite Members
Nothing has changed here; as long as you maintain your Elite status, your points do not expire.
Annual Anniversary Night Certificates
If you weren't able to utilize your 2021 IHG Rewards Credit Card Anniversary Night certificate, you can now redeem them until December 31, 2022

Any Anniversary Night certificate awarded before 2021 is expired

Some IHG members have reported online that they are able to redeem points off expiring Anniversary Night certificates by calling IHG customer service, at (888) 211-9874. Results vary.
What About the Free Nights?
There are two ways to get a free night at IHG: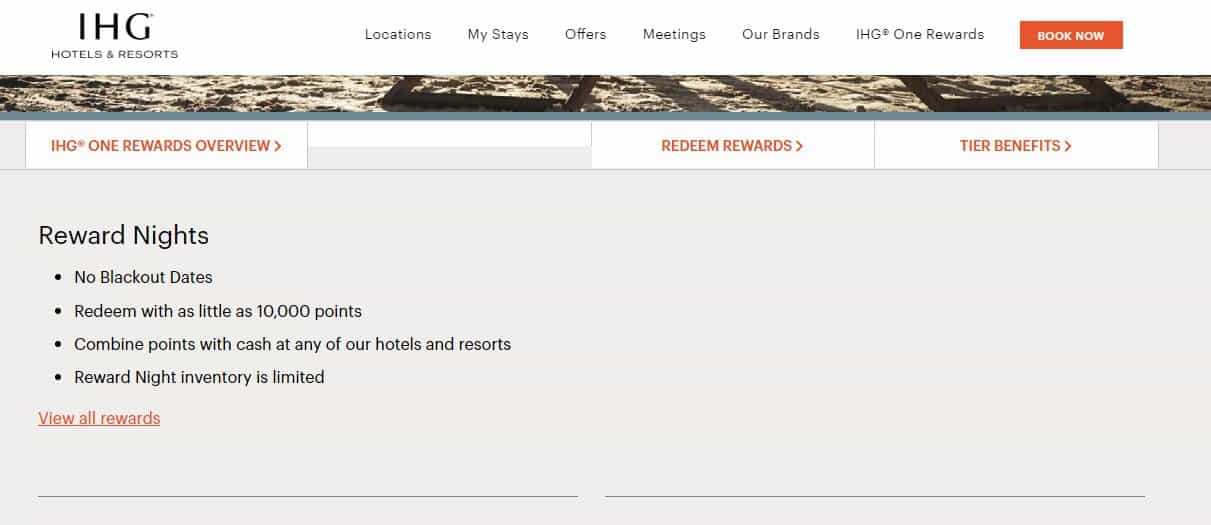 Free extensions aren't exactly given out; in fact, there are only two ways you can get a free night at an IHG property:
Through the IHG One Rewards Program

IHG credit card holders can be given a free Anniversary Night certificate with stays that are 40,000 points per night or less
Note: This isn't given to every credit card holder, and you'll only get one a year. They do expire and cannot be more points than the allowed 40,000. 
I am NOT counting using points as a free night; all of these brands are able to use points to get another night if you want, but that would just be a repeat. Less expensive properties, such as Holiday Inn Express, can have nights for as low as 20,000 points, but most IHG properties will run you 30,000-50,000 points per night. You may be able to supplement points with the Anniversary Night certificate at higher-priced properties.
How Do You Become a Member of IHG One Rewards?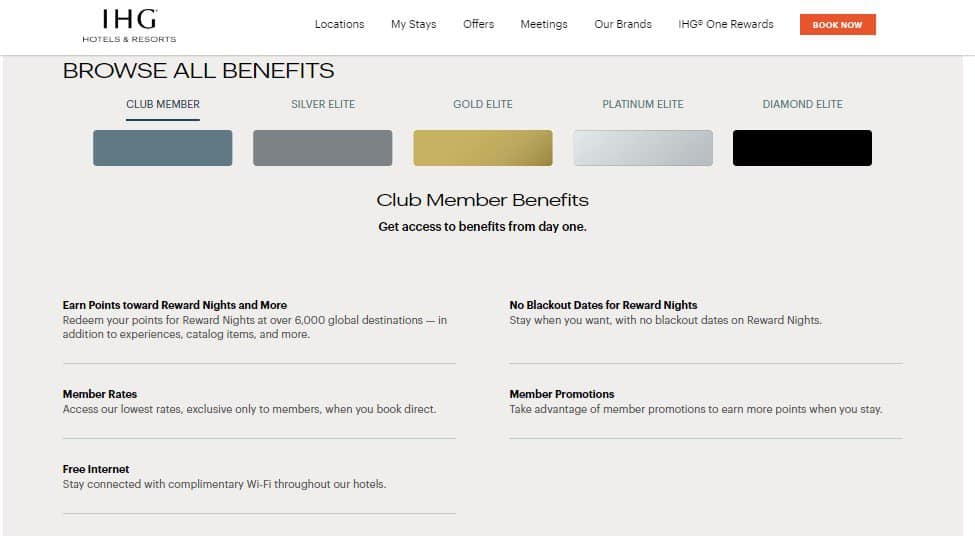 To be a member of IHG One Rewards, all you have to do is sign up. There are different status levels for being an IHG member. These IHG status levels range from least to most benefits: 
Club

Silver Elite

Gold Elite 

Platinum Elite

Diamond Elite
With the IHG One Rewards program, you can earn rewards faster, as well as earn additional points on your stays, access member rates, utilize hotel discount programs, and take advantage of travel deals on car rentals, dining, activities, etc.
Why did IHG switch to One Rewards in 2020? They listened! According to a press release from the company: "In crafting the new loyalty program, IHG listened to thousands of travelers, influencers, media, owners, and operators, and consulted countless global consumer studies. The research revealed that, overall, the most sought-after perks since 2018 were: room upgrades and free breakfast, followed by member discounts, flex & bonus points, food & breakfast credit, and lounge access."
IHG One Rewards Benefits Also Include:
earning points for reward nights

no blackout dates

access to membership perks, including special rates and offers

free wifi

late check-out
Tips: For an elite member, points won't expire, but club members will have to use their points in a timely manner. Being a Club member is free but doesn't get you the benefits of Elite status (Silver or higher). IHG also has more status levels than most hotels, which generally have two or three; IHG has four, which, depending on you, can be a good or bad thing. It just means it's a bit more challenging to reach the highest level, but it also means more benefits for all levels. 
How to Get a Free Night at Any IHG Property
Let's look at IHG's properties to highlight their free night offers. And check my FAQ at the end of this article for a search tip.
Free Night Extension

The free night extension, which offers an extra night for free after staying consecutively for a certain amount of nights at one property, is currently available at Six Senses only.
Other Free Night Offers
Kimpton offers a free night at a new Kimpton hotel, at participating hotels only. This list will obviously change as time goes on, as it's only available for specific brand new Kimpton hotels, but it's an excellent offer nonetheless and 100% completely free.
Anniversary Night

The IHG Anniversary Night is an annual benefit to any IHG Rewards Club Credit Cardmember. Check here to see properties at which this offer is available. To redeem it, log into your rewards account, click to your rewards wallet, and find your free nights and booking rewards section. Follow the prompts, and then enjoy! 
The IHG Credit Card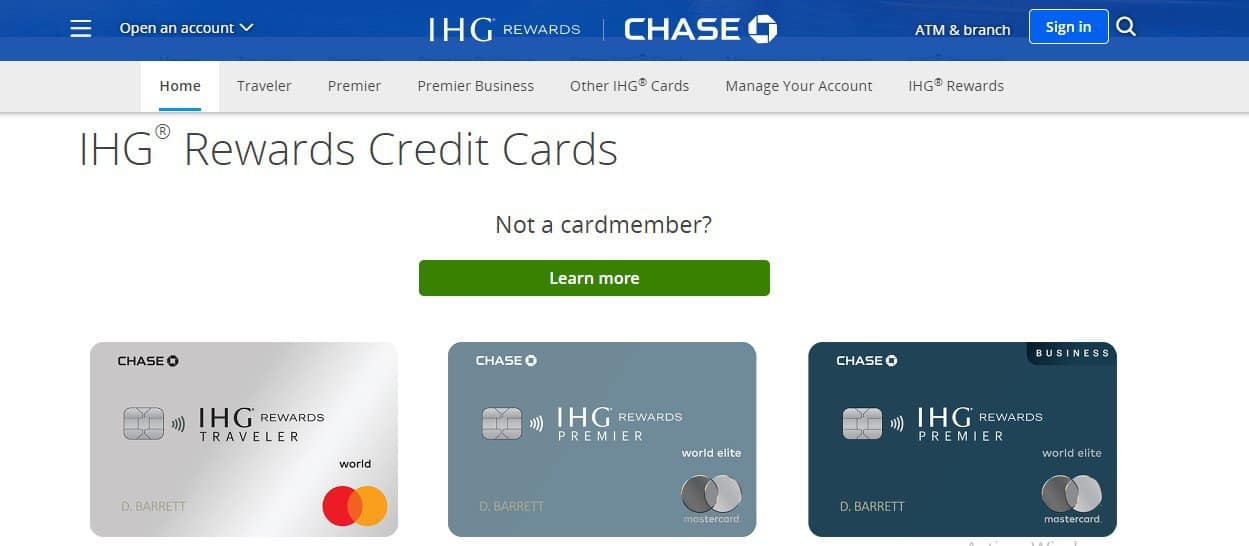 IHG credit cards are offered through Chase. There are three different Chase IHG cards:
IHG® Rewards Traveler Credit Card

IHG® Rewards Premier Credit Card

IHG® Rewards Premier Business Credit Card
When you're Diamond Elite status, you'll receive a free night once a year, called Free Anniversary Night (as mentioned above). Being Diamond Elite status on its own has perks, as well as free food and extra drinks (on top of that free night). Still, you'll only become Diamond Elite after spending 40k a year via an IHG credit card or by staying 70 nights at an IHG property per year (or earning 120,000 points).
Traveler Credit Card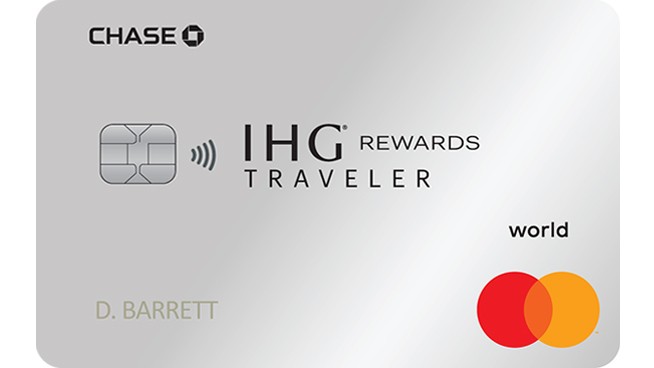 $0 annual fees

Up to 17x points

Immediately a Silver status when being a Traveler card holder; can go up to gold member when you spend $20,000 in a calendar year

Spend three nights, get the 4th night free

Save 20% on points when buying points at IHG

Earn 80,000 bonus points after spending 2,000 in your first three months
Premier Credit Card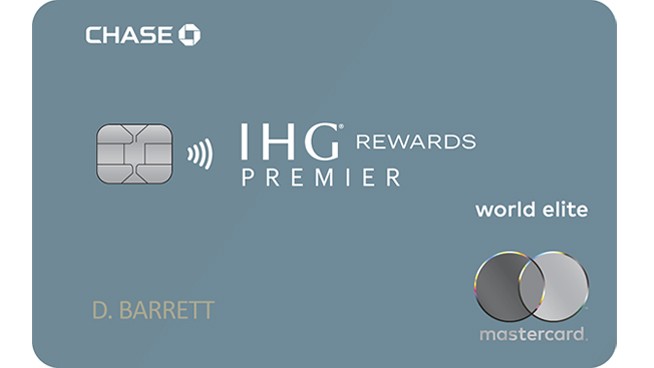 $99 annual fee

Up to 26x points 

Immediate Platinum Elite status

Diamond Elite status is available when you spend $40,000 in a calendar year

Free night available every year

Up to $50 with United Airlines travel bank cash yearly

20% off points when buying points on IHG

TSA precheck or nexus statement credit available 
Premier Business Credit Card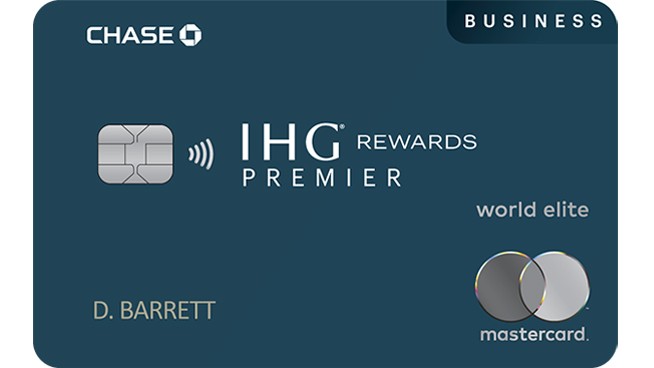 $99 annual fee

Up to 26x total points when combining your Premier Business Card with your IHG Rewards benefits

Platinum Elite Status

Diamond Elite status is available when you spend $40,000 in a calendar year

5x points on travel, gas, dining, and business expenses, including social media/search engine advertising, and office supply stores

3x points for every $1 spent on other purchases

Redeem points for three-night stay, get the fourth night free

Anniversary free night

Trip cancellation insurance

Global Entry, TSA Precheck statement credit 

Up to $50 United Airlines TravelBank cash per year when affiliated with your Mileage Plus account

Free employee cards for the account
FAQs
Question: How do I get started with IHG Rewards?
Answer: The best way to get started is to get a Chase IHG credit card. If you spend 2k or more in a few months and use said card, you can earn bonus points, which could get you a room pretty early into your start of rewards. Unfortunately, there's no way to get free points; you either need to stay at IHG, buy points online, or get somewhat passive points from spending on their credit cards.
Question: How do I search for a free night reward at an IHG property?
Answer: On this IHG page, search for your destination and dates. With the results, choose the property you are looking at, and ascertain if points nights are available by clicking the cost with cash, points, or points and cash. If no nights show up with points or points and cash, that reward isn't currently available at that property for those dates. Finding the free night reward can be difficult, but it is worth it!
Question: But what if I want to cancel my credit card / I don't want a credit card?
Answer: It's ok if you no longer want a credit card or don't want to depend on it for points! All the points you got while being a cardholder will still be available to you, but if you lose your status and return to being a club member, your points will expire.
If you don't want to be a cardholder and still want points, you can always stay at IHG hotels and get points with each stay or buy points directly from their website (though points, as I said before, expire for club members, which is the completely free status).
IHG Free Night Extension: Conclusion
IHG is an excellent choice of travel accommodations if you want a good bang for your buck or some of the best status benefits I've ever seen. If you can, I'd recommend investing in their card to get the best possible stay with the most perks. With a wide range of price options and free night availability, you're sure to save money.