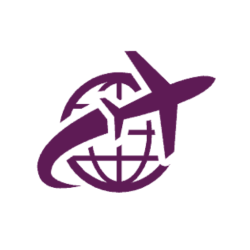 Latest posts by The Points Insider Team
(see all)
Earn enough Flying Club Miles for a round trip in Upper Class from London to Washington in under a year. That's 115,000 Flying Club Miles to be exact. I'll walk through this step by step to explain how it can be achieved
We all love it when holiday time comes around. Working all year for two weeks off work and the start of an adventure! Whether your adventure is to explore a new country, sit on the beach or take a road trip across Route 66 in the US – it's your adventure and you've earned the most amazing trip. The holiday experience starts the moment you leave your home and take the exciting journey to the airport.
What better way though to start your holiday than passing the long queues at bag drop, fast-tracking through the hustle and bustle of security in a private area, and strolling into the airport lounge for a meal in a comfortable and relaxed space? Once refreshed casually wander down to the gate and be the first to board the plane and be pleasantly welcomed with a glass of champagne (or OJ) and taken to your Business Class seat with space and comfort around you.
Most people when talking about Business Class (or Upper Class as it's known on Virgin Atlantic flights) see those types of trips as 'once in a lifetime. Unfortunately, those people don't know how realistic flights like these are every year for a couple of years. You need to know the rules, how to maximize your Virgin Atlantic Flying Club Miles earnings – how to take advantage of the often-hidden ways to boost your Flying Club Miles, and also cash in on the rewards other people miss.
Case Study
We are going to look at a scenario where the goal in 18 months' time is to fly Upper Class to Washington DC – (Upper Class is Virgin Atlantic's Business Class offering). So how would we really achieve this? The first step is to find out how many Virgin Atlantic Flying Club Miles you'll need for the trip. Let's have a look: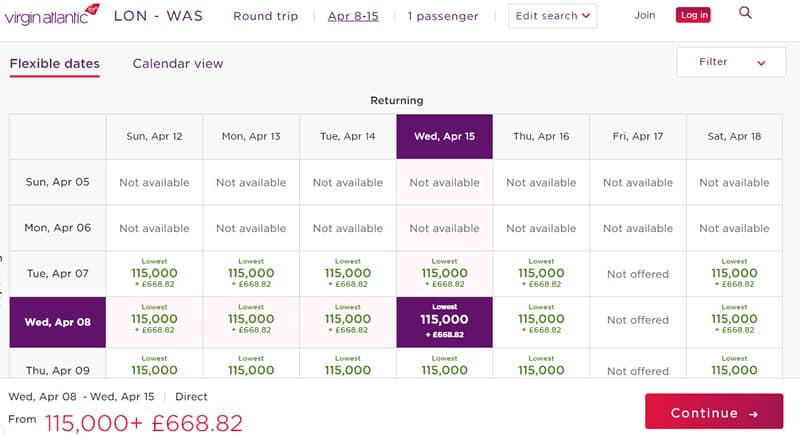 Now we can't see prices for flights 18 months into the future, but this gives us a target and goal to aim for.
The number of Virgin Atlantic Flying Club Miles needed for a return flight from London to Washington in April 2020 (at the time of writing) is 115,000
There is a further £668.82 needs to be paid in cash to cover taxes in fees which are relatively unavoidable and exist across all airlines. Now the fun part. Let's investigate the easiest ways to earn and boost your Virgin Atlantic Flying Club Miles with an aim to achieve the 115,000 miles needed.
Book Flights Through Virgin Atlantic
Ok, this one is kind of obvious so we will get this one of the ways first. The more flights you take with Virgin Atlantic the more miles you earn, it's as simple as that.
A return trip in Premium Economy (non-flexible) to Washington paid with cash will earn you 7,356 Flying Club Miles.
As you can see earning around 7,000 miles per return flight is an easy way to build Flying Club Miles but it's never going to be the fastest. Not with the average person flying twice per year. Flying twice per year on this type of fight will take around 8 years to build up enough Flying Club Miles for our goal flight in Upper Class.
We need to explore and combine this with more options.
Hotel Bookings
As you book your flights on Virgin Atlantic you will see options to package your trip by booking a 'Flight + Hotel' combination. For every £1 spent on a 'flight and hotel package, you'll earn 2 Virgin Atlantic Flying Club Miles – this is in addition to your normal Flying Club Miles earnings on the flight. Using a case study of a 3-night long weekend trip to Boston in April 2020, flying in standard Economy class will cost £854 per person for the flight and a Hilton hotel during your stay.
You'll earn 3,273 Virgin Atlantic Flying Club Miles but you'll also earn a bonus 1,708 Flying Club Miles for booking your hotel through Virgin too.
Every flying club mile helps! Trying to build up enough Flying Club Miles by just taking an annual trip or two abroad in economy class and with a hotel at the above rate is going to take around 20 years!
We certainly don't want to wait 23 years to take the 'trip-of-a-lifetime' so instead I'll show you some ways that 90%+ of people fail to take advantage off – you know, those people who travel in the economy every year waiting for a free upgrade at the check-in desk (which has happened to me several times but I will cover that in a different article).
Earn Miles with Holiday Essentials
We earn Flying Club Miles with our flight bookings, sometimes savvy people earn Flying Club Miles by booking their hotel with the airline too – but there are so many more ways to squeeze out even more Virgin Flying Club Miles from your holiday! Are you hiring a car – great, you can earn around 1,000 more Flying Club Miles. Need foreign currency for your trip – voila, more Flying Club Miles can be earned.
How about summer or winter clothes for your trip, need airport parking, treating yourself to an airport lounge – and (as you'll see by the next tip) even your petrol fill-up on the way to the airport can earn you Virgin Flying Club Miles!
Every one of these purchases can earn your Virgin Flying Club Miles if done in the right way, and with the right Virgin partner. Now these may not always be the cheapest offerings, so if you are working to a budget you may be prudent to shop around – but if boosting Virgin Flying Club Miles is your goal then this is a way to go.
Potential earnings here for Holiday Essential miles earnings are around 4,000 Flying Club Miles per trip (yes that's as many Virgin Flying Club Miles as you'd earn for the holiday itself)!
Earn Virgin Flying Club Miles with Petrol Fill Ups
You can't just fill up your petrol tank anywhere and earn, but there is a way of boosting your Virgin Flying Club Miles by filling up with petrol at Tesco. As I'm sure you all know, it's possible to earn Tesco Clubcard points with every purchase at Tesco. This can vary depending on products but usually 1 Tesco Clubcard Point for every £1 spent in a Tesco store and 1 Tesco Clubcard Point for every £2 spent at a Tesco petrol station.
Your Tesco Clubcard can earn you numerous reward opportunities like vouchers to spend in-store, converting points for family days out and events – or you could convert your Tesco Clubcard Points for Virgin Atlantic Air Miles! At the time of writing this, you can convert £2.50 worth of Tesco Clubcard Vouchers for 625 Virgin Atlantic Flying Club Miles.
Let's say for example you fill up your car every week at a cost of around £70 (the average fill-up price). This is at a cost of £3,640 every year – yes, we really do spend this much on petrol!
So, by filling up your car with petrol solely at Tesco's petrol stations you would earn 1,820 Tesco Clubcard Points – or £18.20. With this, you could convert £17.50 Tesco vouchers to 4,375 Virgin Flying Club Miles.
Your petrol fill-ups could earn you more Flying Club Miles per year than your yearly holiday!
Virgin Atlantic Credit Card Flying Club Miles
The easiest way, fastest way, and best Virgin Flying Club Miles earning possibilities come from the Virgin Atlantic Reward Credit Card and the Virgin Atlantic Reward+ Credit Card. Two very similar names but two very different cards, with different rewards and costs. Now it's only sensible to say here that I do not advise you to go take out a credit card to build up debt or incur interest. If your intention is to borrow, there may be cheaper alternatives. Speak to an independent financial adviser if you're unsure.
If you manage your balance, pay off your credit card when due to avoid penalty charges or interest – this is by far the single best way to accumulate points needed to achieve your goal.
Here's a comparison of the two:
Virgin Atlantic Reward Credit Card
5,000 bonus miles with a purchase of any value (even £1!) in the first three months;
Earn 0.75 Virgin Flying Club Miles with every £1 spent;
9% APR on Purchases;
Spend £20,000 per annum to unlock benefits like companion flights or upgrades;
Unlike British Airways it's worth noting your benefit depends on your Tier level with Virgin;
No annual fee;
Virgin Atlantic Reward+ Credit Card
15,000 bonus miles with a purchase of any value (even just £1) in the first three months;
Earn 1.5 Virgin Flying Club Miles with every £1 spent;
9% APR on Purchase;
9% APR Equivalent (this is based on a £1,200 credit limit and taking into account the annual fee of £160 for having the card);
Spend £10,000 per annum to unlock benefits like companion flights or upgrades;
Again, your benefit can depend on the Tier level you have with Virgin which can be a little restrictive;
£160 annual fee;
The Reward+ card, although comes with an annual fee of £160 can repay itself with the Flying Club Miles you'll receive. Not only will you earn 15,000 Flying Club Miles with your first purchase, but 1.5 bonus miles for every £1 you spend (more on this in the next tip).
It's always worth looking out for or waiting for additional bonus points Virgin can offer during special promotions. Recently Virgin offered 25,000 Flying Club Miles for taking out the Virgin Reward+ Credit Card. Promotions like these come up from time to time, but the additional bonus miles offered during promotional campaigns can get you further towards your Upper Class flight faster!
Earning 1.5 Flying Club Miles per £1 Spent
To continue on the previous tip, and focus on the Virgin Reward+ Credit Card, I'll repeat – you'll earn 1.5 Flying Club Miles for every £1 spent!
This is on EVERYTHING!
Your shopping, your clothes, your takeaways, your petrol, your car repairs, your new TV, your Christmas presents for friends and family, your holidays……etc! Think about how much you spend per year using your debit card or credit card. Each purchase every month. Now take that value and multiply it by 1.5. This gives you an idea of how many bonus Flying Club Miles you could earn day in, day out.
If you spend £20,000 per year on your debit or credit card, this is equal to 35,000 Flying Club Miles! – and of course, this is on the basis you pay off your Virgin credit card so as not to incur penalties or interest.
If you're a higher earner spending £45,000 per year on debit or credit cards, this is equal to 67,500 Flying Club Miles! You can see how your Flying Club Miles can start adding up!
It's also worth noting that if you take out the Reward+ card and made the purchases in the first few tips (holidays, hotels, petrol etc…) not only are you earning the Flying Club Miles for the purchase, but you also earn an additional 1.5 Flying Club Miles for every £1 spent! As an example we looked at spending £3,640 on petrol per year – this alone earns you 4,375 Flying Club Miles but if you paid for the petrol on your Reward+ credit card (and pay off the balance before interest is charged) you will earn an additional 5,460 Flying Club Miles.
This is a total of 9,835 Virgin Flying Club Miles on petrol fill-ups alone!
I hope you can see how Virgin Flying Club Miles high flyers do it. It's not just about living at airport lounges and constantly being 35,000 feet in the air – this is how the smart travelers sit at the front of the plane!
In the past few topics we have already amassed around 80,000+ Flying Club Miles.
We're not done yet though!
Virgin Atlantic Seasonal Offers
Throughout the year Virgin work with a number of partners, including those in the Virgin Group, to offer you bonus Flying Club Miles and special offers.
These offers change and vary throughout the year, but if you have been considering such a product or service this again can be a great way to boost your miles.
For example, here are some of those on offer this month:
Virgin Life Insurance – up to 26,000 Flying Club Miles;
Avis Car Hire – up to 5,000 Flying Club Miles;
Heathrow Reward Card – 3,000 Flying Club Miles with a purchase of £150 or more at Heathrow Airport using your Heathrow Reward Card;
Virgin Wines – 3,000 Flying Club Miles for new customers;
Here are four seasonal offers worth up to 37,000 Virgin Flying Club Miles alone!
In Conclusion
It's not possible to earn Virgin Flying Club Miles out of thin air – unless you win a competition of course! The purpose of this is to show you how it's possible. Earning Flying Club Miles where you currently are missing out. Potential for bonuses for products and services you may need. Even if the full 115,000 Flying Club Miles is out of your reach for the Upper Class return trip to Washington – you could pay for an Economy return flight and arrange a one-way upgrade.
You could upgrade the inbound (or outbound) flight from Economy to Upper Class for around 71,200 Flying Club Miles. Hopefully, this has given you some insight into how to maximize Flying Club Miles – and if you've used these tips to upgrade your next flight, I'd love to hear from you.